This Blueberry Banana Coconut Smoothie is a great easy breakfast or snack.  Coconut milk, bananas, blueberries, almond butter and yogurt blend together to make a flavor and protein packed smoothie!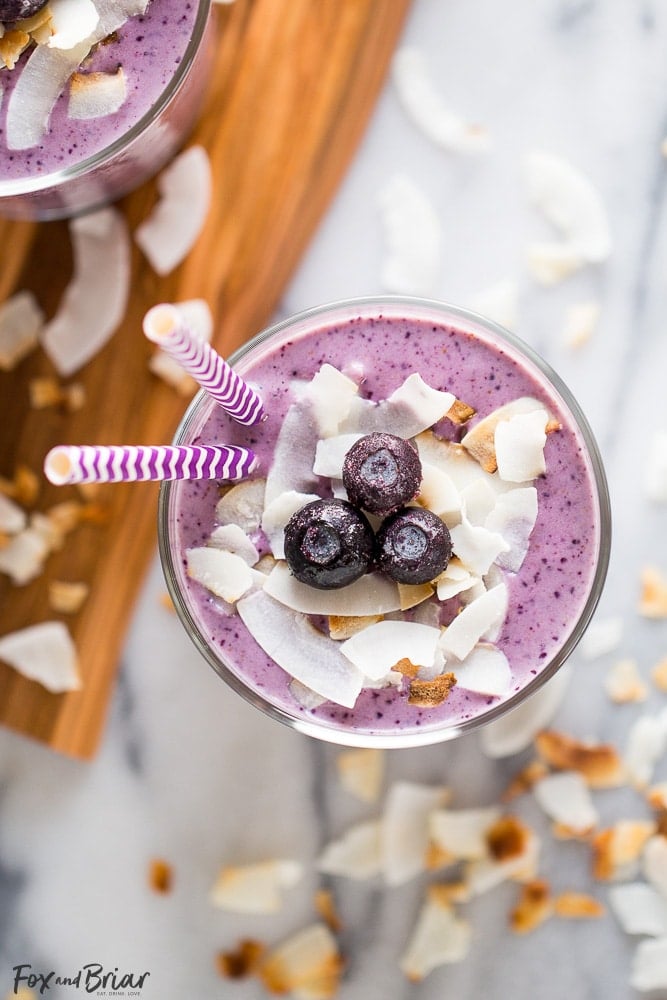 Oh hey everyone.  I know it's Wednesday but I'm still recovering from the weekend, anyone else?  If you follow me on Instagram you know that Mr. Briar and I had an action packed three day weekend in San Francisco.  It was fantastic and we ate and drank SO MUCH.  Although I wish I could eat like that every day, sadly the scale told me "Yeah, no."  So I'm planning on lots of healthy but still delicious meals this week, like the Sausage and Cabbage Skillet I just shared or this Blueberry Banana Coconut Smoothie.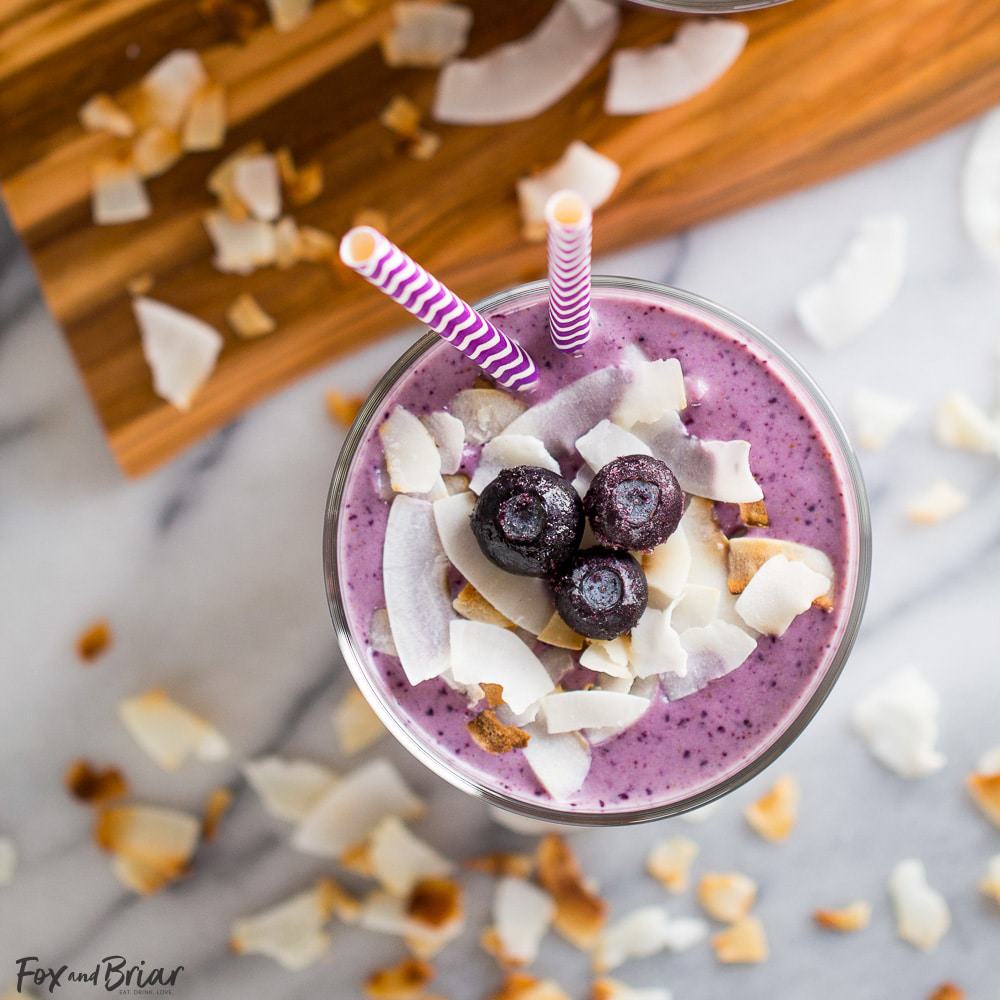 Honestly, as soon as I made my Toasted Coconut Almond Butter, I wanted to put it in a smoothie.  That stuff was made for smoothies.  I started dreaming up a coconutty smoothie, and blueberries came to mind.  So this Blueberry Banana Coconut Smoothie was born.  I added a banana because bananas always make a great base for smoothies, as they add sweetness and a creamy consistency.


This smoothie is not as sweet as some of my others, so if you really want it sweeter you can add more fruit, or even some maple syrup or honey.  And if you don't have any Toasted Coconut Almond Butter on hand, I think regular almond butter would work fine too.  Here is to weekend recovery – and to next weekend!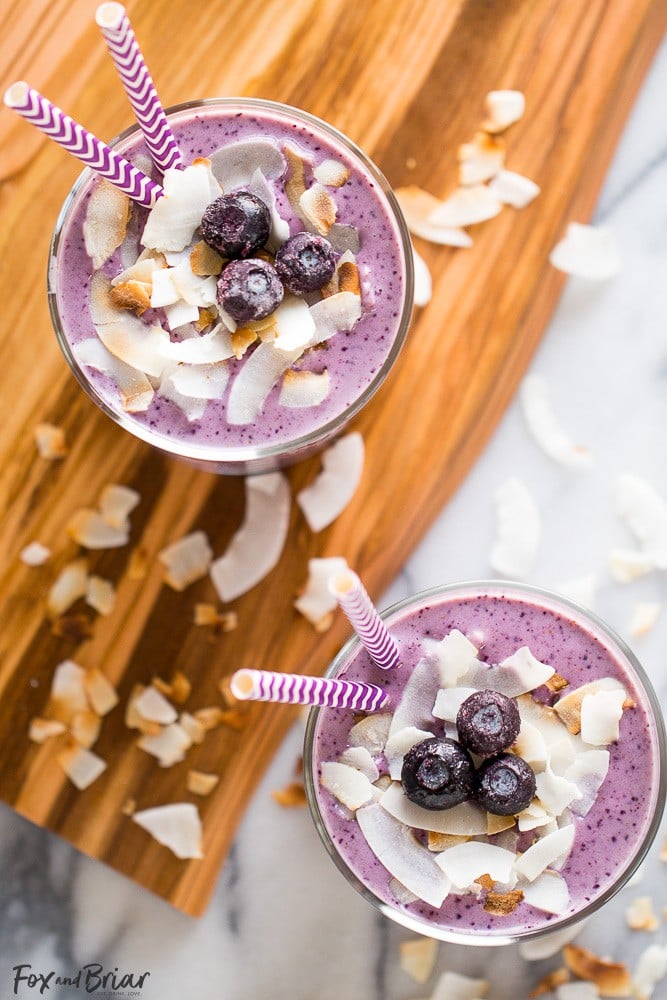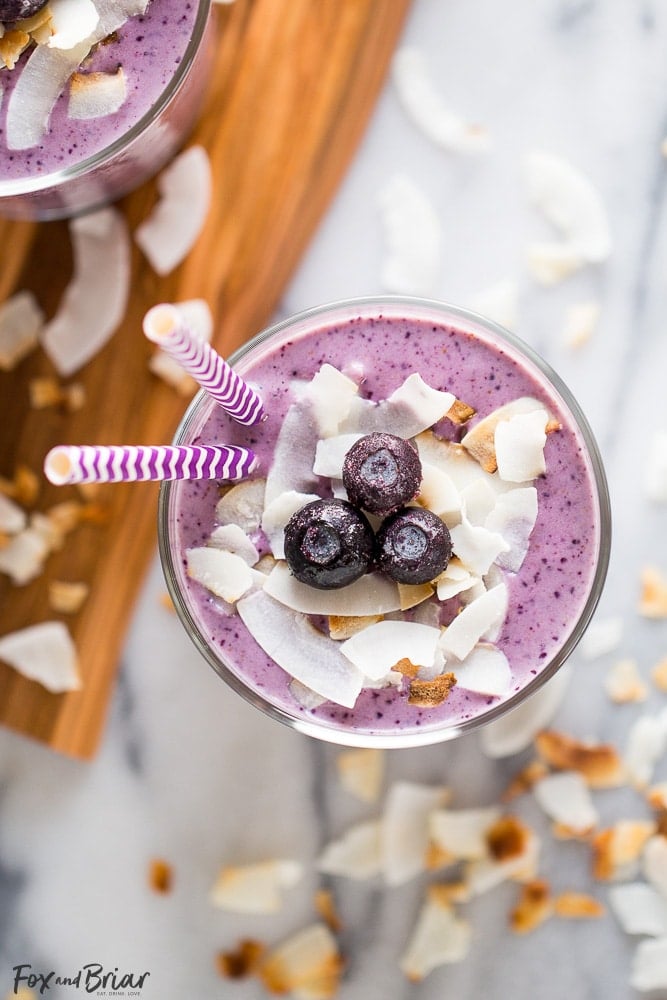 Print
Blueberry Banana Coconut Smoothie
Yield 2
Ingredients
1 banana
1 cup frozen blueberries
1 cup coconut milk
1/2 cup nonfat Greek yogurt
2 Tablespoons Toasted Coconut Almond Butter  (or you can use regular almond butter)
Instructions
Add all ingredients to a blender and blend until smooth.  If you are having a hard time blending or getting a smooth enough consistency, add a little more coconut milk or water.  Serve immediately.
Notes
Can be served as a meal for one or snack for two. 
Courses Breakfast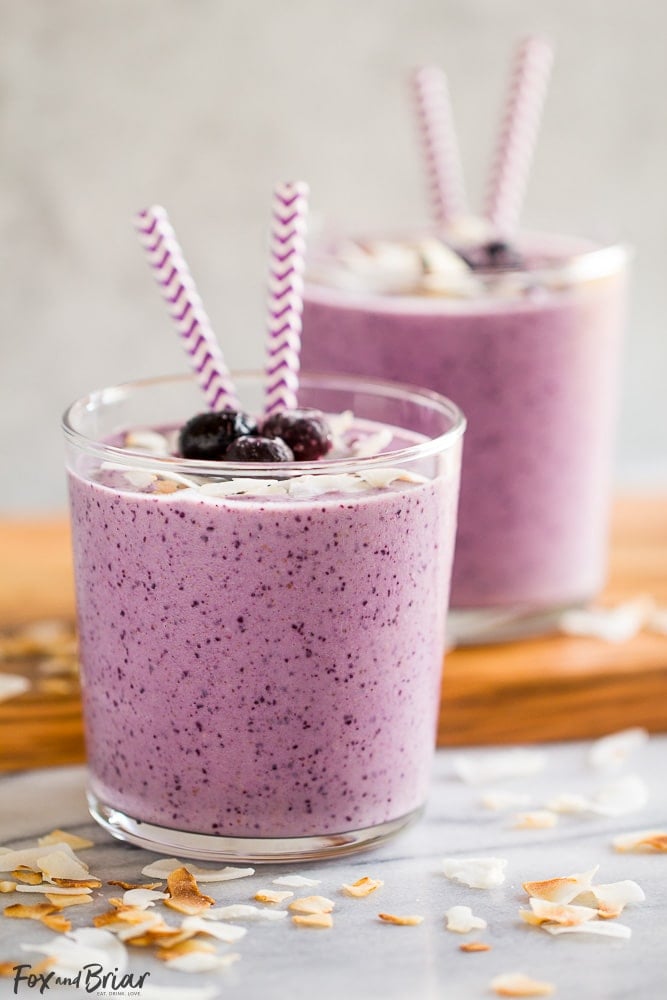 If you make this recipe don't forget to tag it @foxandbriar and #foxandbriar on
instagram
and
facebook
! I really love to see what you make and you may be featured in our weekly Reader Feature!