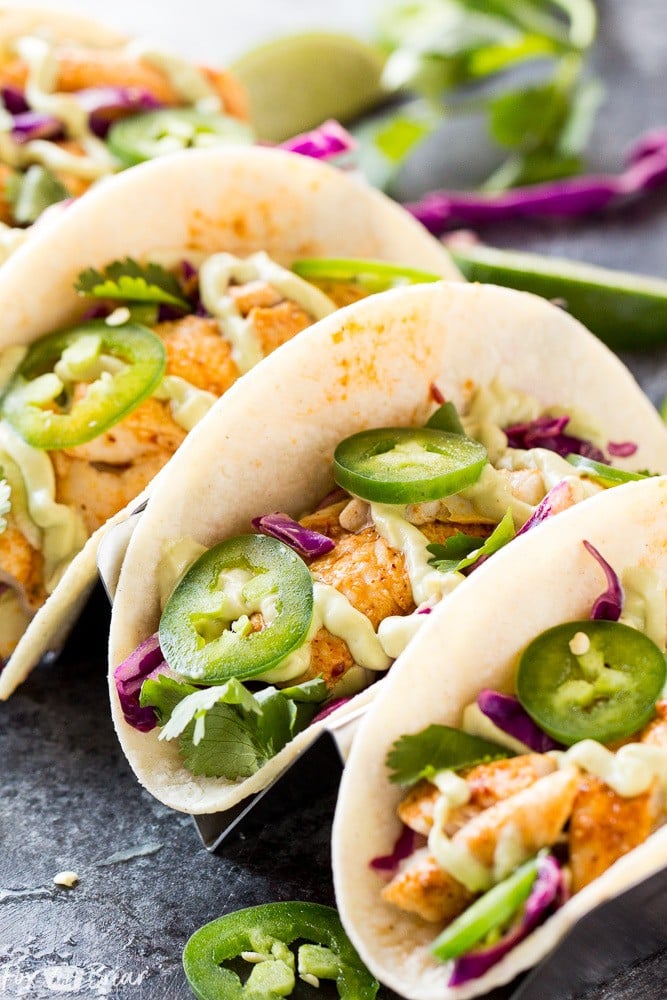 Chipotle Lime Fish Taco Recipe
Yield 8 Tacos
Ingredients
Ingredients For Fish Tacos
1 pound mild white fish (such as tilapia, flounder or Dover sole)
2 tablespoons olive oil
1 lime, zested and juiced (plus more lime for serving)
4 garlic cloves, minced
1/2 teaspoon paprika
1/2 teaspoon chili powder
1/2 teaspoon kosher salt
1 chipotle pepper in adobo sauce
8 small corn tortillas
Salsa
extra lime wedges
Cilantro (optional)
Lime Slaw for Fish Tacos
4 cups sliced cabbage or slaw mix
1/2 jalapeno, diced (more or less to taste)
1 tablespoon lime juice
pinch of salt
Avocado Crema for Fish Tacos
1 medium avocado
1/4 cup sour cream
2 tablespoons lime juice
1/4 teaspoon kosher salt
Instructions
Combine the olive oil, lime zest and juice, garlic, paprika, chili powder, salt and chipotle pepper in a mini-food processor or blender and pulse until smooth.  Place fish in a large zip top bag and pour sauce over it.  Use your hands to move the fish around until fully coated in the sauce.  Allow to marinate for 15 minutes. (I don't recommend leaving the fish in the marinade much longer because the lime juice can start to break down the fish and give it a weird texture)
When ready to cook, heat a large saute pan over medium heat, add some oil to the pan to keep fish from sticking.  Sear fish on one side, 1-2 minutes, then flip and sear on the other side until cooked through  (cooking time will depend on the thickness of the fish, it is done when opaque and easily flaked with a fork.  My fish was very thin and only took 1-2 minutes per side) 
To prepare the slaw, toss together the cabbage mix, lime juice, salt and jalapeno, set aside until ready to eat.
To prepare the avocado crema, add the avocado, lime juice, sour cream and salt to a food processor, pulse until creamy.
Warm the tortillas by spraying with cooking oil and heating in a large skillet, flipping as needed, until starting to brown and crisp on both sides.
To assemble tacos, fill tortillas with some slaw and fish.  Top with avocado crema and salsa. Drizzle with lime juice and garnish with cilantro (if using, optional)  Enjoy!
Courses Dinner
Cuisine Tacos
Amount Per Serving

Calories 195

% Daily Value

Total Fat 8 g

12%

Total Carbohydrates 14 g

5%

Protein 14 g

28%
Recipe by Fox and Briar at https://www.foxandbriar.com/chipotle-lime-fish-tacos/