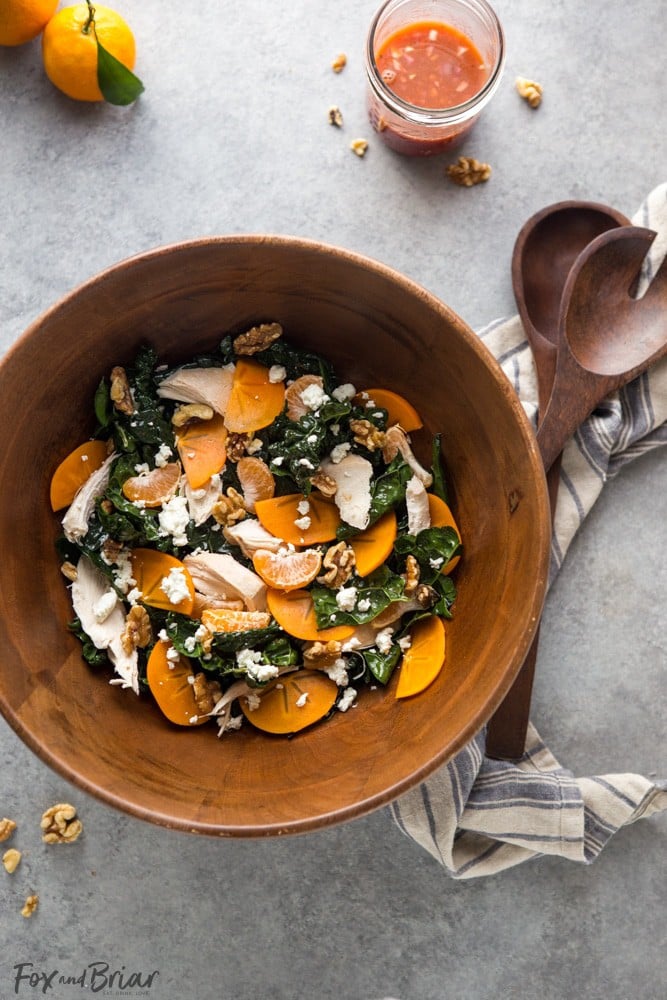 Citrus Kale Salad with Blood Orange Vinaigrette
Yield 4 Servings
Ingredients
For Salad
1 bunch kale, ribs removed and leaves torn into pieces (about 6 cups)
8 ounces cooked chicken or turkey, cut into bite sized pieces
1 persimmon, thinly sliced into half moons
1 mandarin orange, peeled and separated into wedges
4 ounces soft goat cheese (chevre)
2-4 ounces raw walnuts
For Blood Orange Vinaigrette
1/3 cup freshly squeezed blood orange juice
1 tablespoon freshly squeezed lemon juice
Zest of one blood orange
1 tablespoon maple syrup
1 tablespoon finely diced shallot
1 tablespoons olive oil
salt to taste
pepper to taste
Instructions
Add all ingredients for blood orange vinaigrette to a mason jar, tightly seal lid and shake until fully combine (or you can just whisk it together).
Add the torn kale to a large salad bowl.  Pour a few tablespoons of the dressing over the kale, then massage the dressing into the kale for a few minutes.  Allow to sit while preparing the rest of the ingredients.
To assemble salad,  add the rest of the salad ingredients to the salad bowl, toss to combine.  Top with more dressing or serve with dressing on the side.
Notes
This is a great recipe for leftover chicken or turkey!  It is also a great use for a store bought rotisserie chicken.
If you can't find blood oranges, regular oranges should work.
This would also make a great side salad and a vegetarian option just by leaving out the chicken.
Recipe by Fox and Briar at https://www.foxandbriar.com/citrus-kale-salad-blood-orange-vinaigrette/