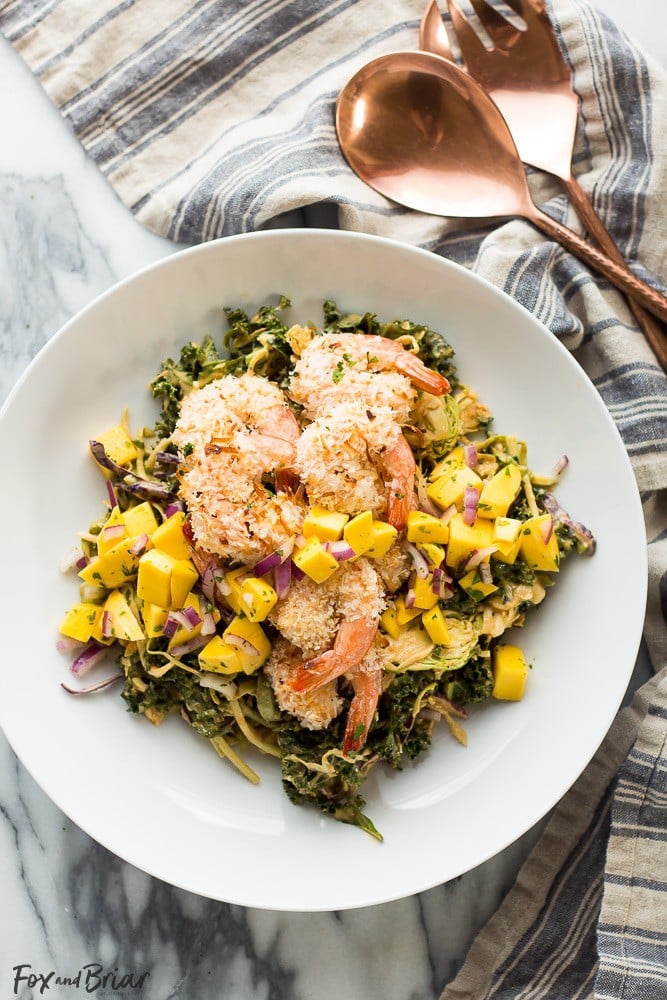 Coconut Shrimp Salad with Peanut Sauce Dressing and Mango Salsa
Yield 4 Servings
Ingredients
For Salad
1 pound Baked Coconut Shrimp (Follow Recipe HERE to make them)
10 cups kale and cabbage slaw mix (or chop your own)
Peanut Sauce Dressing (see below)
Mango Salsa (see below)
For Peanut Sauce Dressing
½ cup natural peanut butter
2 Tablespoons low sodium soy sauce
1 Tablespoon rice vinegar
2 Tablespoons brown sugar
1-3 teaspoons chili garlic sauce (to taste)
Juice of half a lime (about 1 tablespoon)
2-3 garlic cloves, pressed or grated
1- 2 inch piece of fresh ginger root, peeled and grated (1-2 Tablespoons worth)
2-4 tablespoons warm water
For Mango Salsa
1 mango, diced
1/4 cup red onion, diced
1/2 jalapeno, diced
1 Tablespoon lime juice
1 Tablespoon cilantro, chopped
1/8 teaspoon salt
Instructions
Make Baked Coconut Shrimp (Recipe HERE)
Whisk together peanut sauce dressing and toss half of it with the kale and cabbage slaw, reserve the other half for drizzling.
Mix together ingredients for the mango salsa
 To assemble the salad, make a bed of the peanut kale and cabbage slaw, top with 4-6 of the coconut shrimp, then spoon the mango salsa over the salad.  Drizzle with more peanut sauce dressing.
Recipe by Fox and Briar at https://www.foxandbriar.com/coconut-shrimp-salad-with-peanut-dressing-and-mango-salsa/