This Crock Pot Cranberry Pear Cider is made from scratch in your slow cooker!  A festive, warm fall and winter beverage, perfect for Thanksgiving or Christmas!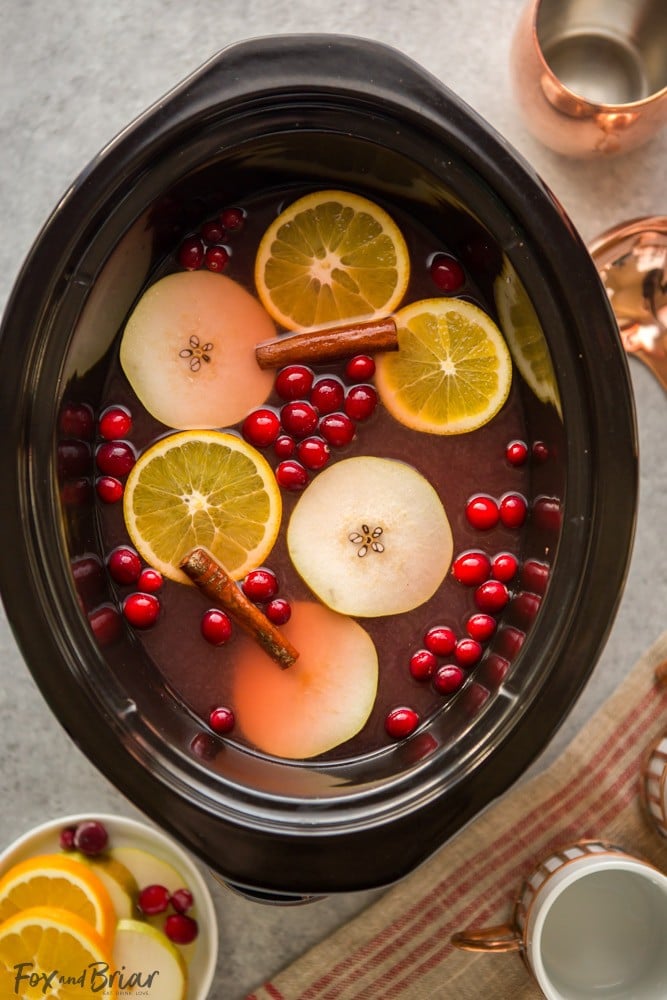 Do you have Christmas Carols stuck in your head yet?  I won't let myself listen to them until the day after Thanksgiving, but that doesn't stop them from popping into my head!  I am pretty excited for the holidays this year.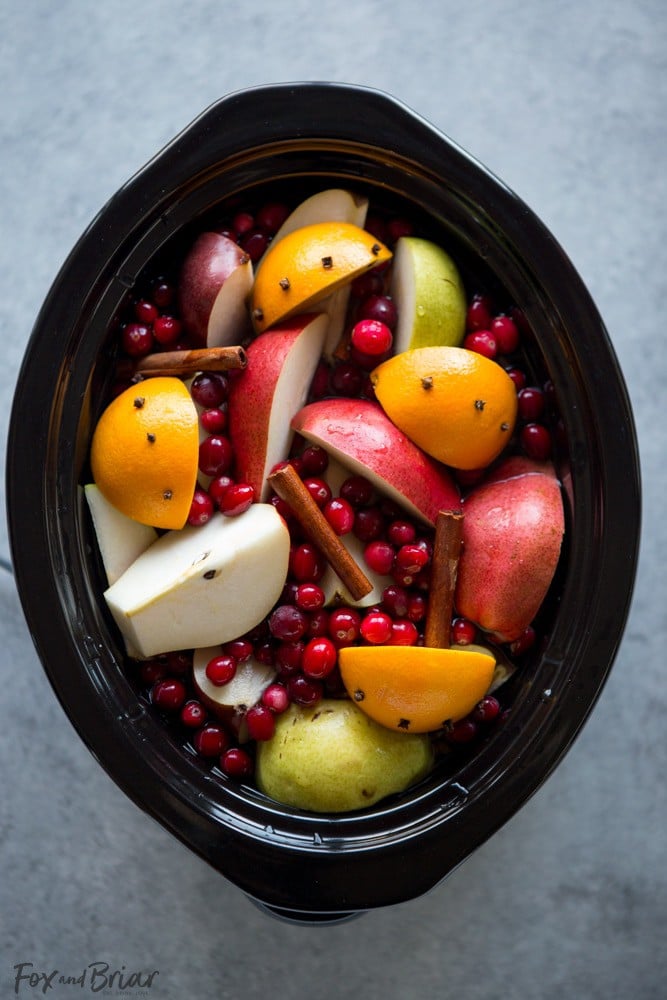 Another thing I'm excited about is this Crock Pot Cranberry Pear Cider.  I actually thought of this recipe two years ago.  I tried it twice but it didn't turn out great either time, and then I was tired of making it so I put it to the side.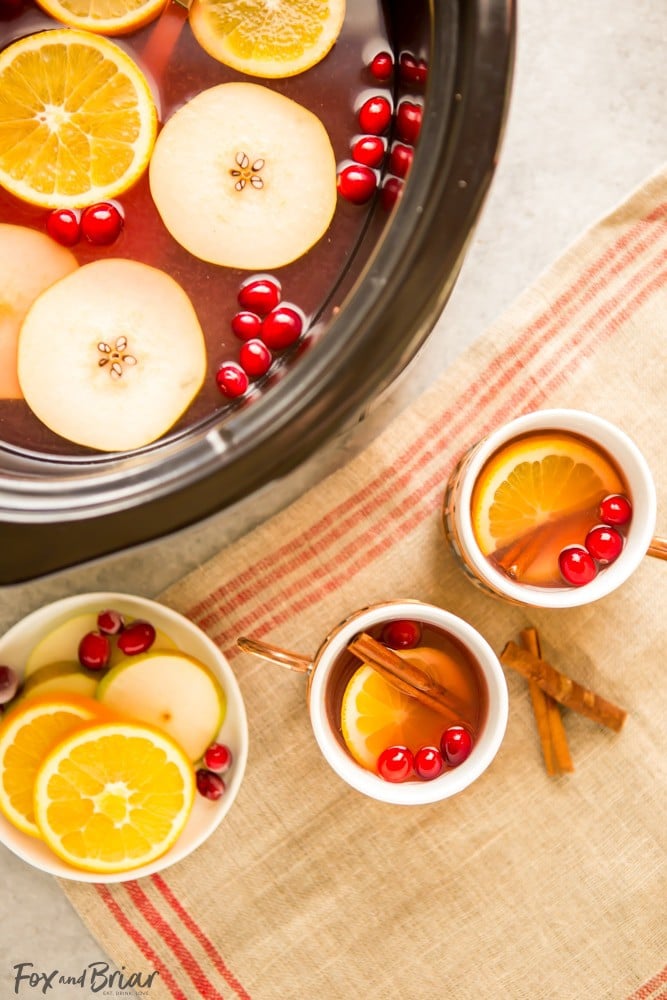 After my last attempt though I figured out what was missing, so when I came back to it this year I knew what needed to be done.  The key to making this mulled cider in the crockpot is to be sure to add an orange.  I don't know why the orange makes all the difference, but it does.


This slow cooker Cranberry Pear Cider is also naturally sweetened with maple syrup.  The pears give quite a bit of sweetness on their own, so you might not even need the maple syrup.  I suggest tasting it first, then adding maple syrup to your desired sweetness.  You could also use brown sugar if you don't want to use maple syrup.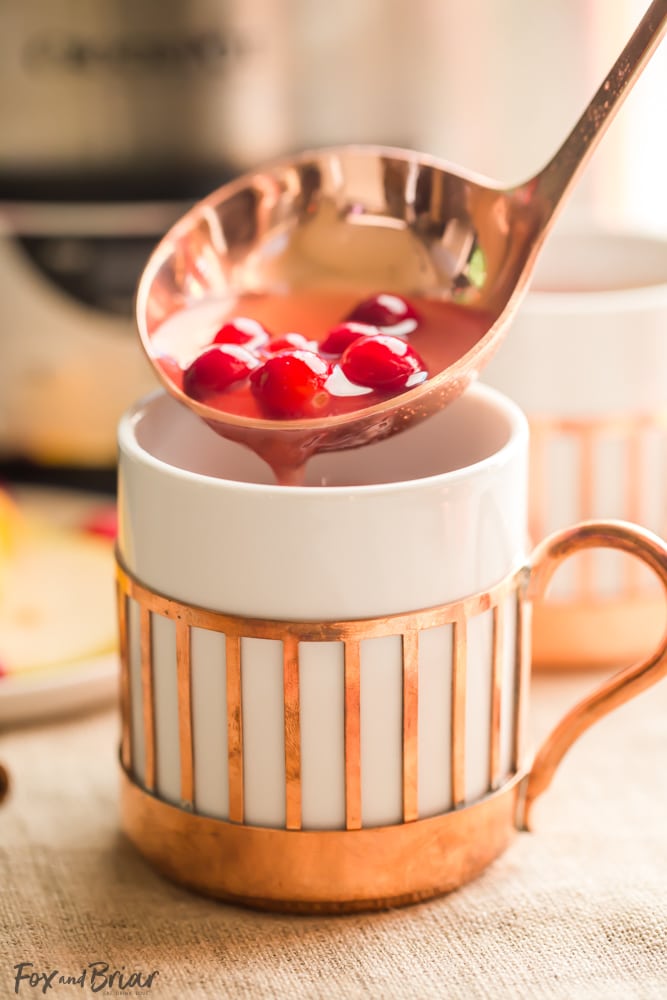 I love how festive this Cranberry Pear Cider is.  The cranberries give it a pink hue, and a little bit of a tart flavor – but there is still plenty of sweetness from the pears.  This would be great for a fall or winter party, Thanksgiving day, Christmas or just to have waiting for you when you come back from getting your Christmas tree.
Print
Slow Cooker Cranberry Pear Cider
Yield 8 Cups
Ingredients
10 pears, quartered
1 orange, quartered
2 cups cranberries
4 cinnamon sticks
1 whole nutmeg
16 cloves
1/3 cup pure maple syrup (can sub brown sugar)
8 cups water
For Garnish (optional)
Sliced Oranges
Sliced Pears
cranberries
cinnamon sticks
Instructions
Push the cloves into the orange rind.
Add pears, orange, cranberries and spices to a large slow cooker/ crock pot.  Fill with 8 cups of water.
Cover and set to low for 4-5 hours.
About one hour before it is done mash all the ingredients with a whisk or potato masher. Continue to cook for one more hour.
When finished cooking, strain all solids with a fine mesh sieve. Rinse out slow cooker.  Return to strained cider to slow cooker.  Pour in the maple syrup and stir to combine (Can add more or less to taste, or use brown sugar instead of maple syrup).
Garnish with orange and pear slices, cranberries and cinnamon sticks.
If you make this recipe don't forget to tag it @foxandbriar and #foxandbriar on instagram and facebook! I really love to see what you make!