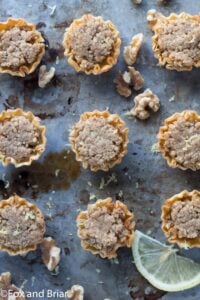 Easy Mini Baklava Cups
Yield 12 cups
These Mini Baklava Cups are a cute, bite sized dessert with all the flavors of baklava - but without all the work! Only a few ingredients and 20 minutes will give you these perfect mini desserts!
Ingredients
15 frozen phyllo mini cups
1 cup walnuts
1/2 teaspoon ground cinnamon
1/4 teaspoon ground nutmeg
1  Tablespoon granulated sugar
2 tablespoons melted butter (unsalted)
For the Syrup
1/2 cup granulated sugar
1/2 cup water
1 Tablespoon lemon juice
Instructions
Preheat oven to 350 degrees
Make the syrup.  Combine 1/2 cup sugar and 1/2 cup water in a medium sauce pan.  Bring to a simmer, stir until sugar is dissolved .  Reduce heat to low and simmer 10-15 minutes, until syrup is a light golden color.  Remove from heat and stir in the lemon juice.  Set aside.
Meanwhile, prepare the baklava cups.  Add the walnuts to a food processor and pulse until coarsely ground.  Add the cinnamon, nutmeg and 1 tablespoon of sugar, pulse a few times to combine.  Pour in the butter, pulse 2-3 more times to mix.  The walnuts should be about the same texture as breadcrumbs - not too finely ground.
Place the phyllo cups in a mini muffin tin (you can also just put them on a cookie sheet if you don't have a mini muffin tin). Evenly divide the walnut filling between the phyllo cups.
Bake for 12-15 minutes, until golden.  Remove from oven, and while they are still hot, spoon 1-2 teaspoons of the lemon syrup over each cup.
Notes
Best served right away, but leftovers can be stored in an airtight container.
Recipe by Fox and Briar at https://www.foxandbriar.com/easy-mini-baklava-cups/