Caramelized Kale and Onion Frittata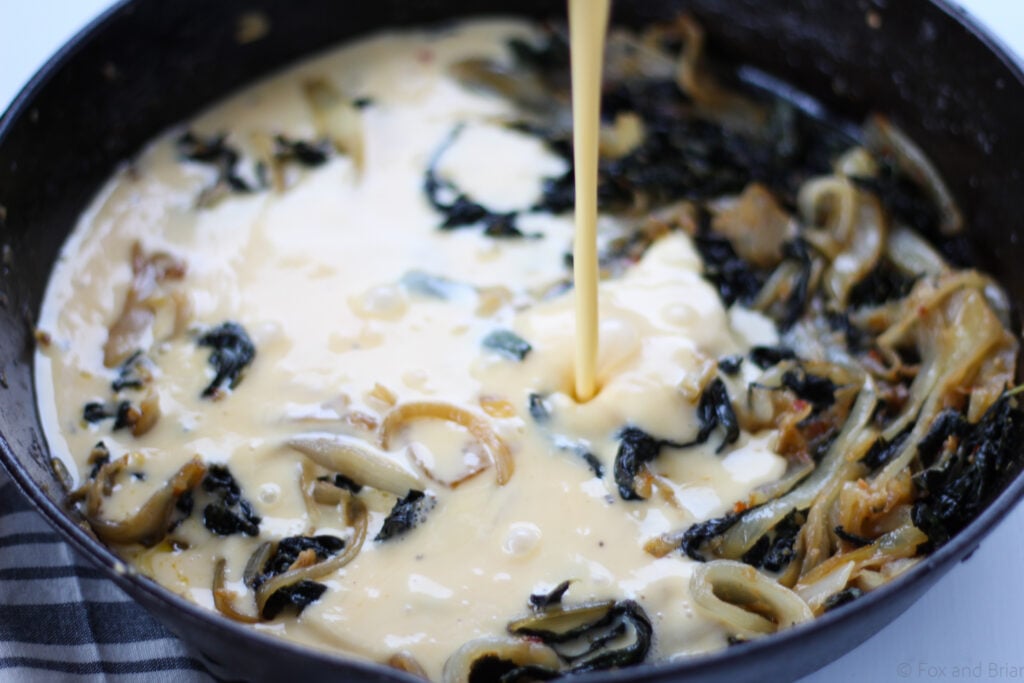 8 eggs
1 large sweet onion, thinly sliced
4 garlic cloves, finely minced
1 large bunch of lacinato kale, stem removed and torn into pieces (about 6 cups)
¼ cup half and half (optional)
4 Tablespoons olive oil
4 ounces soft goat cheese (herbed goat cheese is really nice here)
Kosher Salt
Fresh cracked pepper
red pepper flakes
Preheat oven to 350
Heat an oven proof skillet over medium heat.
When hot, add two tablespoons of olive oil.
Add the onion, season with salt, pepper and red pepper flakes.
Saute until soft and golden, about seven minutes.
Add garlic and cook for about a minute.
Add the kale to the skillet with 2 more tablespoons of olive oil, season with a little more salt, pepper and red pepper flakes. Stir to mix everything together and fully coat with the oil. Reduce heat to medium low.
Continue to cook mixture, stirring often, until onions are caramelized and kale is crispy and very dark, almost black, about 40 minutes.
While kale and onions are cooking, whisk together the eggs with half and half, salt and pepper, and break the goat cheese onto small pieces.
When kale and onion mixture is done, raise heat to medium high, brush some of the oil on the sides of the pan, then pour in the eggs. Allow the eggs to cook on the stovetop until the edges start to set and pull away from the pan, about 5 minutes.
sprinkle the goat cheese evenly on the top and put in the oven.
Keep a close eye on the frittata, bake until just set, about 20-30 minutes.
Remove from oven and transfer frittata to a cutting board, allow to sit for a few minutes. Cut and serve.
*Use a cast iron skillet or an oven proof nonstick skillet. Cooking time will vary depending on the size of your skillet. I used a 12 inch and the cooking time was 20 minutes, but a smaller skillet might require longer cooking due to the frittata being thicker.
Recipe by
Fox and Briar
at https://www.foxandbriar.com/caramelized-kale-and-onion-frittata/