Sausage and Kale Make Ahead Egg Muffins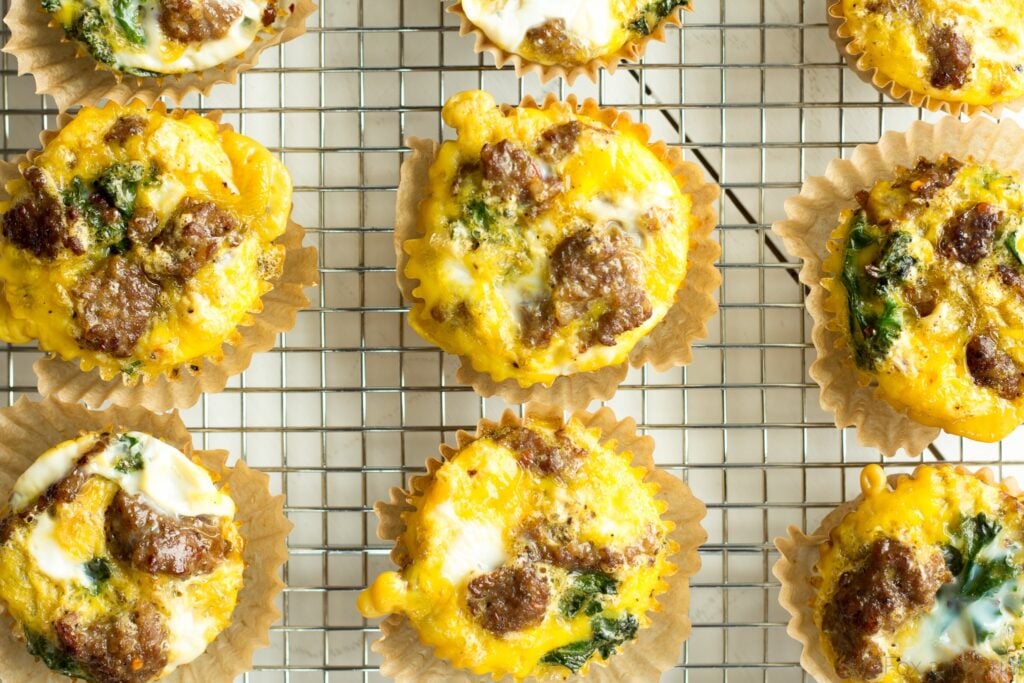 ⅓ pound hot italian sausage
4 cups kale, roughly chopped
1 shallot, finely chopped
10 eggs, scrambled, seasoned with salt and pepper
salt
pepper
Preheat oven to 350.
Line a muffin pan with parchment paper liners, set aside.
In large pan over medium high heat, brown sausage until cooked through.
Reduce heat to medium. Remove sausage from pan, reserve about 1 tablepsoon of the fat from the sausage to cook the shallot. If there is not enough fat from the sausage, add about 1 tablespoon of oil to the pan. Add the shallot and cook for a few minutes, until starting to soften, about 2 minutes.
Add the kale and a pinch of salt, carefuly stir to mix with the shallot. Cook until kale is wilted down but still bright green, about five minutes. Remove from heat.
Evenly divide the shallot and kale mixture between the muffin liners, then top each with some sausage. Each muffin liner should be about halfway filled with the kale and sausage.
Pour the scrambled eggs into each muffin liner, evenly dividing between each. It is OK to fill them to the top, just be careful not to go over the edge.
Bake for 15-20 minutes, until the muffins are puffed up and set on top (they may be shiny, but will no longer be liquid).
Remove from oven and immediately remove from the muffin tin and cool on a wire rack.
Allow to cool completely before transfering to the refrigerator. Store in the refigerator for up to five days.
To reheat, microwave for about 30 seconds.
*I do NOT recommend using paper muffin liners. Use parchment liners if at all possible. If you can't use parchment liners, you may try very liberally greasing the pan, but in my experience the parchment liners work best.
**For gluten free, be sure your sausage is gluten free!
***These can bre frozen, but I prefer to make enough for the week and store in the fridge. These keep in the fridge for up to five days.
Recipe by
Fox and Briar
at https://www.foxandbriar.com/sausage-and-kale-make-ahead-egg-muffins/