Fig, Goat Cheese and Prosciutto Bruschetta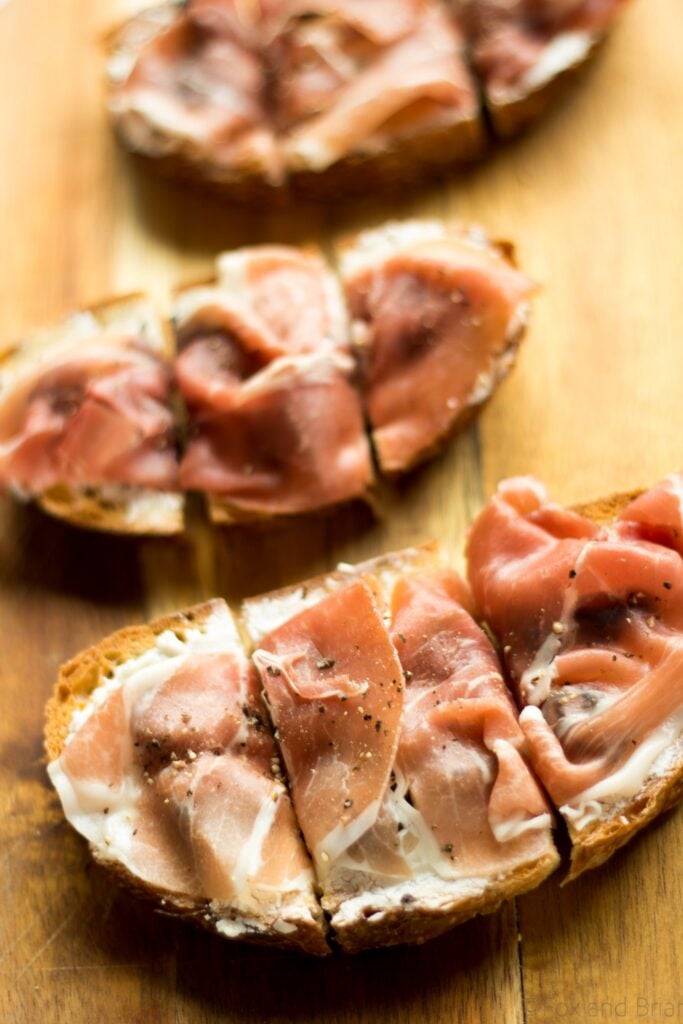 4 slices of good crusty bread, sliced ½ inch thick
2-3 ounces soft goat cheese (chevre)
6-8 dried figs, sliced
6 slices prosciutto
fresh ground pepper
1 Tablespoon olive oil
1 clove garlic, sliced in half.
Brush the bread slices with the olive oil and place under the broiler in the oven until they start to get golden, a few minutes. Watch carefully that they don't burn.
Remove from oven. Use the flat side of the garlic to rub on to the toasted side of the bread, which will give it a garlic flavor. Discard the garlic when done.
Allow the bread to cool slightly, then spread goat cheese evenly on each slice of bread.
Cover the goat cheese with slices of dried fig.
Lay 1-2 pieces of prosciutto on top of the figs (I cut some in half so that each bruschetta had an even layer).
Sprinkle a pinch of fresh ground pepper on top.
Slice into thirds if desired, then serve right away.
You can make as many or as few as you want.
Recipe by
Fox and Briar
at https://www.foxandbriar.com/fig-goat-cheese-and-prosciutto-bruschetta/