Hot Crab Dip Stuffed Artichokes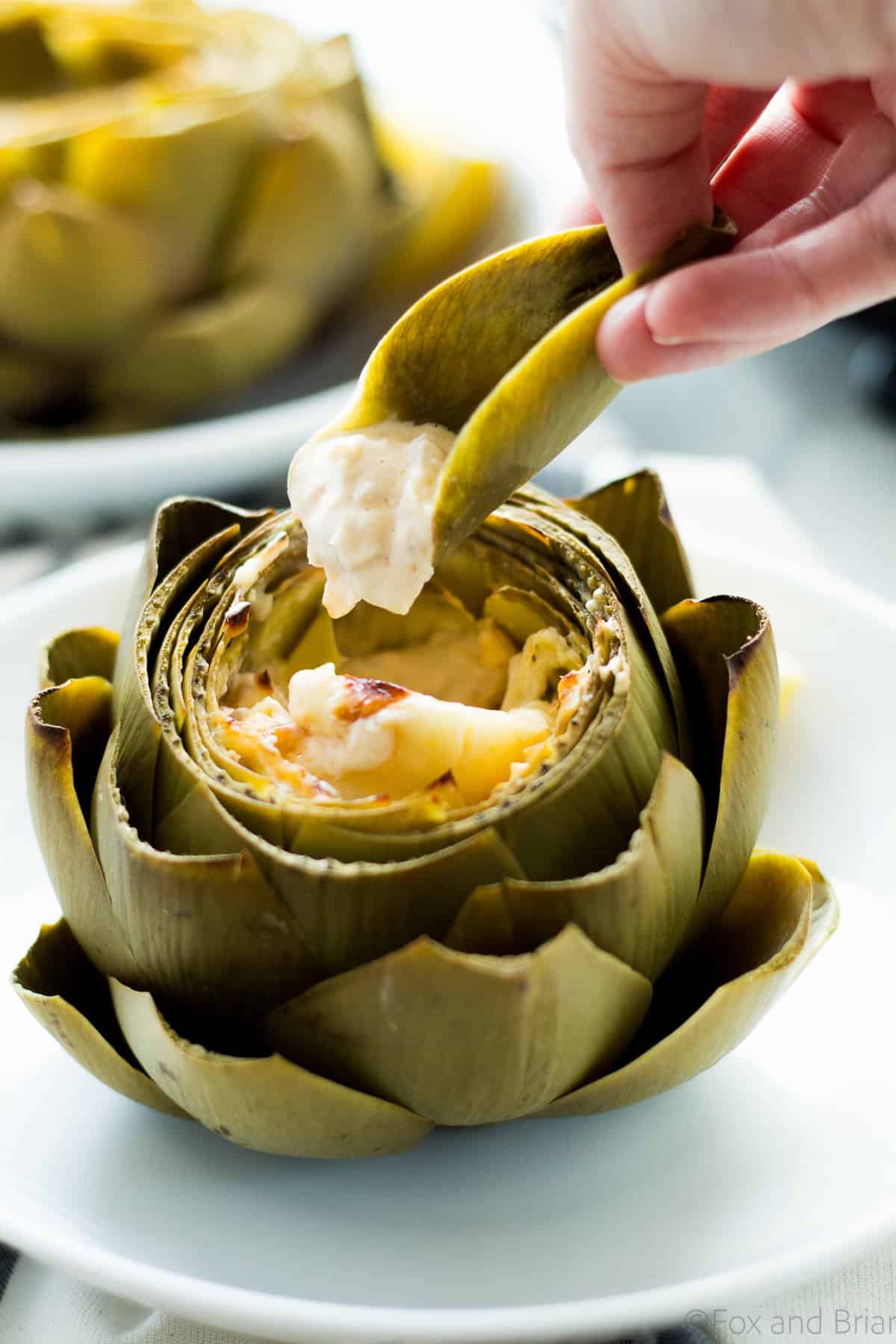 3-4 globe artichokes
2 lemons, cut into quarters
2 tablespoons butter
2 shallots, finely diced
6 ounces cream cheese
½ cup sour cream
2 oz shredded aged white cheddar (plus more for topping if desired)
2 tablespoons fresh lemon juice
½ teaspoon hot sauce (or to taste)
½ teaspoon old bay seasoning
6 ounces lump crabmeat, picked over for cartilage
Prepare the artichokes by slicing off the top 1 inch, and trim the sharp points of of any remaining with scissors. Also trim the stem end so that the artichoke will sit flat.
Bring a very large pot of salted water to boil. Squeeze the lemon quarters into the water and add the lemons. When water is boiling, add the artichokes and simmer for about 30 minutes, until tender when pierced with a sharp knife.
Drain upside down in a colander while they are cooling.
Preheat oven to 400 degrees.
Heat a medium saucepan over medium heat. When hot, add butter. When butter has melted, add shallots and cook until softened, about 5 minutes.
In a bowl, add the cream cheese and sour cream, stir together until combined.
Add the shredded cheese, lemon juice, old bay seasoning, hot sauce and butter/shallot mixture.
Mix until well combined. Fold in the crab meat gently.
Remove the soft inner leaves of the artichoke to reveal the choke. Use a spoon to remove the fuzzy choke. Evenly divide the crab dip mixture between the artichokes. Top with more shredded cheese if desired. Place in a baking dish and bake for 20 minutes, until cheese is bubbly. If desired, finish under the broiler for 1-2 minutes to allow the cheese to brown a little, watching carefully so they don't burn.
Remove from oven and serve right away.
*If you aren't going to be cooking the artichokes right after cutting them, be sure to rub them with lemon juice to keep them from turning brown.
**Each artichoke could serve 1-2 people (or more) depending on if this is being served as an appetizer or a meal
Recipe by
Fox and Briar
at https://www.foxandbriar.com/hot-crab-dip-stuffed-artichokes/