Roasted Cauliflower With Yogurt Sauce (Zahra)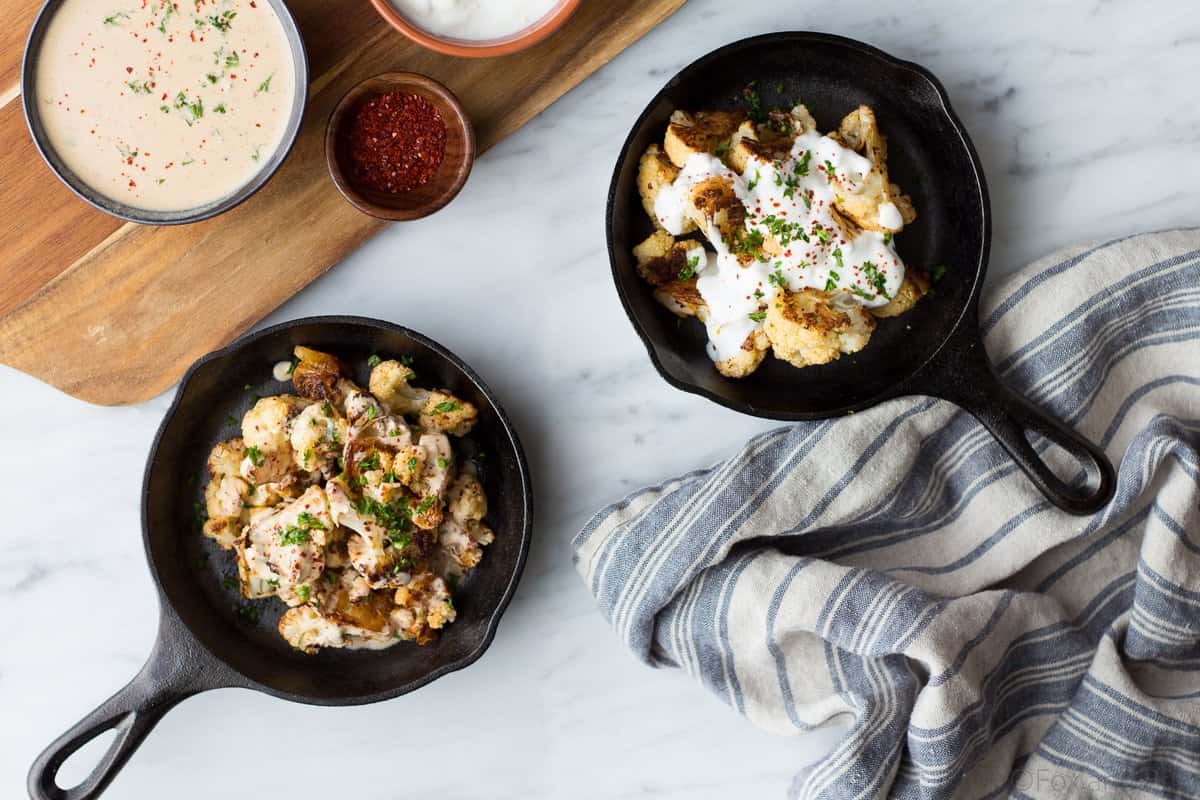 1 head cauliflower, cut into florets
¼ cup olive oil
¼ teaspoon allepo pepper (see note)
kosher salt
black pepper
parsley (for garnish, optional)
½ cup greek yogurt
1 tablespoon Fresh Lemon Juice
1-2 minced garlic cloves
2 Tablespoons olive oil
½ cup tahini
¼ cup lemon juice
2 garlic cloves minced
¼ cup warm water
¼ teaspoon allepo pepper
salt
pepper
Preheat oven to 425
On a baking sheet, toss cauliflower with ¼ cup of olive oil, allepo pepper, season with salt and pepper to taste. Roast for 20-25 minutes until tender and starting to brown.
While cauliflower is roasting, make the sauces (you can make just one or both)
Stir ingredients together until smooth. Thin with just a little water if you would like a thinner consistency.
Heat 2 Tablespoons of olive oil in a small saucepan over medium heat. Add the garlic and saute for about 30 seconds. Remove from heat and add the tahini, lemon juice, allepo pepper, salt and pepper to taste. Use a whisk to stir just until combined. Whisk in the water and whisk until smooth (you can ad more or less water to reach desired consistency)
Serve cauliflower drizzled with sauce of choice, then garnish with just a pinch of allepo pepper and parsley if desired. Serve while cauliflower is still hot!
*allepo pepper is a wonderful spice but can be hard to find right now. Your best bet to find it is at specialty spice shops or online. Although it is not quite the same flavor, you can substitute paprika with a pinch of cayenne pepper if you are unable to find it.
Recipe by
Fox and Briar
at https://www.foxandbriar.com/roasted-cauliflower-yogurt-sauce-zahra/