Mushroom Zucchini Lasagna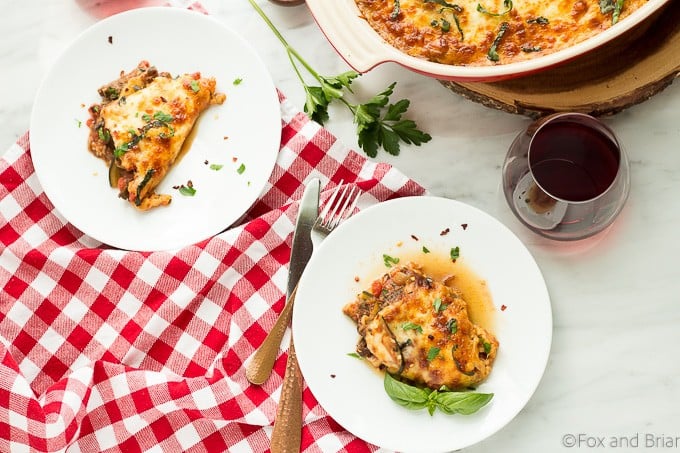 One batch of Easy 20 Minute Marinara (or 3 cups of your favorite marinara)
4 medium zucchini. thinly sliced lengthwise (I used a mandolin). Dice up any leftover pieces to put in lasagna filling.
1 pound whole milk mozzarella cheese, shredded
¼ cup parmesan cheese
1 pound crimini mushrooms, diced
3.5 ounces shiitake mushrooms, diced
1 ounce dried porcini mushrooms
1 onion, diced
1 Tablespoon olive oil
4 garlic cloves
1 teaspoon dried oregano
1 teaspoon dried thyme
red pepper flakes
salt
pepper
1 tablespoon fresh basil chopped, for garnish (optional)
Place dried porcini mushrooms in a heat proof dish and cover with hot or boiling water, allow to sit for 20-30 minutes.
Make a batch of Easy 20 minute Marinara Sauce or use 3 cups of your favorite marinara.
Preheat oven to 350
Use a mandolin to slice each zucchini lengthwise to about ⅛ inch thick. Season slices with kosher salt and allow to sit for 10 minutes.
Blot with a paper towel to remove excess moisture and salt. Arrange slices in a single layer on a lined baking sheet and bake for 10 minutes. Remove from oven and set aside.
In a saute pan, heat olive oil with a pinch of red pepper flakes and garlic until fragrant, 30-60 seconds.
Add onion and extra diced zucchini if there was any, season with salt. Saute for about 5 minutes, until starting to soften. Add crimini and shiitake mushrooms, oregano, thyme and season with salt and pepper. Add porcini mushrooms but save the soaking water. Saute for about 15 minutes, until water is evaporated. Add about ¼ cup of the porcini soaking water and saute until that has evaporated and mushroom mixture is browned.
To assemble lasagna, pour about ¼ cup of marinara sauce in the bottom of a 9x13 baking dish. Layer about half of the zucchini slices on top, cover with half of the mushroom mixture, cover that with about half of the remaining marinara sauce, then sprinkle half of the parmesan cheese and half of the mozzarella cheese. Repeat one time.
Bake until cheese is browned and bubbly, about 40 minutes. If cheese is browning too much, cover with foil. If cheese is not browning enough, finish under the broiler for 1-2 minutes.
Remove from oven and allow to sit for a few minutes before cutting. Serve with chopped basil and more parmesan cheese, if desired.
Recipe by
Fox and Briar
at https://www.foxandbriar.com/mushroom-zucchini-lasagna/