Red, White and Blueberry Tart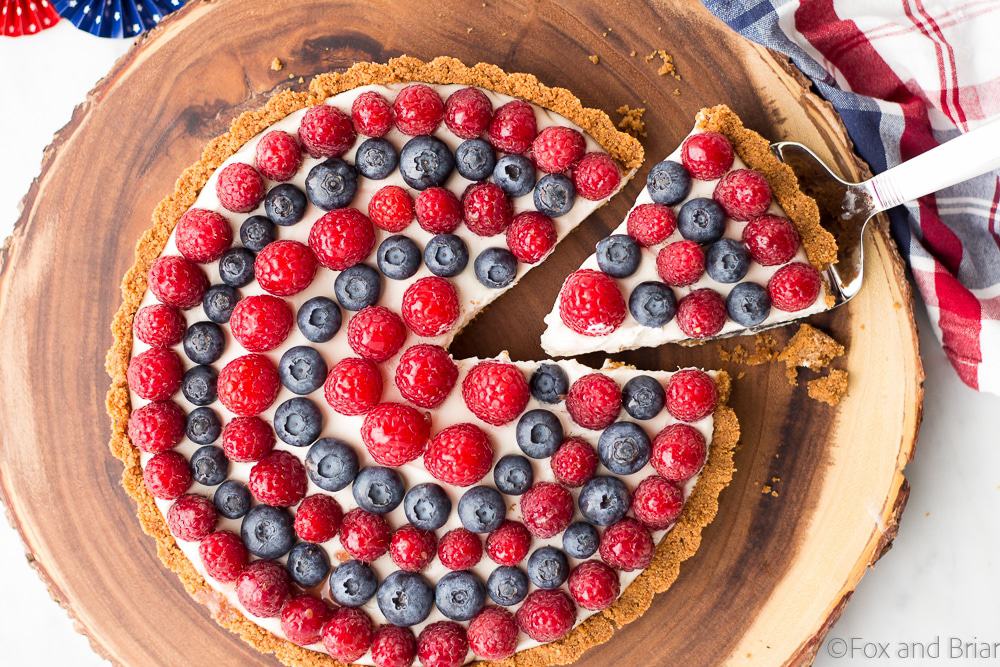 9 graham crackers (one sleeve)
2 tablespoons plus ¼ cup sugar*
6 tablespoons unsalted butter, melted
8 ounces bar cream cheese, room temperature
½ teaspoon pure vanilla extract
¾ cup heavy cream
2 pints raspberries
1 pint blueberries
1 tablespoon seedless raspberry jam (optional)
Pre heat oven to 350.
In a food processor, pulse graham crackers and 2 tablespoons of sugar until finely ground. Add the butter and pulse until combined.
Transfer to a tart pan and press firmly into the bottom and sides of the pan (it helps to use the flat bottom of a measuring cup). Bake for about 12 minutes, or until browned. Cool completely.
Using an electric mixer, whip together cream cheese, vanilla and ¼ cup sugar until fluffy. Slowly add cream and whip until soft peaks form.
Spread filling in crust and arrange berries on top.
For optional glaze: heat jam and 1 tablespoon of water in microwave or small sauce pan. Stir together until smooth and carefully brush over berries.
Refrigerate tart for at least half an hour before serving, and up to one day.
*Use vanilla sugar if you have it!
Recipe by
Fox and Briar
at https://www.foxandbriar.com/red-white-blueberry-tart/