No Churn S'mores Ice Cream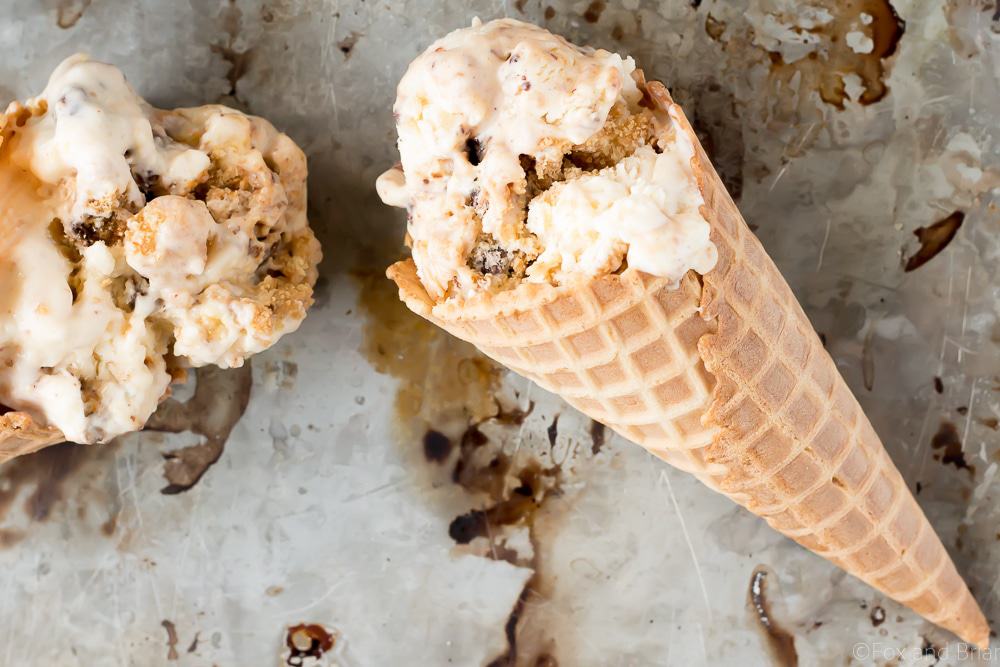 1 pint heavy whipping cream
7 ounces sweetened condensed milk (1/2 a can)
1 teaspoon vanilla extract
10 oz marshmallows (1 bag)
6 graham crackers sheets, crushed
7 ounces dark chocolate (I used 2 Lindt bars), chopped into small pieces
2-4 tablespoons half and half (or other milk)
On a lined baking sheet, spread the marshmallows into a single layer. Place under the broiler for 2-4 minutes, until the tops are nicely toasted. Watch carefully as they will burn easily. Remove from oven and set aside.
To make the ice cream base, you can use either a stand mixer or a blender.
Add the heavy cream to a stand mixer and whip until it forms soft peaks. Remove bowl from mixer and fold in the sweetened condensed milk and the vanilla with a spatula, being careful not to deflate the whipped cream. Add the marshmallows and fold them in, breaking them up into smaller pieces as you do, until they are fully incorporated. (The ice cream will be lumpy, that is OK)
Add heavy cream, sweetened condensed milk and vanilla to a blender, blend for two minutes. Pour into a mixing bowl, add the marshmallows and carefully fold them into the ice cream base with a spatula, breaking them up into smaller pieces. (The ice cream will be lumpy, that is OK)
Using a double broiler, heat the chocolate and the half and half over low heat, stirring as it melts, until fully melted and smooth. Don't let it get too hot or it could seize up and get lumpy.
line a loaf pan with parchment paper. Drizzle ⅓ of the chocolate and sprinkle ⅓ of the graham crackers on the bottom. Pour in half of the ice cream mixture. Top with another ⅓ of the chocolate and graham crackers. Pour the rest of the ice cream base into the pan, and top with the remaining chocolate and graham crackers. Cover ice cream plastic wrap and freeze for at least 6 hours, or until firm.
*Most No Churn Ice cream recipes call for an entire can of sweetened condensed milk, but with the add ins I found this much too sweet. Feel free to add more if you prefer a very sweet ice cream. However, I found that ½ a can was the right amount of sweetness for me.
**Depending on how much air you whip into the cream, you may have some leftover ice cream base. On one batch I did and on one batch I didn't. You can freeze the extra base in another pan for more ice cream!
Recipe by
Fox and Briar
at https://www.foxandbriar.com/no-churn-smores-ice-cream/