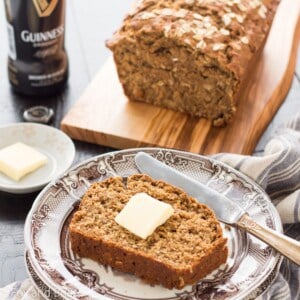 Irish Guinness Brown Bread
This Irish Guinness Brown Bread contains no yeast and just needs to be stirred together and baked!  Perfect for breakfast or serving alongside stew!
Ingredients
1 cup quick cooking oats (not instant), plus more for sprinkling
2 and 1/4 cups whole wheat flour
1/4 cup all-purpose flour
1/2 cup brown sugar
2 and 1/4 teaspoons baking soda
1 teaspoon baking powder
2 teaspoons kosher salt
11-12 ounces Guinness beer (1 bottle),  room temperature
1 cup buttermilk
5 Tablespoons unsalted butter, melted, plus more for the pan
1 teaspoon pure vanilla extract
Instructions
Preheat oven to 425°F and butter a 9 x 5 bread pan, set aside.
In one bowl, add the oats, whole wheat and all-purpose flours, brown sugar, baking soda, baking powder and salt. Whisk to combine.
In another bowl, add the beer, buttermilk, melted butter and vanilla.  Whisk to combine.
Add the wet ingredients to the dry ingredients, stir until fully mixed.  Batter will be wet.
Pour the batter into the prepared bread pan, sprinkle more oats on top.  Place in oven and then turn oven temperature down to 400°F. Bake for 45 minutes or until a toothpick comes out clean.
Remove bread from pan and allow to cool on a cooling rack completely before slicing. 
Notes
Adapted from Ina Garten's "Cooking for Jeffrey"
Recipe by Fox and Briar at https://www.foxandbriar.com/irish-guinness-brown-bread/