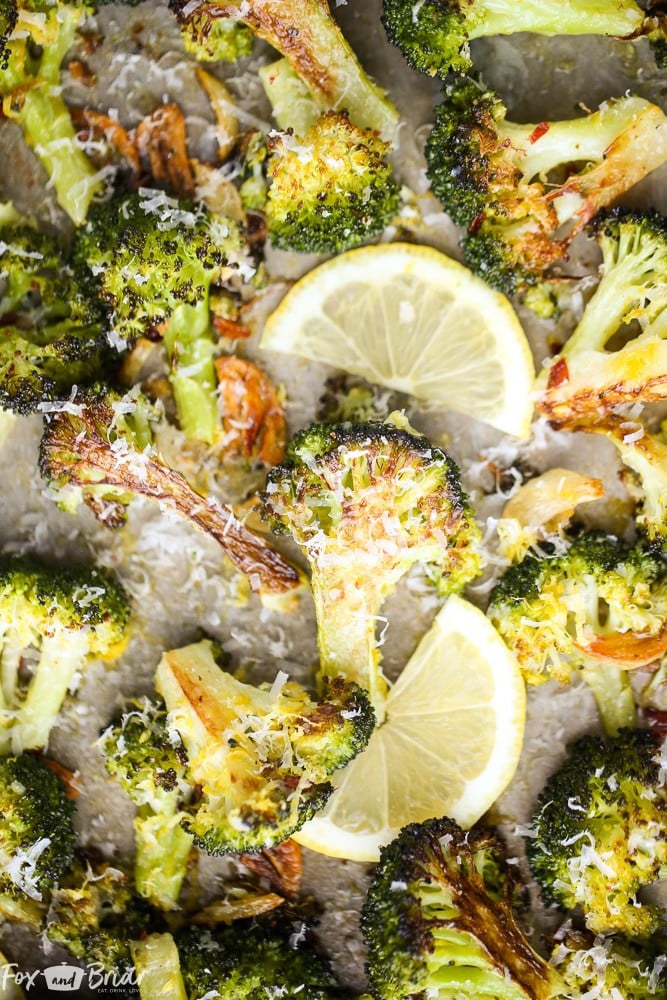 Lemon Parmesan Roasted Broccoli
Yield 4 Servings
This easy Lemon Parmesan Roasted Broccoli is the best way to eat broccoli ever!  You will never want to make it any other way!
Ingredients
1 and 1/2 to 2 pounds broccoli
4 garlic cloves, sliced
5 Tablespoons olive oil, divided
1 lemon
1/4 cup fresh grated Parmesan cheese
red pepper flakes
kosher salt
pepper
Instructions
Preheat the oven to 425 degrees
Cut the broccoli into florets that are all similar in size.  Place the florets and the sliced garlic on a baking sheet, drizzle with 1/4 cup of olive oil, season with salt, pepper and a pinch of red pepper flakes (to taste).
Roast for 15-18 minutes, or until the edges of the broccoli are starting to brown.
Remove from oven and drizzle on one tablespoon olive oil, zest the lemon over the broccoli and add the parmesan cheese.  Toss to coat.
Serve with lemon slices for each person to squeeze a lemon wedge over their broccoli to taste.  
Courses Side
Recipe by Fox and Briar at https://www.foxandbriar.com/lemon-parmesan-roasted-broccoli/