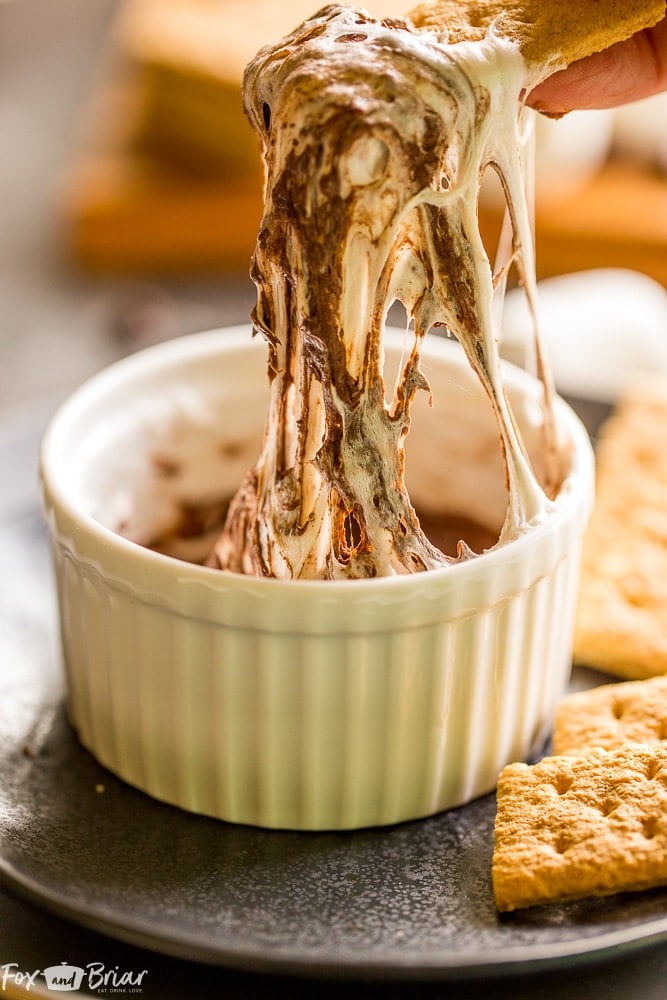 One Minute S'mores Dip For One
Yield 1 Serving
Ingredients
2 Tablespoons chocolate chips (or any chopped up chocolate)
2 marshmallows
2 graham crackers
Smoked salt (optional)
Instructions
Place the chocolate in a small ramekin, sprinkle with a small pinch of smoked salt (if using) and microwave for 30 seconds.
Split the marshmallows in half and place on top of the chocolate, then microwave for 10-15 more seconds.  Watch closely, take out of the microwave as soon as they start to puff up.
Break the graham crackers into pieces and dip into the chocolate/marshmallow dip.  Best if eaten right away.
Notes
The smoked salt is optional, but will give a slightly smokey "campfire"  flavor.  You can leave it out if you don't have any.
Variations:
Peanut Butter S'mores Dip for one: Add a teaspoon of peanut butter in with the chocolate
Caramel S'mores Dip For One: Use a caramel stuffed chocolate bar (1 ounce) broken into pieces instead of the chocolate chips.
*For the photos I placed the marshmallows under the broiler in my oven for a few minutes instead of melting them in the microwave.  It was mostly for looks and is not necessary, but you can do that if you want that toasty marshmallow look.  When I make them for myself I just use the microwave. 
Courses Dessert
Recipe by Fox and Briar at https://www.foxandbriar.com/one-minute-smores-dip-for-one/