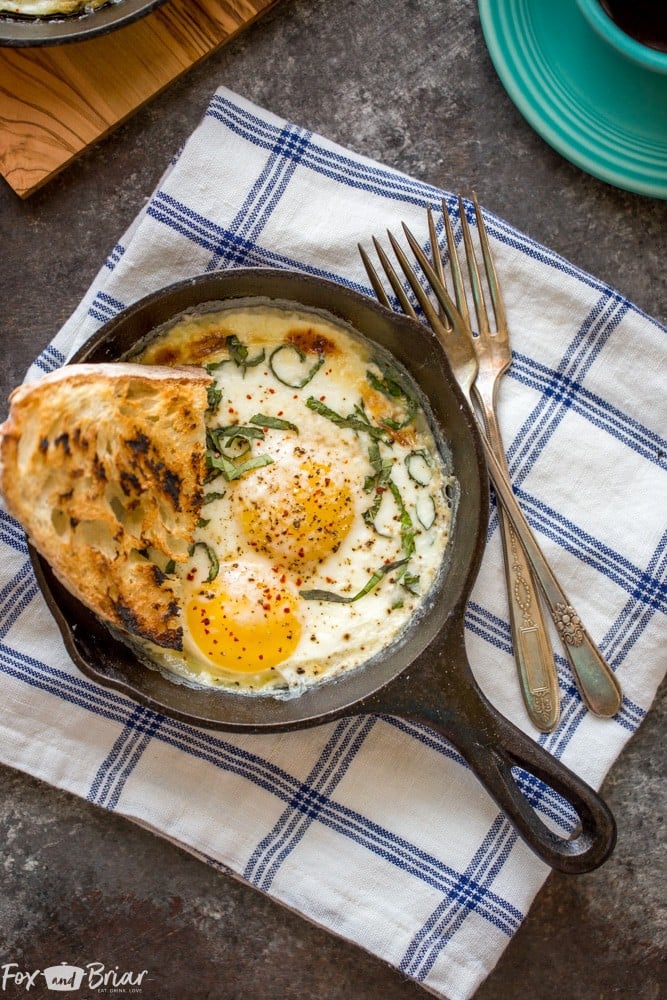 Oven Baked Eggs
Yield 2 Servings
Ingredients
4 eggs
1 Tablespoon butter, divided in half
2 Tablespoons half and half
1 garlic clove minced, divided in half
2-4 tablespoons Parmesan cheese
2-4 tablespoons fresh chopped basil
salt
pepper
Instructions
Adjust the oven rack so that is in the middle of the oven (not at the top).  Place two small oven safe dishes in the oven and preheat it to 350 degrees.
Meanwhile crack the eggs into two small bowls (2 eggs in each bowl), season with salt and pepper.
When the oven has preheated,  take out the now hot dishes.  Add 1/2 a tablespoon of butter, 1 tablespoon of cream and half of the garlic clove to each, whisk to combine and then put back in the oven.  Turn on the broiler and allow the butter mixture to get bubbly but not burn, 1-2 minutes.
When bubbly, remove from oven and add 2 eggs to each dish, top with 1-2 tablespoons of Parmesan cheese and basil.  Place back in the oven under the broiler and cook until whites are set but yolks are runny (or to desired doneness).  2-4 minutes.
Remove from the oven.  Top with more Parmesan and fresh basil if desired.  Serve right away.
Courses Breakfast
Recipe by Fox and Briar at https://www.foxandbriar.com/oven-baked-eggs/