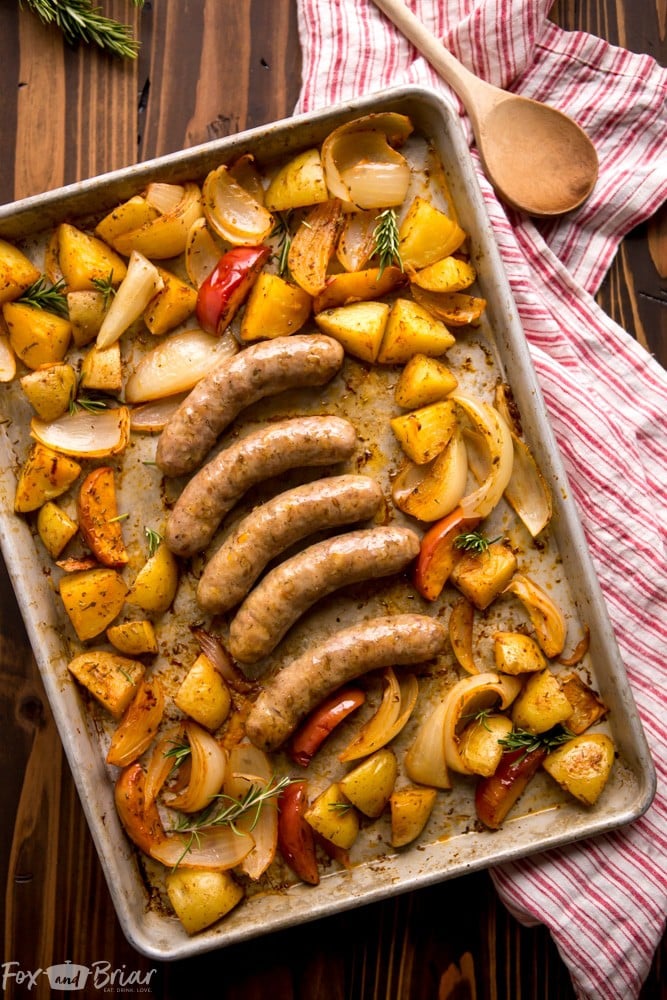 Sausage and Potatoes Sheet Pan Dinner
Yield 4 Servings
Ingredients
4-5 Sausage links, uncooked
4 small-medium Yukon gold potatoes
1 medium sweet onion
1 medium apple (such as Fuji)
2 Tablespoons olive oil
1 Tablespoon fresh rosemary, minced
1 teaspoon paprika
1 teaspoon dried oregano
Salt
pepper
Instructions
Preheat oven to 400 degrees.
Dice potatoes, onions and apples into eight pieces each.  Throw on a large baking sheet.
Add olive oil, rosemary, paprika, oregano, salt and pepper.  Toss until the vegetables are fully coated.
Push the vegetables to the sides of the baking sheet and lay the sausages in the middle.  Try to spread everything out evenly so that there can be heat circulation and nothing is overcrowded.  This will help things get crisp instead of soggy.
Bake for 30 minutes or until sausages are done and vegetables are tender.
Notes
I used five sausages in the photos because that is how many were in the package, but I think four would be enough for 4 servings.
You can use pork or chicken sausage, however I prefer this with pork sausage.
Recipe adapted from Jo Cooks
Courses Dinner
Recipe by Fox and Briar at https://www.foxandbriar.com/sausage-and-potatoes-sheet-pan-dinner/