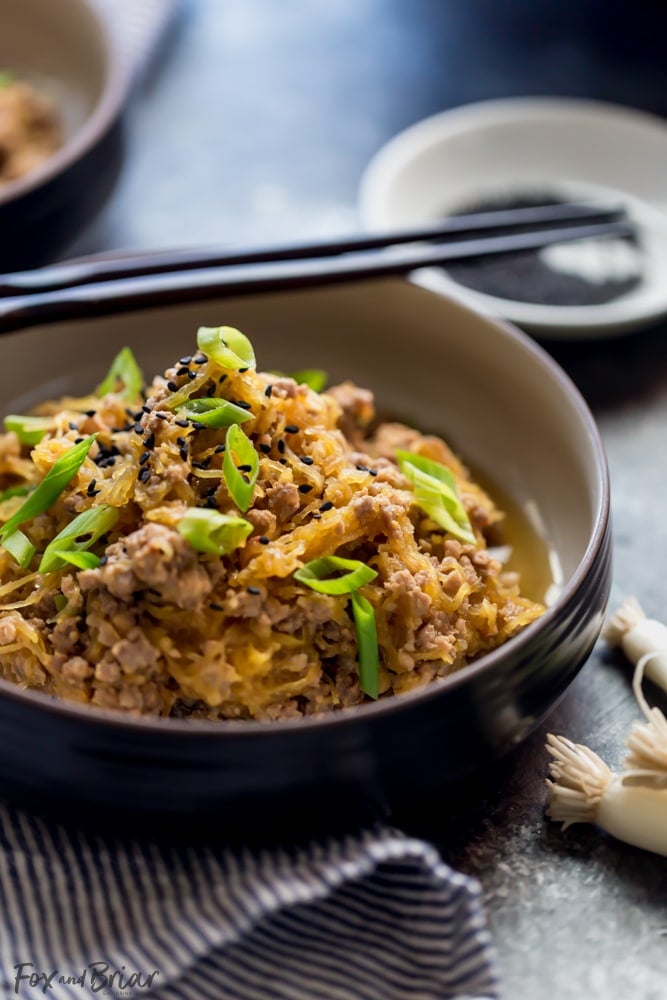 Spaghetti Squash and Pork Stir Fry
Yield 4 Servings
Ingredients
1 spaghetti squash (about 6 cups prepared)
10 ounces ground pork*
2 ounces low sodium soy sauce**
1 Tablespoon rice wine
1 Tablespoon chili garlic sauce
1 teaspoon cornstarch
1 tablespoon canola oil
4 green onions, chopped
½ cup chicken broth
Instructions
Whisk together soy sauce, rice vinegar, chili garlic sauce and cornstarch until smooth. Add the ground pork and mix together until incorporated. Allow to sit for half an hour.
While meat is marinating, prepare spaghetti squash. Cut ends off of squash and then split in half. Scoop out seeds and "innards", then place squash in a microwave safe dish, cut side up. Microwave for 12-20 minutes, until done. Squash is done when skin can easily be pierced with a knife and flesh easily shreds with a fork.
After allowing the squash to cool for a few minutes, use a fork to shred the flesh into "noodles". Drain in a colander lined with paper towels to remove excess moisture.
Heat a large skillet over high heat, then add the oil.
When pan and oil are hot, add the pork and cook, stiring constantly, for about 2 minutes, breaking the meat into smaller pieces.
Add ⅔ of the green onions to the pork, then continue to cook until the meat is well browned, about 2 more minutes.
Lower heat to medium high and add the broth. Cook for 2-3 more minutes, until broth is reduced.
Add handfuls of the spaghetti squash noodles, stirring as you go to combine.
Top with the rest of the green onions and serve.
Notes
*If you don't want to use pork, ground turkey will also work
**for gluten free, be sure to use GF soy sauce
Recipe by Fox and Briar at https://www.foxandbriar.com/spaghetti-squash-ants-in-trees/