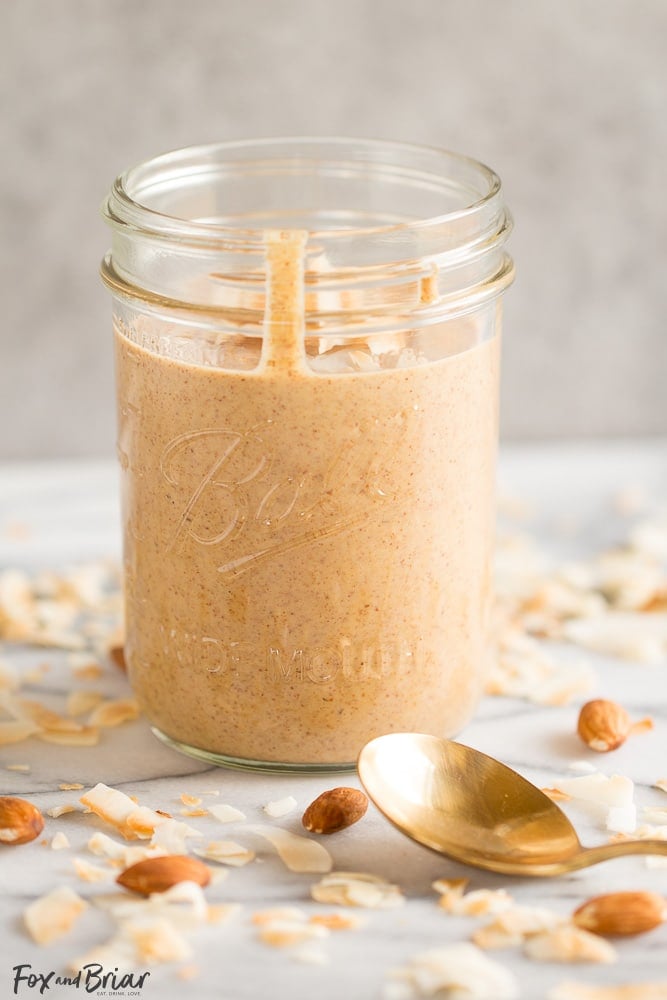 Toasted Coconut Almond Butter
Yield 26 Servings
Ingredients
2 cups raw almonds
1 cup unsweetened coconut flakes
1 tablespoon coconut oil
1/4 teaspoon salt
Instructions
Preheat oven to 350 degrees.  
Spread the almonds in an even layer on a baking sheet and toast for 10 minutes.  Remove from oven and add the coconut to the baking sheet, tossing to make an even layer.  Toast with the almonds for another 5 minutes (watch carefully as the coconut can burn easily).  Remove when lightly golden.
Add toasted coconut and almonds to a food processor with the coconut oil and salt.  Process for 5-7 minutes, or until smooth.  Taste and add more salt if desired.
Pour into a mason jar or other container with a tightly fitting lid.  Store in the refrigerator. 
Notes
1 serving is 1 tablespoon.  Makes approximately 26 servings. 
Courses Snack
Recipe by Fox and Briar at https://www.foxandbriar.com/toasted-coconut-almond-butter/