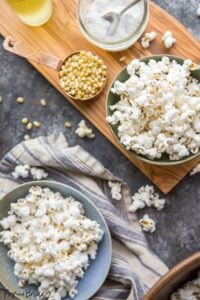 Ultimate Truffle Popcorn
Yield 4 Servings
Ingredients
1/2 cup white popcorn
2 Tablespoons canola oil (or other high heat oil)
2 Tablespoons butter
2 teaspoons truffle oil
1/2 teaspoon truffle salt (or to taste)
Instructions
In a large, 6 or 7 quart heavy pot, add the 2 Tablespoons of canola oil and 1 teaspoon of truffle oil, along with 3 popcorn kernels. Turn heat to high (I usually set it to 9 out of 10)
When the 3 test kernels have popped, add the rest of the popcorn and cover.  Shake the pan as needed, and popcorn should start popping almost right away.  When popping slows down and there is 1-2 seconds between pops, remove from heat and pour the popcorn into a large bowl.
Wipe out the pan to remove any crumbs, do NOT return the pan to heat.  Add the other teaspoon of truffle oil to the pan, and the butter.  Using the residual heat in the pan, melt the butter, swirling it so that it doesn't burn.
As soon as butter is melted, pour half of it over the popcorn and sprinkle with half of the truffle salt.  Toss the popcorn with your hands to distribute the butter.  Then pour on the rest of the butter and sprinkle with the rest of the salt, toss again.  Add more truffle salt if needed/to taste. Serve immediately.
Recipe by Fox and Briar at https://www.foxandbriar.com/ultimate-truffle-popcorn/