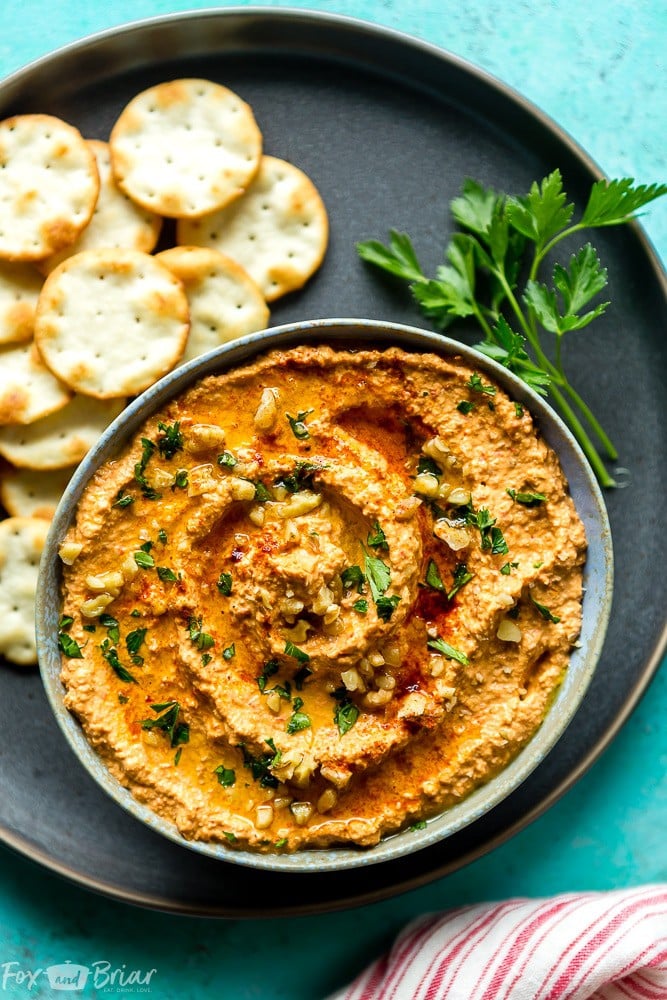 MUHAMMARA RECIPE (WALNUT RED PEPPER DIP)
Yield 2 Cups
Ingredients
1/2 cup Olive Oil
4 large fresh red bell peppers, ribs and seeds removed, diced
1 onion, diced
3 garlic cloves, minced
2 Tablespoons fresh lemon juice
1 teaspoon ground cumin
1/2 teaspoon red pepper flakes
2 cups toasted walnuts, chopped, plus more for garnish
sea salt
freshly ground black pepper
Instructions
Heat the oil in a large saucepan over medium low heat.  Cook the onions and garlic, stirring frquently, for about 4 minutes, or until they begin to soften.
Add the bell peppers, cover, and cook, stirring occasionally for 10-15 minutes, until softened.  Use a slotted spoon to remove the onions and bell peppers to a separate dish, reserve the olive oil.
Place the nuts, spices and lemon juice in a food processor or blender and process until the mixture is smooth.
With the motor running, gradually pour in the reserved oil.  Add the onion and bell pepper mixture, process until the mixture reaches your desired constancy.
Taste and adjust the lemon juice, oil, salt and pepper as desired.
To serve, transfer to a bowl and garnish with chopped walnuts, olive oil, parsley and paprika if desired.
Store the muhummara in an airtight glass container in the refrigerator for up to one week.
Notes
Recipe used with permission from Nourish and Glow by Jules Aron
Courses Appetizer
Cuisine Middle Eastern
Recipe by Fox and Briar at https://www.foxandbriar.com/walnut-red-pepper-dip-muhammara-recipe/