These Easy Chili Lime Shrimp Tacos with cabbage slaw are fast, easy and the BEST shrimp tacos you have ever had!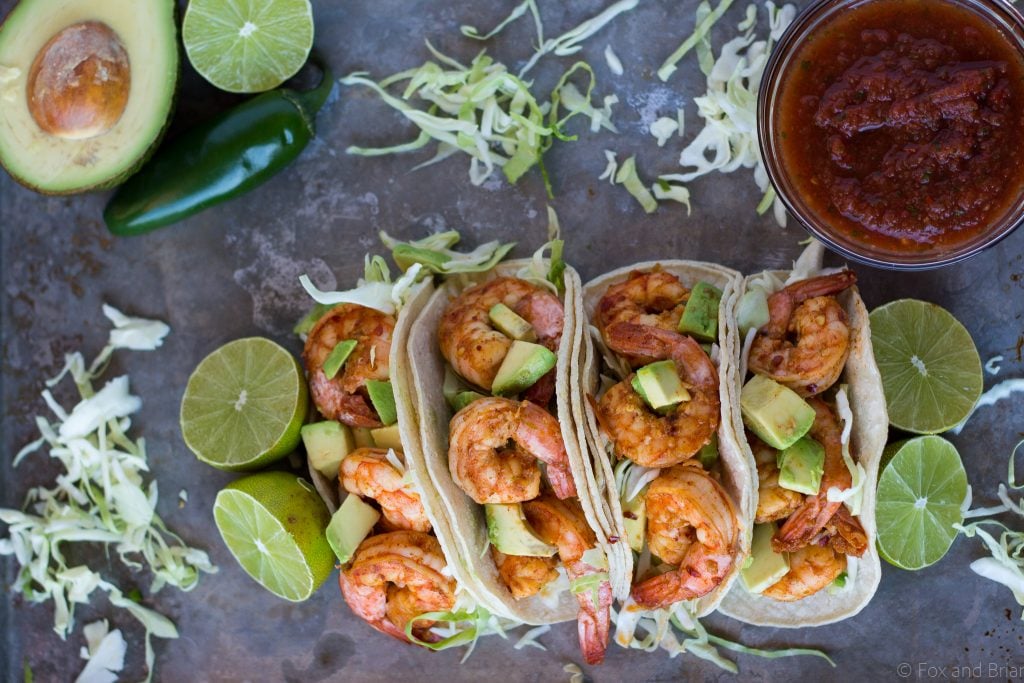 I get it.  You're busy. You have a million things to do and even less time than normal to get it all done.  Isn't that how it goes?
The holidays are coming and that means a million things to do and not enough time to do it. This is why I wanted to share this super easy shrimp taco recipe with you. Over the last two years since I first published this recipe, this has become a family favorite that we rely on again and again for a quick and healthy dinner – and what is better than healthy tacos!?! The lime cabbage slaw adds a nice cool crunch to these Chili Lime Shrimp Tacos to balance out the heat from the chili. I hear back from my readers again and again that this is their favorite shrimp taco recipe.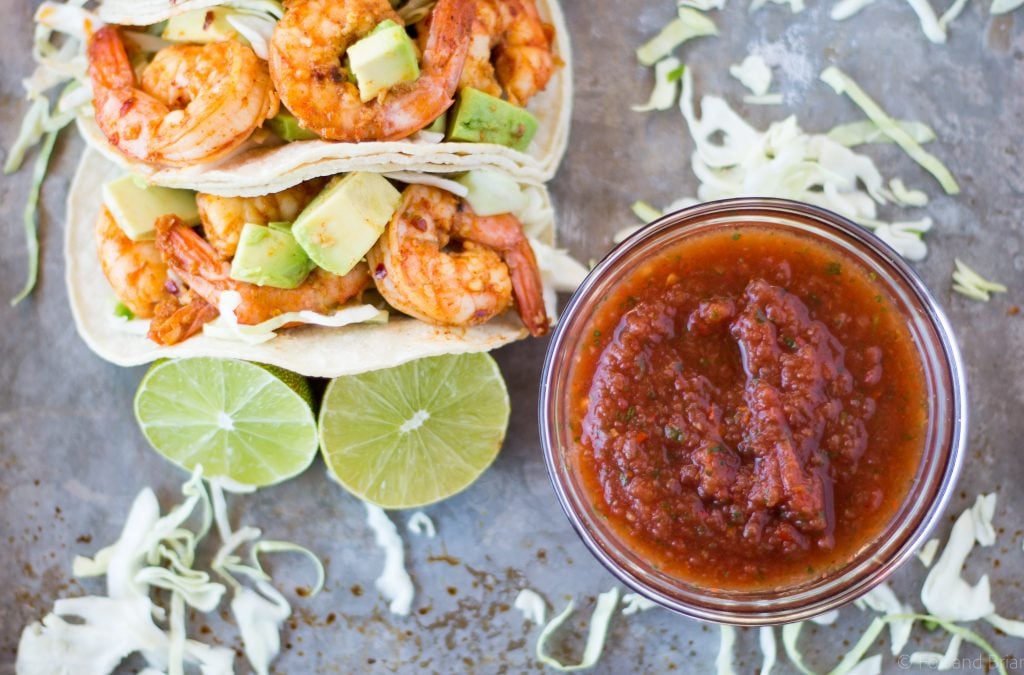 For those nights when I am asking "what should I make for dinner?" this is always a reliable recipe – especially if you have frozen shrimp on hand. It takes about 20 minutes from start to finish and they taste delicious.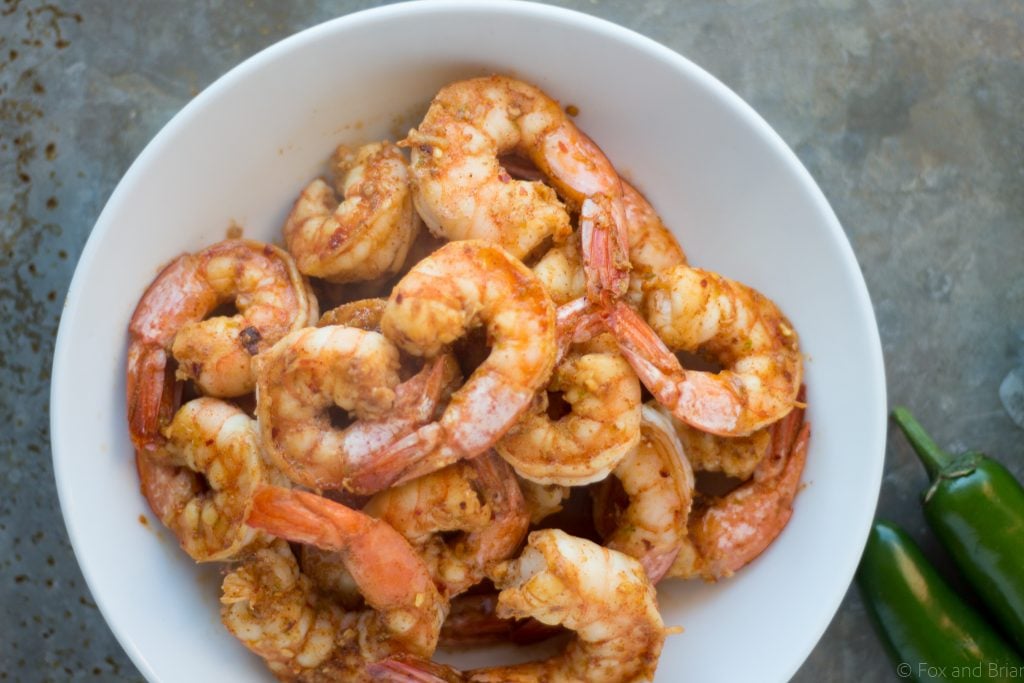 I like to keep frozen shrimp on hand because it takes almost no time to thaw and cook them.  On nights where I have nothing planned for dinner at 5pm I can pull them out of the freezer and thaw them under running water in just a few minutes.  One night I had a craving for tacos, which, believe it or not, is kind of unusual for me.  I know, I'm a weirdo.  I like tacos, but I don't seem to have the undying taco love that some people have.  I mean, did you see the hoopla about the taco emoji?  I was much more excited about the cheese one.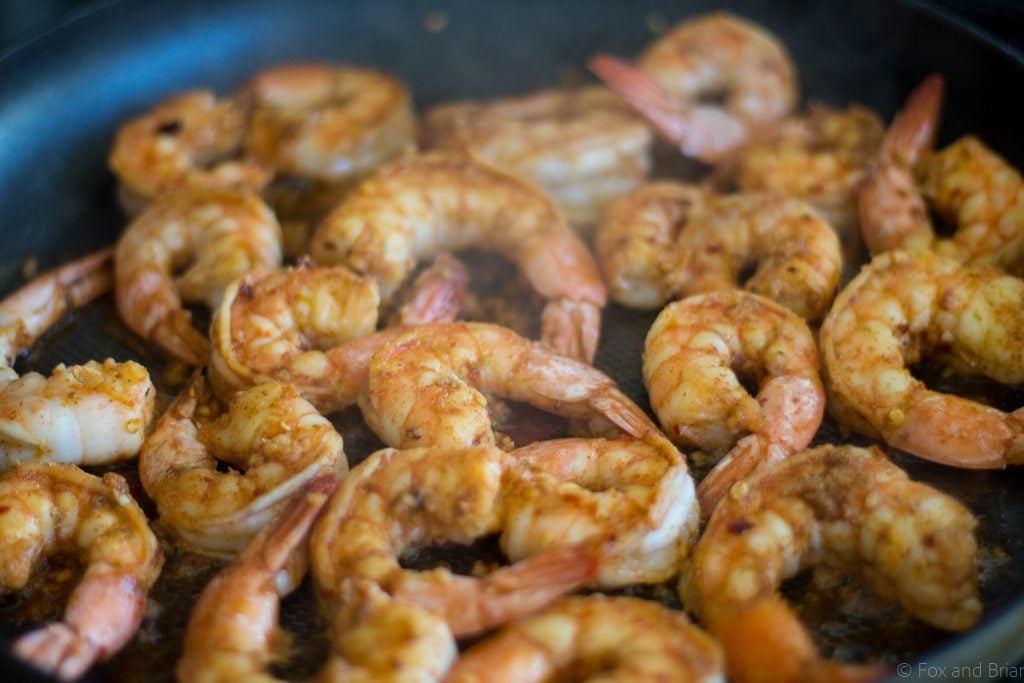 BUT that doesn't mean I don't like and sometimes love and for sure enjoy tacos. And I was pretty excited about these chili lime shrimp tacos.  The shrimp get a 15 minute marinade with some lime zest, garlic and spices.  While they are marinading, toss together a quick slaw, chop up a ripe avocado, warm some tortillas.  Then the shrimp gets a quick sear and dinner is ready.  Boom.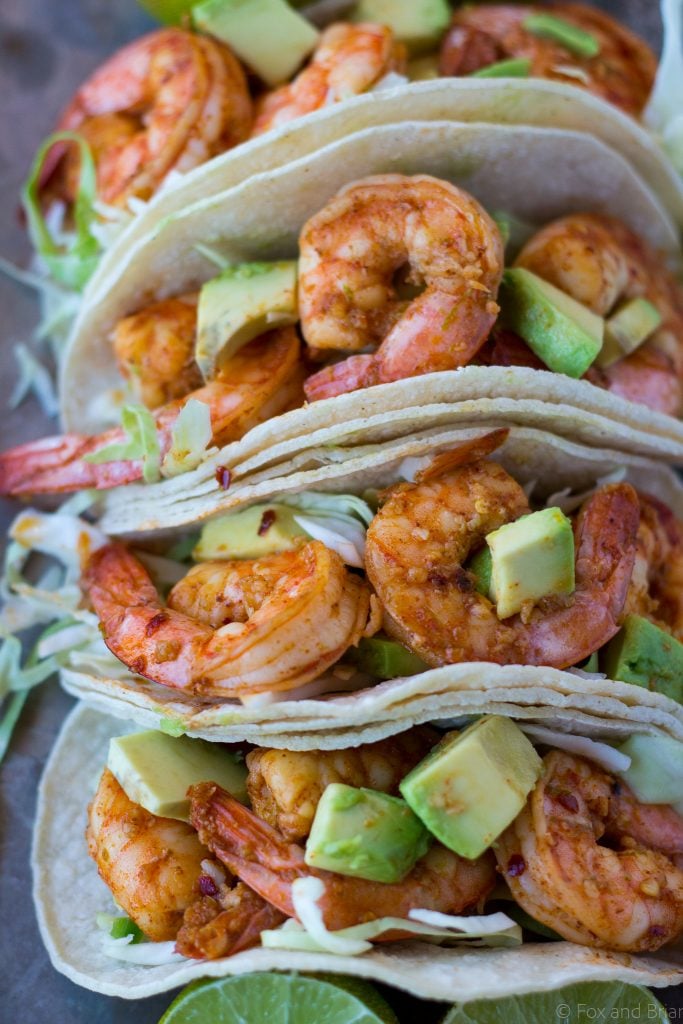 I like to use the small corn tortillas here, and I found that they hold up better if you use two tortillas layered for one taco.  They also hold up better if they are warmed up.  I warmed them up in a skillet, flipping a few times.  We gave a few of them a spritz of cooking oil before they hit the skillet and that gave them a nice texture.  If you have a gas stove you can quickly warm them over the flame (carefully!).  You can even FRY them which tastes delicious, but it is an extra step so I didn't do it for this quick dinner.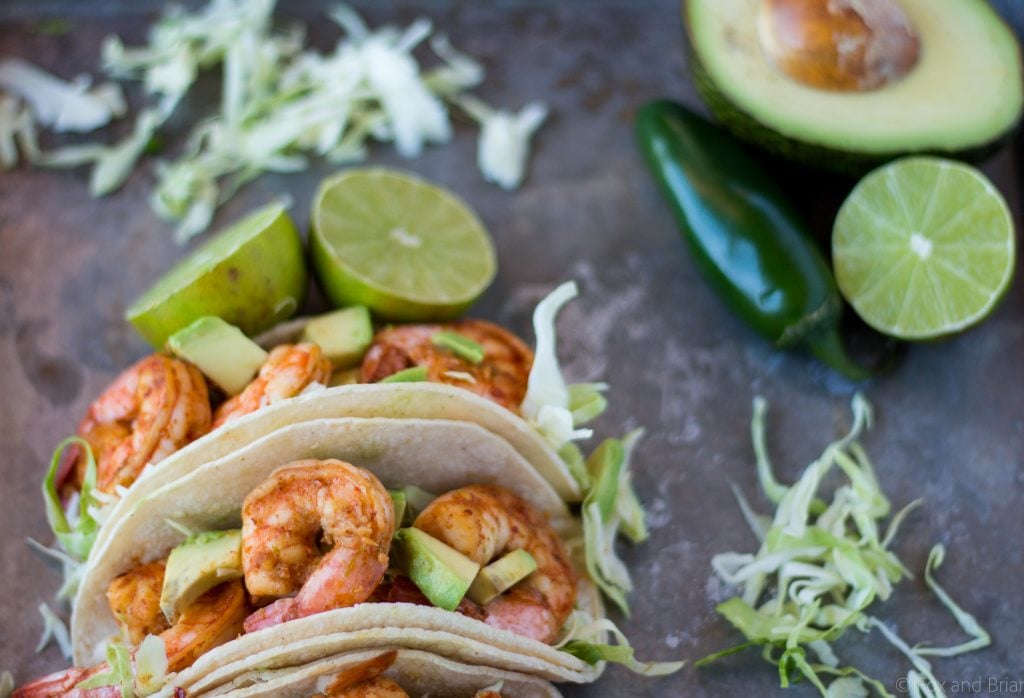 To assemble the tacos, layer some of the slaw in the tortilla, top with a few shrimp and some avocado.  Squeeze a little lime juice over the whole thing and top with salsa.  Congratulate yourself on winning at dinner.
You may also like…
| | | |
| --- | --- | --- |
| Chili Lime Shrimp Tacos | | Print |
Prep time:
Cook time:
Total time:
These quick Chili Lime Shrimp Tacos come together in under 30 minutes
Ingredients
24 Large Raw Shrimp, peeled
16 Small Corn Tortillas
4 cups shredded cabbage
¼ jalapeno, finely minced (about ½ Tablespoon)
1 Tablespoon Olive Oil
3 Garlic cloves, pressed or finely minced
1 lime, zested and juiced
¼ teaspoon red pepper flakes
¼ teaspoon paprika
¼ teaspoon chili powder
kosher salt
1 Avocado, diced
salsa for serving
Instructions
Combine the shrimp in a bowl with olive oil, lime zest, minced garlic, paprika, chili powder, red pepper flake and ¼ teaspoon salt. Toss to combine and set aside to marinade for 15 minutes.
Toss the cabbage with jalapeno, 1 tablespoon of lime juice and a pinch of salt, set aside.
Warm Tortillas in a skillet over low heat, flipping occasionally.
Heat a large skillet over medium high heat. When hot, pour the shrimp in. Sear on one side for 1-2 minutes, flip and sear on the other side until pink all the way through and no longer opaque, 1-2 minutes. Remove from heat.
To assemble tacos, layer two tortillas on top of each other. top with lime slaw, a few shrimp, and some avocado. Top with some salsa and a squeeze of fresh lime.
Notes
Makes 8 tacos. Plan for 2-4 tacos per person depending on how hungry they are! We usually eat two per person.
You can use more or less jalapeno to taste. I didn't want the slaw to be very spicy so I only used a little bit.
How are you dealing with holiday stress?
If you make this recipe don't forget to tag it @foxandbriar and #foxandbriar on instagram and facebook!  I really love to see what you make and you may be featured in our weekly Reader Feature!