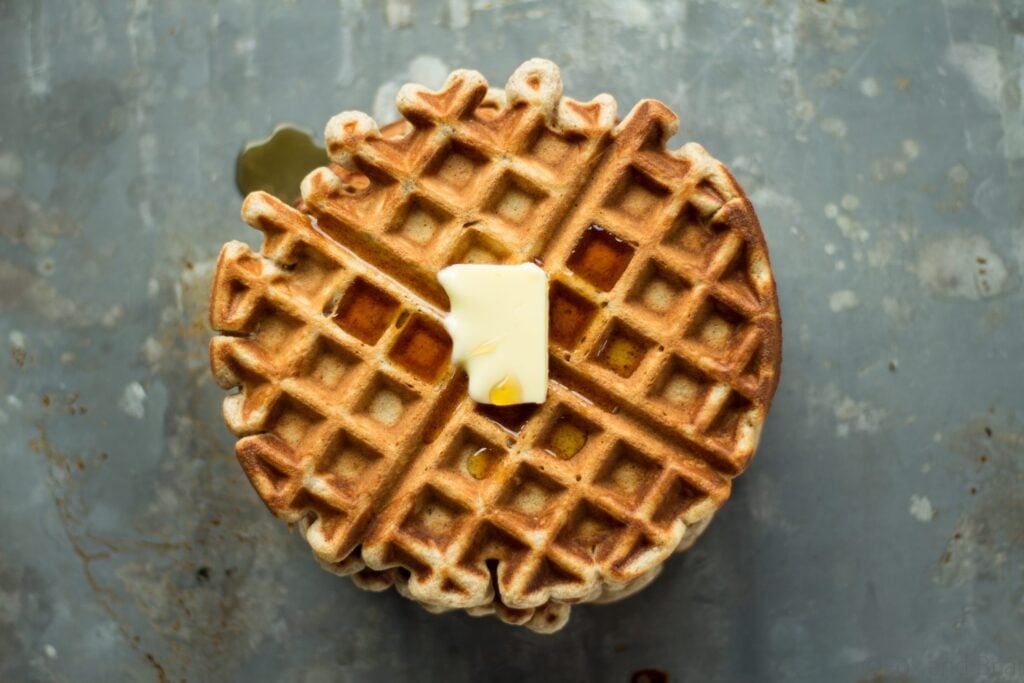 I think the world is divided into two kinds of people.  Pancake people and waffle people.  I'm a waffle person.  If you are a pancake person, it's ok.  We can still be friends.  But only after you listen to me explain why waffles are a million times better than pancakes.
First of all, waffles just work.  They may not be effortless, but they usually work out pretty well.  Pancakes, on the other hand?  More often than not they are lumpy, too thick, burned on the outside and raw on the inside, or just generally disappointing.  Waffles never disappoint you.  Waffles love you.
Also, you can put all kinds of fun stuff into waffles to jazz them up and they will taste delicious.  Pancakes are finicky.  If you overload them with too much extra stuff they don't turn out right (as if they turn out right the rest of the time.  Side eye, pancakes.)
Lastly, and this is probably the most important.  Waffle iron.  The best invention since ever.  Drop your batter in.  Close the lid.  It beeps to tell you that it's done!  And then remove a perfect waffle every time.  Not like with pancakes where you inevitably have to throw the first one away because the first one is always terrible for some reason?  Then you can keep all your waffles warm in a nice 200 degree oven until they are all finished, and everyone gets to eat their waffles at the same time.
I may be partial to waffles because I was raised that way.  My mom always made waffles when I was growing up.  In fact, she bought me and Mr. Briar our first (and only) waffle iron.  We had only been dating for a few months at that point but we were spending every waking moment together and I think we and everyone else had already figured out that we were going to be 2gether 4ever.  So with our new waffle iron we set out to find THE BEST WAFFLE RECIPE OF ALL TIME.  It took a long time to find a waffle recipe that we really liked, but we eventually settled on the Aretha Frankenstien's Waffles of Insane Greatness recipe.
I usually made a variation of them, until a few weeks ago when I realized I was out of milk and I had some apple cider sitting in the fridge from our apple picking trip.  I've always loved the idea of making apple cider waffles but never gotten around to making them.  After a few tweaks we ended up with these guys.  The flavors!  I added some greek yogurt, which gives a nice tanginess.  Then some cider spices like cinnamon, allspice, cloves and nutmeg.  If you are in a pinch or it is just too early to be measuring out 5 different spices you can just use a teaspoon of pumpkin pie spice (I do that all the time).  I also subbed some whole wheat flour to add a little extra flavor and body to the waffles, but you can use all white flour if you want.
The best thing about these waffles is that they can be made the morning you want to eat them, instead of the night before like yeasted waffles.  I do love yeasted waffles, but I rarely have the planning skills to make them happen.  The thing that makes these waffles special is that they contain cornstarch.  This helps the waffles to be fluffy on the inside and crispy on the outside.  They do require a 30 minute resting time between mixing up the batter and cooking, but there is plenty to do during that time –  turn on your waffle iron, make your coffee, clean up the cooking mess, put your bacon in the oven (you cook your bacon in the oven, right?) and before you know it, its time to start making some waffles.  The rest time is for sciencey reasons having to do with how quickly flour and cornstarch absorb water.  Just trust me on this.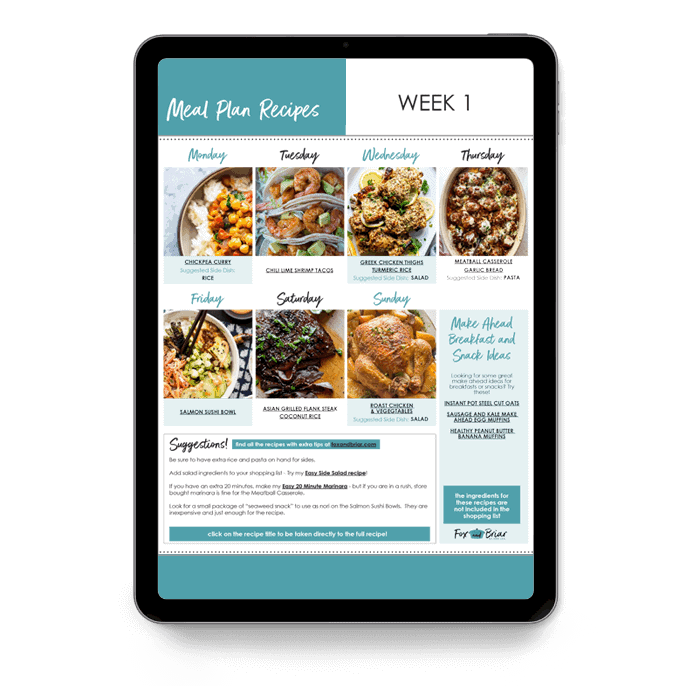 These apple cider waffles are sweet, and tangy with a hint of spice, perfect for fall mornings.
Ingredients
1/2

cup

all purpose flour

1/4

cup

whole wheat flour

2

tablespoons

cornstarch

1/2

teaspoon

baking powder

1/4

teaspoon

salt

1/2

cup

nonfat greek yogurt

1/2

cup

fresh apple cider

or apple juice

1/3

cup

canola oil or vegetable oil

2

eggs

1

tablespoon

brown sugar

1

teaspoon

vanilla extract

1/4

teaspoon

cinnamon

1/4

teaspoon

ground ginger

1/8

teaspoon

allspice

1/8

teaspoon

ground cloves

1/8

teaspoon

nutmeg
Instructions
In a medium sized bowl, mix the flour, cornstarch, baking powder, salt and spices until combined, set aside.

In a separate bowl, mix the yogurt, apple cider, oil, eggs, brown sugar, and vanilla until well combined.

Pour the wet ingredients into the dry ingredients and mix until combined. Allow to sit for

30 minutes

.

Heat the waffle iron and cook according to manufacturer instructions. Serve waffles immediately with butter and maple syrup or arrange in a single layer on a cooling rack and keep in a 200°F oven until ready to serve.
Notes
*You can sub a teaspoon of pumpkin pie spice for the 5 spices if you want
**Makes about 5 waffles in a standard round waffle iron
***Waffles freeze well! Allow to cool completely on a cooling rack (not stacked). After they are cool, wrap individually in plastic wrap or foil and store in a freezer bag. When ready to eat them, they can be unwrapped individually and reheated in a 200 degree oven or in the toaster.
Nutrition
Calories:
273
kcal
|
Carbohydrates:
23
g
|
Protein:
7
g
|
Fat:
17
g
|
Saturated Fat:
2
g
|
Cholesterol:
67
mg
|
Sodium:
153
mg
|
Potassium:
157
mg
|
Fiber:
1
g
|
Sugar:
6
g
|
Vitamin A:
95
IU
|
Vitamin C:
0.2
mg
|
Calcium:
55
mg
|
Iron:
1.1
mg
Nutrition information is automatically calculated, so should only be used as an approximation.
Did you like this recipe?
Please comment, rate and share! And don't forget to tag me on Instagram @foxandbriar AND #foxandbriar so I can see what you made!
Heavily adapted from Aretha Frankenstien's Waffles of Insane Greatness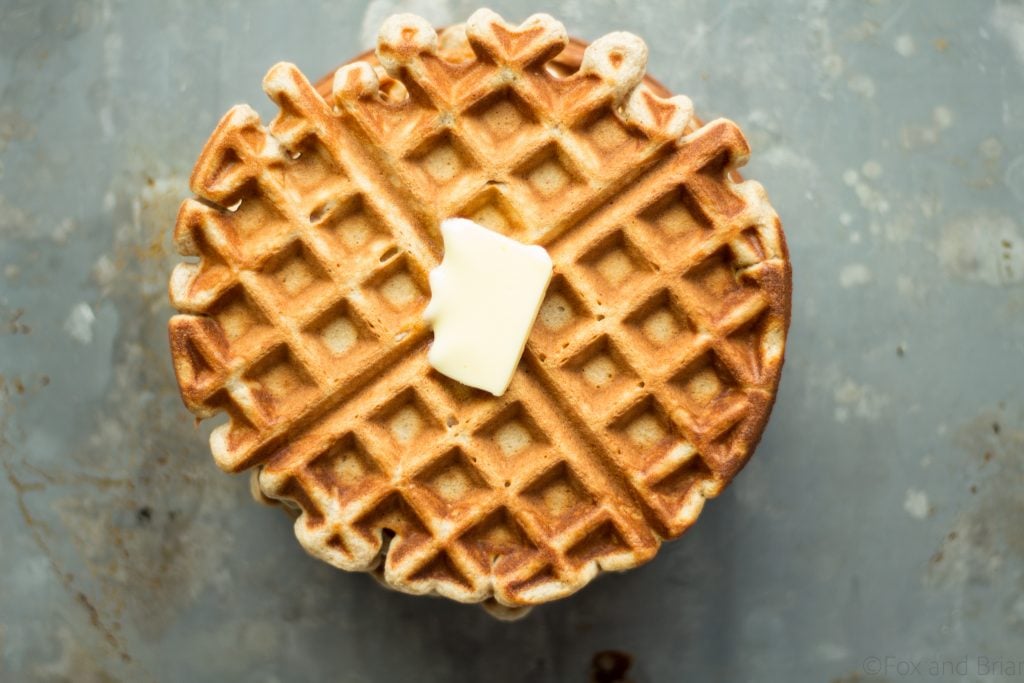 Are you a waffle person or a pancake person?  It's ok if you are a pancake person, I promise I won't judge (probably).
PS – After much painstaking consideration, THIS is the waffle iron that Mr. Briar and I selected for our first household item as a couple.  We have had it for a few years now and we are quite happy with it. (< That's an affiliate link, by the way!).
Disclosure: This post contains affiliate links, which means that if you purchase the items I recommend through the links I provide, I get a small commission. For more info, please see my disclosure policy. I only recommend products if I actually love them. Thanks for supporting Fox and Briar!