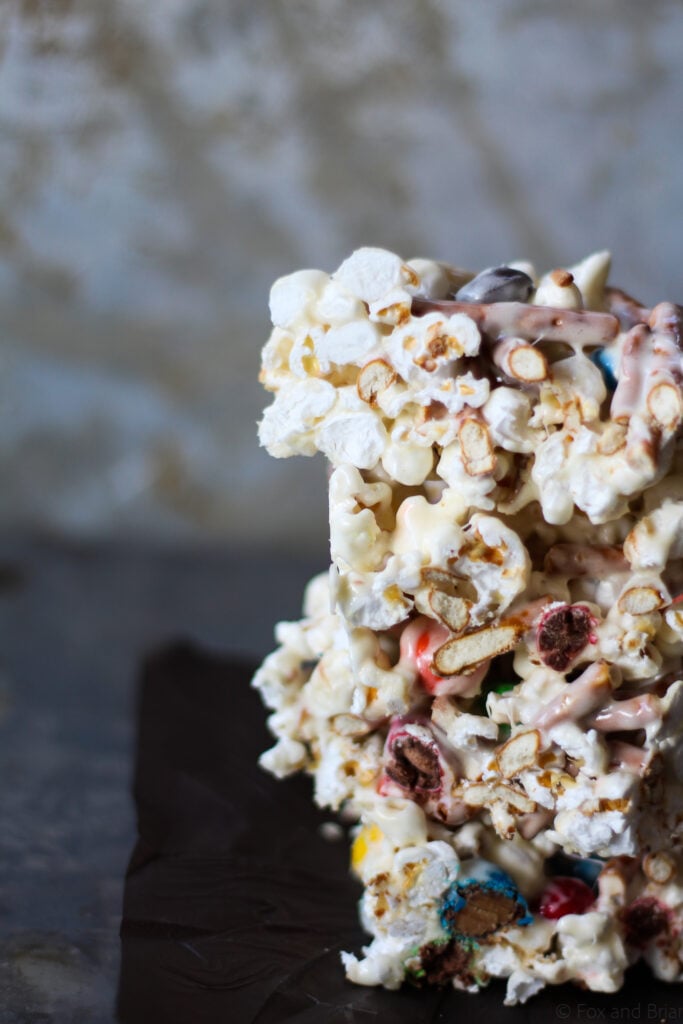 These things.
I don't know what I was thinking.
I was trying to come up with a Halloween treat, and my mind immediately went to popcorn balls, for some reason.  I don't even really like popcorn balls?  Despite the fact that I love popcorn.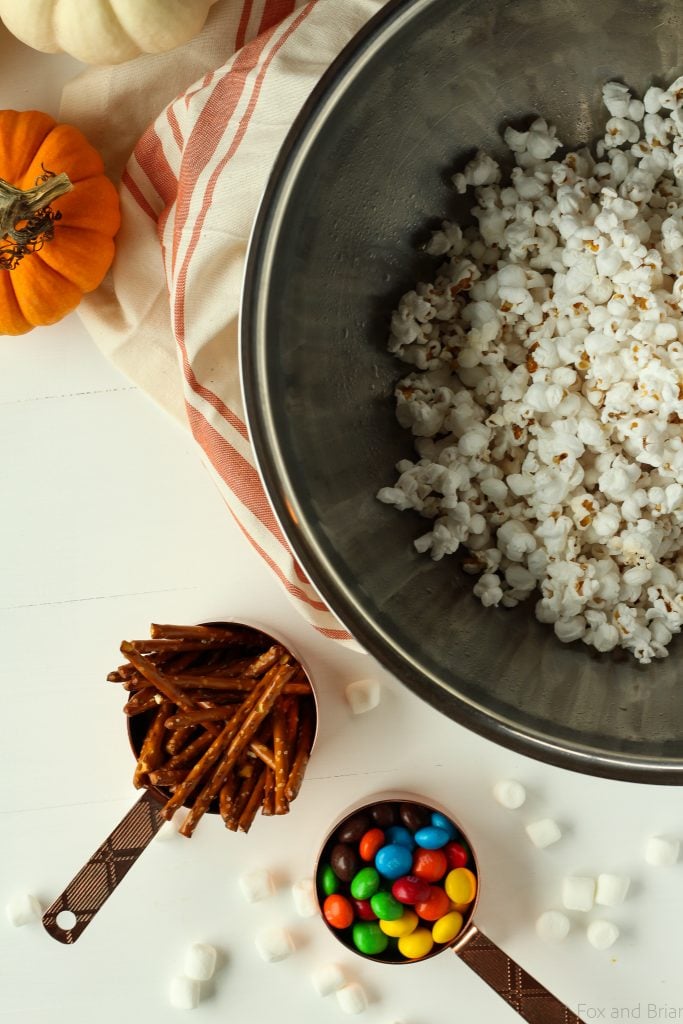 But I thought:
Hey!  What if I make MARSHMALLOW popcorn BARS.  And then what if I throw in some pretzels and M&M's because isn't the spirit of Halloween all about just going overboard with the candy and snacks?  And then, while I'm at it, I'll just go ahead and brown the butter.  Browned butter.  It makes everything better.
The marshmallow part is sort of a take on rice crispy treats, but actually I was more inspired by marshmallow popcorn.  Have you ever had marshmallow popcorn?  I was introduced to it a few years ago. Basically you make some popcorn and then you melt some marshmallows and butter together and pour it over the popcorn. Gah.  I don't make it very often because if I did I would eat it 24/7 and I actually like being able to wear pants most of the time.
I may or may not have made these while dancing around to the Halloween playlist that I made for you.  I have had this obsession with making a Halloween party playlist for years even though I have never hosted a Halloween party and I don't see it happening in the near future either.  But don't worry, this will get you in the Halloween mood whether your Halloween plans include hosting a big bash or watching scary movies in your pjs with these popcorn treats and a bottle of wine.   I hope you like it, I had fun making it.
So, back to these marshmallow treat bars.  These are so simple, and yes, they use some pretty junky junk food, but I think we all get a pass for Halloween.  You need popped popcorn, so now you know why I just had to share my "How to pop popcorn on the stove" post yesterday.  Be absolutely SURE that you get all unpopped kernels and those annoying little barely popped ones out before you pour on the marshmallows or someone will break a tooth.  I transferred the popcorn to a large bowl, then I measured  six cups of the popcorn and put that in a separate bowl.  Because the unpopped kernels tend to fall to the bottom, this helped filter them out.  A few partially popped kernels got into the mix still, so just be extra careful.
Brown Butter Marshmallow Popcorn Treat Bars
MARSHMALLOW popcorn BARS.  And then what if I throw in some pretzels and M&M's because isn't the spirit of Halloween all about just going overboard with the candy and snacks?  And then, while I'm at it, I'll just go ahead and brown the butter.  Browned butter.  It makes everything better.
Print
Pin
Rate
Ingredients
6

cups

popped popcorn

unseasoned

4

ounces

unsalted butter

1 stick

1

bag

mini marshmallows

10 ounces

1

cup

peanut butter M&Ms

1 ½

cups

pretzel sticks

break them up slightly with your hands

1/4

teaspoon

coarse kosher salt
Instructions
Prepare a 9x13 baking dish by spraying it liberally with cooking spray

Mix together the popcorn, pretzel sticks and M&Ms in a large bowl that has been sprayed with cooking spray.

Spray a silicon spatula with cooking spray to use when you mix the marshmallow with the popcorn.

In a large pot, melt the butter over medium low heat, stirring often. It will get a bit foamy, then it will start to become clarified butter. The liquid will turn golden and then start to brown and smell nutty. Stir almost constantly and don't walk away from the stove because it can burn very easily. When the butter is golden brown and smells nutty, take off the heat and mix in the marshmallows and kosher salt. Stir constantly until the marshmallows are melted and the butter is all incorporated.

Working quickly, pour the marshmallow mixture over the popcorn mixture, stirring with your sprayed spatula so that everything is mixed together and covered in marshmallow.

Pour the entire mixture into the baking pan and press down with your spatula (or your hand with a piece of parchment paper)

Allow to cool before cutting and eating.

These are best served the same day, but they are almost as good for up to 2 days if stored in a sealed container at room temperature.
Notes
*it is very important that you use a coarse salt, or else the amount of salt will need to be reduced by about half
**the reason you want to spray everything with cooking spray is that the marshmallow mixture is very sticky. This will help it from becoming a huge mess.
Also it is important to work quickly when pouring the marshmallow, mixing, and pressing into the pan, because it will become harder to work with as it cools
Nutrition
Calories:
555
kcal
|
Carbohydrates:
95
g
|
Protein:
12
g
|
Fat:
15
g
|
Saturated Fat:
8
g
|
Cholesterol:
20
mg
|
Sodium:
193
mg
|
Potassium:
290
mg
|
Fiber:
11
g
|
Sugar:
23
g
|
Vitamin A:
235
IU
|
Calcium:
18
mg
|
Iron:
3
mg
Nutritional information is an estimate for your convenience. If you have strict nutritional needs, please do your due diligence to make sure this recipe fits your needs.
Did you like this recipe?
Please comment, rate and share! And don't forget to tag me on Instagram @foxandbriar AND #foxandbriar so I can see what you made!
Brown Butter Method from Smitten Kitchen
The salt is really important here because the marshmallows are so sweet, so the salt, pretzels and peanut butter in the M&Ms balance out the sweetness of the marshmallows and chocolate.  Be sure to use a coarse salt, like kosher salt or coarse sea salt.  If you use a regular table salt the amount should be cut in half. I suggest that you take these to a party or to work something, lest you and your spouse/roommate/cat eat the entire pan in two days.  Not that I know anyone that would do that….
So go make these and listen to this only slightly spooky Halloween playlist!
What are you doing for Halloween?  Big party with elaborate costume or home in PJs with these treat bars?