These adorable Easter Bird's Nest Mini Cheesecakes will be a hit at your Easter brunch or dinner and are so easy to make!  Delicious, silky mini cheesecakes, topped with toasted coconut and mini egg candies make a cute and festive dessert!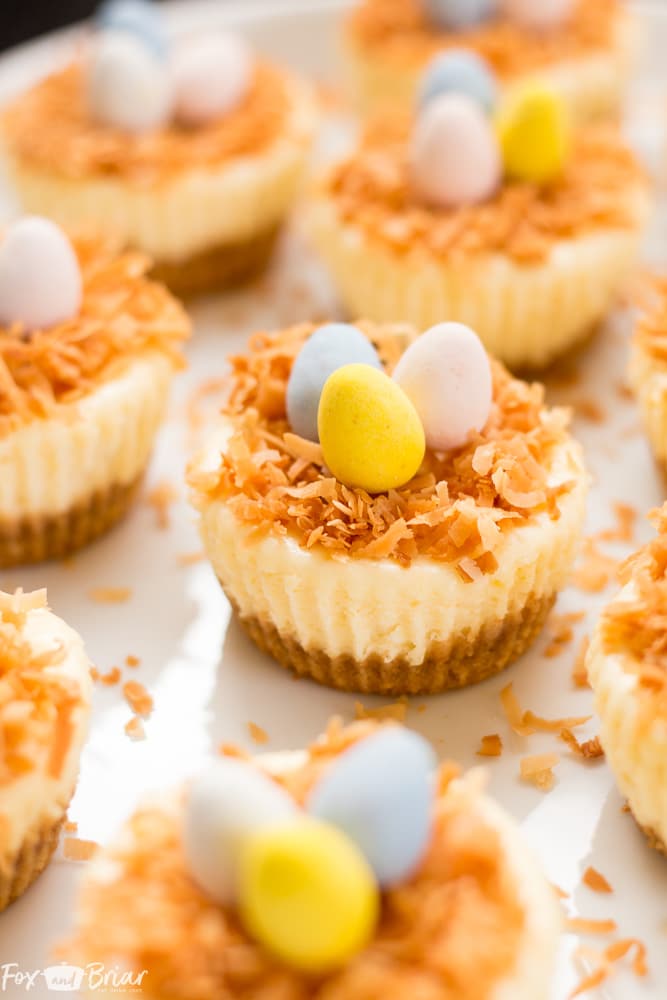 SPRIIIIING.  It's coming.  I know, it might seem like winter will never end, but it will, and then we will finally be surrounded by spring blossoms, green grass and blue skies.  And you know how I know that?  Easter candy is in stores. 😂😂😂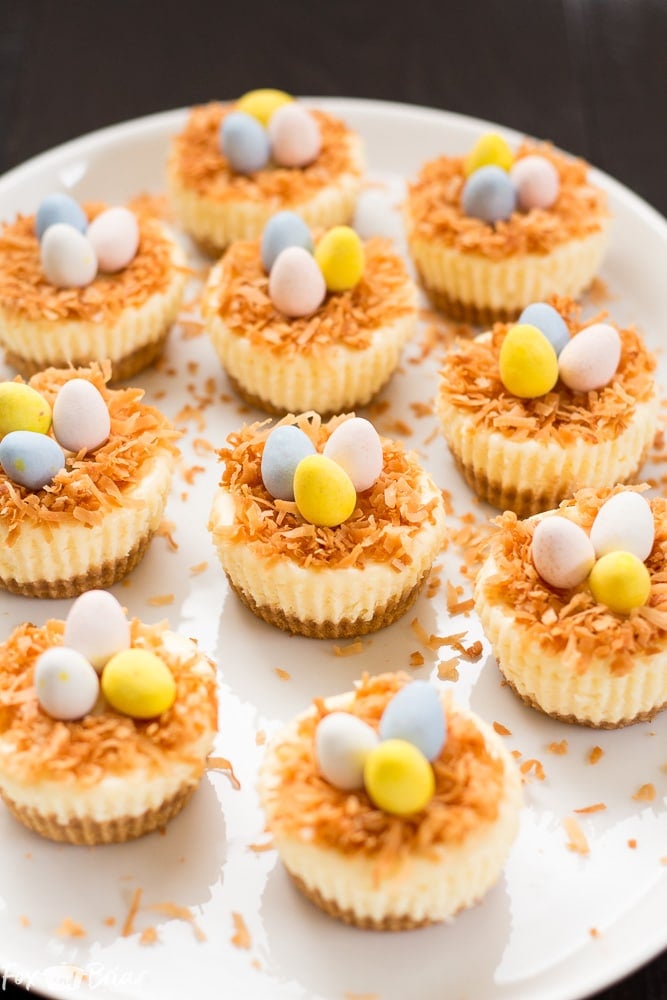 I am a sucker for Easter Candy, particularly anything Cadbury.  And my all time favorite Easter candy is Cadbury Mini Eggs.  DON'T even think about leaving them out of the Easter festivities. That is why I needed to find a way to incorporate them into a fun Easter dessert.  I thought about making cupcakes, but mini cheesecakes are even easier, and what could be better than a creamy bite sized cheesecake topped with coconut and the best Easter candy of all time?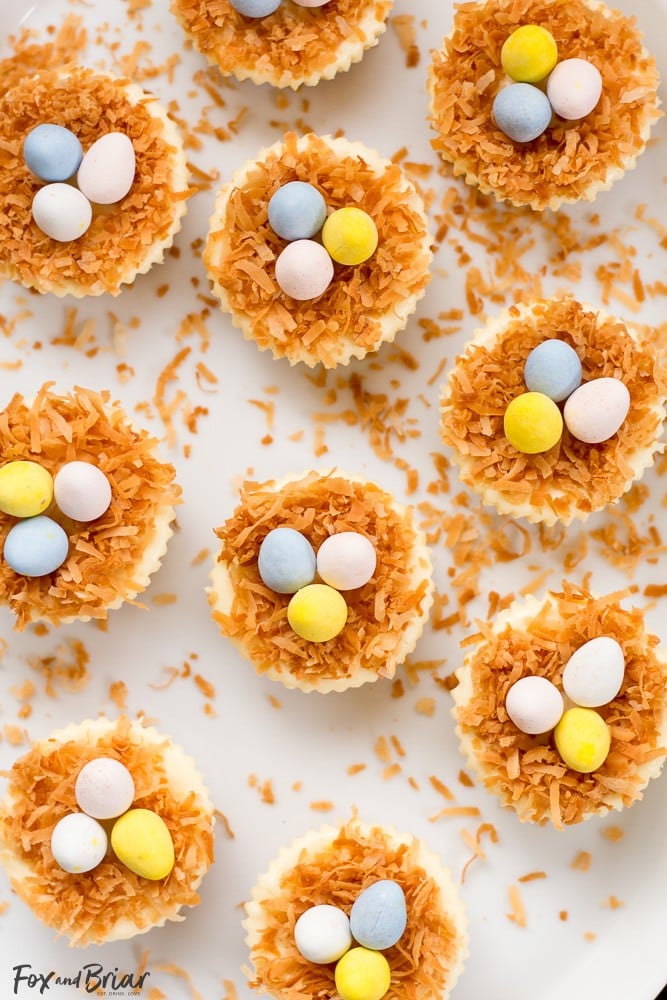 These Mini Cheesecakes can be made a day ahead, and then just topped with the toasted coconut and mini eggs the day you are serving them, making them even easier!  Just wait to top them with the coconut and egg candies until the day of serving, so they don't get soggy.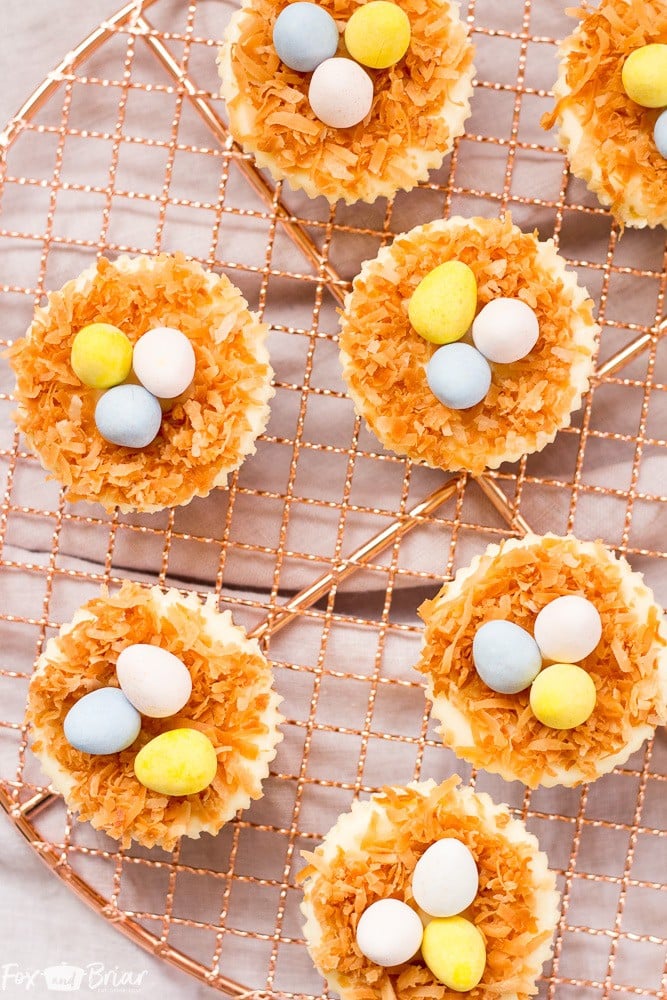 What is your favorite Easter candy?
Print
Easter Bird's Nest Mini Cheesecakes
Yield 12
Ingredients
For Cheesecakes
16 ounces Cream Cheese, softened (2 packages)
1/4 cup sour cream
1 teaspoon vanilla extract
2 eggs
1/2 cup sugar
zest of one lemon (optional)
For Crust
8 sheets graham crackers
2 tablespoons granulated sugar
1/8 teaspoon salt
3 tablespoons melted butter
For Topping
1 cup sweetened coconut, toasted
36 mini egg candies
Instructions
Preheat oven to 325 degrees. Line a 12 cup muffin tin with cupcake liners, set aside.
Crush the graham crackers into crumbs in a food processor.  Add the 2 tablespoons of sugar and the 1/8 teaspoon of salt, pulse a few times to combine.  Pour in the melted butter and pulse until mixed. (If you don't have a food processor, crackers can be crushed by sealing in a large ziptop bag and crushing with a rolling pin or other heavy object until they are fine crumbs.  Pour them into a bowl, whisk in sugar and salt, then stir in the butter and mix until combined))
Evenly divide the crumb mixture between the 12 muffin cups.  Use a small flat bottomed measuring cup to press the crumbs into the bottom of each cup (I used a 1/4 cup).
Beat the cream cheese, sour cream, vanilla and sugar until smooth.
Add the eggs, one at a time and mix until well combined.  Mix in lemon zest if using.
Evenly divide the cheesecake mixture between the 12 muffin cups.  Bake for 25-30 minutes, or until centers are set.
Allow to cool completely, then refrigerate for 2 hours or up to overnight.
To toast the coconut, spread in an even layer on a baking sheet.  Toast in the oven at 325 degrees, stirring every 5 minutes, until golden.  This should take 10-15 minutes.  Watch closely because the coconut can go from golden to burnt in an instant!
Before serving, sprinkle the toasted coconut in a circle around the edges of each mini cheesecake to form the "nest"  Place 3 mini egg candies in the center.  Enjoy!
Notes
Cheesecakes can be made a day ahead, reserve toppings until the day of serving.
Store leftovers in the refrigerator. 
Courses Dessert
If you make this recipe don't forget to tag it @foxandbriar and #foxandbriar on instagram and facebook! I really love to see what you make and you may be featured in our weekly Reader Feature!