A stress free and easy camping meal plan for people who love good food.
Hey everyone!  As promised, here I am with part two of our glamping trip – arguably the most important part.  The food.  Planning an easy camping meal plan can be a little overwhelming, especially since we tend to lean toward eating more whole foods and generally stay away from most processed foods.  I didn't worry too much about being strict with only whole foods on this trip, but I didn't want to bring a bunch of junk food.  I wanted a simple, stress free meal plan so that we could enjoy the maximum amount of time relaxing.  Here is what I settled on:
Keep in mind, this is for a weekend trip for two people, quantities would need to be adjusted for additional people, although I think we had more than enough food for the two of us.
Friday:
Breakfast at home
Lunch: I am not really a sandwich person, so I packed fruit and a happy hour with cheese, sopprasetta, crackers and bread. (We don't eat much bread at home, but I made an exception for the camping trip).
Dinner: Onions and bell peppers sauteed in a cast iron skillet with sausages.  My original plan was to do everything in the skillet, but the one provided for us was pretty small, so we ended up roasting the sausages over the fire with roasting sticks.  Very campy!  Also you can bring buns if you wish.
Dessert; S'mores!
Saturday:
Breakfast: Bacon, eggs and coffee.
Lunch: Same as Friday.
Dinner: Lemon Chicken and veggies foil packets (instructions below).
Dessert: S'mores!
Sunday:
Breakfast: Same as Saturday.
Lunch: Snacks/home.
As you can see, this is only a few meals, and there are repeats so you don't have to bring too many ingredients.  Most of the prep work is done at home, so it makes cooking at the campsite really easy.  Below is the ingredient list and instructions for prep work and cooking.
Disclaimer:  This section contains affiliate links, which means that if you buy any of the items I recommend through my link, I will get a small commission.  All of my opinions are my own, and I only recommend things if I actually think they are great.  Thanks for supporting Fox and Briar!
Ingredients
Granola Bars (for snacking during the day, I made THESE the night before to bring)
Fruit
A few kinds of cheese – I brought cheddar, goat cheese, merlot bellevitano (my fave), and a cheddar/Gruyere mix.
Soppressatta or another salami (Brands I like are Volpi, Boars Head or Olympia Provisions)
Crackers (my favorite right now are Trader Joe's Pita Bite crackers)
1 french baguette (if you want bread)
Wine or other beverages of choice
Drinking water
2 Onions
2 Bell Red Pepper
1 Zucchini
2 Shallots
8 Garlic Cloves
3 Lemons
8 Eggs
8 Slices of Bacon
1 pound boneless skinless chicken thighs
4 sausages or franks
2 corn on the cob
Olive Oil (I brought about 1/2 cup in a small mason jar)
butter
salt
pepper
Italian seasoning or oregano
Optional – Buns
Coffee Beans
Cream
Sugar or Syrup for coffee
Hand Grinder for coffee
French Press for Coffee
Kettle for coffee (if not provided by campsite)
Foil
Marshamallows
Graham Crackers
Choclolate Bars
For the Happy hour (lunch both days)
Prep Work Before Leaving
Wash the fruit ( I brought plums, but any fruit would work here), wrap in paper towels to keep from getting bruised, then pack in a large zip top bag for transportation in the cooler. I was careful to keep this on top in the cooler so that the fruit didn't get crushed.
Pack all cheese and salami in a large ziptop bag ( you can pre-slice it if you want, but I didn't)
Pack crackers, bread, and wine or other beverages.
Pack a sharp knife to cut cheese and salami, also a knife for spreading goat cheese if bringing.
Optional but fun: Pack a small cheese board and wine glasses or cups.
At the Campsite:
Slice the cheese and salami and serve with crackers and/or bread and wine.  Super easy!
For the Sausages, peppers and onions (dinner first night)
Prep Work before Leaving
Slice the onion and bell pepper, place together in a large ziptop bag
Sausages – I went with precooked to make things easier, and so I didn't have to worry about them going bad as quickly or contaminating other things in the cooler.  I just packed them in their original packaging.
I packed a small jar of olive oil, also I brought my salt and pepper.
At the Campsite:
In the ziptop bag with the onions and peppers, pour some olive oil, salt and pepper, then toss to coat.  Pour the onion and pepper mixture into the cast iron skillet and cook over fire, stirring and turning occasionally.  Cooking times will vary depending on the fire, but they are done when soft and golden.  If your skillet is big enough, add the sausages and brown.  Or, roast them over the fire with roasting sticks.  Serve sausages with onion and pepper mixture, in buns if desired, or bunless.
Breakfast for both days
Prep work before leaving.
Crack 8 eggs into a jar that can be tightly sealed.
I only needed 8 slices of bacon but I packed a new package so that it would be sealed in its original packaging, and brought a large ziptop bag to pack it in after opening  Alternately, pack 8 slices of bacon in a ziptop bag.
Salt
Pepper
Coffee Beans
Cream for coffee (we brought the small travel sized ones)
Sugar or syrup for coffee (I brought a small plastic bottle of my vanilla syrup)
At the Campsite (do this for each morning):
In a cold skillet, place 4 slices of bacon, then cook over the fire until crisp.  Remove the skillet from the fire.  Remove bacon, leave grease in the pan.  Carefully pour 4 eggs out of the jar into the skillet, season with salt and pepper.  Cook over fire until done.  It helps if you have a lid for the skillet to set the tops.  Alternately, you could scramble the eggs. Serve with some of the french bread if desired.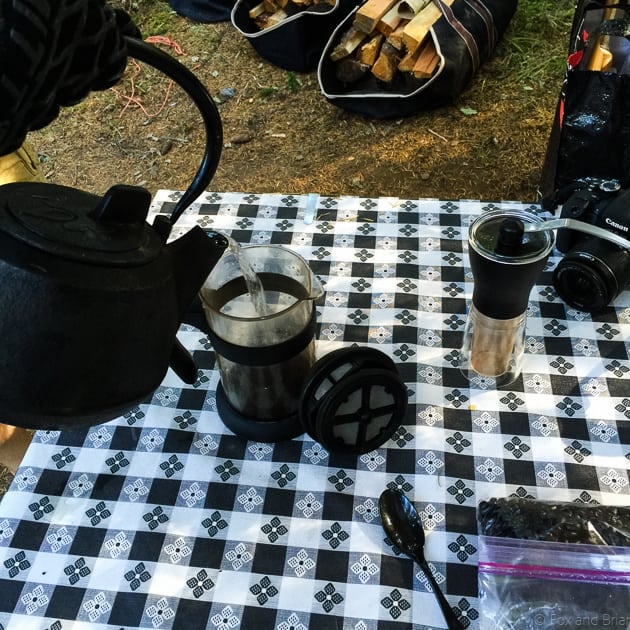 For the coffee:
Heat water over fire with kettle.
Grind beans in hand grinder (our French press takes 55 grams of coffee -about 7-8 Tablespoons, which means we have to fill the grinder twice for one pot) .
Place grounds into French press and pour in the hot water.  After one minute, stir grounds, then let steep for 3 more minutes.  Press the coffee and pour into mugs.  Add cream/sugar/vanilla syrup if desired.
Lemon Chicken Foil Packets (Dinner the Second Night)
Prep Work before Leaving
Freeze the chicken – If you pack it in the cooler it should be mostly thawed by the second night (check a few hours before dinner just to make sure, this will vary depending on the cooler you have).  This will help keep it cold before you cook it.
Slice 1 onion, 1 bell pepper, 1 zucchini and place in a zip top bag. Peel garlic cloves but leave whole, peel shallots and chop in half.  Add to bag.
Squeeze 2 lemons, add juice to a jar, then add the same amount of olive oil to the jar (about ¼ cup each)
Slice one lemon into wedges and pack in a small baggie.
Pack a small amount of oregano or Italian seasoning
Pack foil
At the Campsite:
(Use double layers of foil for the packets)
On a sheet of foil, lay a piece of chicken, top with ¼ of the veggies and a few lemon slices.  Star to form your packet by turning the edges up on all sides, but leave an opening in the top.  Shake the jar of lemon juice and olive oil, then pour ¼ of it on top of the chicken and veggies., then season with salt, pepper and Italian seasoning.  Finish crimping the foil together to seal the packet.  Repeat to make 4 packets
Leave corn in husks and cook over fire, OR husk and wrap in foil if you prefer.  Ours took a long time on the fire wrapped in foil (45 mins to 1 hour).  Season corn with butter, salt and pepper.
Cook foil packets over fire until done, 20-30 minutes (will vary depending on your fire, check often).
The chicken packets make more like 3-4 servings, so you might have extra if there are only two of you.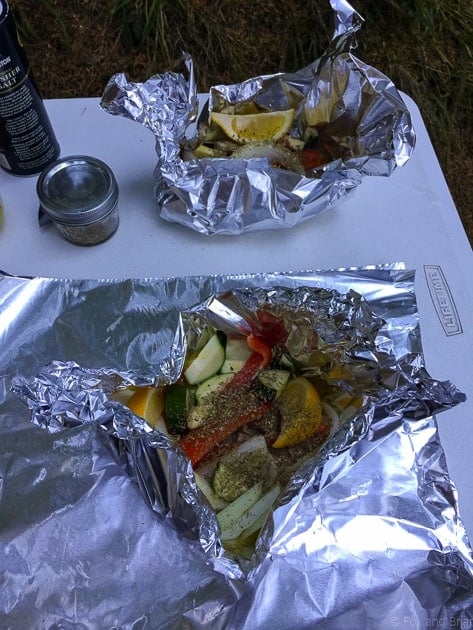 There you go!  This meal plan is obviously geared more towards a couple rather than a family with kids, but with some small adjustments can be customized for your needs.  Make a list and check it twice.  Or three times.  Or if you are me, more like 47.  If you do the prep work before leaving, your campfire cooking will be super easy and fun.
What is your favorite camping meal?