This homemade gingerbread latte is the ultimate winter coffee drink!
Well would you look at that?  It is officially Christmas time.  I hope everyone enjoyed their Thanksgiving weekend!  I took a blogging break and just enjoyed the time with my family.  On Sunday Mr. Briar and I went on our annual Christmas tree hunt.  It was a little different this year since we are in a new state.  Moving is hard, right?
Ever since I was in my early twenties I had the fantasy of having a yearly tradition with my (future, imaginary) family.  I imagined us driving through the countryside to a quaint Christmas tree farm, (all wearing plaid and boots probably), selecting our perfect tree, cutting it down, sipping on some hot cider or cocoa (probably out of a vintage thermos), maybe visiting santa,  then strapping the tree to our car and driving home to gather round and decorate the tree.  When Mr. Briar and I moved back to Portland for our first Christmas as an engaged couple, I found the perfect Christmas tree farm.  "We have to start establishing our family traditions!"  I told him, and since my good-natured husband adheres to the "happy wife, happy life" philosophy, he agreed.
We went to that farm the two years we were in Portland, but since we moved to Washington this year we had to find a new "family tradition" spot.  After some googling and review reading, I narrowed it down to a few options.  The first farm we went to was a huge disappointment.  It was basically a bunch of scraggly trees in a muddy field next to a gravel parking lot.  There were some huge trees and some tiny trees but no average sized trees.  We wandered around and did not see even one tree that was a maybe.  Luckily at some point we realized that we didn't actually have to buy our tree there, so we decided to leave and find a better option.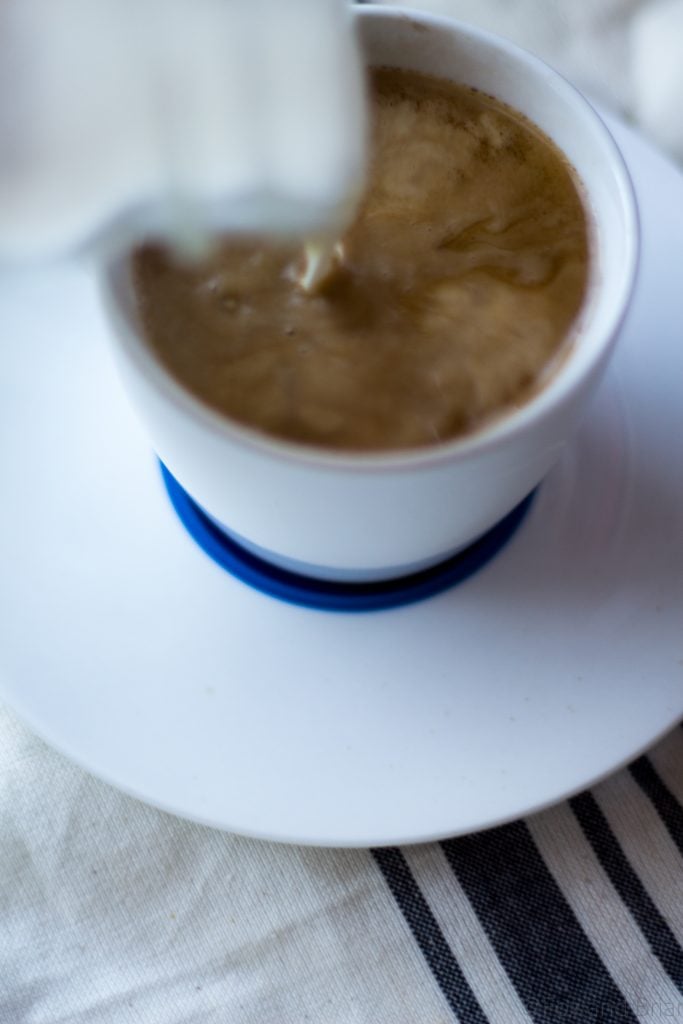 The second farm was perfect!  It was very similar to our favorite place in Portland,  Family owned, many varieties of trees in different sizes, and a generally quaint holiday experience.  So although it can be difficult sometimes to re-establish traditions, in this case I was pretty happy with how it turned out.
There are other traditions that we all associate with the holidays, many of them having to do with food and drink.  Although I don't go out to coffee shops that often anymore, I do have a soft spot in my heart  for the holiday flavored coffee drinks.  And as much as I love a good peppermint mocha, it is a tough choice between that and a gingerbread latte.  I love the holiday spices and the fact that it is a little less sweet than a mocha.  I decided to recreate it at home since I really don't like spending $5/drink on coffee, and I gave up the chemical laden coffee creamer a few years ago (begrudgingly).
This syrup is very similar to the Autumn Spice Syrup I shared a few months ago.  The main difference is that there is molasses in this, which is what give it that distinctive gingerbread flavor.  Oh, and lots of fresh ginger, of course.  All you do is combine the ingredients, bring to a simmer, then let it steep for about an hour to really enhance the flavors.  Most of the time I just pour some into my coffee with some half and half and I have the perfect cup of gingerbread flavored coffee.  I usually use my Bialetti Moka Express for really good, strong coffee without an espresso machine.  If you want more of a latte you can make some foamy milk to pour into your coffee.  Don't have a milk steamer?  No problem.  I made my own foamy milk with no special equipment.  I just microwaved some milk in a glass mason jar, then screwed on the lid and shook it up a bit (not too much, we aren't trying to make butter here!), and I had some nice hot, foamy milk for my coffee.  Easy peasy!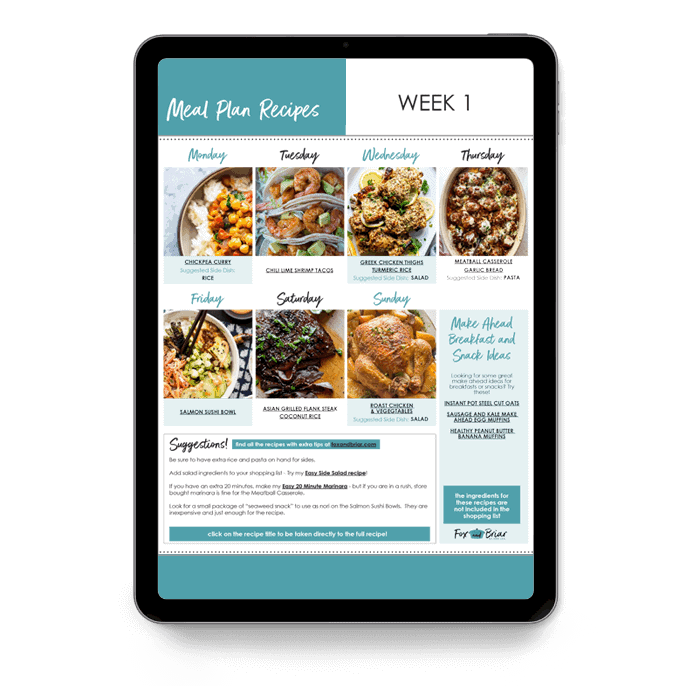 Homemade Gingerbread Latte Syrup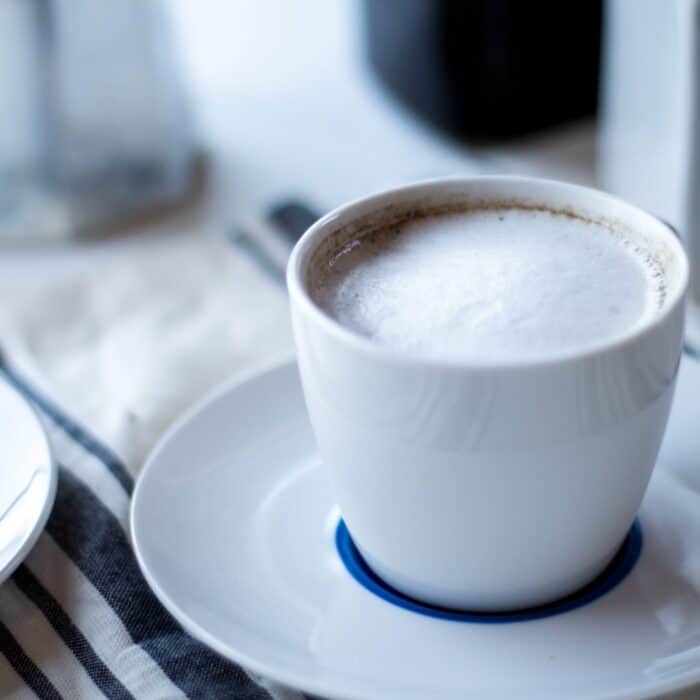 Make your own gingerbread latte syrup to have at home!
Ingredients
1

cup

water

1

cup

brown sugar

1

tablespoon

molassas

2

inch

piece of ginger

peeled and sliced

3-4

cinnamon sticks

1

whole nutmeg

2

teaspoons

whole cloves

2

teaspoons

whole allspice
Instructions
Combine all ingredients in a saucepan and bring to a simmer over medium high heat, stirring to dissolve the sugar.

When mixture is simmering, reduce heat and simmer on low for

20 minutes

. After 20 minutes, turn off heat and allow to steep for about an hour.

Strain through a fine mesh sieve to remove solids, store in a sealed container in the fridge.

To make latte, brew a strong cup of coffee or espresso. add syrup to taste (1-2 tablespoons or more), then top with steamed milk.
Nutrition information is automatically calculated, so should only be used as an approximation.
Did you like this recipe?
Please comment, rate and share! And don't forget to tag me on Instagram @foxandbriar AND #foxandbriar so I can see what you made!
What are your Christmas traditions?
Disclosure: This post contains affiliate links, which means that if you purchase the items I recommend through the links I provide, I get a small commission. For more info, please see my disclosure policy. I only recommend products if I actually love them. Thanks for supporting Fox and Briar!