These Homemade Strawberry Marshmallows are fun and simple to make, and have amazing strawberry flavor.  No high fructose corn syrup or dyes!  A fun treat for Valentine's day or any other time of year!.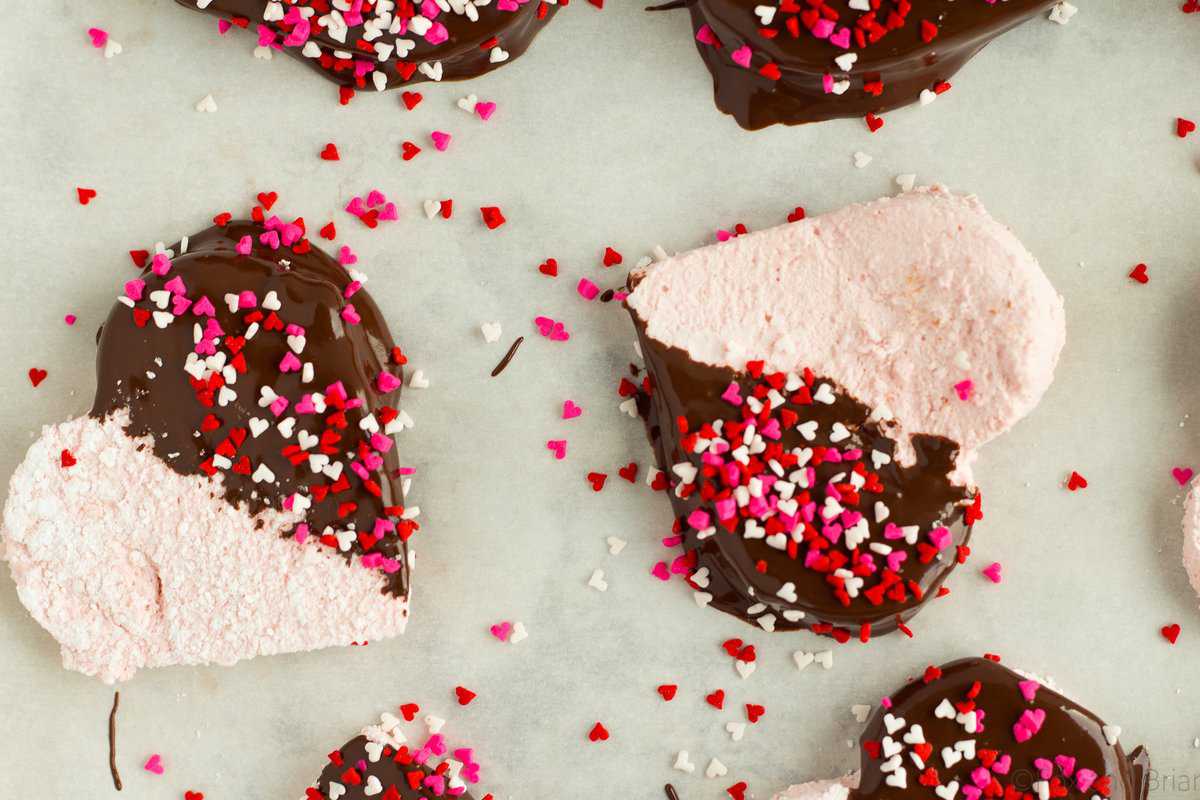 I have always loved Valentine's Day.  The idea of spreading love around to everyone I cared about has always appealed to me.  When I was a kid I loved the little heart pockets we put on the front of our desks at school to collect the cards that everyone gave each other.  I loved making heart-shaped cookies and decorating them.  My mom had the best tradition of setting up a scavenger hunt all over the house on the morning of Valentine's Day.  I would wake up and find a note telling me to go look somewhere in the house, where I would find another note leading me to the next clue.  There would be little candies or prizes along the way until I finally reached the end and a Valentine gift.  Later I would go to school and we would exchange cards and there would be plenty of treats.  I even did a school report on St. Valentine!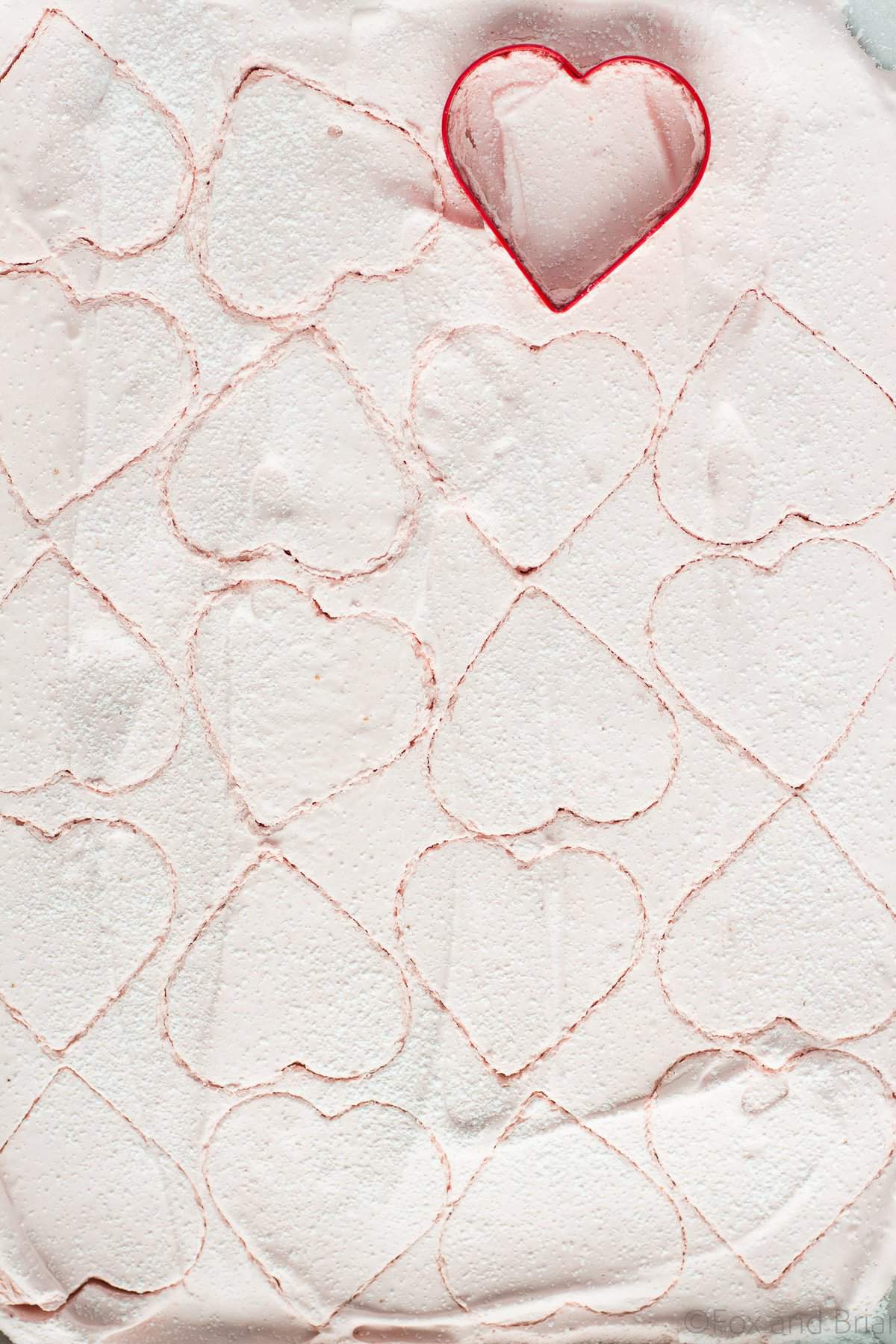 As I got older I became more aware of the romantic implications of Valentine's Day.  As young people sometimes to do, I looked forward to the day that I FINALLY had a boyfriend and we would go to a romantic dinner and he would give me flowers and candy and one of those stuffed bears with hearts on it.  But you know what I realized?  Grown up Valentine's Day is not really as fun.  There is too much pressure to have the perfect, romantic day, and it is usually a disappointment.  Going out to dinner on Valentines' Day is actually a nightmare, with crushing crowds, stressed out restaurant staff and kitchens running out of menu items.  These days Mr. Briar and I usually make a fun dinner at home and watch a movie, which honestly is more fun for both of us.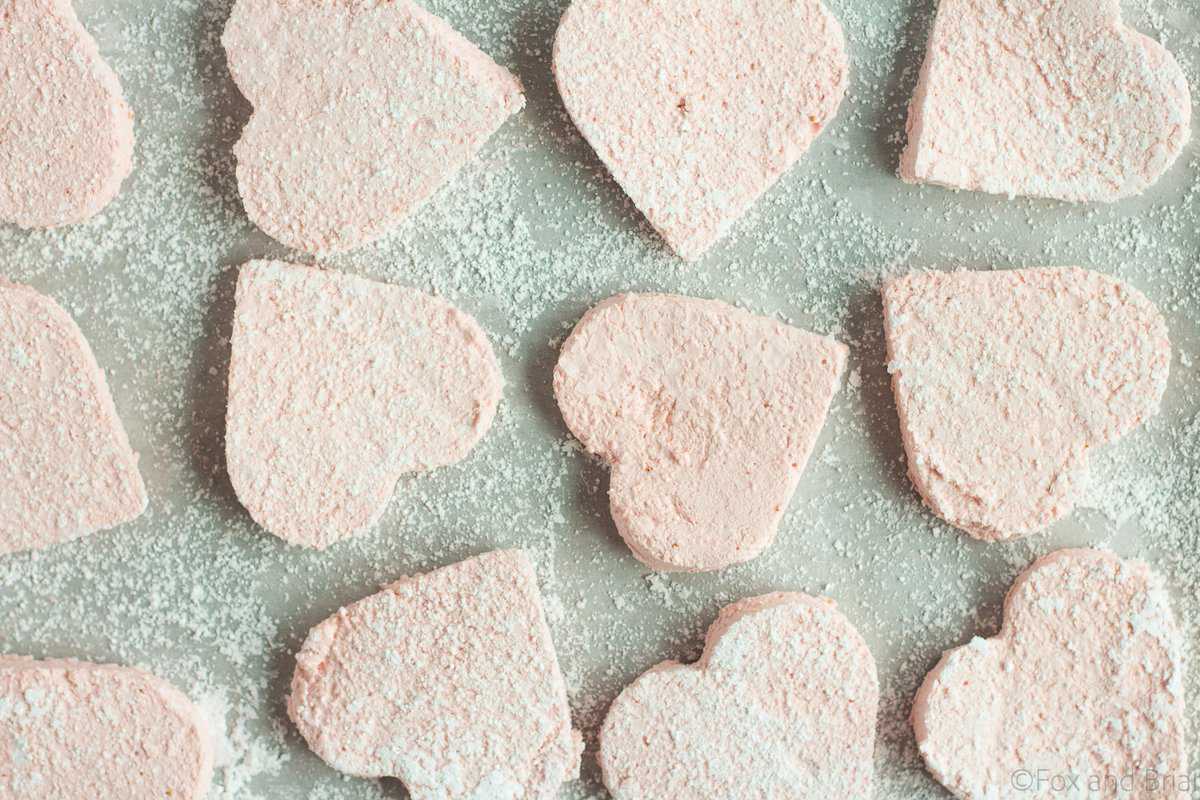 That doesn't stop me from wanting to celebrate valentines day in a festive way.  This is actually the first of TWO valentines' day posts.  I wasn't planning on doing two, but I got this idea for Homemade Strawberry Marshmallows and I couldn't resist making them.  I know that you can buy strawberry flavored marshmallows at the store, but to be honest I am never a big fan of fruit "flavored" items.  They usually taste sickly sweet and not at all like whatever flavor they are supposed to be.
These Homemade Strawberry Marshmallows contain REAL strawberries so they taste like real strawberries.  Imagine that.
Well, they actually taste like dreamy little strawberry clouds.  If you could eat those fluffy pink clouds you see during a beautiful sunset, I think this is what they would taste like. I did use frozen strawberries instead of fresh for two reasons.  One is that it isn't quite strawberry season yet, so the fresh ones aren't going to be super great.  Also, since we are making a puree here, frozen is ideal because they break down into a puree very easily.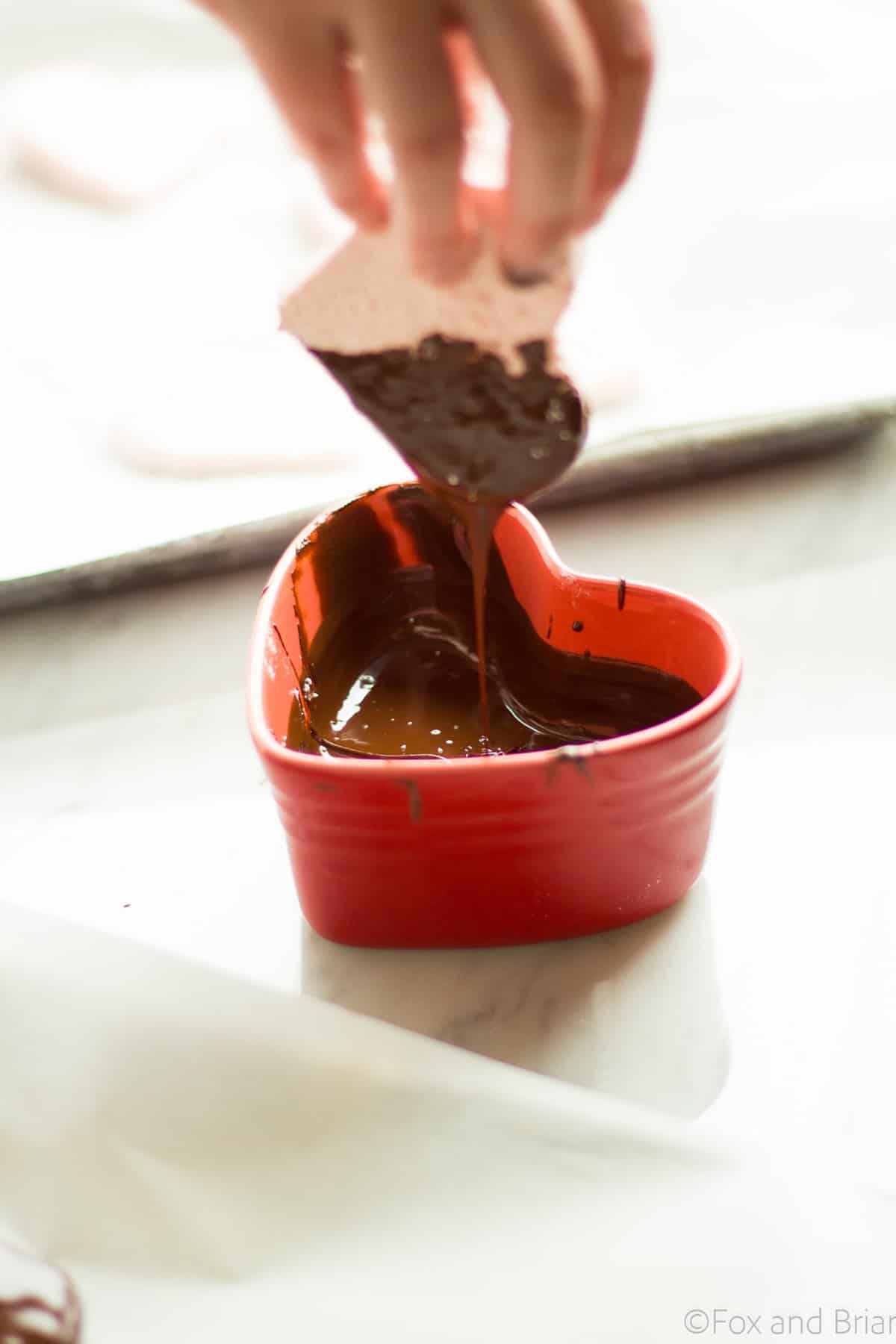 I like this recipe because it is fairly simple and doesn't require any high fructose corn syrup, which I don't normally keep on hand.  I did end up using some vegetable shortening in the chocolate coating, just because the chocolate was not quite viscous enough without it to dip the marshmallows.  I think you could probably sub coconut oil for the shortening if you want, although I have not tested that myself.  The sprinkles are optional, but how cute are they?  Valentine's Day needs sprinkles, in my opinion.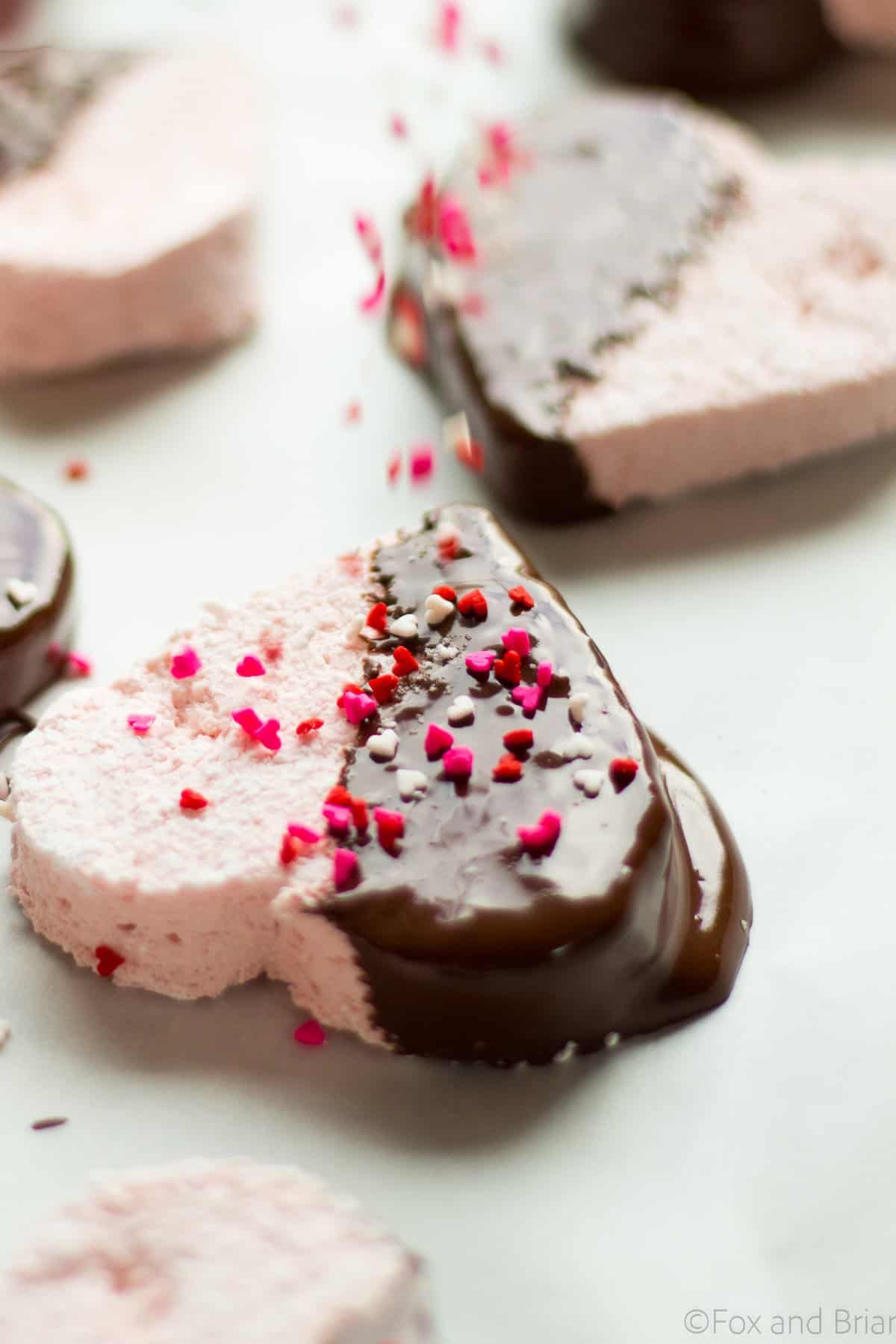 This made about 20 heart-shaped marshmallows, with some scraps left over.  If you don't want waste and you don't care if they are a cute heart shape, you can just cut them into squares like a regular marshmallow and you will have more.  I find that using a pizza cutter works the best if you are going that route.  After dipping them in chocolate and adding the sprinkles, I put them in the fridge to let the chocolate set up, and it did in about an hour.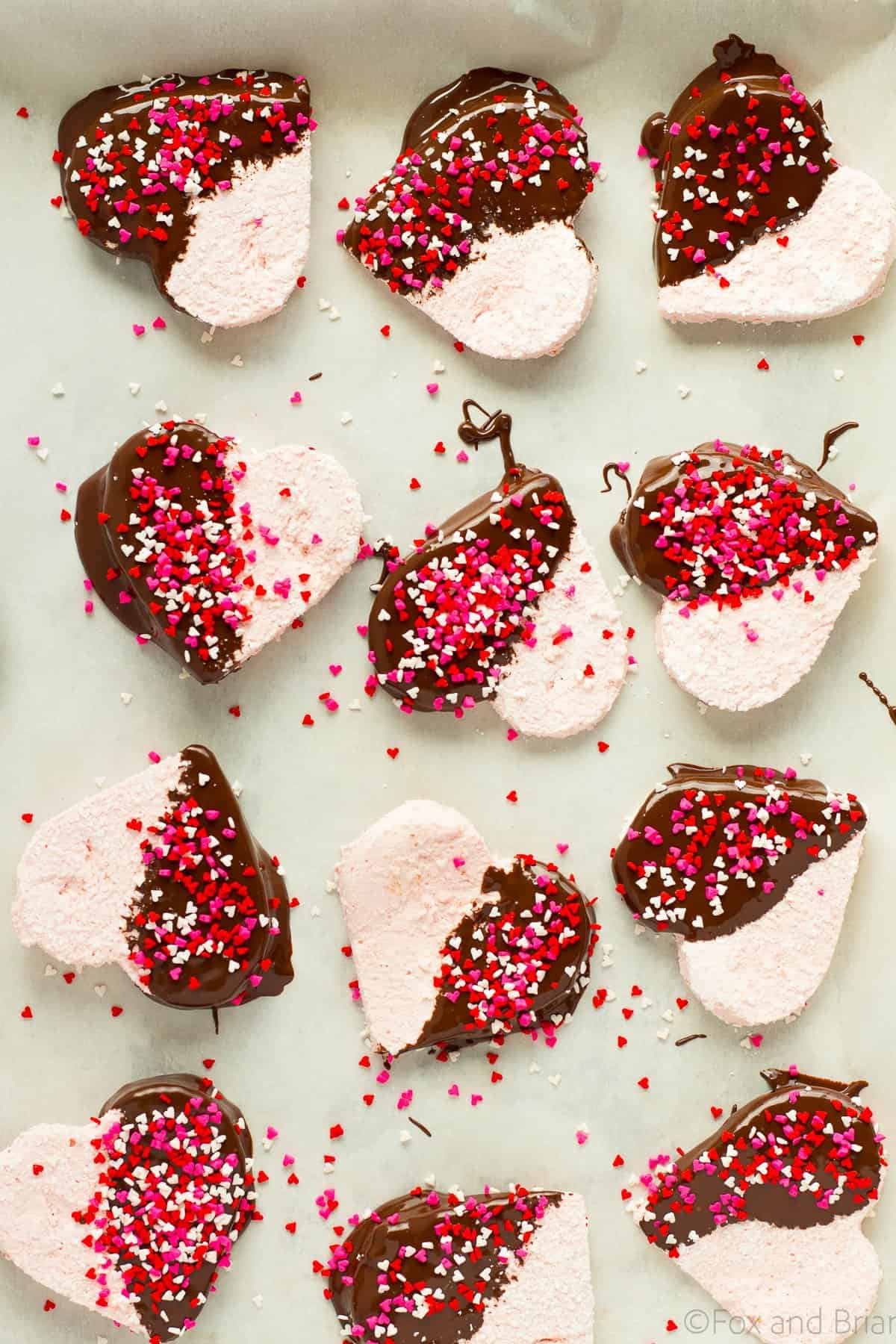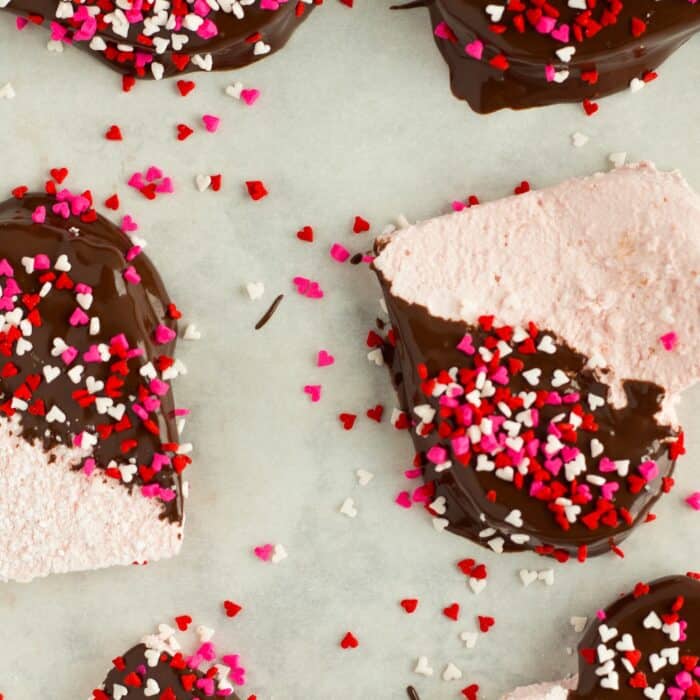 Homemade Strawberry Marshmallows
These Homemade Strawberry Marshmallows are fun and simple to make, and have amazing strawberry flavor. No high fructose corn syrup or dyes! A fun treat for Valentine's day or any other time of year!.
Print
Pin
Rate
Servings:
20
Marshmallows
Ingredients
For Strawberry Marshmallows
1

cup

whole frozen strawberries

thawed

1 ¾

granulated sugar

8

tablespoons

cold water

2

packets

unflavored gelatin

1/4 ounce each packet

2

teaspoons

vanilla extract

1/4

teaspoon

salt

about 1/4

cup

powdered sugar

for the pan and to coat marshmallows in
For Chocolate Coating
8

ounces

semi-sweet chocolate chips

1

teaspoon

vegetable shortening

sprinkles for topping

optional, sort of
Instructions
In a small bowl, stir together the gelatin and the 8 tablespoons of water. Set aside.

Line a baking sheet (half sheet size) with parchment paper and sprinkle powdered sugar all over the parchment paper. Set aside.

Using a food processor or blender, puree the strawberries until smooth.

Add strawberry puree, sugar and salt to a medium saucepan, stir together over medium heat until sugar is dissolved.

Add the gelatin and raise heat to medium high. Whisk together until gelatin is incorporated and the mixture comes to a boil.

Remove from heat and add the vanilla extract. Carefully pour hot strawberry syrup into the bowl of an electric mixer fitted with the whisk attachment.

Gradually, to avoid splashing yourself with the hot sugar syrup, increase speed to high. Allow to whisk on high for

15 minutes

, until mixture has doubled in volume and is smooth and shiny.

Immediately pour into prepared pan, using a spatula to spread the marshmallow fluff into an even layer. Allow to sit for at least several hours but preferably overnight to set up. They will be ready to cut when they are no longer sticky to the touch.

When ready to cut, Sprinkle more powdered sugar on top of the marshmallows. Use a heart shaped cookie cutter to cut the marshmallows into heart shapes. Use a metal spatula to lift them off of the sheet to retain their shape. If they are sticky, toss in a little more powdered sugar.

To make the chocolate coating, melt together the chocolate chips and shortening. This can be done on a double broiler or in the microwave. If using the microwave, place chocolate chips and shortening in a bowl and microwave in

15

-

20

second increments, stirring in between until chips are completely melted and chocolate is viscous.

Dip the marshmallows in the chocolate and lay on a clean piece of parchment paper. Top with sprinkles if desired. Refrigerate for at least an hour to allow chocolate to set up.
Notes
If you don't want to cut them into heart shapes, use a pizza cutter to cut them into squares.
Nutritional information is an estimate for your convenience. If you have strict nutritional needs, please do your due diligence to make sure this recipe fits your needs.
Did you like this recipe?
Please comment, rate and share! And don't forget to tag me on Instagram @foxandbriar AND #foxandbriar so I can see what you made!
Marshmallows adapted from food.com
How do you feel about Valentine's Day?  Do you have anything planned this year?
Some tools I used for this recipe (affiliate links)…
 Disclaimer: This post contains affiliate links, which means that if you purchase the items I recommend through the links I provide, I get a small commission. For more info, please see my disclosure policy. Thank you for supporting Fox and Briar!