This Olive Oil Roasted Chicken and Cauliflower is a combination of unexpected ingredients that come together to make a delicious sheet pan dinner! Kumquats add a zingy flavor, and basil oil adds freshness.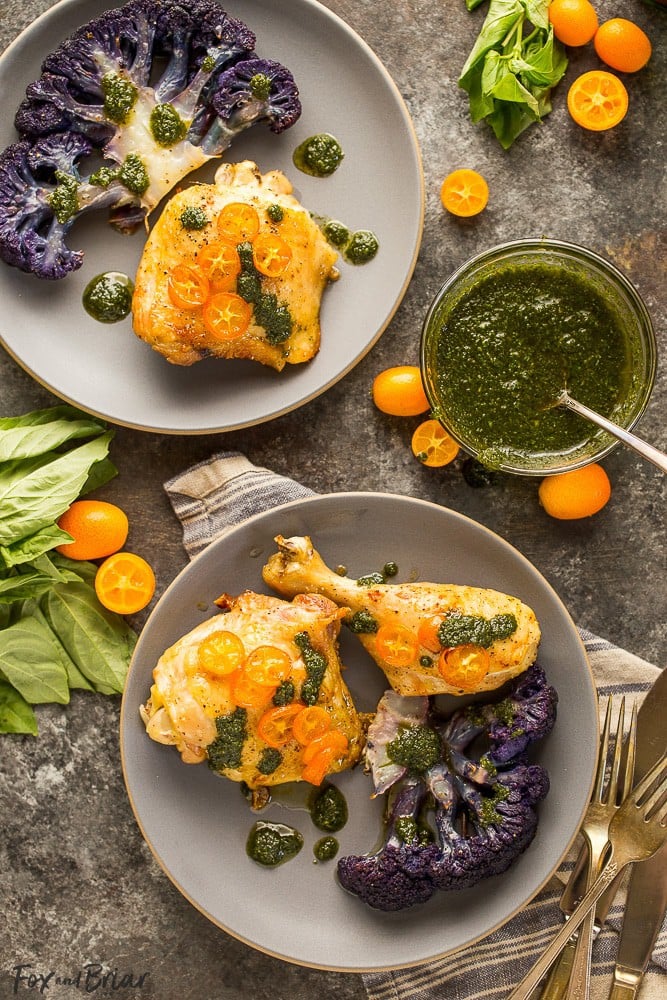 This is a sponsored conversation written by me on behalf of Bertolli. The opinions and text are all mine.
I've mentioned before that one thing I love about blogging is that it challenges me creatively to come up with new recipes.  When I was approached by Bertolli about developing a recipe for them using their Organic Extra Virgin Olive Oil, I jumped at the chance.  Bertolli is the number one brand of olive oil in the world with over 150 years of expertise in olive oil blending. I use olive oil in my kitchen every day, and firmly believe that with some good olive oil any meal will turn out delicious. And I love that Bertolli Organic Extra Virgin Olive Oil is non-GMO and verified USDA organic.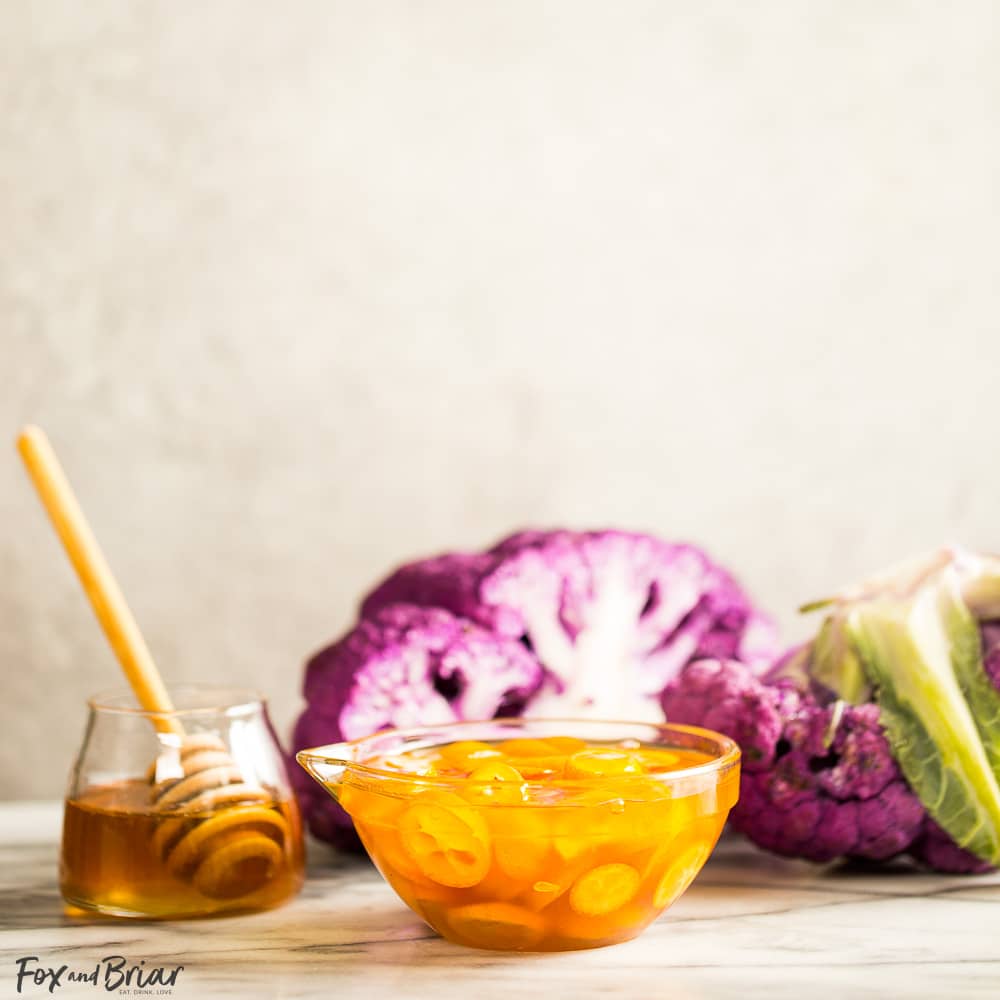 Bertolli challenged me to come up with a recipe using very specific ingredients – olive oil, chicken, kumquats, basil, and a purple vegetable.  I could pick only one additional ingredient to include.   After a little mulling, I knew my recipe was going to be roasted.  Roasting meat and vegetables is one of my favorite cooking methods, and I always, always use olive oil, salt and pepper when roasting anything.  So, I accepted the challenge, and because this olive oil is so versatile I used it in this recipe three different ways.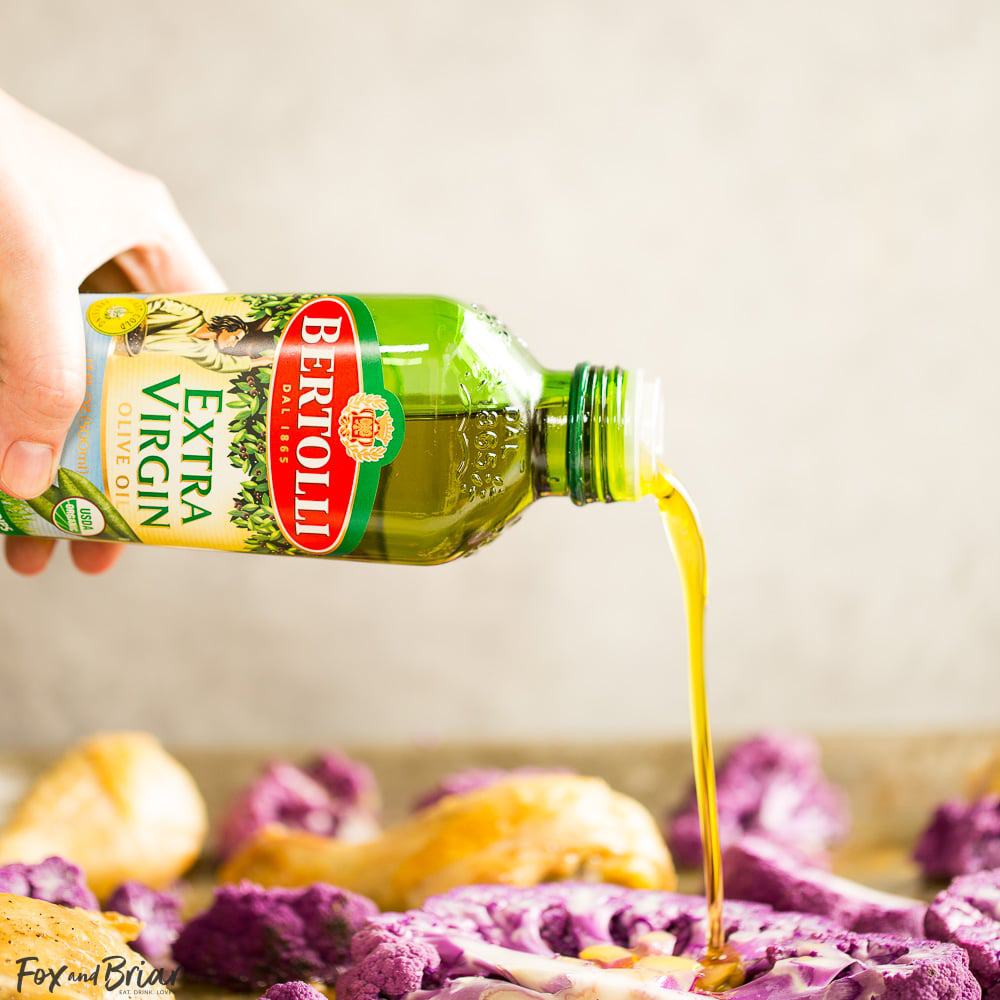 First, I brushed  Bertolli Organic Extra Virgin Olive Oil on the chicken and cauliflower to ensure it came out of the oven beautifully golden and caramelized.  Second, I also used it to make a sweet and tangy kumquat mixture for topping the chicken.  And lastly, I used it to make some fragrant basil oil to drizzle on top before serving.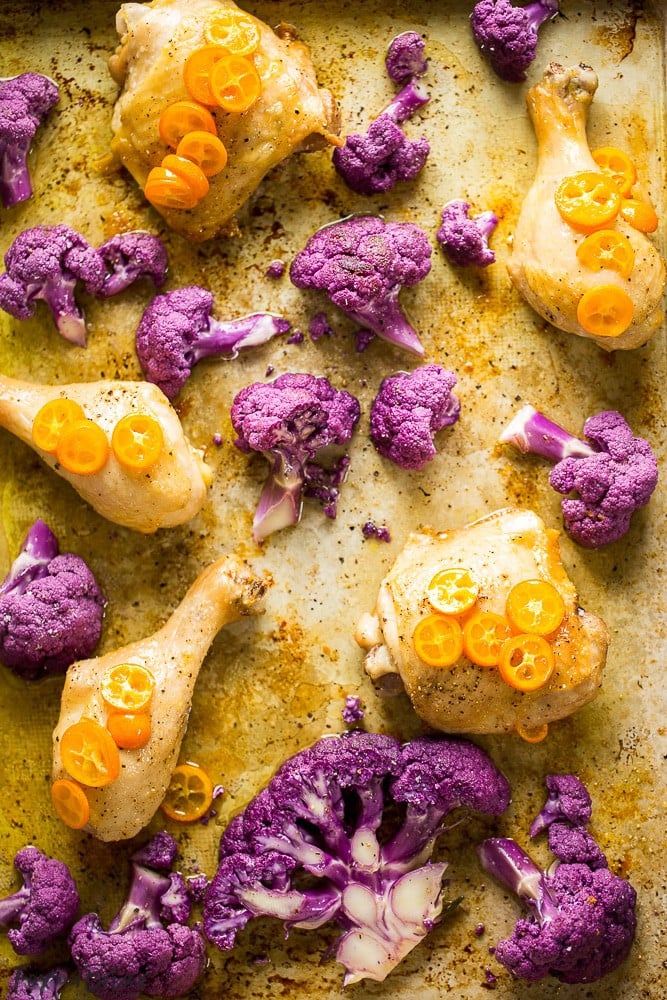 If you have never roasted kumquats, you probably don't know that they roast beautifully. I mixed them with a little honey and olive oil before roasting, which made them almost candy in the oven, turning out sweet and tangy.  The basil oil adds a punch of fresh flavor at the end, on top of the rich chicken.  This unique dish is surprisingly simple to make, I simply roasted everything on a sheet pan in the oven.  PRO TIP: Use two sheet pans – overcrowding the pan will cause the ingredients to steam instead of roast and you will miss out on that golden, caramelized finished product!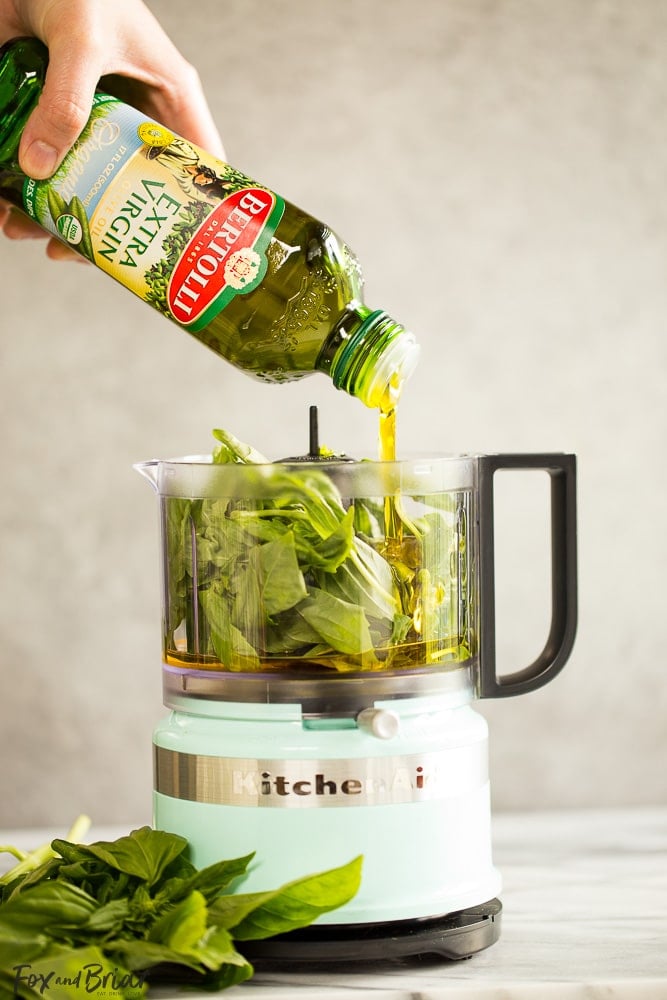 Being able to experiment in the kitchen makes cooking more fun for me, and I hope that you have as much fun as I did next time you get in the kitchen!  Thanks to Bertolli for helping me share my experience.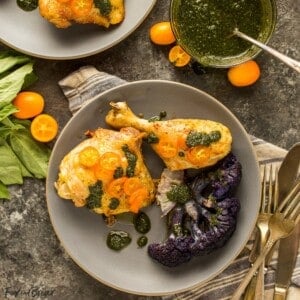 Print
Olive Oil Roasted Chicken and Cauliflower
Yield 4 Servings
Ingredients
3/4 cups plus 2 tablespoons Bertolli Organic Extra Virgin Olive Oil, divided
4 Chicken thighs, bone in and skin on
4 Chicken drumsticks, bone in and skin on
1 head purple cauliflower, sliced into 1-inch steaks (any color of cauliflower will work)
2 ounces kumquats, sliced and seeds removed
2 tablespoons honey
1 cup packed basil leaves
Instructions
Preheat oven to 425 degrees.
Arrange chicken on two large baking sheets (it is important to use two baking sheets in order to avoid crowding the pan.  This will ensure that the food roasts instead of steams). Brush chicken with olive oil, season with salt and pepper. Roast  for 30 minutes.
Meanwhile, whisk together the 2 tablespoons honey with 2 tablespoons of olive oil and toss with the kumquat slices.
After chicken has been roasting for 30 minutes, remove baking sheets from oven and arrange cauliflower slices and florets around the chicken.  Brush the cauliflower with 2 more tablespoons of olive oil and season with salt and pepper.  Drizzle the honey kumquat mixture over the chicken.  Return to oven and roast for another half hour, or until chicken is done and cauliflower is tender.
While chicken and cauliflower is cooking, make the basil oil.  In a food processor, add 1 cup packed basil leaves and 1/2 cup olive oil with a pinch of kosher salt.  Process until smooth.
To serve, plate chicken and cauliflower, topping with kumquats. drizzle with basil oil.
Notes
Use two baking sheets, but distribute the chicken and cauliflower on both baking sheets.  The juices from the chicken add some nice flavor and caramelization to the cauliflower while it roasts.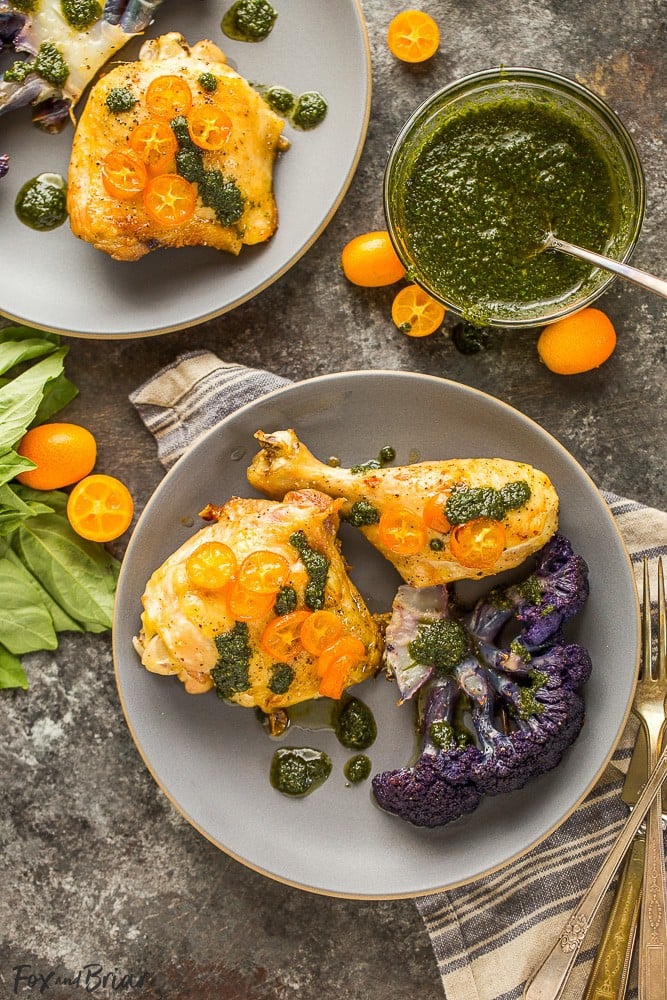 If you make this recipe don't forget to tag it @foxandbriar and #foxandbriar on instagram and facebook! I really love to see what you make and you may be featured in our weekly Reader Feature!
This is a sponsored conversation written by me on behalf of Bertolli. The opinions and text are all mine.