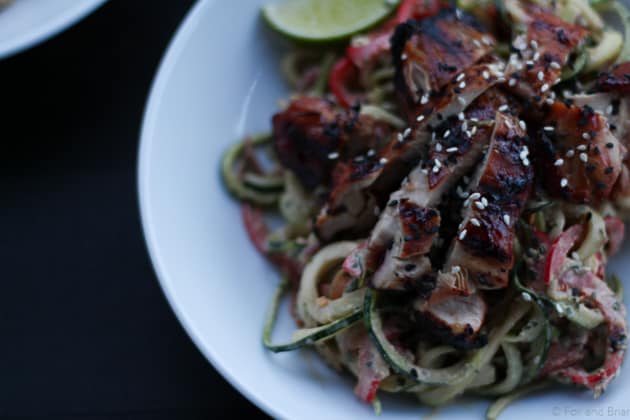 I'm so excited to share this recipe with you today.  Did I take 200 pictures of this while testing?  Possibly (yes).  Don't worry, I've narrowed it down.  The rainbow veggie "noodles" are just so pretty and I love using vegetables in place of pasta.  Most of the time anyway.  Like now, when the sauce is the star of the show.  And this sauce?  So, originally, it was a peanut sauce , but the thing is that I ran out of peanut butter (this is a constant problem in my house).  And then I remembered that I had THIS cashew butter just sitting in my fridge, so I decided to give it a shot.  When I first tasted the sauce, I thought it tasted similar to peanut sauce, but more subtle. Later when I tried it again, I thought it tasted EXACLTY like peanut sauce, and K said he didn't notice a difference either.  So you can use either peanut butter or cashew butter here and the results will be pretty similar.
ALSO – I realize that basil season is coming to a close, so keep in mind that you can leave the basil out of the sauce if you want.  Using it does add another layer of flavor that is pretty great, but the sauce is also good without it.  This sauce is magic, I'm telling you.
So, lets talk about these not-noodles. I was first introduced to the spiralizer (<affiliate) last summer when my BFF gave me one as a gift (she is the best, don't be jealous).  And K and I kind of went on a zoodle making spree.  We made them all summer.  And lucky for me, pinterest is filled with zoodle recipes, so I was set.  But the weird thing is, despite using it countless times for the last year and a half, I never thought to use it on anything other than zucchini until I read the Pinch of Yum post on life changing ways to use a spiralizer.  And then I watched THIS video about all the ways you can use it.  Seriously!  I opened a whole new world of spiralizing.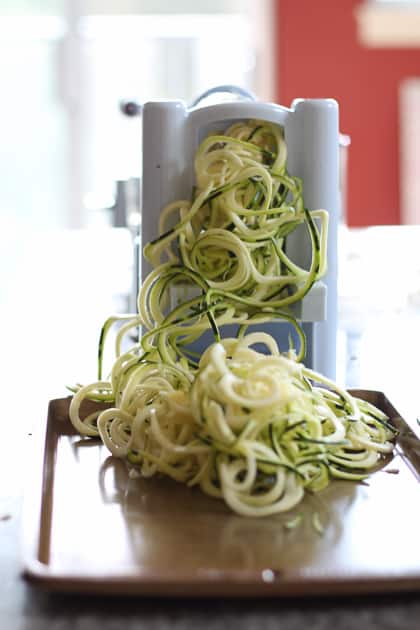 So I was pretty excited to try it out on a bell pepper – works like a charm.  You just chop off the top and run it through the flat blade.  The bell pepper comes out nice and thin and noodley.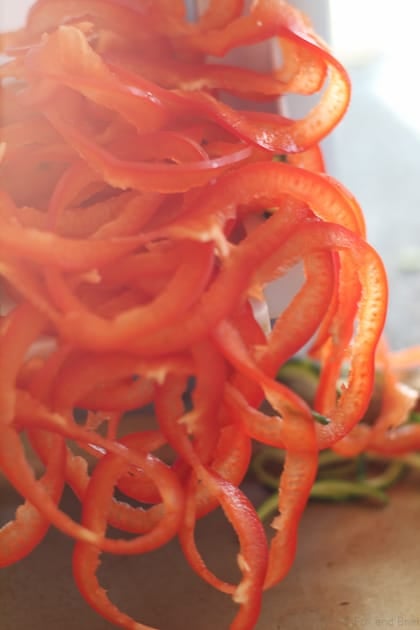 Unfortunately, you can't really use the spiralizer on carrots.  Well, maybe you can.  I can't.  And I tried.  After this experience, I am 100% sure that my favorite way to "noodleize" carrots is with my food processor grater blade.  I tried a few methods on this salad, and here is how it went:
Spirlizer – Nope.  The carrots are too skinny and the majority of it goes through the center core.  Also, they don't really turn into "noodles" but more like little half moons.
Use a vegetable peeler to create nice thin strips. – I tried this and it does create beautiful, thin, noodle like strips, but you better believe I ran out of patience after about half a carrot.  It takes way too long.  Nope.
Box Grater – This is actually the method I used, because my food processor was full of tangy and spicy cashew dressing.  This works fine, but it takes longer than the food processor and also I ended up accidentally grating my self (ouch).
Food processor – The best.  Super fast and easy, and minimal waste.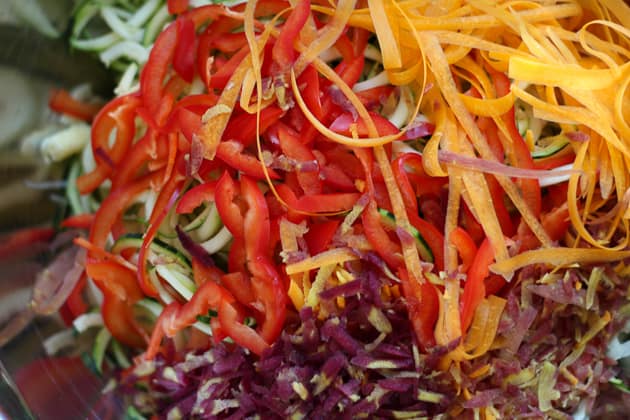 Once you have your not-noodles, combine in a very large bowl – this looks like a huge amount of veggie noodles, but it will shrink down after you add the sauce.
Speaking of sauce – the sauce might be a little thick before you add it to the veggies.  That is OK, and I would not recommend adding water to thin it out because once you add it to the veggies, they will release quite a bit of water and thin out the sauce.  Because of this, I recommend combining the veggies and sauce shortly before serving.  The longer you let them sit, the more water the veggies release into the sauce.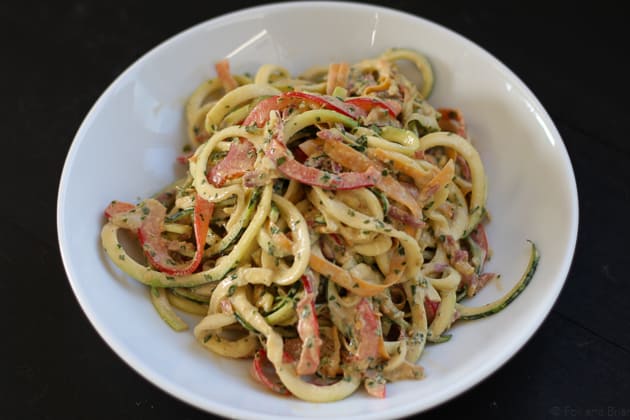 And if you serve the rainbow zoodles and the sauce on their own, this is vegan.
But if you don't want it to be vegan, you can add some sesame grilled chicken.  I can never seem to find the time to marinade my chicken longer than an hour, but the longer you marinade it, the better it gets.  An hour is fine, but four hours is better, or even overnight.  Also, please please use chicken thighs.  They are just so much better.  I use boneless skinless thighs because they are super easy to work with, but feel free to use bone in and skin on if you want – obviously cooking times will vary.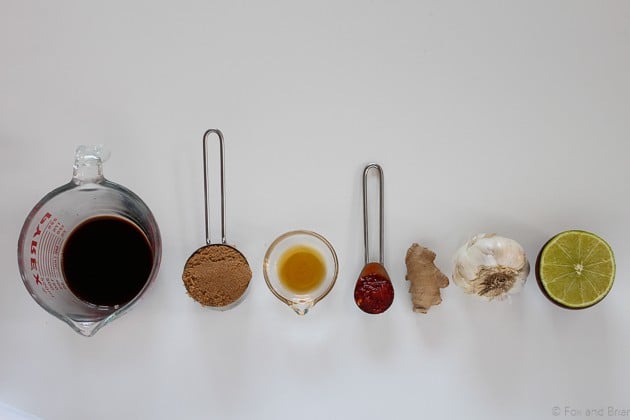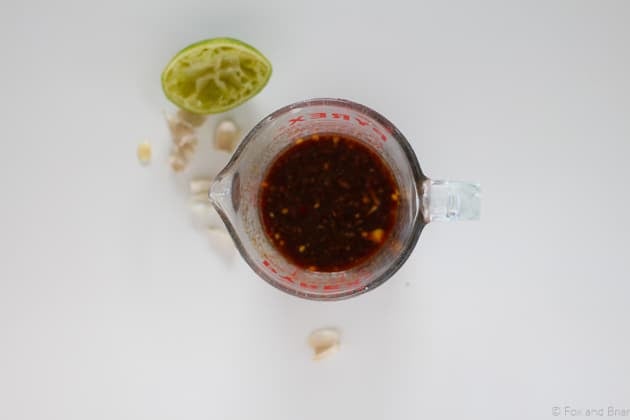 I wanted to grill the chicken here because I love the smokey flavor and how the marinade gets all mahogany and caramelized.  Grilling is best but if you can't grill it, my second choice would be to put this under the broiler so you can get some nice browning on the chicken. If you do that, be sure to line your pan with foil because the sugar in the sauce will probably burn as it drips onto the pan.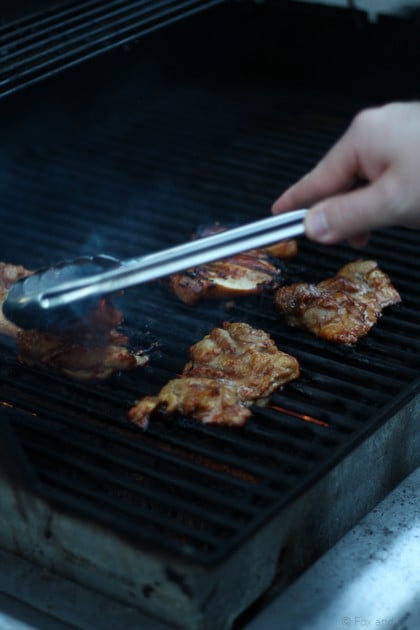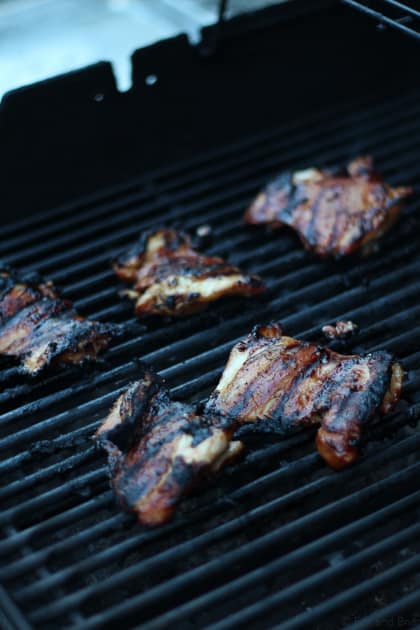 Serve the chicken over the Rainbow Cashew Zoodles for a low carb but satisfying dinner.  We are totally low carb!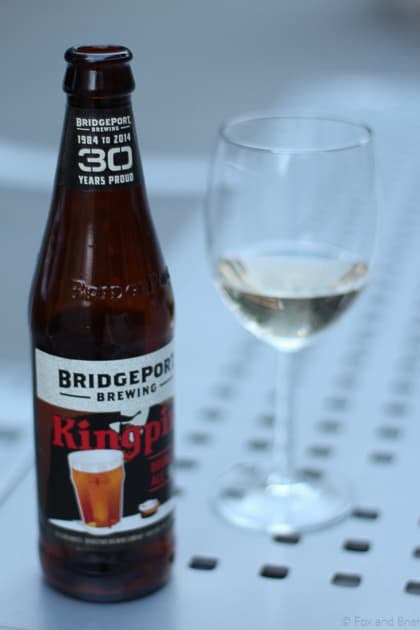 Just kidding.
But at least we are getting our veggies.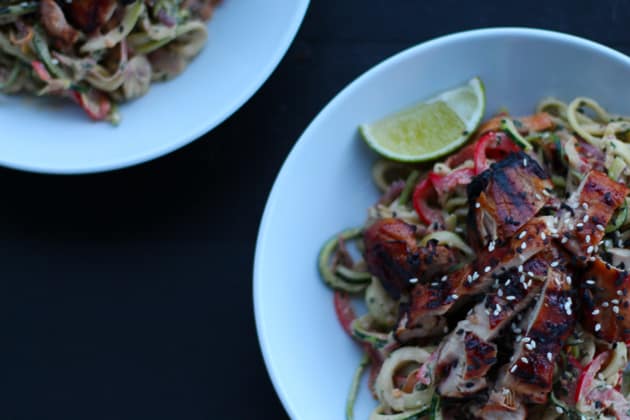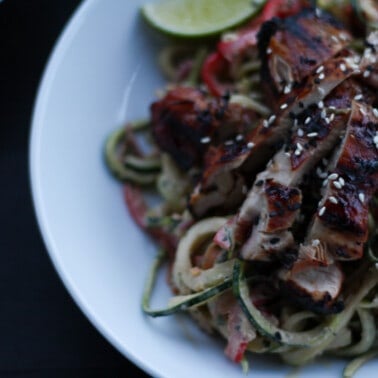 Rainbow Cashew Zoodles with Sesame Grilled Chicken
These Rainbow Zoodles will give you a veggie packed dinner, all covered with a tangy cashew sauce and topped with sweet sesame grilled chicken.
Print
Pin
Rate
Ingredients
For The Rainbow Zoodles:
3-4

medium zucchini

aim for 1 medium zucchini per serving

2

medium carrots
For The Sesame Cashew Sauce:
For The Sesame Chicken:
1

pound

boneless

skinless chicken thighs

sesame marinade

see below
For The Sesame Marinade:
1/4

cup

low sodium soy sauce

1/4

cup

brown sugar

1

tablespoon

fresh lime juice

1

teaspoon

sesame oil

1

teaspoon

chili garlic sauce

2

teaspoons

freshly grated ginger

4

cloves

of garlic

minced or pressed
Instructions
For The Chicken:
Whisk together ingredients for marinade.

Place chicken in a bowl, pour marinade over chicken, turning to make sure the chicken is completely coated.

Marinade for at least

an hour

, up to overnight.

Store in the refrigerator until ready to cook.
To Cook The Chicken:
Heat grill on high heat, then reduce to medium right before putting the chicken on.

Cook for about

5 minutes

on one side, flip and cook for

2 more minutes

.

Use a thermometer to check temperature, remove from grill when center reads 165°F or higher.

*Cooking times can vary depending on your grill and other factors, use your best judgement here.
For The Rainbow Zoodles:
Using a spiralizer (I use the blade with the larger holes for zucchini, the flat blade for the bell pepper), turn your veggies into noodles, and grate the carrots. If you don't have a spiralizer, you can use a mandolin or if you have great knife skills just slice them into very thin strips.
For The Sesame Cashew Sauce:
In a food processor, combine all ingredients for the Sesame Cashew Sauce except for the basil and pulse to combine.

When combined, add the basil and pulse again until basil is incorporated into sauce. You want to get a creamy consistency, but be careful not to over mix or the sauce may try to congeal. There will be visible shreds of basil in the sauce.
To Finish The Dish:
Combine all vegetables in a large bowl.

Toss with the Sesame Cashew Sauce, making sure the zoodles are completely coated. Divide between serving bowls.

Top with sliced chicken, garnish with sesame seeds and slices of lime if desired.
Notes
Mix the Cashew Sauce with the veggies just before serving. The veggies will release quite a bit of liquid, which will thin out the sauce, if you let them sit too long it becomes too watery.
I like to cut veggie noodles a few times with kitchen shears on the bowl - it keeps them from turning into one large mass.
To make this vegan, use tofu instead of chicken, or just serve the noodles on their own.
Be sure to use low sodium soy sauce to keep this from getting too salty.
To make this gluten free, be sure to use gluten free soy sauce!
Nutrition
Calories:
524
kcal
|
Carbohydrates:
41
g
|
Protein:
36
g
|
Fat:
26
g
|
Saturated Fat:
5
g
|
Cholesterol:
71
mg
|
Sodium:
1286
mg
|
Potassium:
1260
mg
|
Fiber:
4
g
|
Sugar:
24
g
|
Vitamin A:
6635
IU
|
Vitamin C:
71.3
mg
|
Calcium:
91
mg
|
Iron:
4
mg
Nutritional information is an estimate for your convenience. If you have strict nutritional needs, please do your due diligence to make sure this recipe fits your needs.
Did you like this recipe?
Please comment, rate and share! And don't forget to tag me on Instagram @foxandbriar AND #foxandbriar so I can see what you made!
Have you ever used a spiralizer?  What is your favorite veggie to turn into a noodle?
Disclosure: This post contains affiliate links, which means that if you purchase the items I recommend through the links I provide, I get a small commission. For more info, please see my disclosure policy. I only recommend products if I actually love them. Thanks for supporting Fox and Briar!