Spaghetti Squash and Pork Stir Fry is a fast and easy low carb dinner with minimal prep. It is a twist on a Schezuan classic noodle dish "Ants Climbing a Tree", but uses spaghetti squash instead of noodles!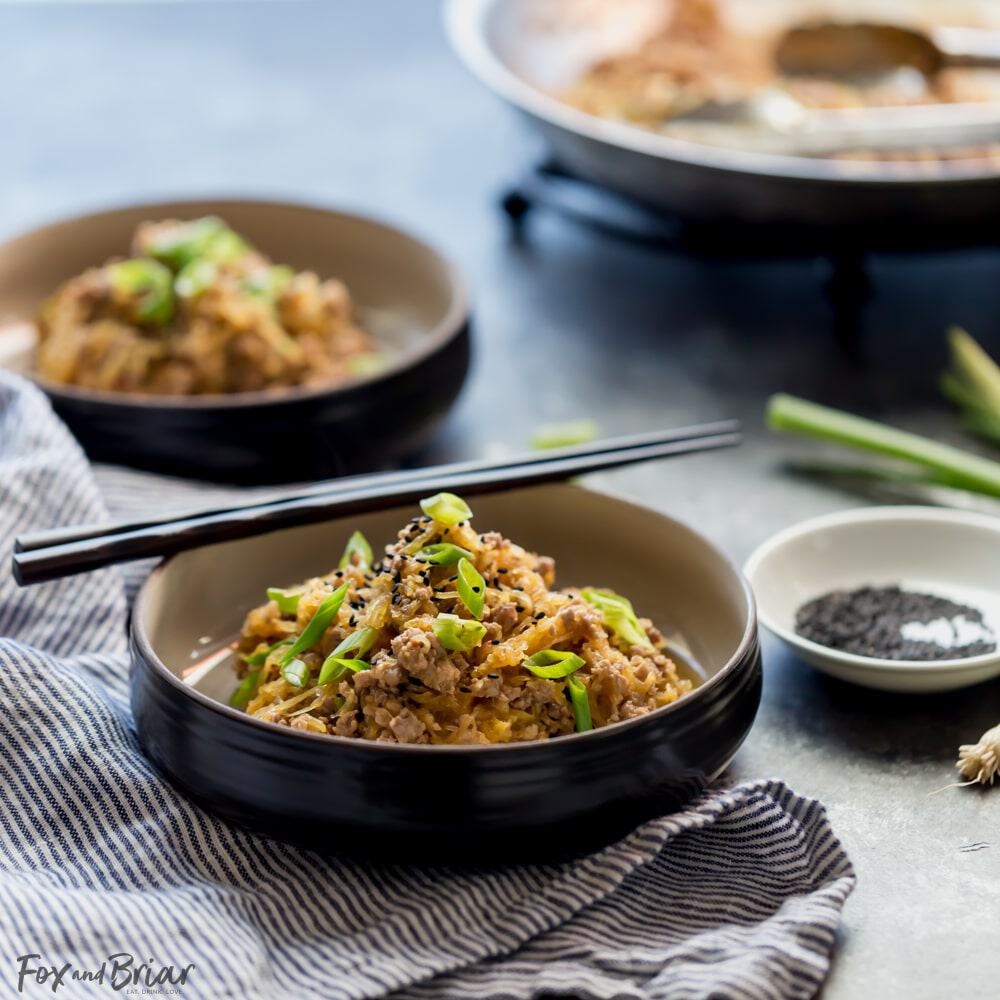 This recipe was originally published 9/22/2015.  It was updated with new photos on 12/11/2017.
This Spaghetti Squash and Pork Stir Fry is one of my favorite high protein and low carb easy dinners. Mr. Briar maintains that this dish is the very best use of spaghetti squash ever, and that it is the only way he wants to eat spaghetti squash from now on. He pretends that he isn't a fan of spaghetti squash, but he never complains when I make it for dinner, which is almost once a week. I love spaghetti squash, and I don't care who knows it.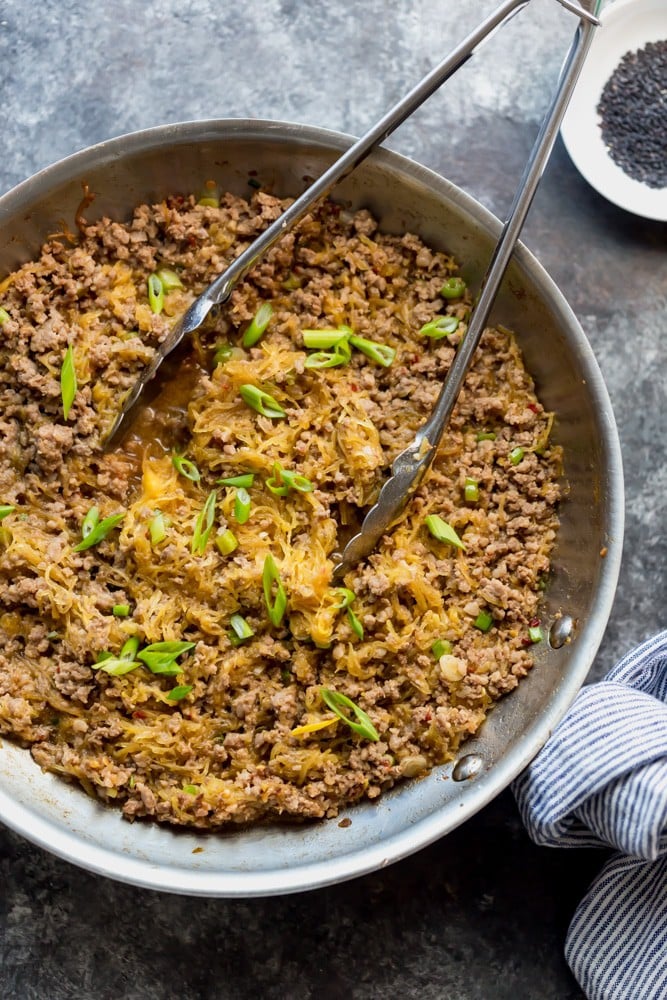 I feel like most people are on the spaghetti squash bandwagon by now, but if you aren't, I will share my favorite way to prepare it.  Ready?  Microwave.  I know.  It seems anti-foodie to cook ANYTHING in a microwave, but Alton Brown said it was OK, and there are very few things that Alton and I disagree on when it comes to cooking.  I started using the microwave to cook my spaghetti squash when I lived in Arizona and I did anything and everything to avoid turning on my oven for 9 months out of the year.  I continue to cook it this way because it is so much faster than the oven, and I rarely want to spend an hour waiting for my spaghetti squash to be done.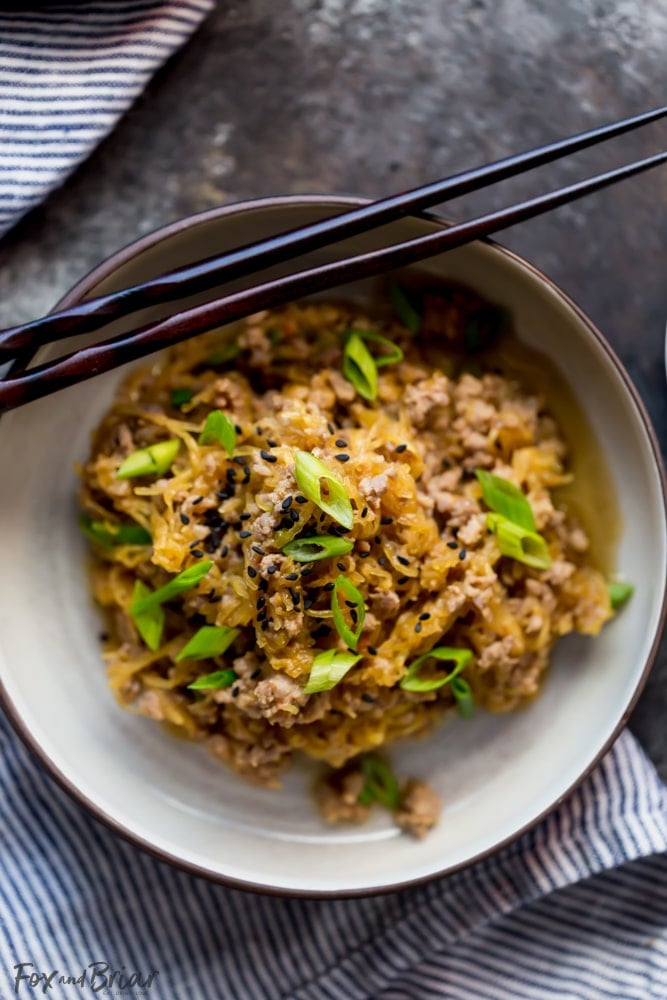 This dish takes about half an hour to prepare, so it is a great meal for a busy night.  Actually, the longest part of the process is hands off.  Whisk together the soy sauce, rice vinegar, chili garlic sauce and cornstarch, then add the meat and mix so it is combined.  Then let the meat sit for half an hour.  This process allows the meat to be broken into tiny pieces so it clings to the "noodle", giving the right texture to the dish.  Also, this is the seasoning for the whole thing.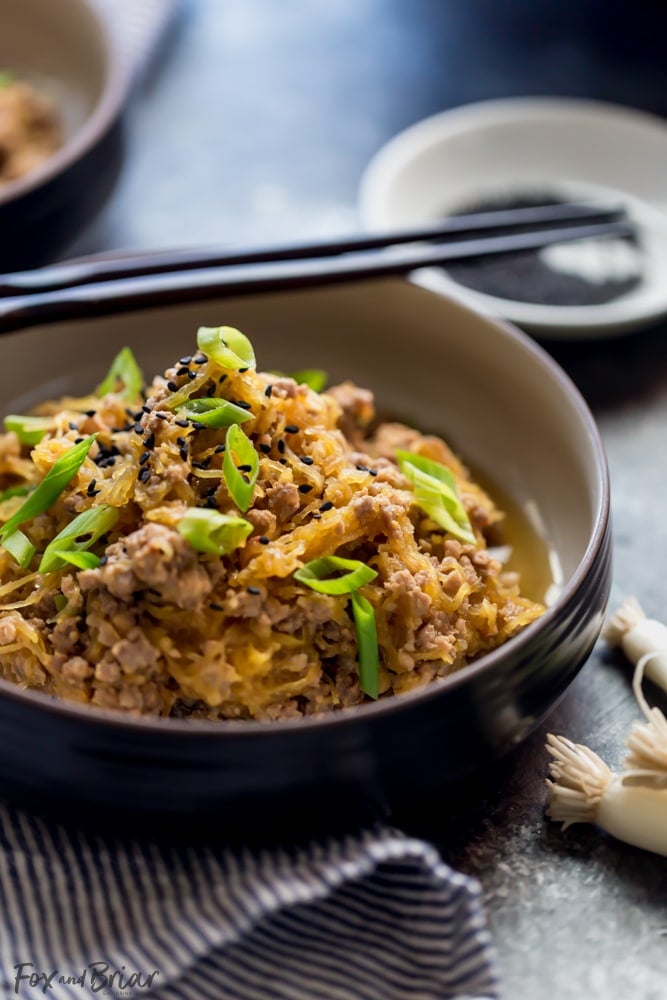 Print
Spaghetti Squash and Pork Stir Fry
Yield 4 Servings
Ingredients
1 spaghetti squash (about 6 cups prepared)
10 ounces ground pork*
2 ounces low sodium soy sauce**
1 Tablespoon rice wine
1 Tablespoon chili garlic sauce
1 teaspoon cornstarch
1 tablespoon canola oil
4 green onions, chopped
½ cup chicken broth
Instructions
Whisk together soy sauce, rice vinegar, chili garlic sauce and cornstarch until smooth. Add the ground pork and mix together until incorporated. Allow to sit for half an hour.
While meat is marinating, prepare spaghetti squash. Cut ends off of squash and then split in half. Scoop out seeds and "innards", then place squash in a microwave safe dish, cut side up. Microwave for 12-20 minutes, until done. Squash is done when skin can easily be pierced with a knife and flesh easily shreds with a fork.
After allowing the squash to cool for a few minutes, use a fork to shred the flesh into "noodles". Drain in a colander lined with paper towels to remove excess moisture.
Heat a large skillet over high heat, then add the oil.
When pan and oil are hot, add the pork and cook, stiring constantly, for about 2 minutes, breaking the meat into smaller pieces.
Add ⅔ of the green onions to the pork, then continue to cook until the meat is well browned, about 2 more minutes.
Lower heat to medium high and add the broth. Cook for 2-3 more minutes, until broth is reduced.
Add handfuls of the spaghetti squash noodles, stirring as you go to combine.
Top with the rest of the green onions and serve.
Notes
*If you don't want to use pork, ground turkey will also work
**for gluten free, be sure to use GF soy sauce
Adapted from Alton Brown
If you make this recipe don't forget to tag it @foxandbriar and #foxandbriar on instagram and facebook! I really love to see what you make!