This Roasted Sweet Chili Garlic Salmon will be your favorite way to eat salmon!  This quick and easy salmon recipe only takes 20 minutes and is packed with sweet, tangy and spicy Asian flavors that will become a family dinner favorite.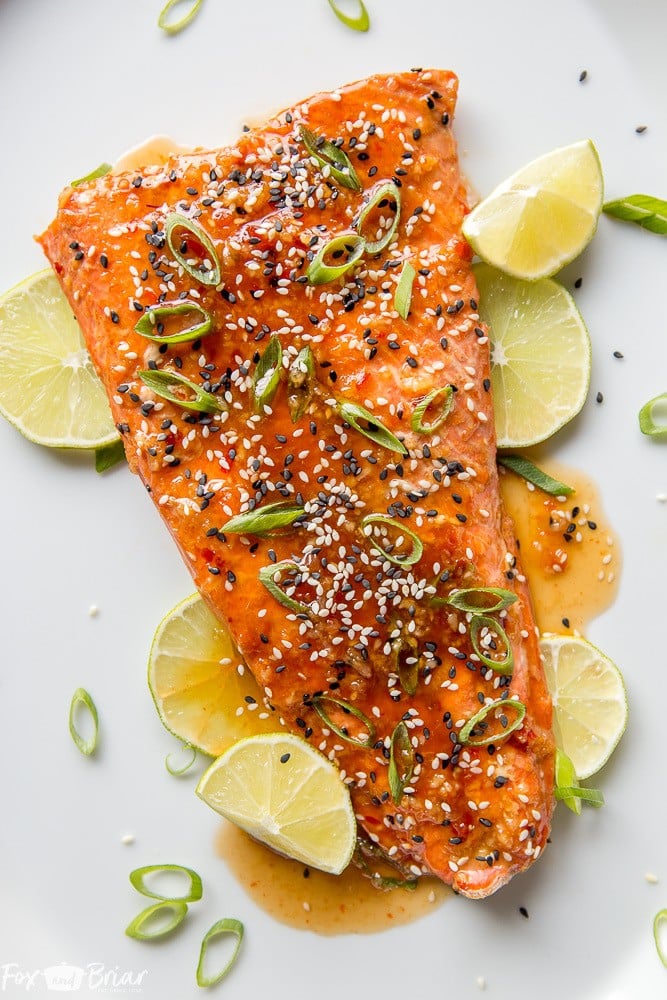 Disclosure: This post contains affiliate links, which means that if you purchase the items I recommend through the links I provide, I get a small commission at no extra cost to you. For more info, please see my disclosure policy. Thanks for supporting Fox and Briar!
Who loves Wild Alaskan Salmon? 🙋  Honestly, I'm sort of a salmon snob after growing up in Alaska and having access to tons of fresh fish.  The truth is there is NO comparison, and I can't bring myself to buy farmed salmon anymore.  Now, some people may consider this Sweet Chili Garlic Salmon recipe an affront to good salmon (i.e. Mr. Briar) – many people feel that good salmon shouldn't be covered up with other flavors.  Although I can appreciate a great piece of simply well cooked salmon, with nothing more than some lemon and salt,  I do like to mix it up and add some different flavors in now and then.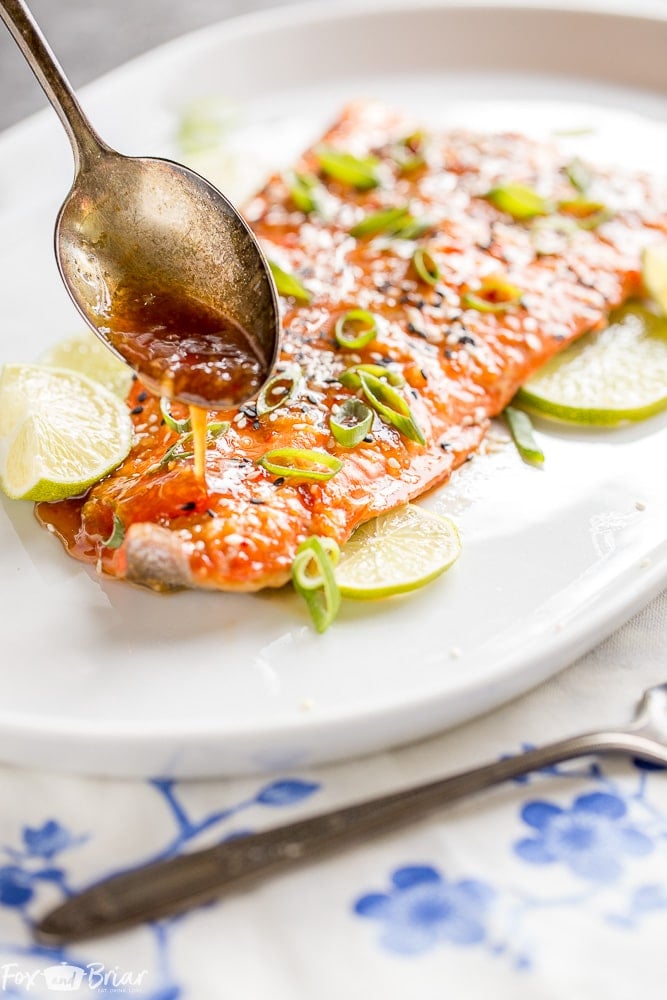 One of my favorite ways to prepare salmon is with an Asian inspired, sweet and spicy sauce.  Sweet chili sauce, garlic, ginger and honey all work together to make this a delicious flavor party. Oh, and did I mention it takes less than 20 minutes to make this salmon?  One of the easiest weeknight dinners, not to mention impressive!  And of course, salmon has tons of health benefits. Salmon is packed with omega-3 fatty acids, vitamin B-12 and protein.  Eating salmon can even reduce your risk of heart disease and cancer!  I can't think of any reason why you shouldn't make this Sweet Chili Garlic Salmon for dinner tonight!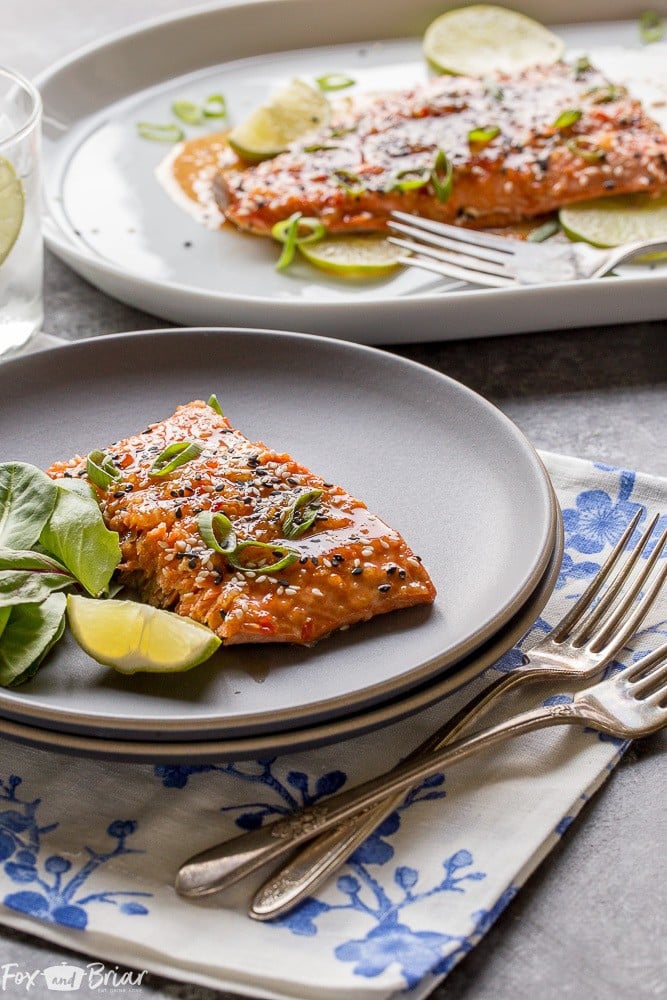 Roasting salmon is so easy – if you are intimidated by salmon, don't be!  The most important thing to remember is DON'T OVERCOOK THE SALMON!  Overcooked salmon is a tragedy.  Salmon cooks pretty fast, so it is best to keep an eye on it.  I usually set my timer for 12 minutes, then check on it and let it cook a few more minutes it needed.  A salmon filet rarely needs longer than 15 minutes unless it is very thick.  A quick trick for knowing if your salmon is done is if it flakes easily with a fork.  When it does, you know it is done!  If you are worried about underdone salmon, you can also use a meat thermometer to take the internal temperature of the salmon. The FDA recommends cooking the salmon to 145 degrees.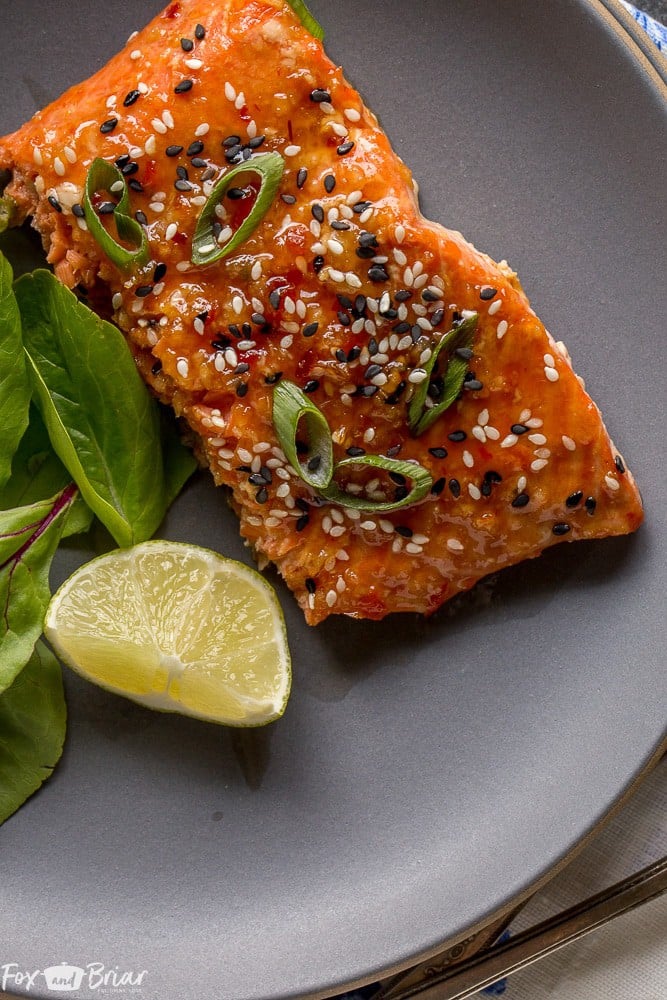 Are you a fan of salmon?  What is your favorite way to make it?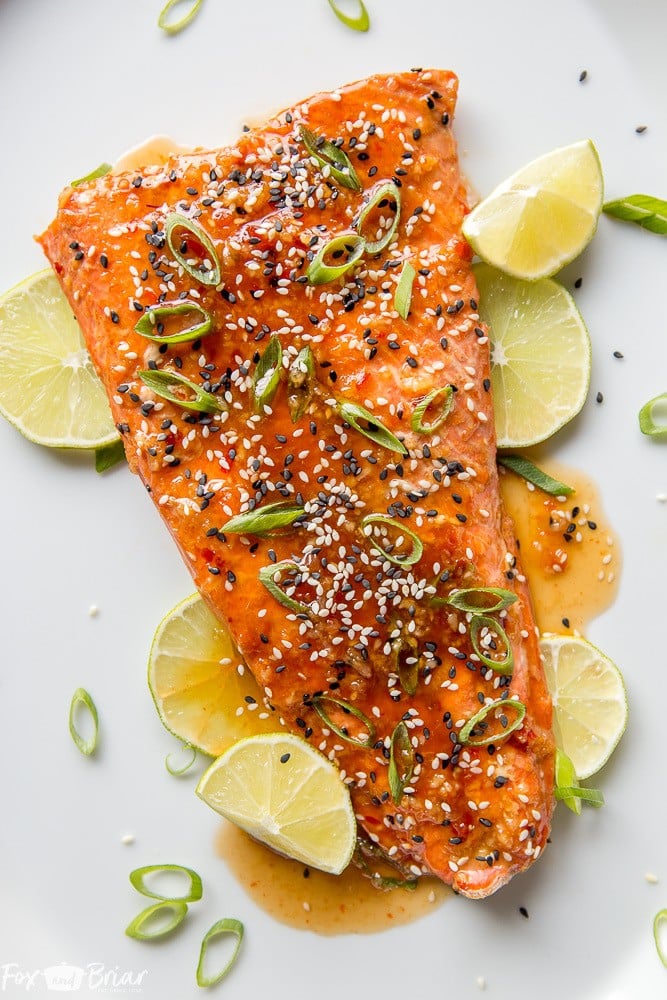 Print
Sweet Chili Garlic Salmon
Yield 4 Servings
Ingredients
1-2 pounds Sockeye Salmon, wild caught
sesame seeds for garnish (optional)
green onions, sliced, for garnish (optional)
For Sauce:
1/4 cup sweet chili sauce
2 Tablespoons Soy Sauce (I use low sodium, see note)
1 Tablespoon rice vinegar
4 gloves garlic, minced
1 tablespoon grated ginger root
1 tablespoon honey
1 teaspoon chili garlic sauce *
Instructions
Preheat oven to 425 degrees, prepare a baking sheet by covering it with foil for easy cleanup.
Whisk together ingredients for sauce.  Place the salmon on the baking sheet and pour 1/3 of the sauce over the fish.  Use a brush to cover the surface with sauce, reserve the remaining sauce for later (don't contaminate it with anything that touches the fish).  If using low sodium soy sauce, season fish lightly with salt.
Bake salmon for 10 minutes.  Remove from oven and pour half of the remaining sauce over the filet and again brush it over the surface of the salmon. Save the remaining sauce for drizzling over finished salmon.
Return fish to the oven and bake for 2-5 more minutes, until fish is cooked through.  Salmon is done when it flakes easily with a fork and has an internal temperature of 145 degrees.
Remove from oven.  Pour remaining sauce over salmon.  Garnish with sesame seeds and green onions if desired.
Notes
If using low sodium soy sauce, you may want to season the fish lightly with salt.
*The chili garlic sauce doesn't make it too spicy but adds a little kick.  If you or your family has no tolerance for spice, you can reduce the amount or leave it out.  Of course if you love really spicy foods you can use more!
Courses Dinner
If you make this recipe don't forget to tag it @foxandbriar and #foxandbriar on instagram and facebook! I really love to see what you make!