This is the easiest slow cooker pulled pork, but it tastes unbelievable!  Make a huge batch and freeze some of it to put on sandwiches or pizza, in soup, tacos, fried rice and more!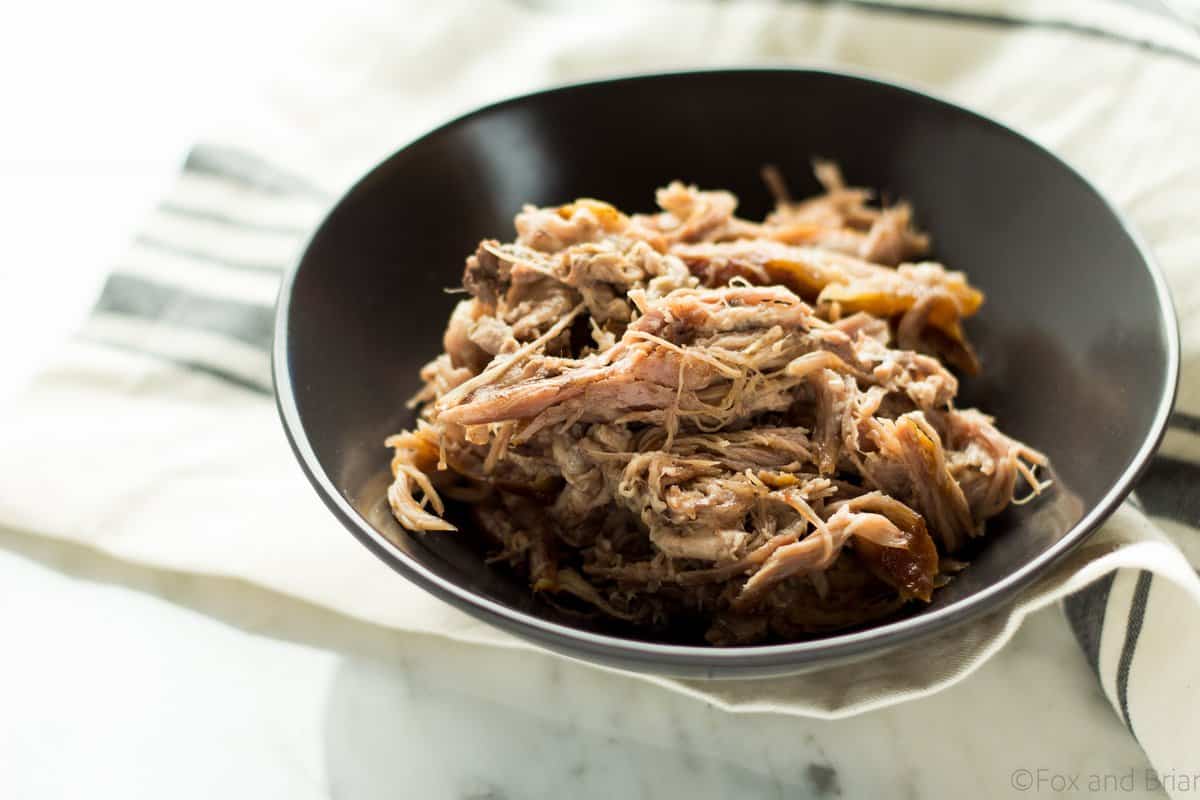 I am not kidding.  This is the easiest slow cooker pulled pork ever.  Probably the easiest slow cooker recipe period.  I always feel like slow cooker recipes are more work than they should be.  Isn't the point of the slow cooker that you just throw everything in and then leave, and come home 8 hours later to a delicious meal?  Most of the good slow cooker recipes I have made require a few prep steps before or after.  And that is fine, I'm willing to do a few extra steps to make sure my meal turns out great.  But a super easy, almost no prep recipe is always welcome.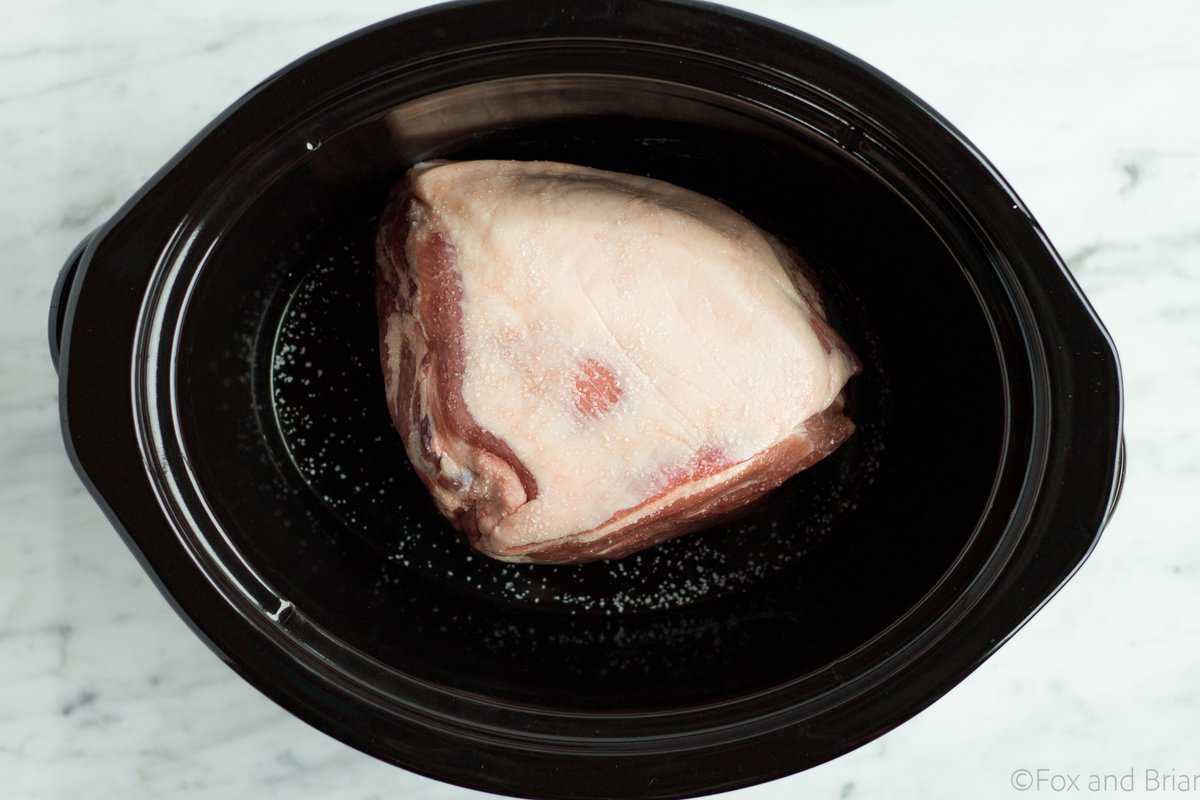 I had never made pork in the slow cooker before this.  Although I love bacon and baby back ribs, I don't prepare pork very often for dinner.  I think I had a bad experience with a pork loin and never really wanted to try it again.  I didn't realize how AMAZING a pork shoulder would turn out if I just used my slow cooker.  It is like the slow cooker is made for the pork shoulder.  ALSO – I keep writing slow cooker, but I always call it a Crock Pot in real life.  Even though Crock Pot is the brand name.  It's kind of like calling tissue "kleenex" and a bandage a "band-aid", which I also do.  But I'm trying to be fair to all those slow cookers out there that are not Crock Pots.  So I'll try to stick to calling it a slow cooker.
It takes one minute of prep. When it is finished, you have the most succulent, juicy, tender, fall apart pork you have ever seen.
So, back to this pork roast.  Holy heck.  Let me count the ways I love this roast.  It takes one minute of prep.  Then you can forget about it for nine hours.  When it is finished, you have the most succulent, juicy, tender, fall apart pork you have ever seen.  All you need to do is shred it with two forks and then serve it in any of the following ways: Put it on a sandwich.  Make a taco.  Put it in some soup.  Make lettuce wraps if you are trying to be healthy.  Put it on a pizza.  Stand at the counter eating it with your fingers Put it on a plate and eat it at the table with silverware like a grown up.  The reason I made this so flavor neutral is because I wanted it to be like a blank slate.  This makes a really large amount ot meat, so unless you are feeding a crowd you will have some left over.  And it freezes beautifully, so you can have some on hand for emergencies – like those nights where ordering a pizza seems like the only option.
I have a few recipes up my sleeve using this pulled pork, but this is the foundation of countless customizable options.  All I did to make this pulled pork roast is this: Season the roast with kosher salt  Put it in the slow cooker.  Turn on the slow cooker to low and set for nine hours.  That.  Is.  It.  Sure, you can add some spices if you want, but I like that this is a blank slate for any number of recipes I might want to use it for.  And it is anything but bland.  I dare you to NOT pop any of it in your mouth when you are shredding it.  You won't be able to stop yourself.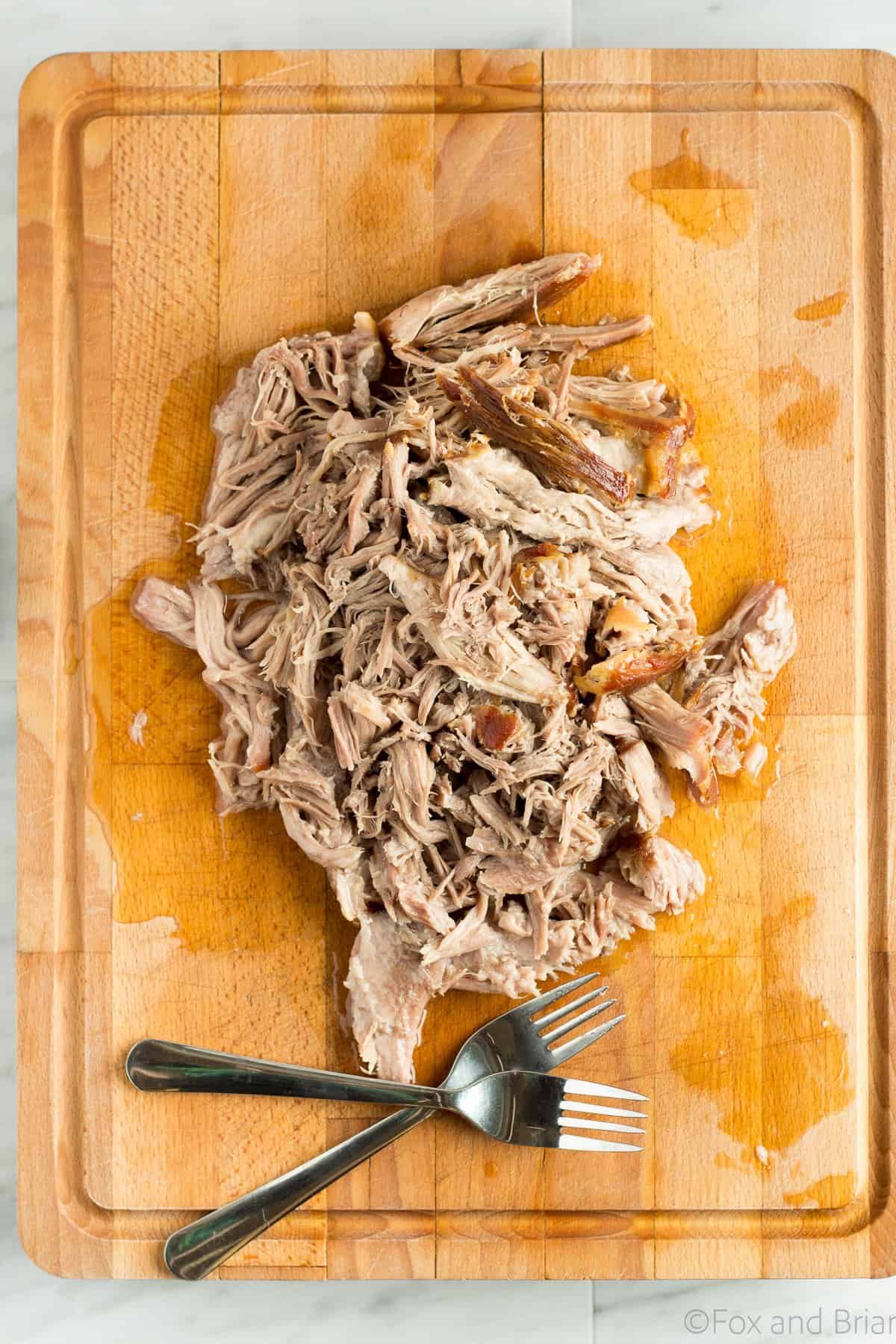 A note about the cut of meat.  I have used both boneless boston butt and bone in picnic shoulder for this.  They both turned out great but I prefered the flavor of the boston butt.  PS – I see you loling about it being called "butt".  It isn't really from the "butt" of the pig.  It is from the shoulder 🙂  If you are a food nerd like me and you want to know why it has that name, check out this article.  Also, when I was buying this roast, I first found some "enhanced" roasts in the meat section.  Run!  Run away!  We don't want our meat "enhanced", AKA injected with a salt water solution.  No thanks.  Luckily I found a beautiful pork roast behind the butcher counter.  If you find a roast shrink wrapped and labeled "enhanced" put it down and walk over to the butcher counter.  They probably have a much better roast for you.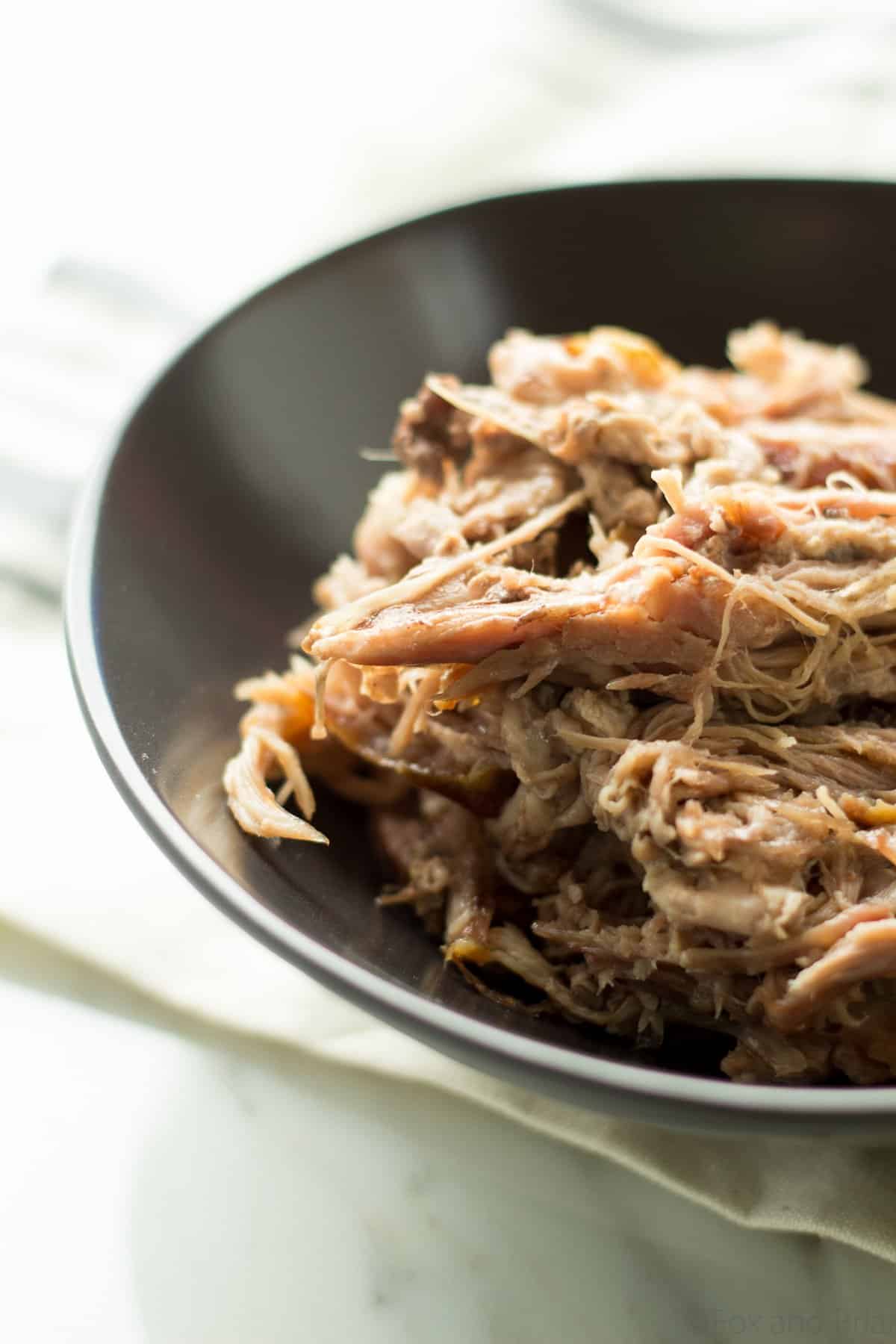 | | | |
| --- | --- | --- |
| The Easiest Slow Cooker Pulled Pork | | Print |
Prep time:
Cook time:
Total time:
Ingredients
1 Boneless pork shoulder roast (boston butt, around 4 pounds)
Kosher salt
Instructions
Season the roast all over with kosher salt. Place in slow cooker and set to low. Cook for about nine hours.
When cooked remove from slow cooker and allow to cool slightly. If desired, remove any large pieces of fat - they should be very easy to remove at this point. Using two forks, shred the meat.
Notes
I like to leave the fat on the roast during cooking as it really contributes to the flavor. When the roast is cooked, the extra fat scrapes away extremely easily with a fork.
**Avoid buying a roast that has been injected with a sodium solution. Try to find a roast that is natural and untampered with. Most likely this will be at a butcher counter.
***You can also use a bone in roast if you can't find boneless
Adapted from
Nom Nom Paleo
Items I used in this post (Affiliate Links)

If you make this recipe don't forget to tag it @foxandbriar and #foxandbriar on instagram and facebook!  I really love to see what you make!
Disclosure: This post contains affiliate links, which means that if you purchase the items I recommend through the links I provide, I get a small commission. For more info, please see my disclosure policy. Thanks for supporting Fox and Briar!