These Double Double Chocolate Peanut Butter Cookies are doubly good! Dark chocolate and peanut butter cookies with chocolate chips and peanut butter candies! Add candy eyes if you want to make these cookies spooky for Halloween, but they are delicious all year long.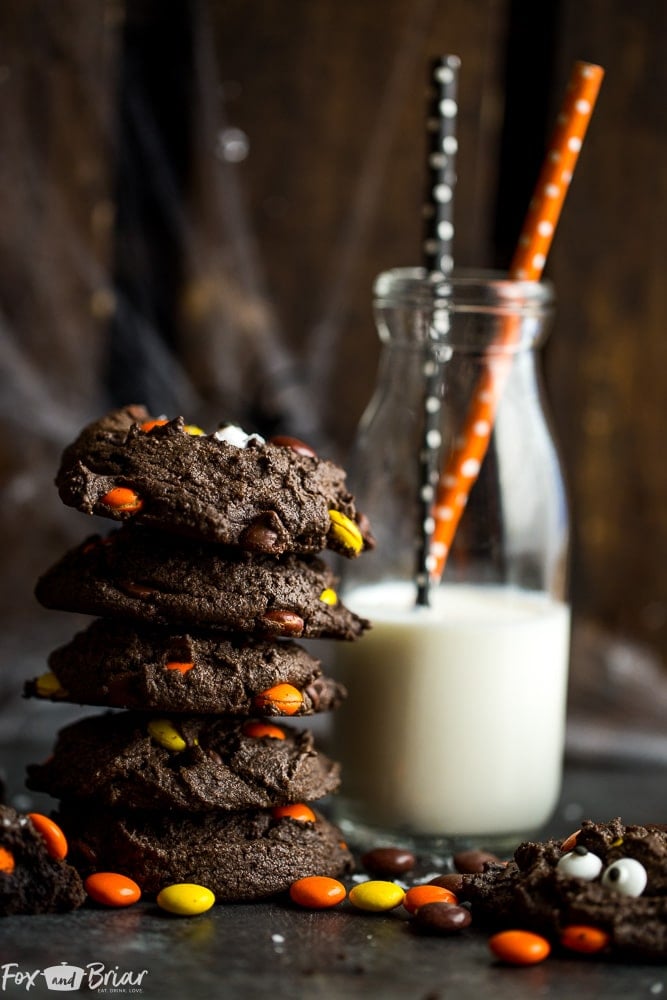 Is there anything better than chocolate and peanut butter?  If the response to the Peanut Butter Cup Coffee Creamer that I shared recently is any indication, the answer is a solid NO.  You guys went crazy for that! I'm glad you agree with me about the wonderfulness of peanut butter and chocolate, you are my people.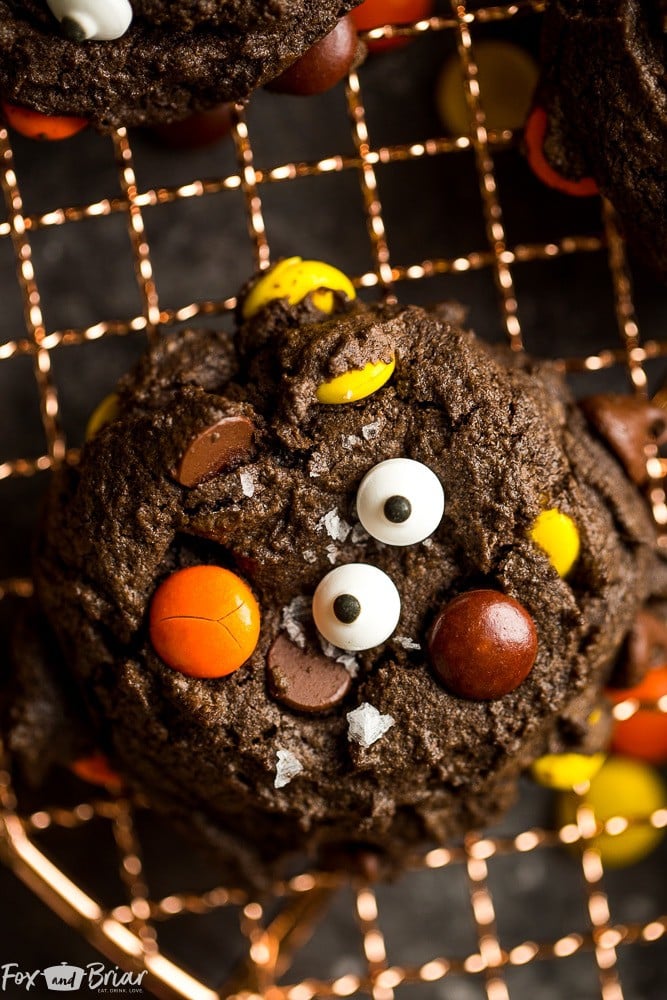 I wanted to make a cute cookie for Halloween.  I am very much in the "cute spooky" camp instead of the "gross, scary" camp when it comes to Halloween, especially the food.  A cute little ghost or pumpkin, I'm all for that. But this time of year my Pinterest feed fills with Halloween ideas, and some of the over the top gory stuff just grosses me out!  Call me a party pooper, but you will never see that stuff on this blog.  So, in the spirit (get it?! 😆) of fun Halloween treats, I bring you these Double Double Chocolate Peanut Butter Cookies.  With optional candy googly eyes, for the spook factor.  I call them Double Double Chocolate Peanut Butter Cookies because they have both double chocolate AND double peanut butter, but also because it reminds me of the Song of the Witches: "Double, Double, toil and trouble" in MacBeth.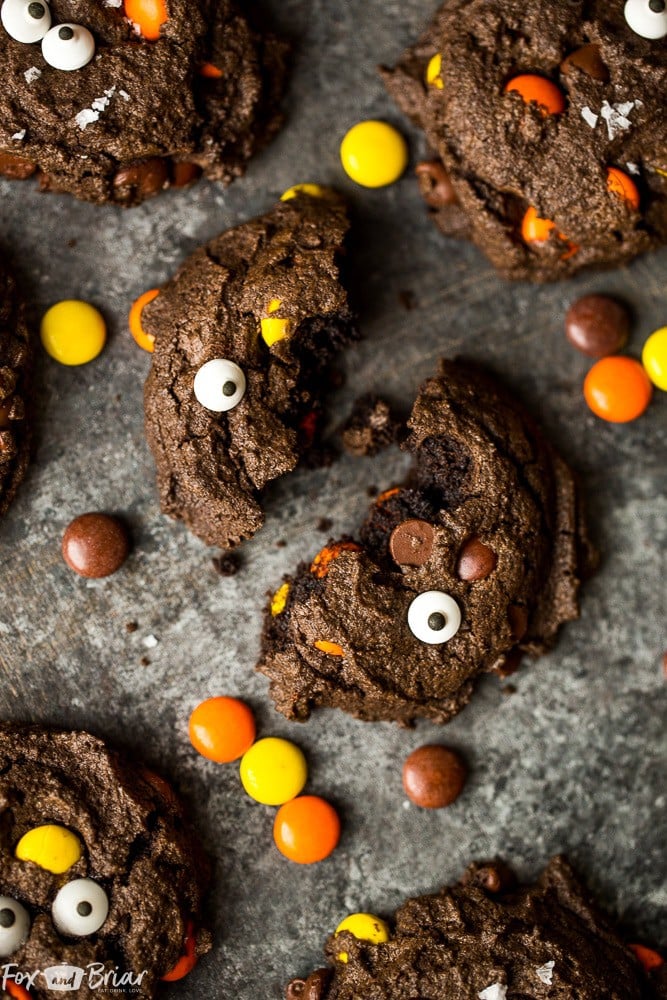 But, really, you don't have to wait for Halloween to make these Double Double Chocolate Peanut Butter Cookies.  You can make them any time of year – there is no season for chocolate and peanut butter!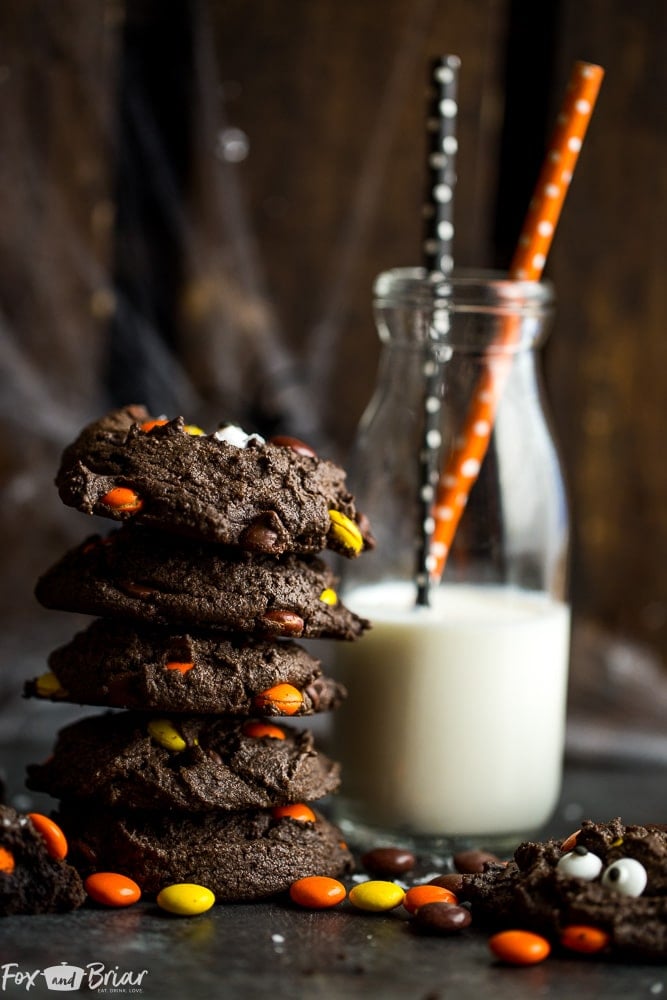 Print
Double Double Chocolate Peanut Butter Cookies
Yield 22 cookies
Ingredients
1 ¼ cups all-purpose flour
½ cup cocoa powder
½ teaspoon baking soda
1 teaspoon baking powder
½ teaspoon salt
½ cup butter, room temperature
1 cup granulated sugar
2 large eggs
2 teaspoons pure vanilla extract
¾ cup creamy peanut butter
¾  cup Reese's Peanut Butter Candies
¾ cup semi-sweet chocolate chips
candy eyes (optional)
coarse salt for sprinkling cookies (optional)
Instructions
Preheat oven to 350 degrees.  Line two baking sheets with parchment paper or use silpat.
In a medium bowl, whisk flour, cocoa, baking soda, baking powder, and salt.
In a large bowl, beat butter and sugar with an an electric mixer  until fluffy. Beat in eggs, one at a time and then vanilla. Beat in peanut butter until just combined. Slowly add the dry ingredients until just combined. Stir in peanut butter candies and chocolate chips.
Scoop 2 tablespoons of cookie dough at a time (you can use a cookie scoop, I use my ice cream scoop!) onto baking sheet. Sprinkle with salt if using.
Bake cookies for 11 minutes, remove from oven and top with candy eyes (if using).  Return to oven for another two minutes.  If not adding candy eyes, just bake for 12-14 minutes until edges are firm.
Cool on baking sheet (they will be soft before they cool and may fall apart if you try to transfer them).
Notes
Adapted from Food 52
*I used conventional peanut butter, as I always do when baking.  I'm not sure how these would turn out with natural peanut butter.
Courses Dessert
If you make this recipe don't forget to tag it @foxandbriar and #foxandbriar on 
instagram
 and 
facebook
! I really love to see what you make!