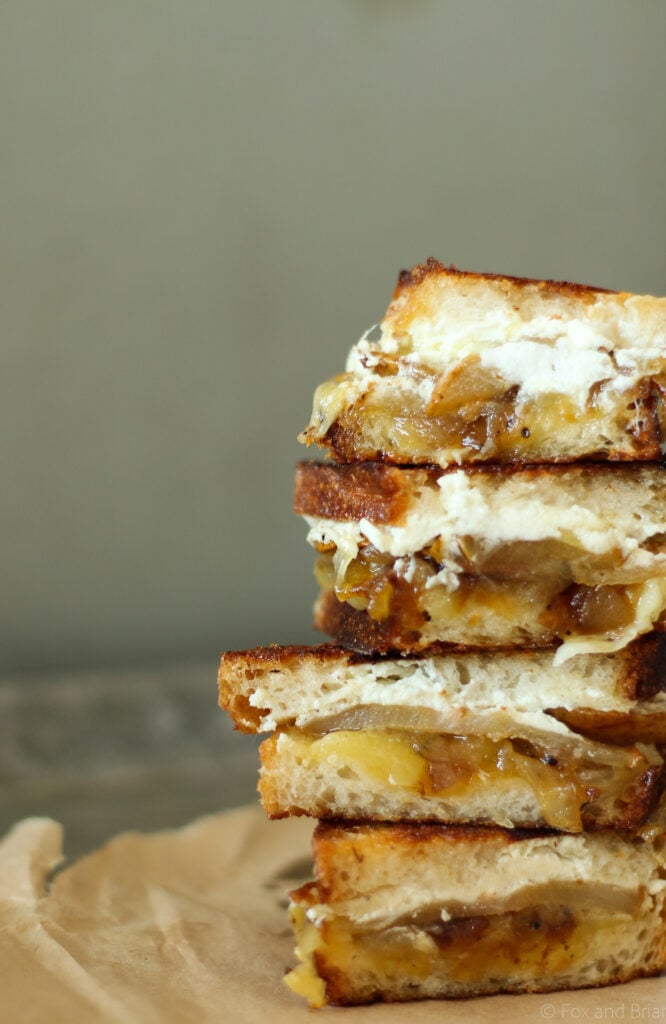 Uuuuuh, yeah.  That title is a mouthful.  And so is this sandwich.  You guys, this is not a diet sandwich.  I'm just gonna get that out of the way right now.  OK?  This is a Friday afternoon sandwich, a crispy, creamy, buttery, cheesy, sweet and tangy grown up grilled cheese that would go really, really well with a nice big glass of wine.  Or you know, sparkling water if you are testing and photographing them in the middle of the day (insert side eye emoji).
ALSO if anyone is going apple/pear picking sometime this month, this would be a really great way to use your treasured, hand picked, locally grown pears.  And then we roast them with honey because WHY NOT?
Honey + Goat Cheese = love forever.  And add caramelized onions?  Can you even?  When I was thinking about making these grilled cheese (grilled cheeses?) I couldn't decide between goat cheese (Chevre) or Brie or Gruyere or sharp cheddar.  I mean, I'm pretty sure you can't go wrong.  I may have purchased all of those cheeses  just to be on the safe side.  But then I decided that pears need goat cheese.  But they also need sharp cheddar.  So since I couldn't decide, I put them both in.  Here's how it went:
Me, standing in my kitchen with my cats, staring at all the cheese I just bought: "Should I do goat cheese?  Or cheddar?"
My cats: "Are you going to feed us or…?"
Me: "Oh!  How about both?"
My cats: "So is that a no on the food or…?"
So, yes, two kinds of cheese.  It's necessary.  The goal here is to get everything to be all melty and gooey and kind of melding together.  So to do that we need to do a little prep work.  Since the actual grilling time is not very long, I decided to roast the pears before hand so that they were nice and soft.
The pears take awhile to roast, but you can take advantage of that time and caramelize the onions.  And these are not cheater caramelized onions either, oh no.  No sugar or balsamic vinegar to speed up the process.  I do prefer to use sweet onions such as Walla Walla or Vidalia.  The process takes awhile, and I always mean to do a huge batch and freeze them in portions so that I can save time, but I never do.  The effort is worth it, though.  Nothing tastes like caramelized onions.  Slice them thin and then toss with olive oil, salt and pepper.  Cook over low heat to avoid burning, stirring frequently.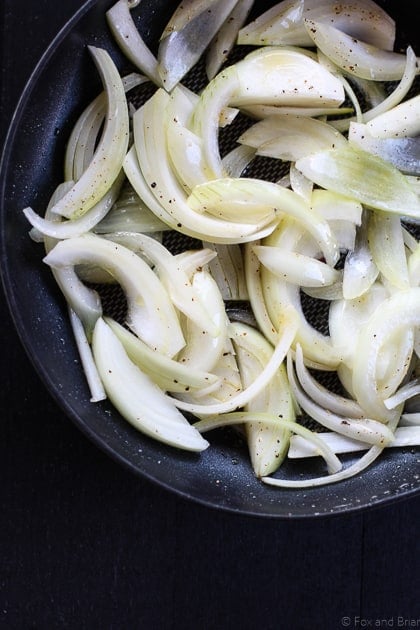 The last prep step we need to do is to grate the cheddar.  This will help the cheese melt quickly so that you aren't left with unmelted cheese when the bread is golden and toasty.
For the bread, I used Pugliese, but I think most good quality, artisinal bread would work here.  Please, no sandwich style bread that comes in a plastic bag, this sandwich deserves better.  If you are slicing it yourself, shoot for about 1/2 in inch thick slices.  If they are too thick, the outside of the bread will be done before the inside gets warm.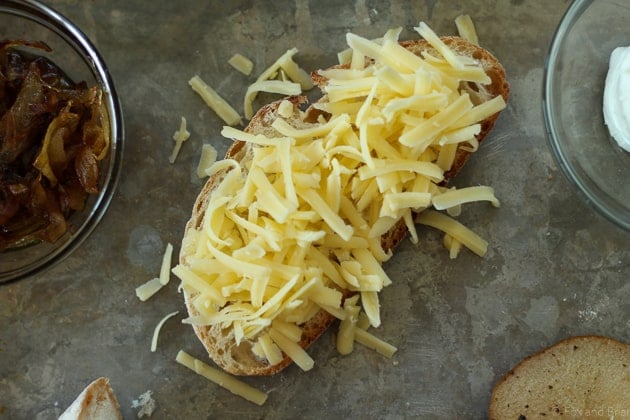 To build the sandwich, spread softened butter on one side of a slice of bread.  Place butter side down and top the unbuttered side with shredded cheddar.
Top with caramelized onions.
Layer on pears.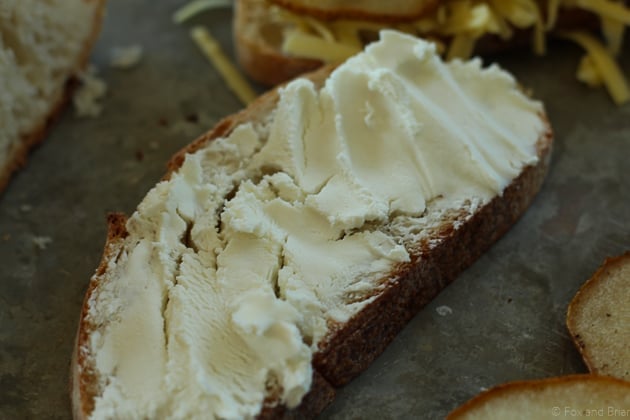 For the top slice, butter one side of the bread and then spread soft goat cheese on the other side.  Liberally.  Place butter side down in a frying pan over medium low heat.  Fry for a few minutes until cheese is starting to melt and bread is getting golden brown.  Flip and continue to cook until both sides are done.
Yep, like that.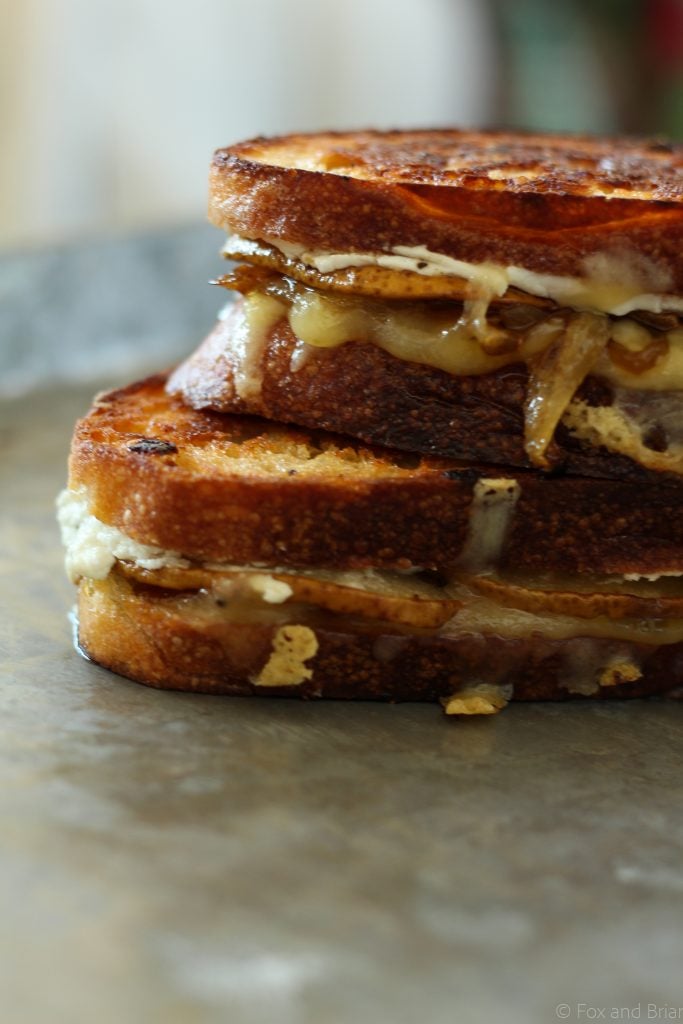 Melty goodness.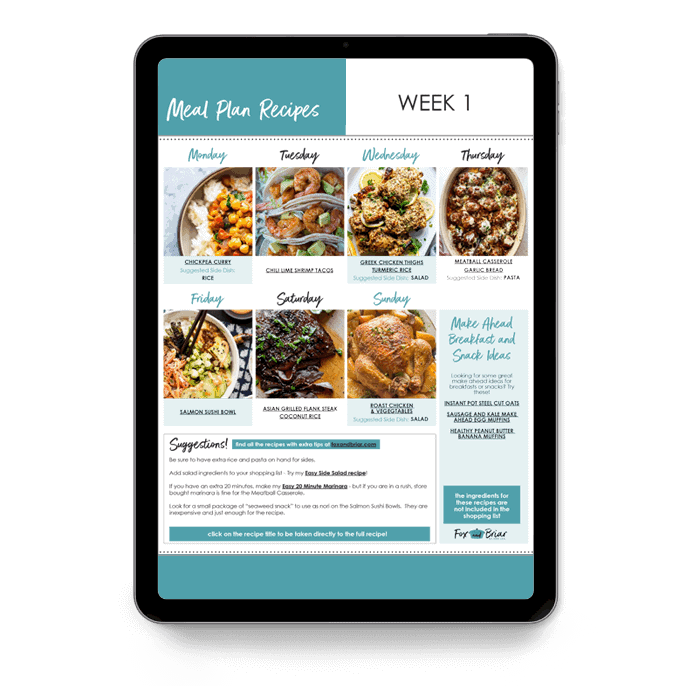 Honey Roasted Pear, Goat Cheese and Caramelized Onion Grilled Cheese
This grown up grilled cheese is stuffed with honey roasted pears, caramelized onions, creamy goat cheese and sharp cheddar.
Ingredients
1

sweet onion

thinly sliced

2

pears

thinly sliced

1

tablespoon

olive oil

divided

1

teaspoon

honey

kosher salt

pepper

4

ounces

sharp cheddar

grated

4

ounces

chevre

soft goat cheese

8

slices

Pugliese or other good quality bread

2

tablespoons

softened butter
Instructions
Preheat oven to 400°F degrees.

Heat a skillet over medium heat. Add 1-2 teaspoons olive oil. Add the onions, season with salt and pepper, toss to coat. Reduce heat to medium low and cook, stirring often, until brown and caramelized, about

45 minutes

.

While onions are cooking, place pear slices in a single layer on a lined baking sheet. brush with a little olive oil and lightly season with salt and pepper. Drizzle with honey. Bake until tender,

20

-

25

minutes, rotating pan halfway through.

To assemble sandwiches, spread softened butter on one side of a slice of bread, and be sure to cover all the way to the edges. Place butter side down. Top with shredded cheese, then onions, then layer with pear slices. On a second piece of bread, spread butter on one side and chevre on the other side. Place chevre side on top of the pears, butter side up.

Heat a skillet over medium low heat. When hot, place sandwich in pan and cook until cheese starts to melt and outside of bread is golden. Flip and repeat.
Notes
The exact amounts of cheese, onions, and pears that you put on each slice of bread is up to you, and also will depend on the size of your bread. I ended up using about 1/3 cup shredded cheese, slightly less than an ounce of chevre, three slices of pears and about a tablespoon (maybe slightly more) of caramelized onions per sandwich.
Nutrition
Calories:
481
kcal
|
Carbohydrates:
48
g
|
Protein:
18
g
|
Fat:
25
g
|
Saturated Fat:
14
g
|
Cholesterol:
58
mg
|
Sodium:
612
mg
|
Potassium:
229
mg
|
Fiber:
4
g
|
Sugar:
15
g
|
Vitamin A:
775
IU
|
Vitamin C:
7.8
mg
|
Calcium:
269
mg
|
Iron:
1.1
mg
Nutrition information is automatically calculated, so should only be used as an approximation.
Did you like this recipe?
Please comment, rate and share! And don't forget to tag me on Instagram @foxandbriar AND #foxandbriar so I can see what you made!
Crispy on the outside, gooey on the inside. Now go pick some pears so you can make this ASAP.  Since this is our first fall in the Seattle area I need suggestions for apple/pear picking.  Anyone?
If you make this don't forget to take a photo and use the hashtag #foxandbriar – I would love to see it!