This post has been sponsored by Nespresso. All thoughts and opinions are my own. 
Awaken your senses and make coffee shop quality double espresso drinks at home!  Using the new Nespresso VertuoPlus Machine and espresso capsules, I made a Brown Sugar Cinnamon Cortado and an Irish Mocha.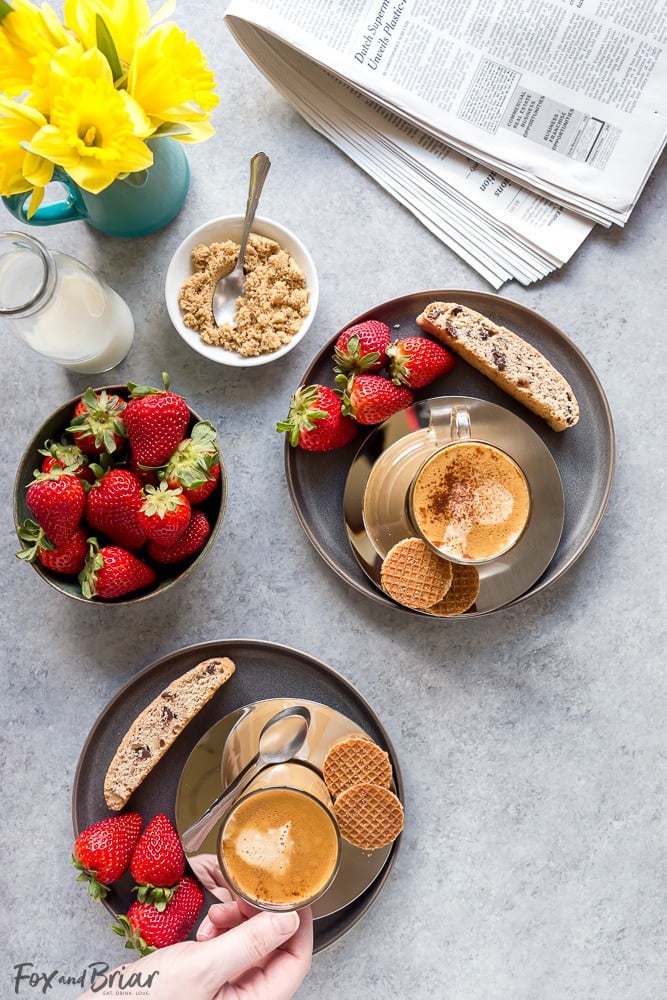 I love the morning coffee ritual. Knowing that coffee is waiting for me makes rolling out of bed just a little easier in the morning. Even better?  Waking up to the aroma of coffee that someone else is making for you, right?  In the last few years I've tried all kinds of methods to come up with making the perfect cup of coffee.
Although I have tried many different coffee making methods, I've never been able to make true espresso at home.  Until now.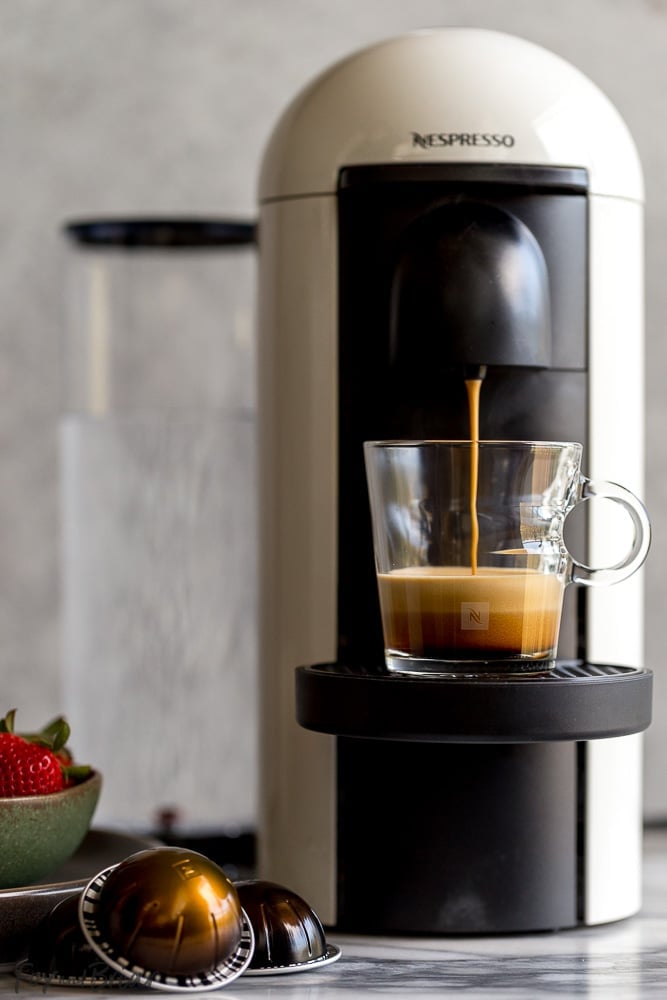 Nespresso recently sent me one of their new VertuoPlus machines and I was so excited to start trying out espresso drinks at home. They also sent me some Chiaro & Scuro Capsules which make rich, double espresso shots.
What I love about the Nespresso VertuoPlus machine is that it is so easy to use! With barely a touch of the finger, you can raise the head and insert the espresso capsule.  Close the lid, push the button to start the coffee brewing.  Within twenty seconds, a rich espresso with generous crema will start filling your cup.  We are all a little groggy in the morning, but that won't stop you from enjoying your perfect cup.
This post is special because I have not one but TWO espresso drinks for you today! I needed a special drink to christen my new Nespresso VertuoPlus, so, first I decided to make a Cinnamon Brown Sugar Cortado.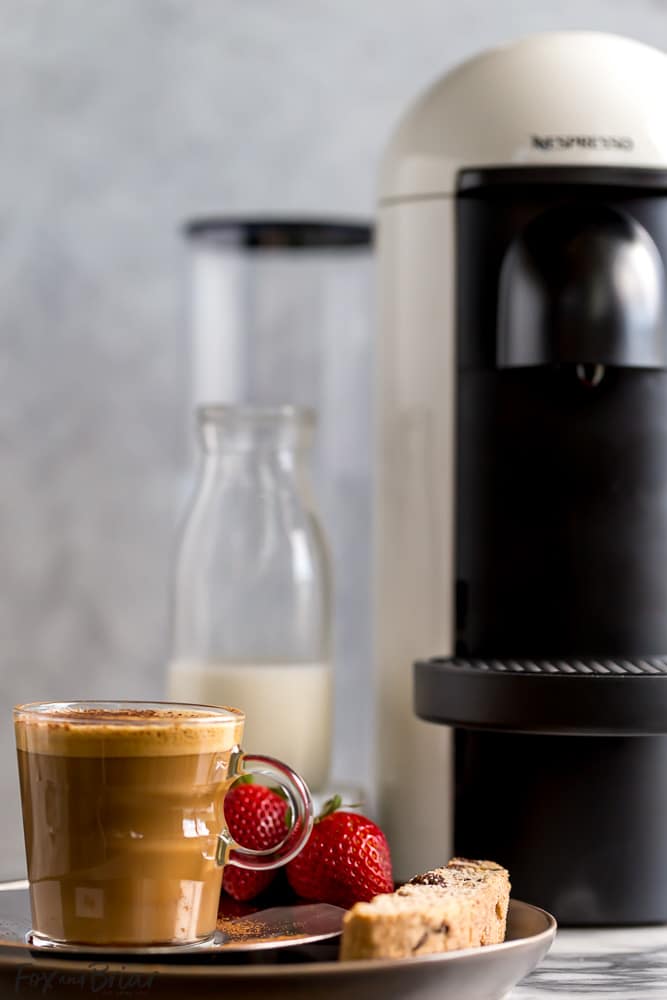 What is a Cortado?
A cortado is an espresso drink mixed with about an equal amount of lightly steamed milk. A cortado generally is about four to five ounces.
I added cinnamon and brown sugar to my cortado to make it an especially warm and aromatic drink. With the Nespresso VertuoPlus, making this cinnamon brown sugar cortado takes just a few minutes, and you know it is going to turn out perfectly every time.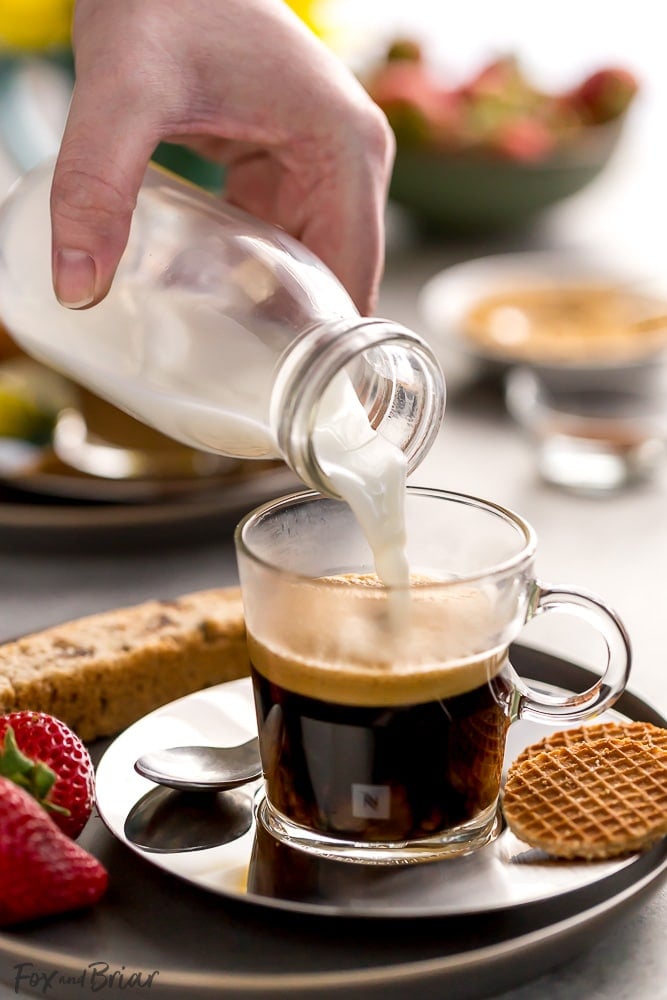 How to make a cinnamon brown sugar cortado?
Place 1 teaspoon of brown sugar and a pinch of cinnamon in the bottom of a six ounce cup. (The Nespresso View Lungo glasses are perfect for this drink)
Gently warm two ounces of milk.
Meanwhile, use the Nespresso VertuoPlus to make a perfect double espresso shot.
Pour the milk over the espresso.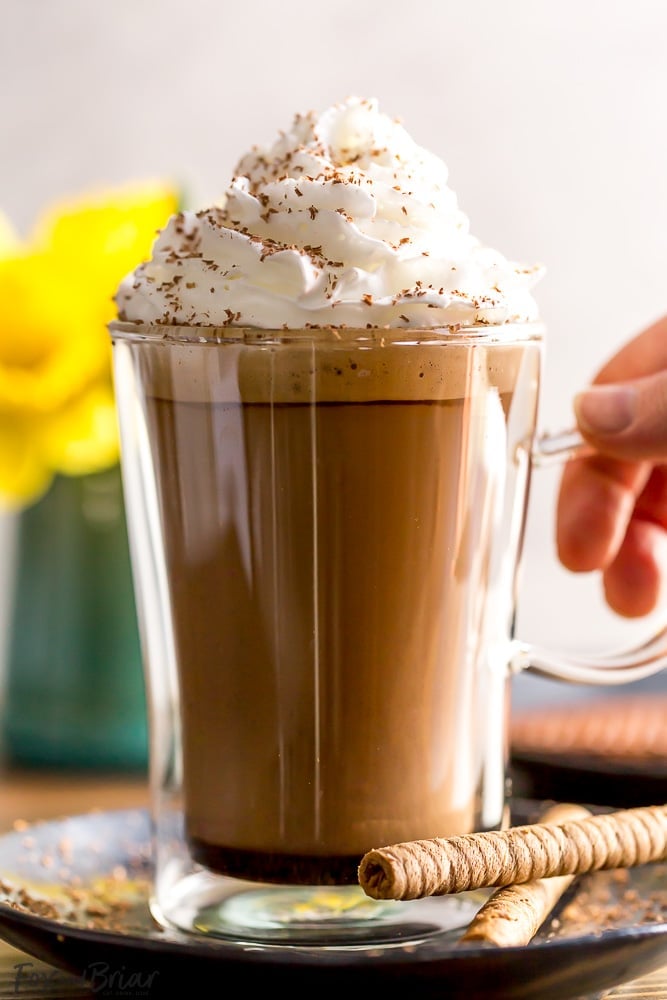 For my second drink, I decided to try to make a coffee shop favorite – the Irish Mocha!
What is an Irish Mocha?
An Irish Mocha is a Dark Chocolate Mint Mocha, and is one of my favorite drinks to order when out.  Now that I can make consistently great espresso at home I can finally have my favorite drink whenever I want.
What do you need to make an Irish Mocha?
To make an Irish Mocha, you need dark chocolate syrup, peppermint syrup, espresso, and milk.  You can even add whipped cream and chocolate shavings if you want to get extra fancy!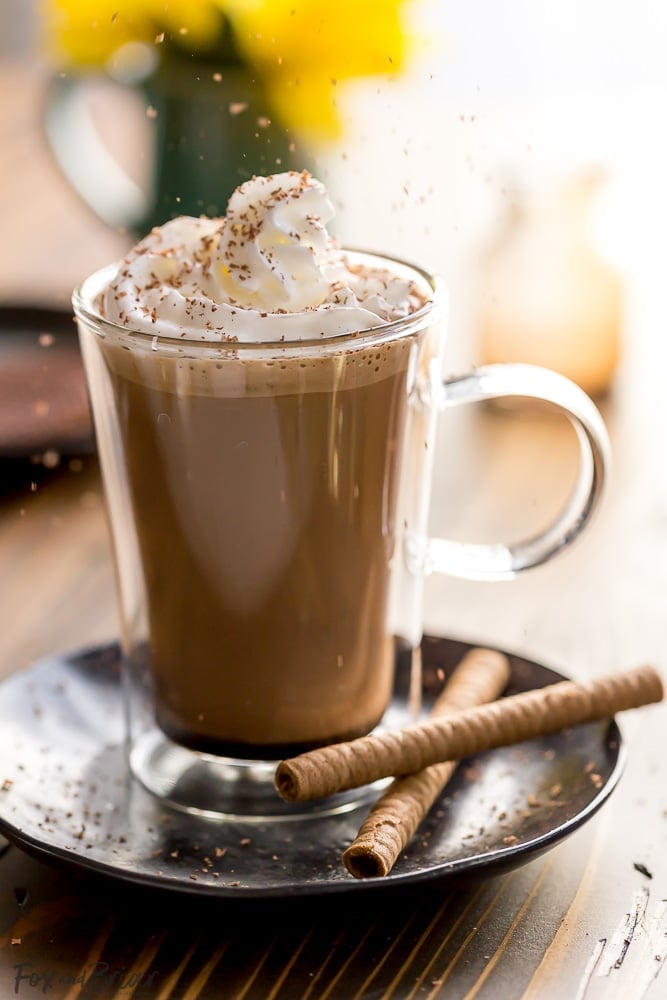 How do you make an Irish Mocha?
Place two ounces of dark chocolate syrup in the bottom of a large mug.
Add one ounce of peppermint syrup.
Pour six ounces of steamed milk over the syrups.
Add a double espresso shot from your Nespresso VertuoPlus
If desired, top with whipped cream and chocolate shavings.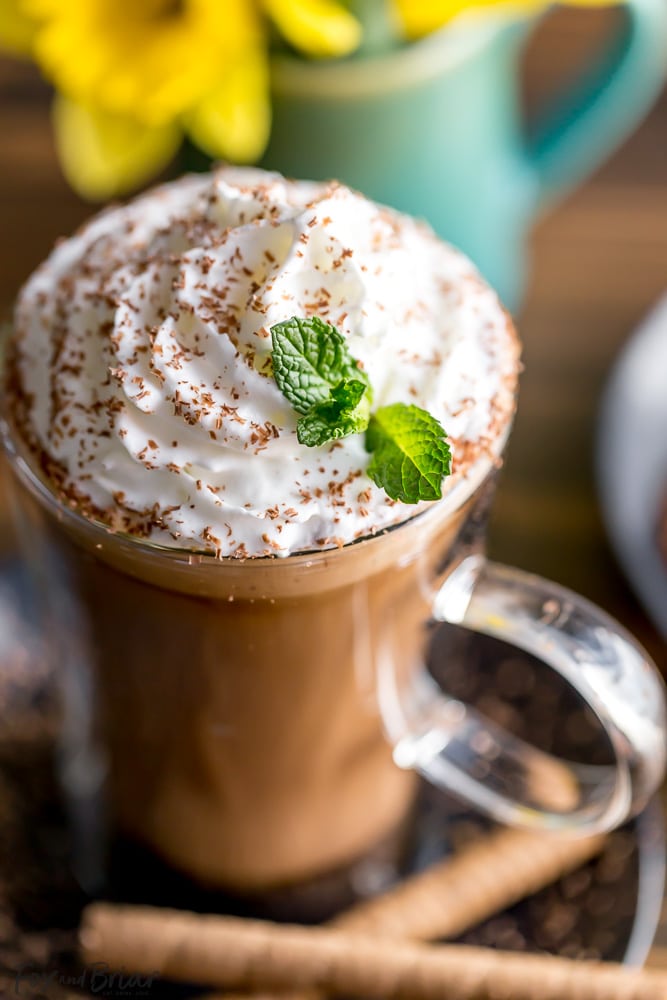 For the Cinnamon Brown Sugar Cortado I used the Nespresso View Lungo glasses which are 6 ounces, so they are the perfect size for the Cortado.  For the Irish Mocha, I used some larger, 12 ounce glass mugs that I had on hand.
Want to start making beautiful, consistent espresso drinks at home?  Be sure to check out the Nespresso website to see everything I used here for these drinks!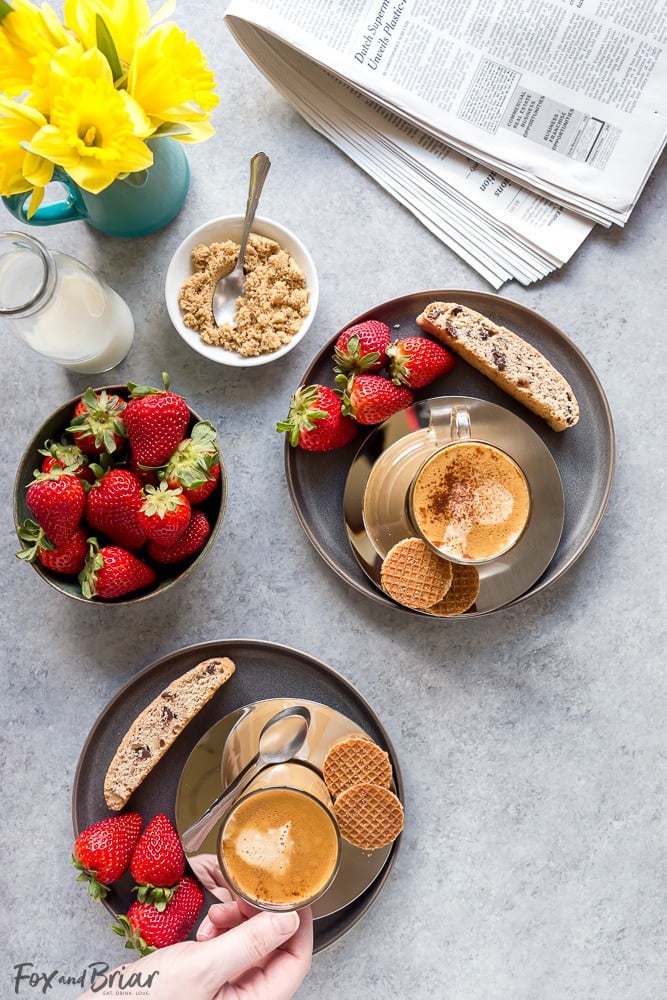 Ingredients
two ounces dark chocolate syrup

one ounce peppermint syrup

1

Nespresso Double Espresso capsule 

two ounces espresso

six ounces steamed milk

whipped cream for topping

optional

chocolate shavings for topping

optional
Instructions
In the bottom of a 12 ounce mug, add the chocolate syrup and the peppermint syrup.

Top with the steamed milk, then the espresso.

Stir to mix if desired.

Top with whipped cream and chocolate shavings if desired.
Nutrition
Serving:
1
drink
|
Calories:
385
kcal
|
Carbohydrates:
64
g
|
Protein:
8.6
g
|
Fat:
4.4
g
|
Saturated Fat:
2.1
g
|
Cholesterol:
13.6
mg
|
Sodium:
80
mg
|
Fiber:
2
g
|
Sugar:
77
g
Nutritional information is an estimate for your convenience. If you have strict nutritional needs, please do your due diligence to make sure this recipe fits your needs.
Did you like this recipe?
Please comment, rate and share! And don't forget to tag me on Instagram @foxandbriar AND #foxandbriar so I can see what you made!