These oven baked eggs make the perfect weekend breakfast or brunch.  This sophisticated and impressive egg dish is perfect for a crowd, or for just one or two people.

Isn't breakfast the best?  I especially love weekend breakfast.  Lazy weekend mornings, puttering around the kitchen with my coffee, music playing and chatting with my husband.  My husband often makes breakfast on the weekends, and a few weeks ago he came up with this gem. I have had baked eggs before, at the delicious Broder in Portland, but for some reason had never tried to make them at home.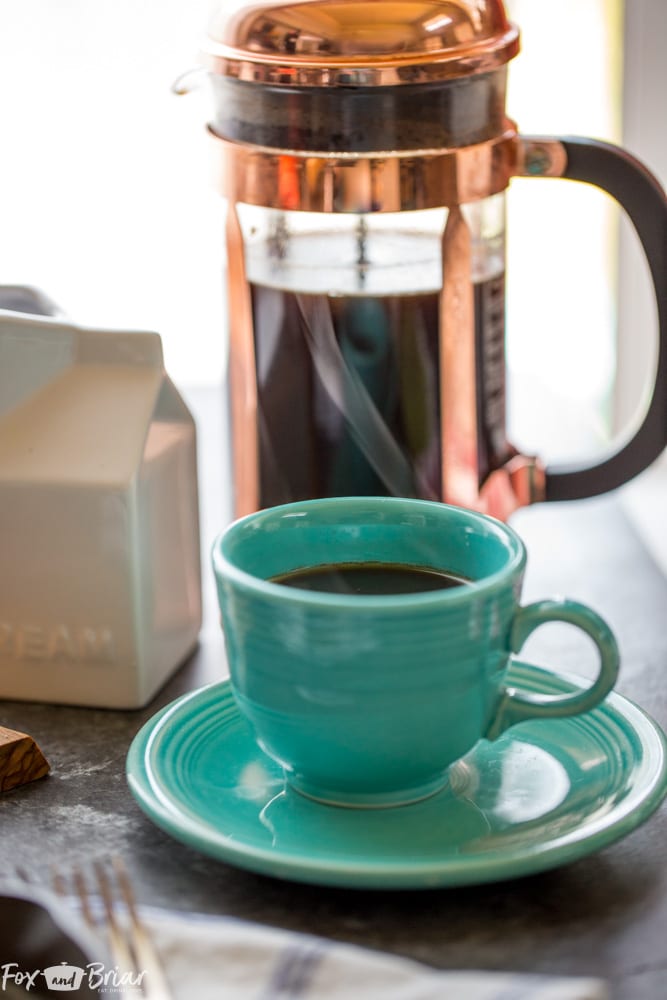 Now I wonder why we don't bake our eggs all the time!  This is a perfect dish to serve at brunch because not only is is adorable and delicious, but the eggs can be made to different peoples specifications and you can make as many or as few as you want. Some people want their eggs over easy and  some can't stand them to be runny at all?  No problem.


Plus, the flavors here are sophisticated with the garlic, Parmesan and basil.  These take your normal eggs and elevate them to a new level.  If you are looking for a breakfast or brunch to impress your love, or your guests, this is it.  One thing to note is to be sure that your oven rack is in the middle of the oven (not the top) to avoid burning.  Be sure to watch everything carefully as it only takes a few minutes to cook and can burn easily.  You will have perfect baked eggs in no time!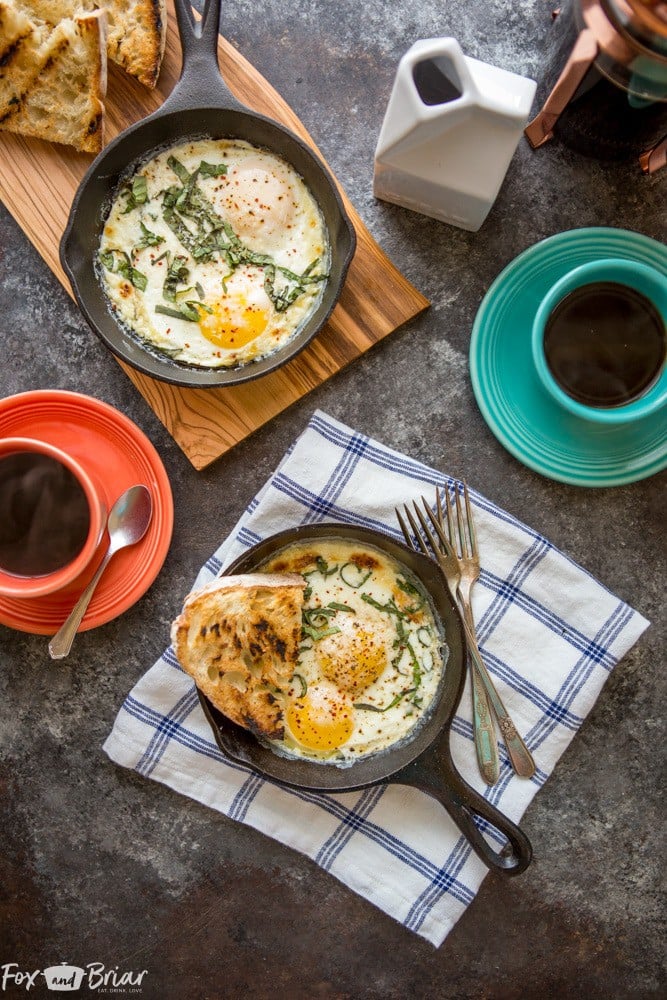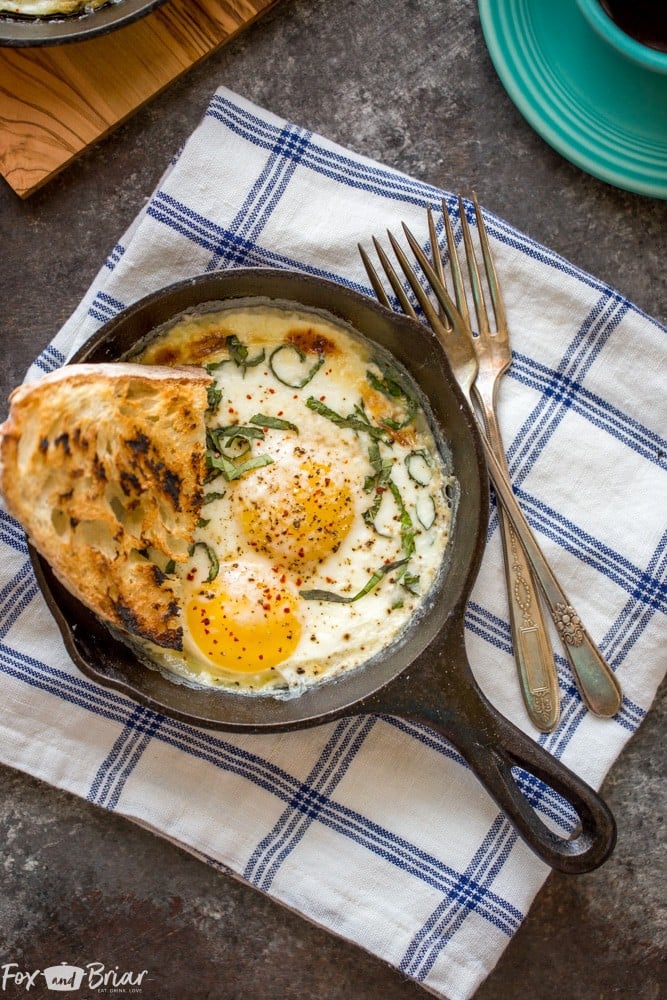 Print
Oven Baked Eggs
Yield 2 Servings
Ingredients
4 eggs
1 Tablespoon butter, divided in half
2 Tablespoons half and half
1 garlic clove minced, divided in half
2-4 tablespoons Parmesan cheese
2-4 tablespoons fresh chopped basil
salt
pepper
Instructions
Adjust the oven rack so that is in the middle of the oven (not at the top).  Place two small oven safe dishes in the oven and preheat it to 350 degrees.
Meanwhile crack the eggs into two small bowls (2 eggs in each bowl), season with salt and pepper.
When the oven has preheated,  take out the now hot dishes.  Add 1/2 a tablespoon of butter, 1 tablespoon of cream and half of the garlic clove to each, whisk to combine and then put back in the oven.  Turn on the broiler and allow the butter mixture to get bubbly but not burn, 1-2 minutes.
When bubbly, remove from oven and add 2 eggs to each dish, top with 1-2 tablespoons of Parmesan cheese and basil.  Place back in the oven under the broiler and cook until whites are set but yolks are runny (or to desired doneness).  2-4 minutes.
Remove from the oven.  Top with more Parmesan and fresh basil if desired.  Serve right away.
Courses Breakfast