This simple Shrimp and Chorizo Paella is easy to make, has classic Spanish flavors and is an impressive crowd pleaser.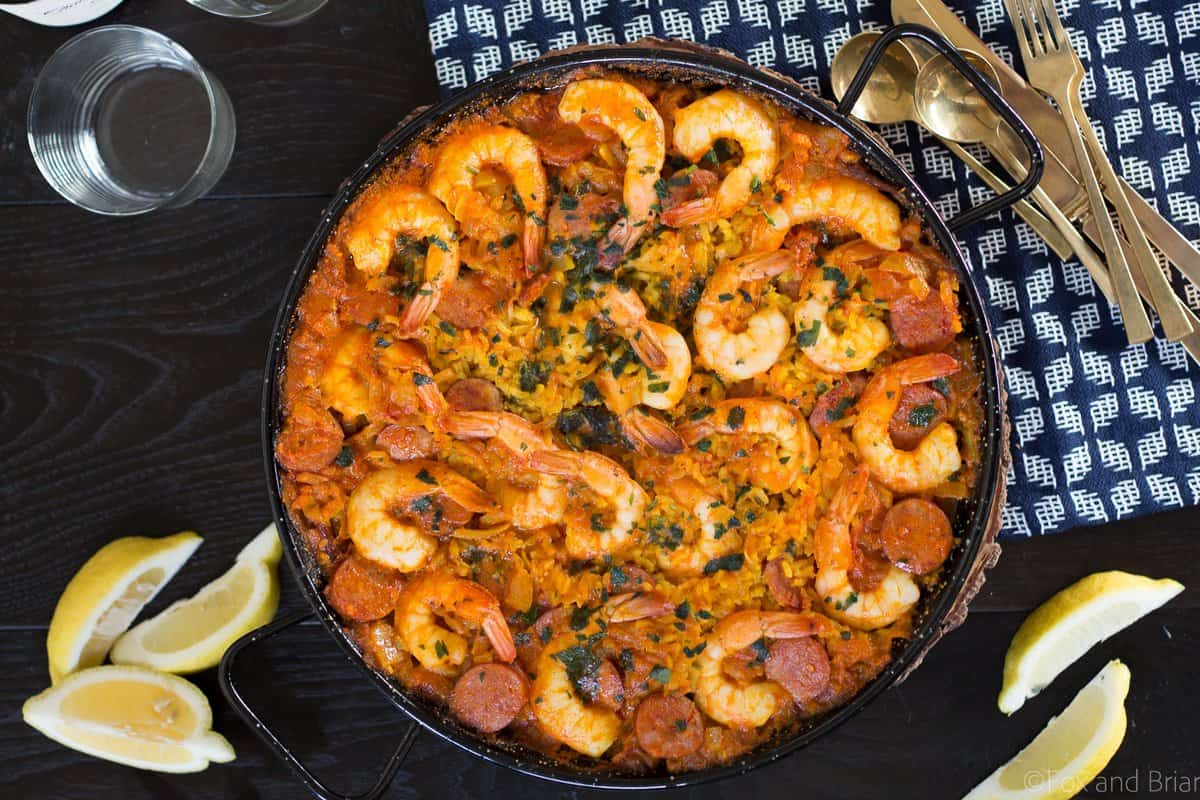 Hey you probably thought I was done with Spanish things.  I mean I was, almost.  But I have been working on this paella recipe for a little while, and I felt like it was time to share.  Ever since I studied in Spain, I have been wanting to make Paella.  Even though the region I lived in wasn't particularly known for their Paella, they still had an excellent variety to chose from for those who wanted to sample the classic Spanish dish.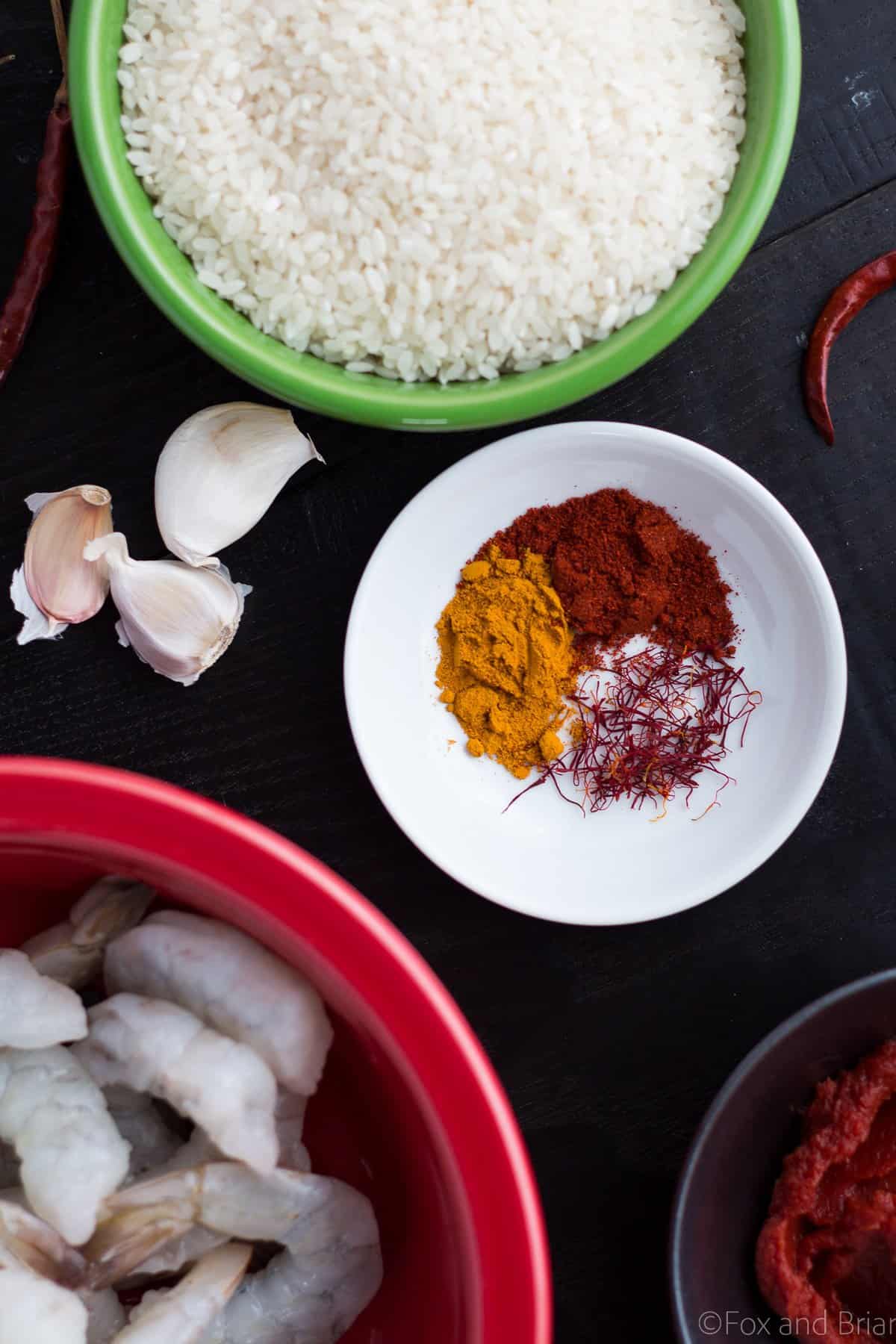 Shrimp and Chorizo Paella is a simple version of the classic Spanish dish.
For some reason I was very intimidated by Paella, and I never quite got around to making it until now.  Because I was part of Fred Meyer's Taste of Spain event, they sent me a paella kit, with everything I needed to make it including a pan, rice and spices.  I don't normally like to use "kits" to make things, but this one was actually really high quality and I was happy with the results.  But I still wanted to figure out how to make paella from scratch, as that is really more true to my style of cooking.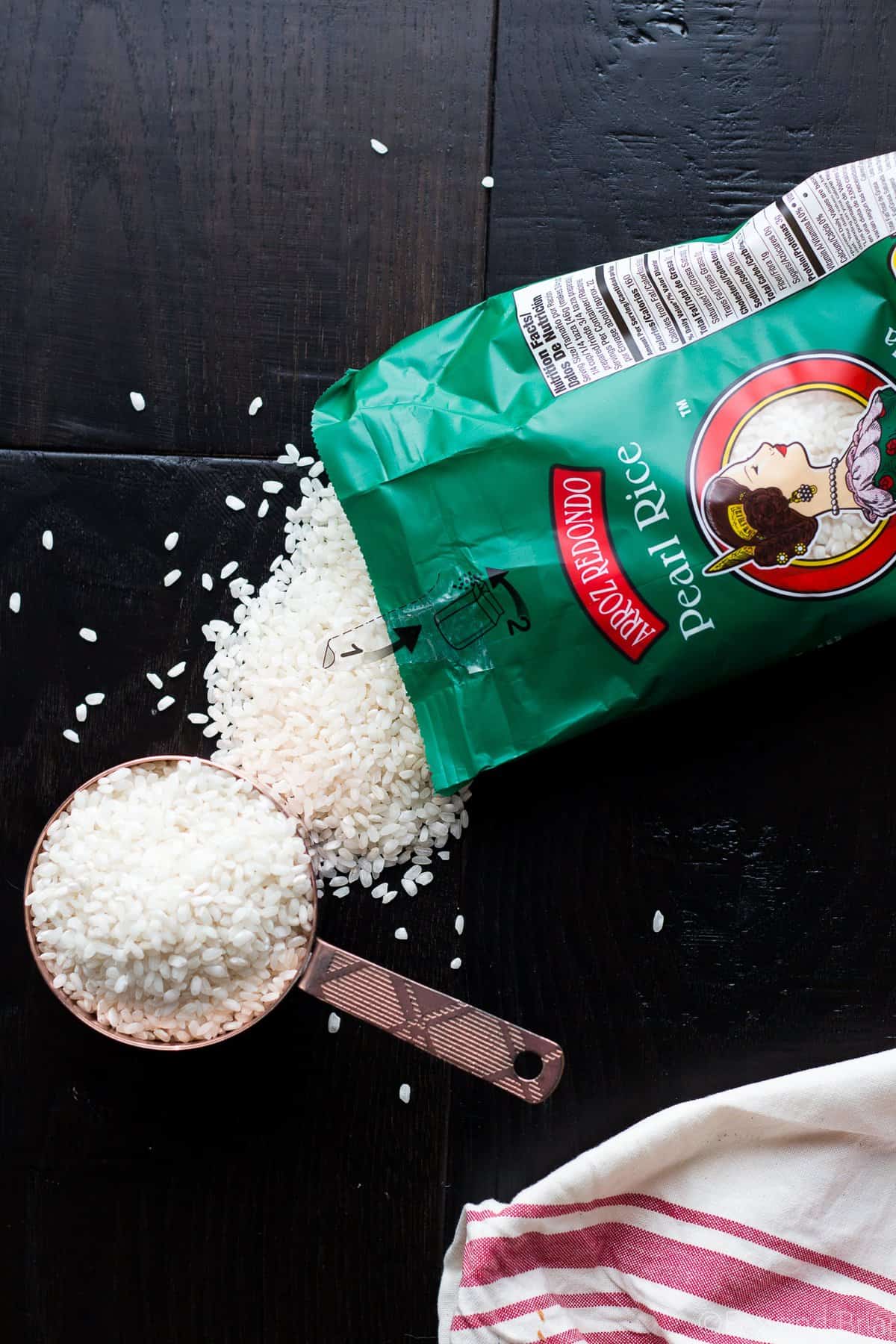 It took a few trial runs, but the last time I made it I was happy with the results.  It does help to get the right kind of rice and make sure to use the right amount of liquid.  I was able to find some Spanish paella rice (redondo rice, or bomba rice) but it can be hard to find.  The prefered kind of rice is a short grain white rice, so Arborio is the next best thing if you can't find paella rice.  Be sure you read the packaging and use the amount of liquid that is recommended.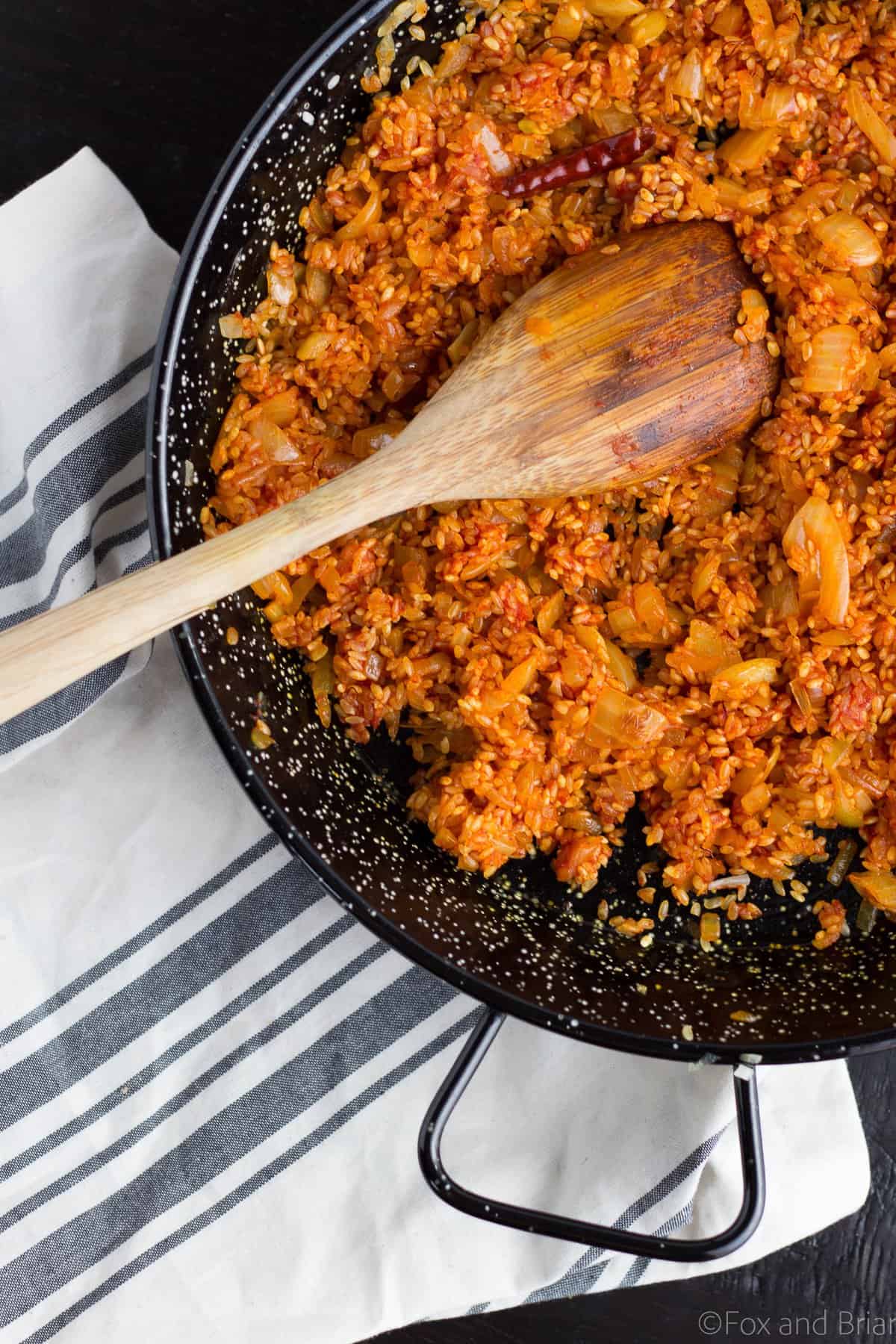 I wanted to put shrimp and chorizo in my paella because that seemed to be closest to the kind I ate in Spain.  Of course the seafood paella usually had mussels, clams, squid, shrimp and fish, but I wanted to keep it on the simple side so I just used shrimp.  You can use any kind of meat or seafood that you would like, or even skip the meat altogether.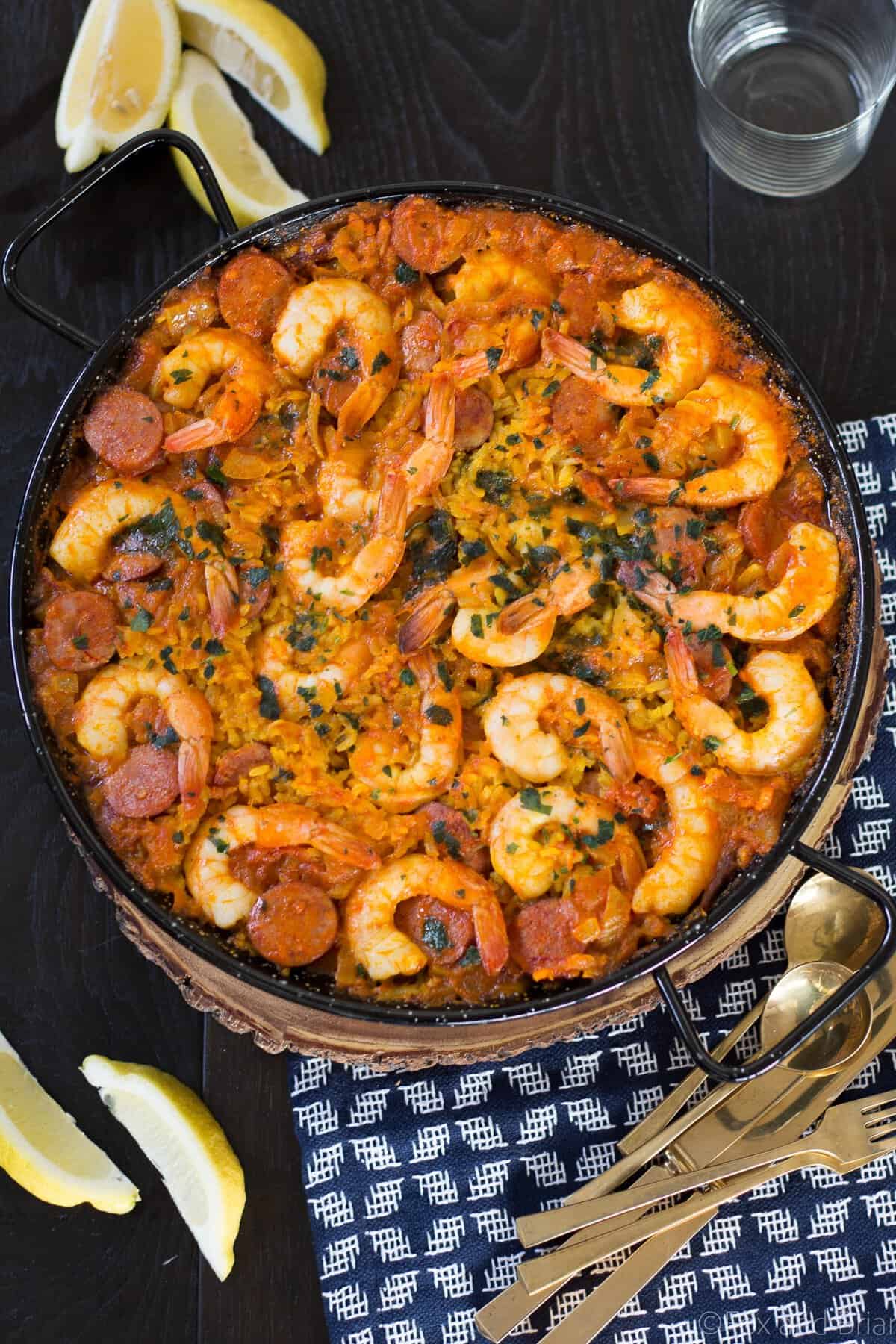 The hardest part was keeping the bottom from burning.  This is partially because I have an electric stove (I would prefer gas) and partially because the pan I used was a bit thin.  If you are using an electric stove, be sure to keep the heat on low and keep an eye on it to watch for burning, and also try to chose a pan with a thicker base for better heat distribution.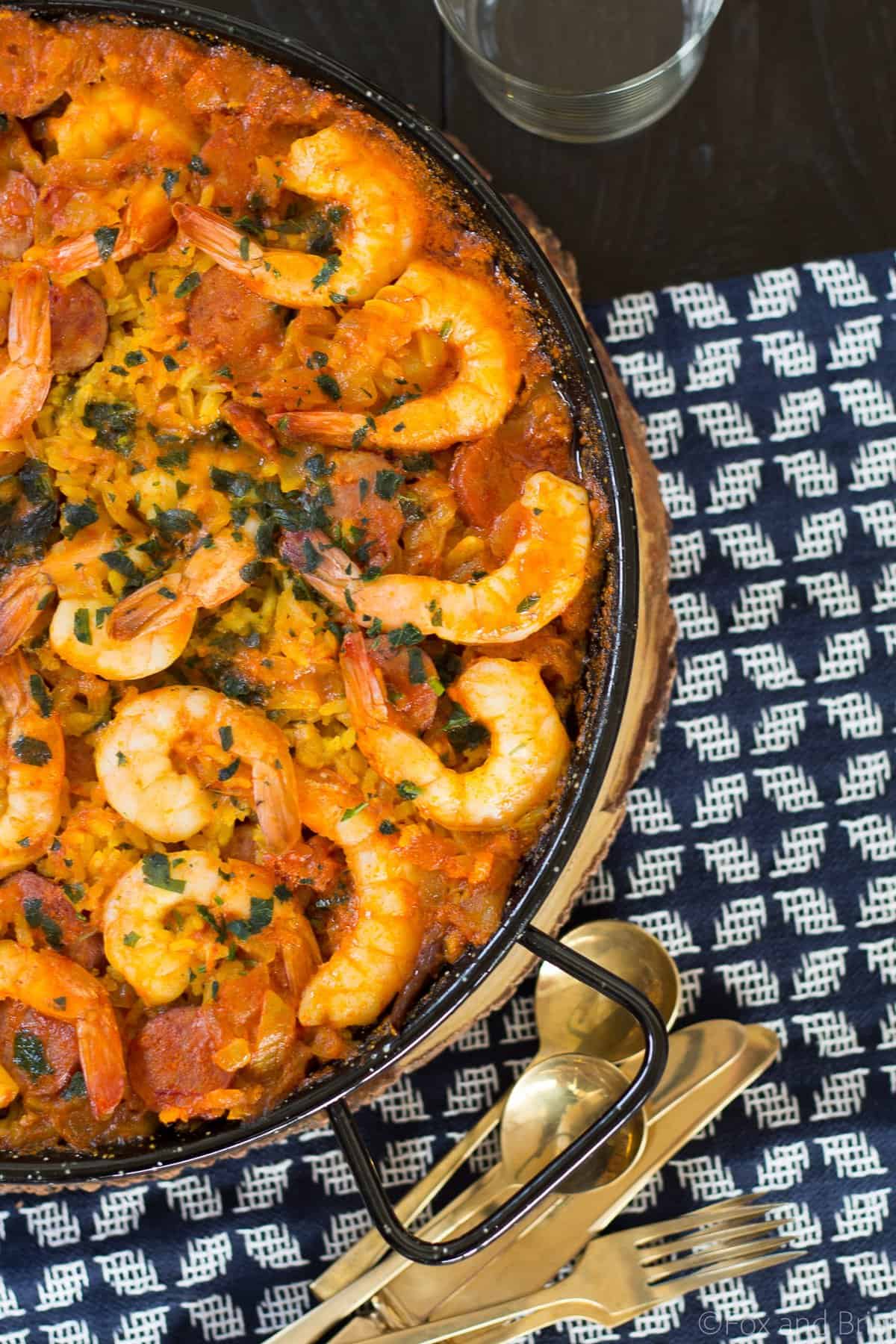 You may also like….
| | | |
| --- | --- | --- |
| Shrimp and Chorizo Paella | | Print |
Prep time:
Cook time:
Total time:
This simple Shrimp and Chorizo Paella is easy to make, has classic Spanish flavors and is an impressive crowd pleaser.
Ingredients
2 Tablespoons Olive Oil
1 and ½ Cups bomba rice or Arborio* (Paella rice)
3 cups chicken stock
1 onion, diced
4 cloves garlic, minced
2 tablespoons tomato paste
1 teaspoon smoked paprika
1 teaspoon saffron threads (2 pinches)
½ teaspoon turmeric
½ teaspoon red chili flakes (or 2 chili de arbol)
1 teaspoon kosher salt*
8 ounces Spanish chorizo* (the kind that is dried and cured NOT Mexican chorizo which is ground) sliced into rounds
1 pound raw shrimp
fresh chopped parsley
Instructions
Heat a large paella pan (or large saute pan) over medium heat. Add the olive oil. When oil is hot, add the onion and saute for 5 minutes, until onion is softened and turning golden. Add the garlic and saute for 30 seconds.
Add the tomato paste and continue to cook until it is completely mixed in and the onions are rust colored, 2- 3 minutes.
Add the salt, paprika, chili flakes, turmeric and saffron, stir to incorporate.
Add the rice and stir fry until the rice is completely coated with the oil and spices.
Stir in the stock. Bring to a simmer.
Reduce heat to low and simmer for 10 minutes.
Add in the sliced chorizo and cook for about 5 more minutes.
Arrange the shrimp on top. You may need to press the shrimp into the rice with a spoon so that they are almost covered with the remaining liquid. Cook for 5-10 more minutes or until liquid is evaporated.
Sprinkle parsley on top and serve.
Notes
*If you cannot find bomba rice you can use arborio. Be sure to follow package instructions for the amount of liquid, defer to package instructions if they are different than what is listed here.
*If you cannot find Spanish chorizo you can use andouille sausage or Kielbasa. Be sure you get the kind that is ready to eat and not one that is raw.
*I always use kosher salt. If you do not have kosher salt and are using regular table salt, reduce salt to ½ teaspoon and adjust for taste.
*The bottom of the paella can burn, be sure to reduce heat to low and watch carefully to avoid burning.
If you make this recipe don't forget to tag it @foxandbriar and #foxandbriar on 
instagram
 and 
facebook
!  I really love to see what you make and you may be featured in our weekly Reader Feature!