Garlic Shrimp (Gambas al Ajillo) are a classic Spanish tapas dish.  Succulent shrimp in a spicy garlicky sauce that you will need to dip your bread into!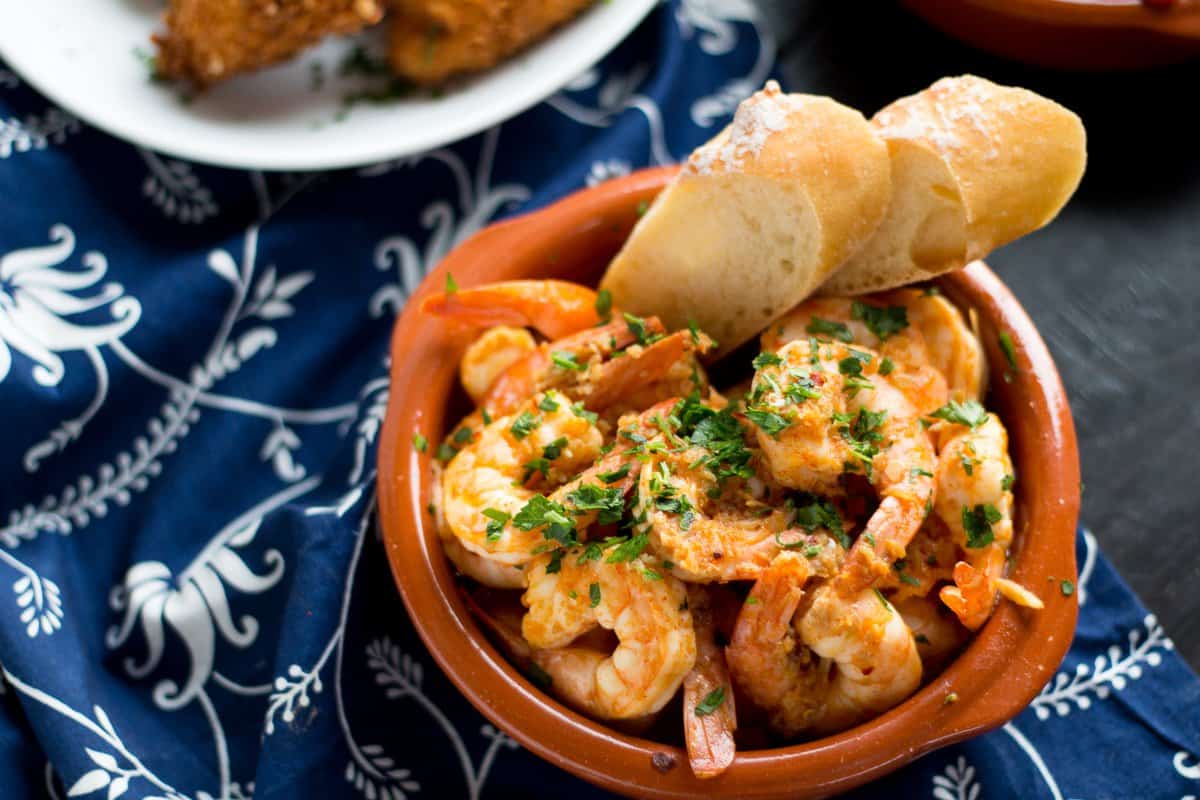 I am so excited to share another tapas dish with you today!  As I mentioned a few weeks ago when I posted my first tapa, I was asked by Fred Meyer to develop a Spanish recipe to celebrate their Taste of Spain event.  They only asked me to do one recipe, but I was so into it that I ended up thinking of several that I wanted to try out.  The good news is that the Taste of Spain event is officially ON right now, from April 3rd-16th in Fred Meyer and ALL Kroger stores!  So if you want to explore some Spanish cuisine, now is the time!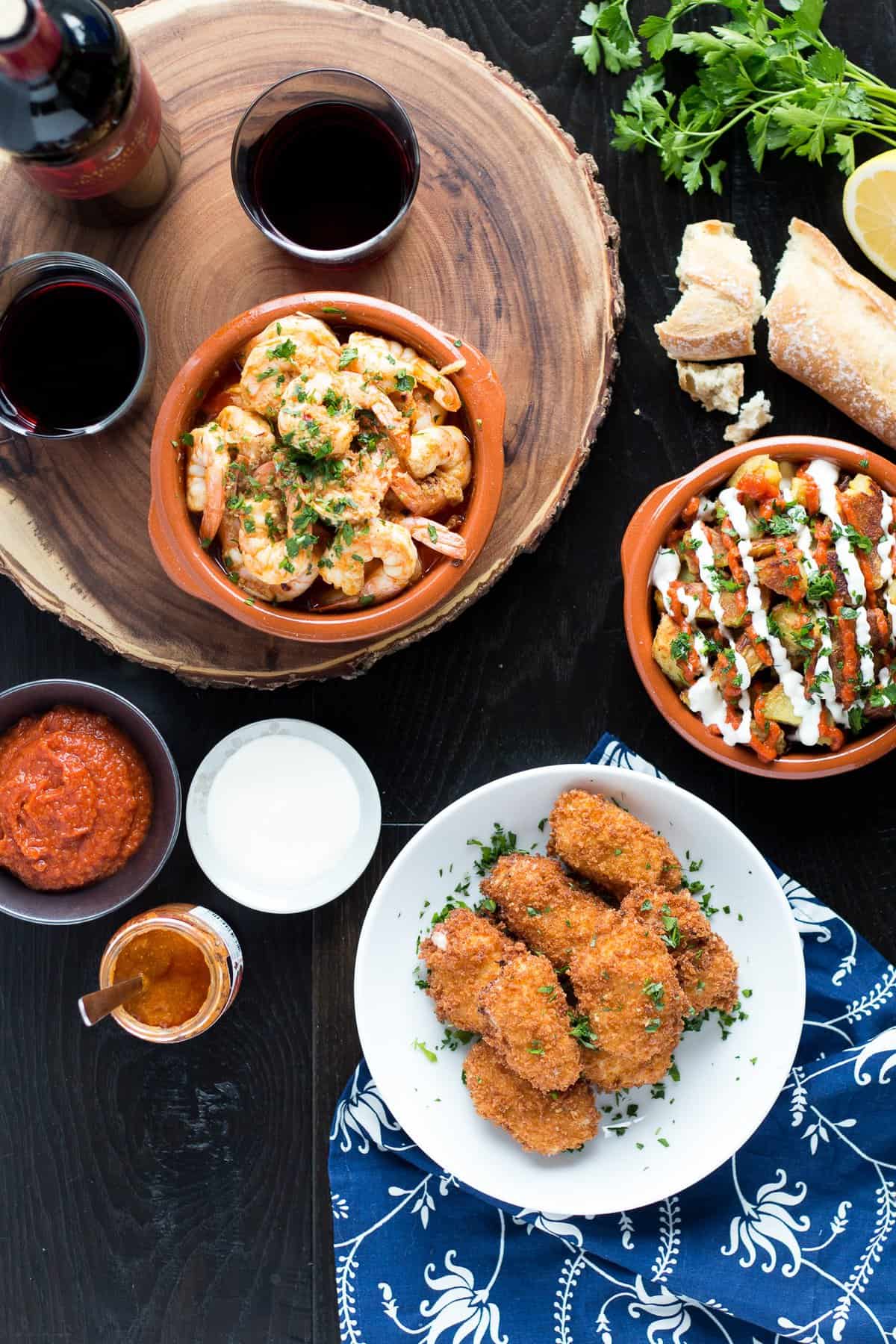 Jump to recipe
Actually, I discovered something really funny that I had to share with you all.  When I did this photo shoot, I wanted a bottle of Spanish wine for the photos.  I stood in the wine aisle in Fred Meyer for…let's just say awhile, trying to pick out a bottle and I finally settled on the Marque de Caceres Rioja.  The wine didn't make it into most of the photos (the above photo is the only one that it ended up being in), but it is still there, lending its ambiance.  As I was going through my study abroad photos from my time in Spain in 2004, I noticed that in a few of the photos of my last dinner in Spain, the same exact wine that I bought for my photo shoot was on the table!  I didn't remember the wine at all when I bought it, but I ended up buying the same exact wine for my photo shoot 12 years later.  How funny is that??  I may be overly excited about it, but I made you a collage to show you the wine that I bought a few weeks ago for my Spanish recipes and the two really bad photos I found of the same wine in Spain in 2004.  Also please excuse the terrible quality of the photos, as I said it was 2004 – no smartphone, and I didn't even have a digital camera.  I think I had my point and shoot camera on a nighttime setting that made all the photos blurry.  That or I had too much wine.  Probably both.
ANYWAY, you are probably not as excited about this as I am, so let's get back to the garlic shrimp, or Gambas al Ajillo as they are called in Spain.  This is a simple tapa dish that is garlicky and spicy.  One thing to note is you really are going to want some nice bread to serve with this to dip into the garlicky, spicy sauce that the shrimp are in.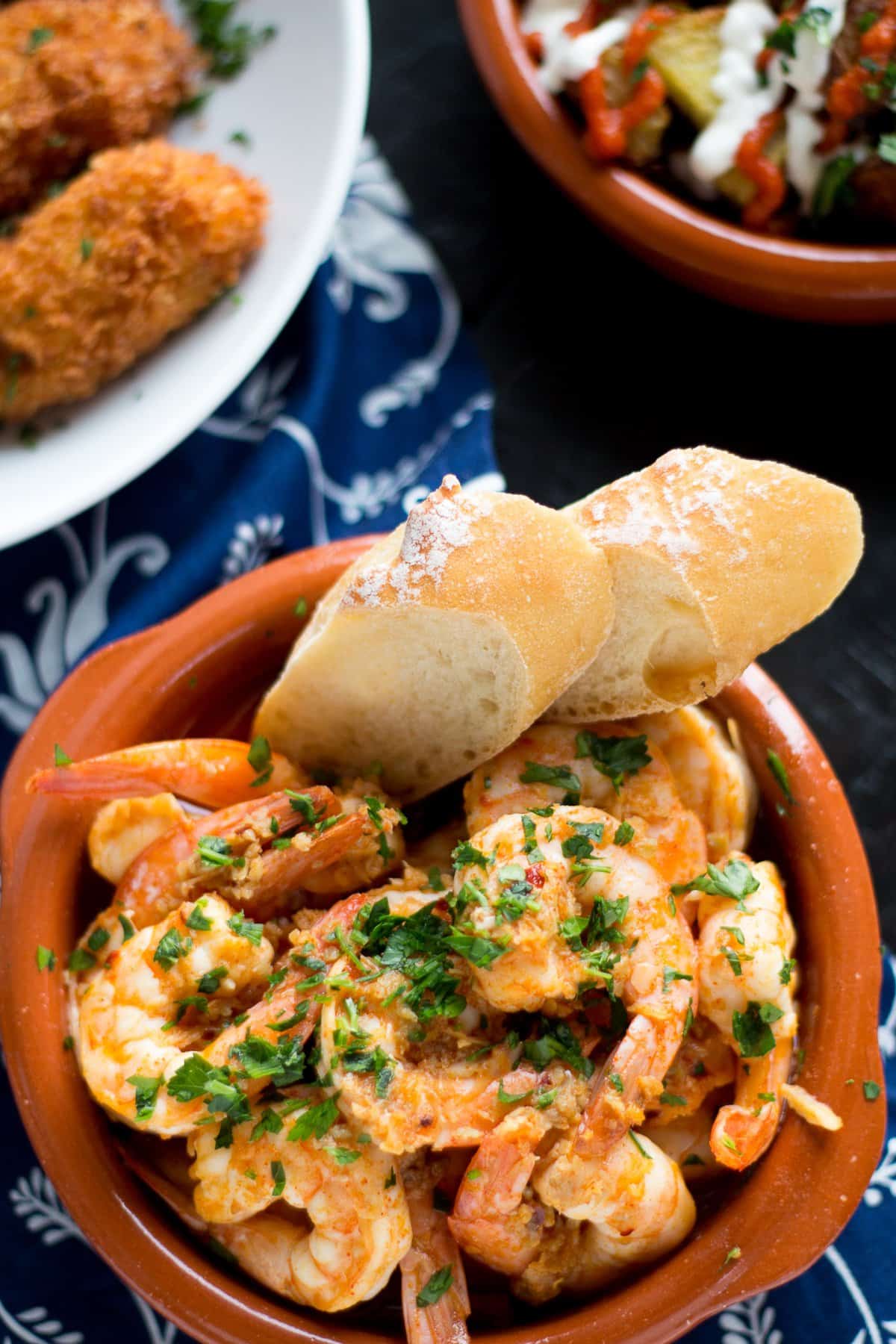 This garlic shrimp is a simple tapa dish that is garlicky and spicy.
Shrimp cook very quickly, so be sure to have all of the ingredients ready to go.  This one comes together in a few minutes, and it is by far the easiest of the tapa I have posted so far.  I liked serving this as part of a tapas spread, in this case I served it with patatas bravas and ham croquettes.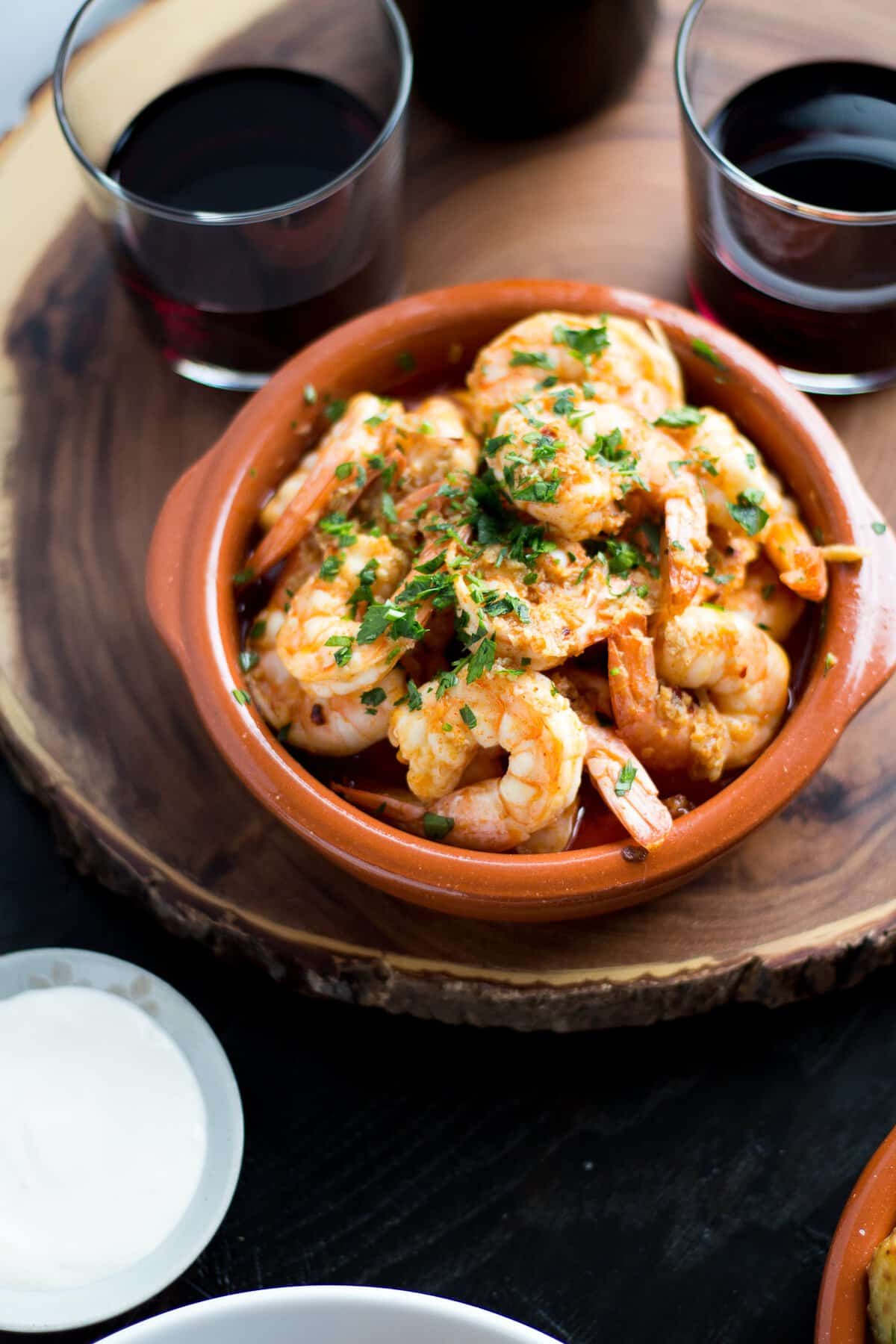 Have a tapas party!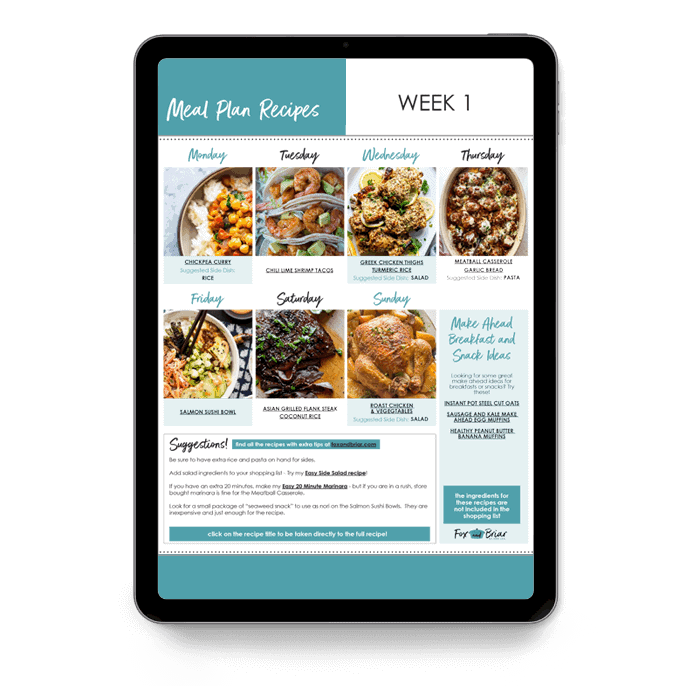 Garlic Shrimp (Gambas al Ajillo)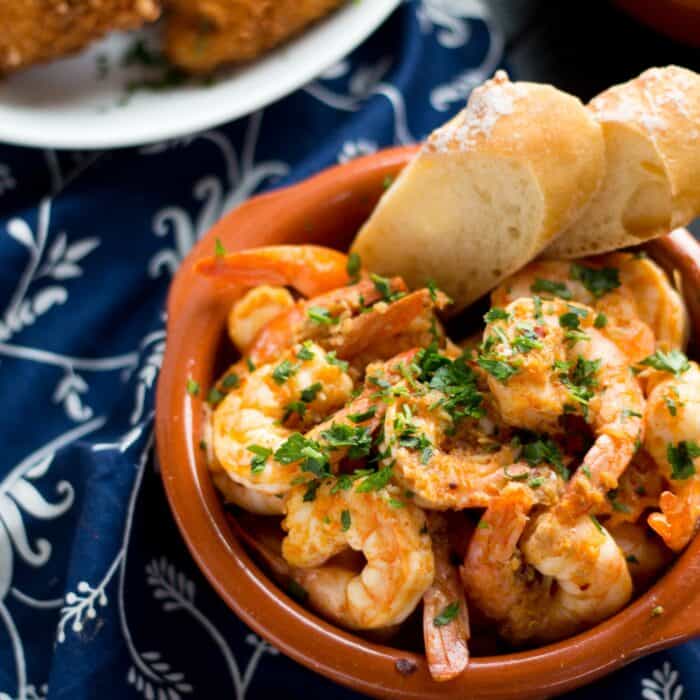 This garlic shrimp is a simple tapa dish that is garlicky and spicy.
Ingredients
1

pound

large raw shrimp

1/4

cup

olive oil

1/4

cup

unsalted butter

1/4

cup

fresh lemon juice

4-6

garlic cloves

minced

1

teaspoon

spanish smoked paprika

1/2

teaspoon

red pepper flakes

or to taste

salt

pepper

chopped parsley for garnish

optional
Instructions
Add butter, olive oil, garlic and red pepper flakes to a sauté pan and heat over medium heat.

Sauté for about

1 minute

or until garlic becomes fragrant, being careful not to burn it.

Add the paprika, lemon juice and shrimp and sauté for

2

-

3

minutes, until shrimp are pink and cooked through.

Season with salt and pepper, and pour shrimp and oil into serving dish. Top with parsley if desired and serve with crusty bread for dipping.
Nutrition information is automatically calculated, so should only be used as an approximation.
Did you like this recipe?
Please comment, rate and share! And don't forget to tag me on Instagram @foxandbriar AND #foxandbriar so I can see what you made!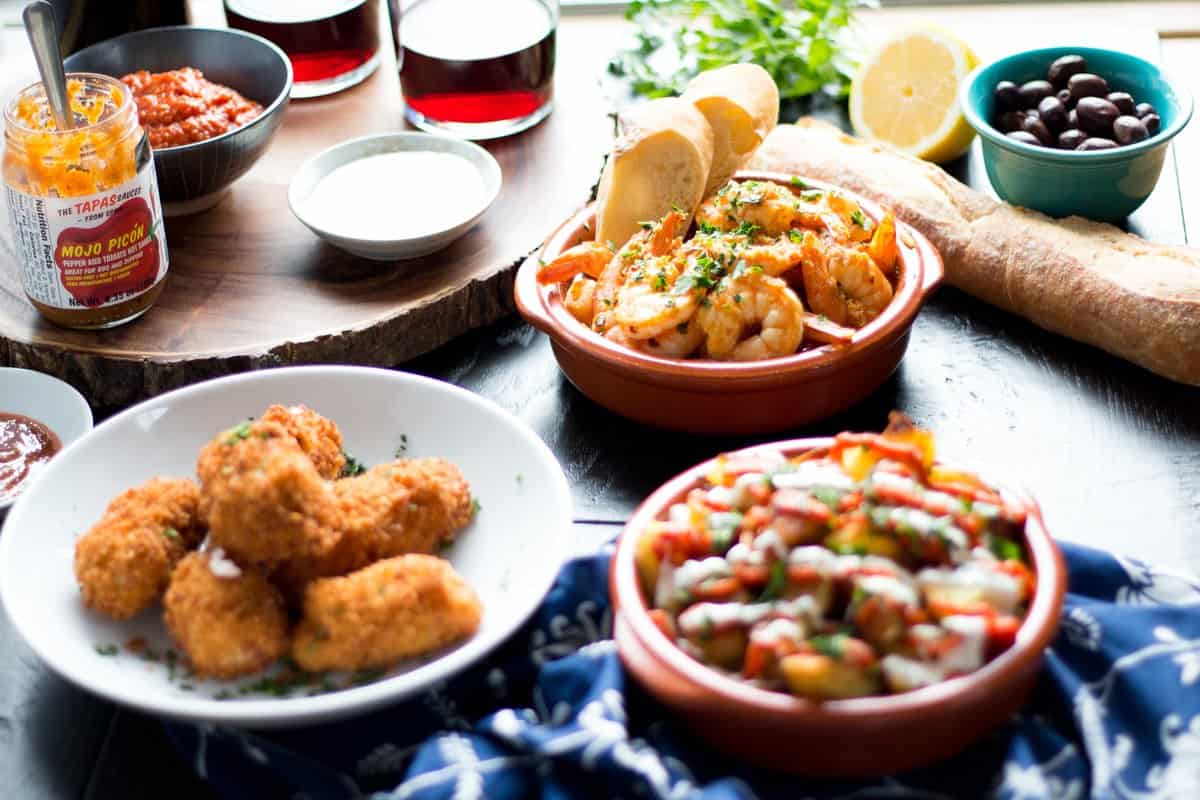 If you make this recipe don't forget to tag it @foxandbriar and #foxandbriar on instagram and facebook!  I really love to see what you make and you may be featured in our weekly Reader Feature!