On Friday when I posted my favorite way to make tofu, I told you guys that I would be sharing my FAVORITE way to use that tofu.  Well, here it is!  This is a plant based powerhouse meal.  Spaghetti squash, bell peppers, arugula and tofu, all covered in a mouthwatering spicy peanut sauce (don't worry, the spiciness is optional and customizeable).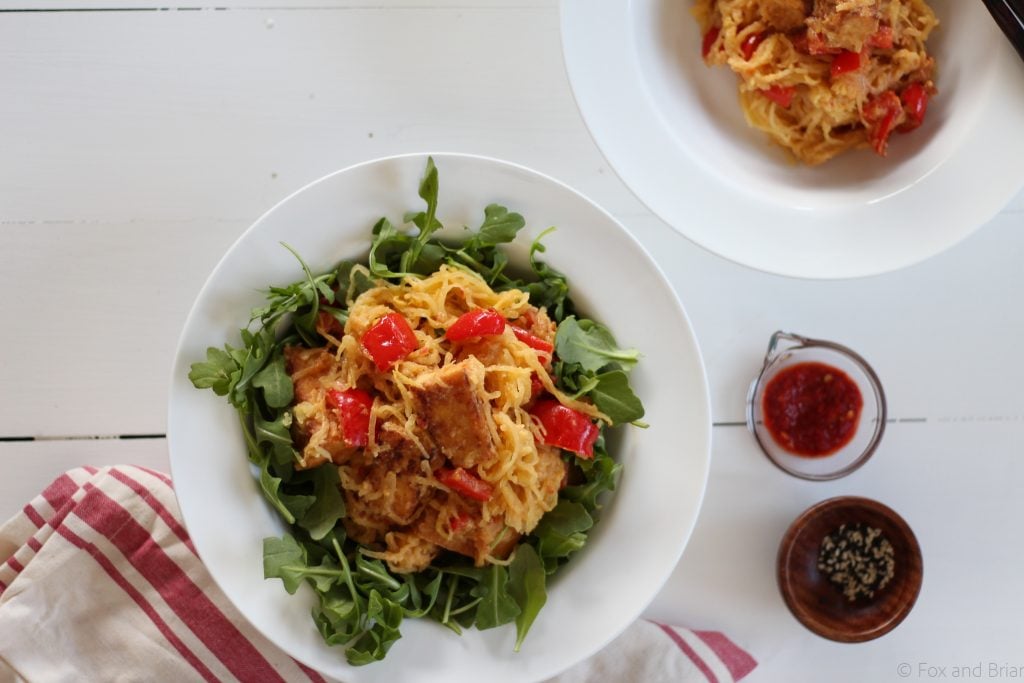 This is actually based on a recipe from Macheesmo, and it is something that we have been making for a few years.  For a while we were cutting way back on our meat consumption, so I started to sub tofu for the chicken.  And then I started to try to replace bread and pasta with veggies in some of my recipes, so I decided to use spaghetti squash instead of noodles.  I made a few tweaks to the sauce and this became my version of the dish!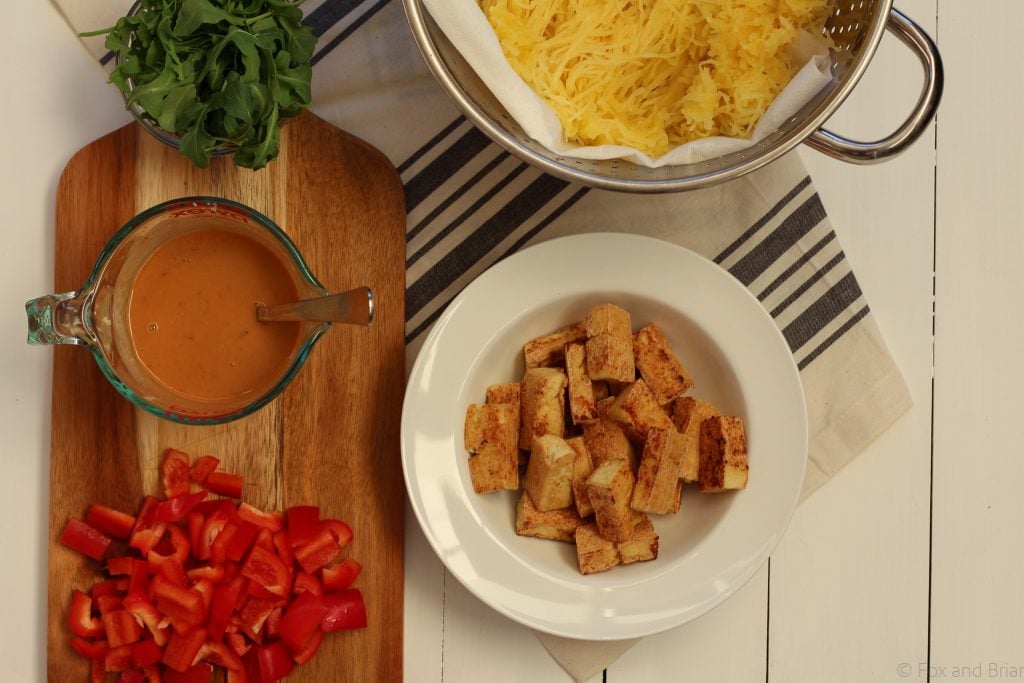 This meal is also pretty quick to come together, so it is a great weeknight meal when you want something healthy and filling but you don't want to spend forever cooking.  If you remember, I mentioned in my Spaghetti Squash Ants in Trees post that I usually microwave the spaghetti squash so it doesn't take very long to cook.  Did anyone catch my quick little tutorial on Snapchat?  I have been posting more behind the scenes stuff and extra quick tutorials there, so be sure to check it out!  You never know what I will be posting on a given day.  It may be a tutorial, some behind the scenes shots or just pictures of my cats (they are super cute.  Just saying).  Add me by searching foxandbriar in Snapchat.
You can see step by step instructions on how to prepare the spaghetti squash HERE and how to make the tofu HERE.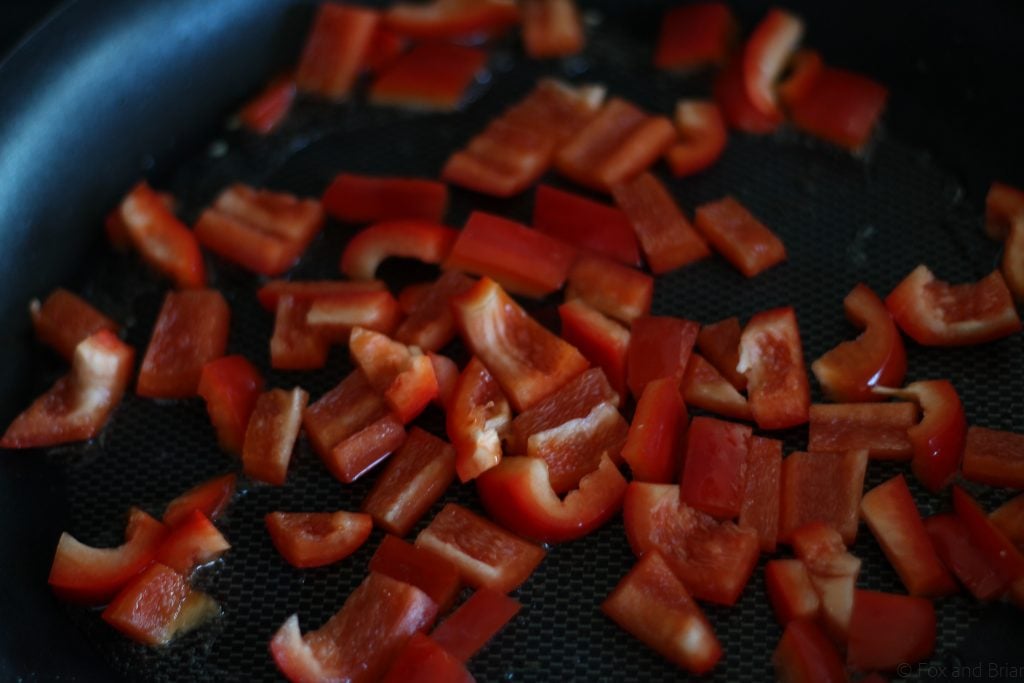 It is best to have everything ready to go when you start cooking because the actual cook time of the dish is pretty short.  Usually my husband and I do this together, so one of us takes care of the tofu and sauce while the other does the spaghetti squash.  If it is a one person operation that is just fine, you just want to make sure everything is ready to go before you start cooking the peppers.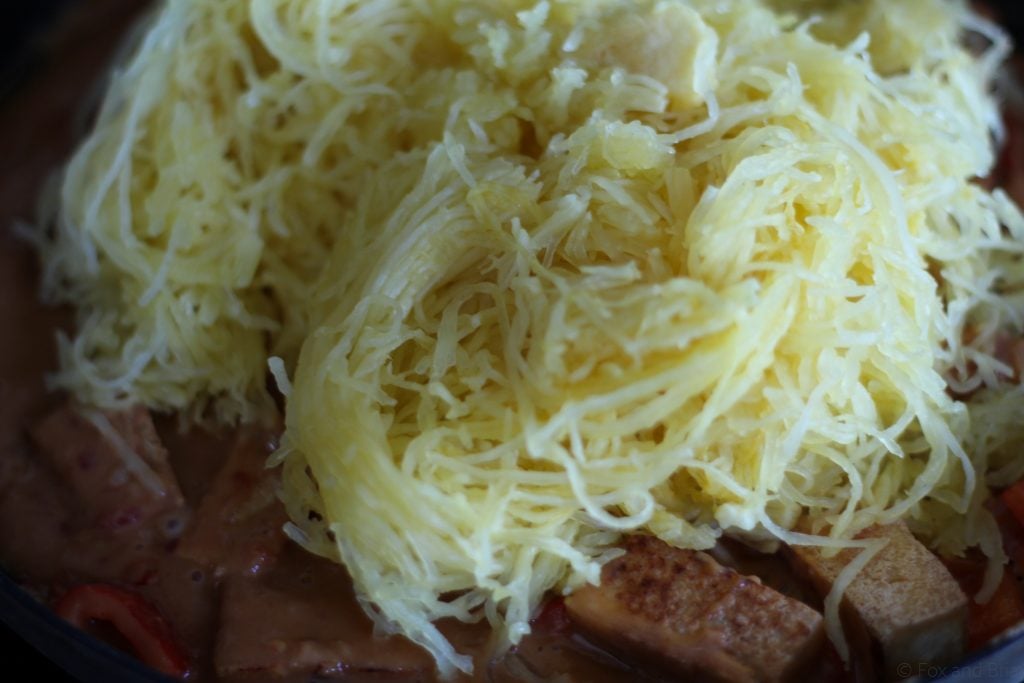 One other important thing is that once you pour the peanut sauce into the pan you want to work fairly quickly.  If you let it sit on high heat for too long it will start to congeal, which is not great.  I usually turn the heat down as soon as I pour in the sauce, then quickly mix in the spaghetti squash noodles and remove from heat.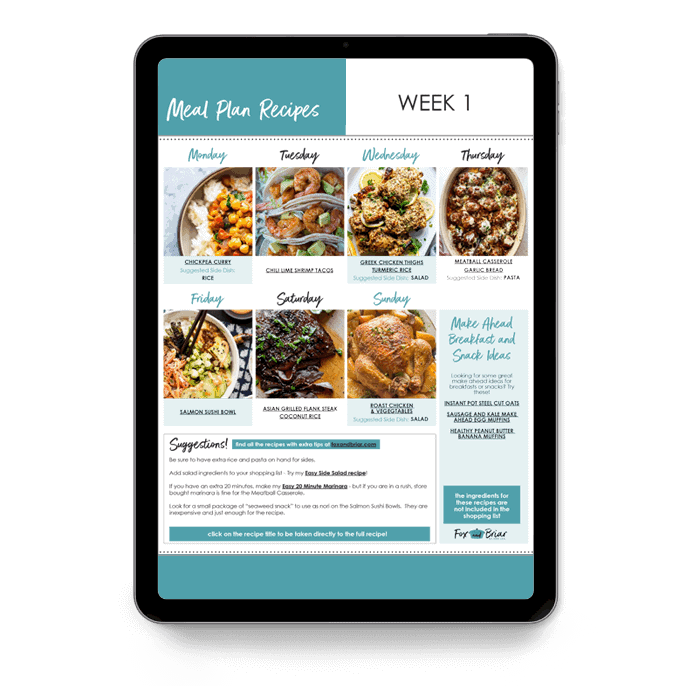 Spicy Peanut Tofu and Spaghetti Squash
This vegan and gluten free plant based meal is quick, healthy and filling! Perfect weeknight meal!
Ingredients
1

spaghetti squash

4-6 cups prepared squash

14

ounces

extra firm tofu

1

red bell pepper

diced

3

tablespoons

canola oil

4

cups

arugula
Instructions
Cut spaghetti squash in half and scoop out seeds. Place in microwave safe dish and cook for ½-

20

minutes until done or cook spaghetti squash your favorite way (See link above for more detail on my favorite way). When spaghetti squash is done, shred into "noodles", place in a colander lined with paper towels and set aside.

While spaghetti squash is cooking, whisk together all ingredients for the sauce except for the water. After everything is mixed together, add the water, 1 tablespoon at a time and whisk together until smooth. Set sauce aside.

Prepare the tofu by pressing to remove the water. Slice the tofu lengthwise through the center (like a book), then slice into about 24 small rectangles. (See link above for more detailed instructions and photos on how I like to slice tofu)

Lay the slices of tofu on a paper towel and cover with another paper towel. Press with your hands to remove more water.

Heat 2 tablespoons of canola oil in a large sauté pan over medium high heat. When hot, add the tofu and cook until golden brown, about

2 minutes per side

. Flip and continue to cook on all four sides until they are crispy and golden brown. Remove the tofu and set aside.

Heat 1 tablespoon of canola oil in the same pan. When hot, add the red bell peppers and quickly stir fry for a few minutes until they are starting to get a little seared and are softening. Add the tofu back into the pan and cook for a minute, just to get it hot again. Turn heat to low, pour in the peanut sauce, and quickly stir everything together, so that all the tofu and peppers are covered in sauce. Don't let it sit too long or the sauce will start to congeal.

Add the spaghetti squash "noodles" and toss to incorporate and fully cover in sauce. Remove from heat as soon as everything is mixed together. Serve right away over a bed of arugula.
Notes
*be sure to use gluten free soy sauce for gluten free!
Nutrition information is automatically calculated, so should only be used as an approximation.
Did you like this recipe?
Please comment, rate and share! And don't forget to tag me on Instagram @foxandbriar AND #foxandbriar so I can see what you made!
Adapted from Macheesmo
What do you do to get more plants into your diet?