This Strawberry Basil Pecan Salad with Goat Cheese Dressing is a sweet and tangy summer salad bursting with fresh flavors and homemade croutons.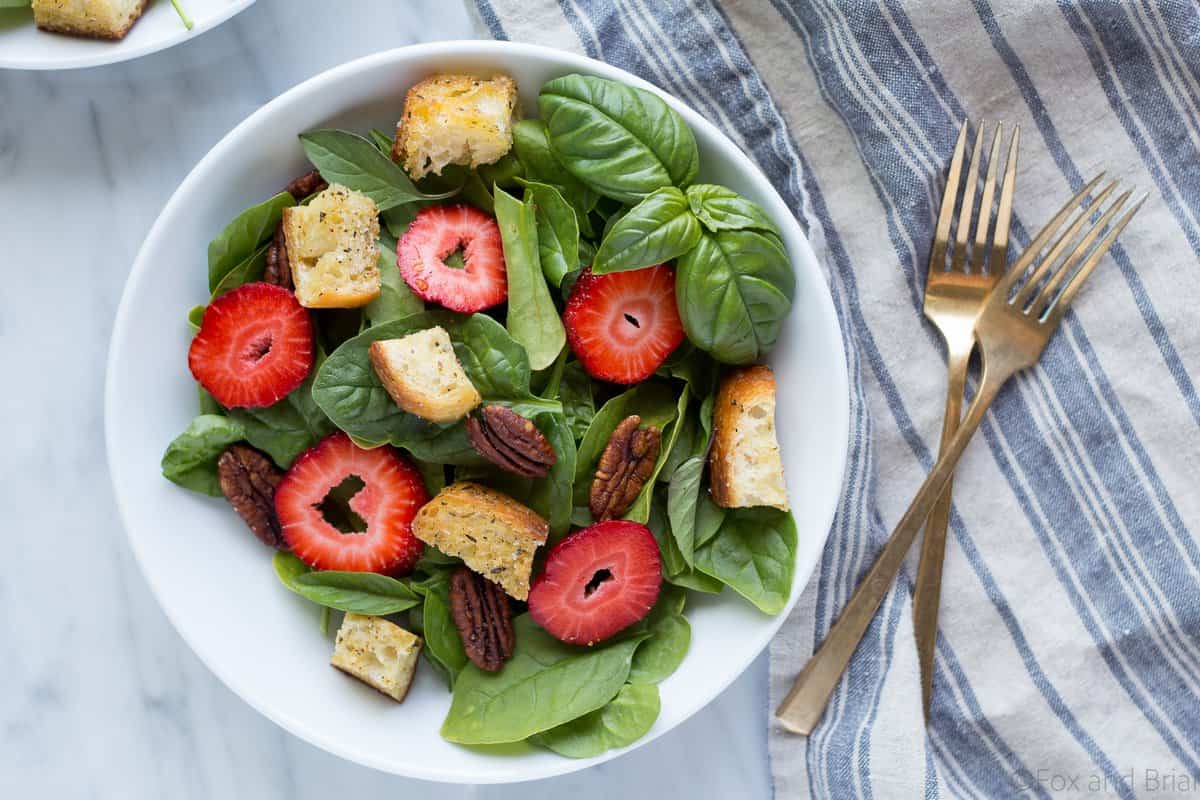 Do you love salads? I wouldn't say that I am a huge fan of salad.  Like, I am not one of those people who craves salads.  I wish I was, it would really make healthy eating easier.  So, when I do eat a salad, I like to load it up with different, interesting toppings.  Maybe one of the reasons I am not a lover of salad is that I have never been a big fan of salad dressing. I know, it's weird. In fact, it was only a few years ago that I started using ANY kind of dressing on my salads, before that I ate them plain.    Even now I order my dressing on the side, and when I make a salad at home I usually just whisk together a little olive oil and vinegar or lemon juice.  I strongly identify with Sally in "When Harry Met Sally" because of her need to order everything on the side.  
Usually I find myself throwing together a salad when I have nothing to eat for lunch or if I'm on my own for dinner and don't want to cook.  I tend to rifle through the fridge and pantry until I can come up with some respectable ingredients and then toss everything into one of my HUGE stainless steel bowls with a simple oil and vinegar dressing and eat it right out of that.  Pure class.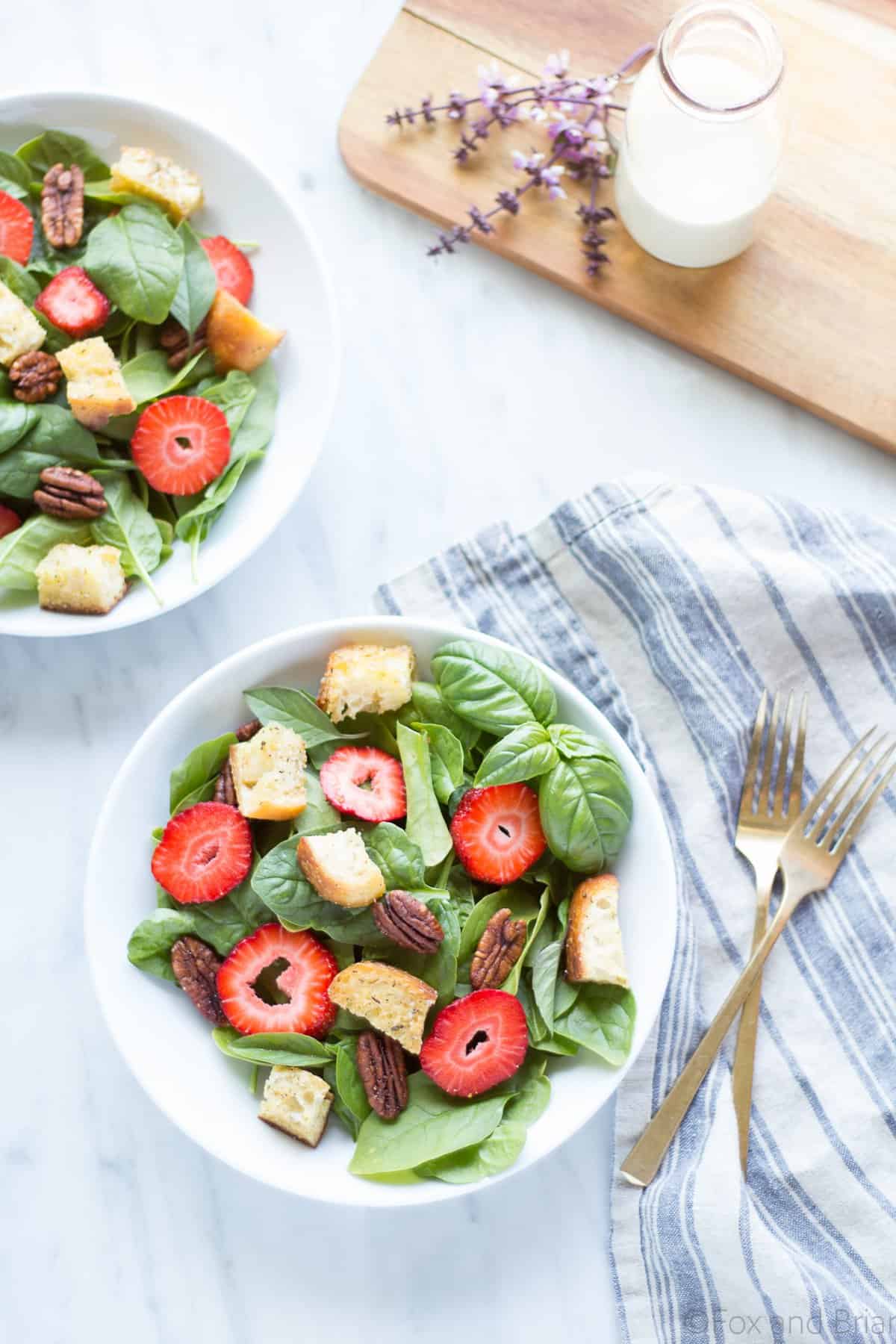 One of my favorite combinations is strawberries, candied pecans and goat cheese.  I had a salad with those ingredients many years ago at a super cute tea house, and I have been riffing on it ever since.  And I noticed that often the goat cheese mixes with the vinaigrette and makes a creamy dressing.  It's nice because you get some goat cheese in every bite instead of just getting it every now and then. After my years hating salad dressing, imagine my surprise when I LOVED this goat cheese dressing.   The honey balances out the tanginess of the goat cheese and lemon juice, and it is creamy but not heavy.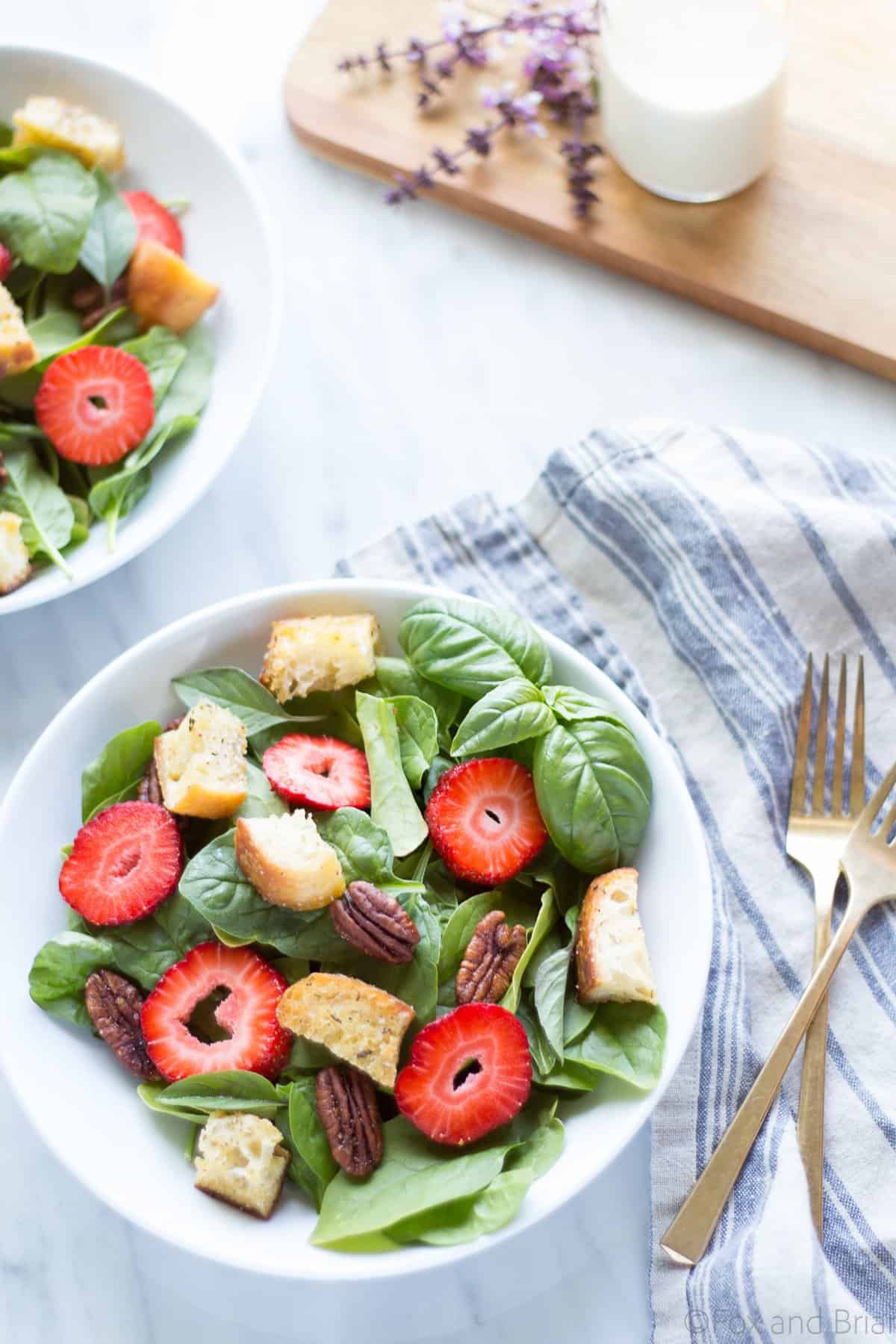 When I made the first version of this salad, it was a night that I had not made any plans for dinner, Mr. Briar was working late and I was really hungry.  I noticed that I had the end of a loaf of bread that was a little too stale to eat on its own, so decided to turn it into croutons.  Have you ever made your own croutons?  It is so easy, and they are sooo much better than the ones you buy at the store.  I like that freshly made croutons have crunch but also are still a little soft in the middle.  It makes them easier to eat since they don't splinter apart when you try to get them on your fork, and also much more pleasant to chew.

Strawberries and basil just taste like summer, the candied pecans add crunch and the homemade crutons really just make this salad a meal.  Add that goat cheese dressing and suddenly I am happily eating salad for dinner. So if you, like me, are not a fan of salad, this Strawberry Basil Pecan Salad with Goat Cheese Dressing might just convert you.
You may also like…
| | | |
| --- | --- | --- |
| Strawberry Basil Pecan Salad with Goat Cheese Dressing | | Print |
Prep time:
Cook time:
Total time:
This Strawberry Basil Pecan Salad with Goat Cheese Dressing is a sweet and tangy summer salad bursting with fresh flavors and homemade croutons.
Ingredients
4-6 cups fresh baby spinach
1 cup fresh strawberries, sliced
½ cup candied pecans (or just toasted)
½-1 cup basil leaves
4 ounces high quality bread, such as pugliese, cut into cubes
1 tablespoons olive oil
½ teaspoon dried oregano
kosher salt
fresh ground black pepper
1 Tablespoon Olive Oil
1 Tablespoon Fresh Lemon Juice
1 and ½ teaspoons honey
2 ounces soft goat cheese (chevre)
1 tablespoon water
kosher salt
fresh ground black pepper
Instructions
Heat oven to 350 degrees.
On a baking sheet, toss bread cubes with olive oil and oregano, season with salt and pepper to taste.
Bake for 20 minutes, or until golden brown, turning halfway through baking.
To make the Goat Cheese Dressing
Whisk together olive oil, lemon juice, honey, goat cheese and water. Season with salt and pepper to taste.
Add spinach, basil leaves, strawberries, pecans and croutons to a large bowl and toss together. Add dressing and toss to coat. Or you can serve the dressing on the side.
Dressing adapted from
Skinnytaste
If you make this recipe don't forget to tag it @foxandbriar and #foxandbriar on instagram and facebook! I really love to see what you make and you may be featured in our weekly Reader Feature!