How to make a Brown Sugar Cardamom Latte at home without any fancy equipment. Try an alternative to the Pumpkin Spice Latte for fall!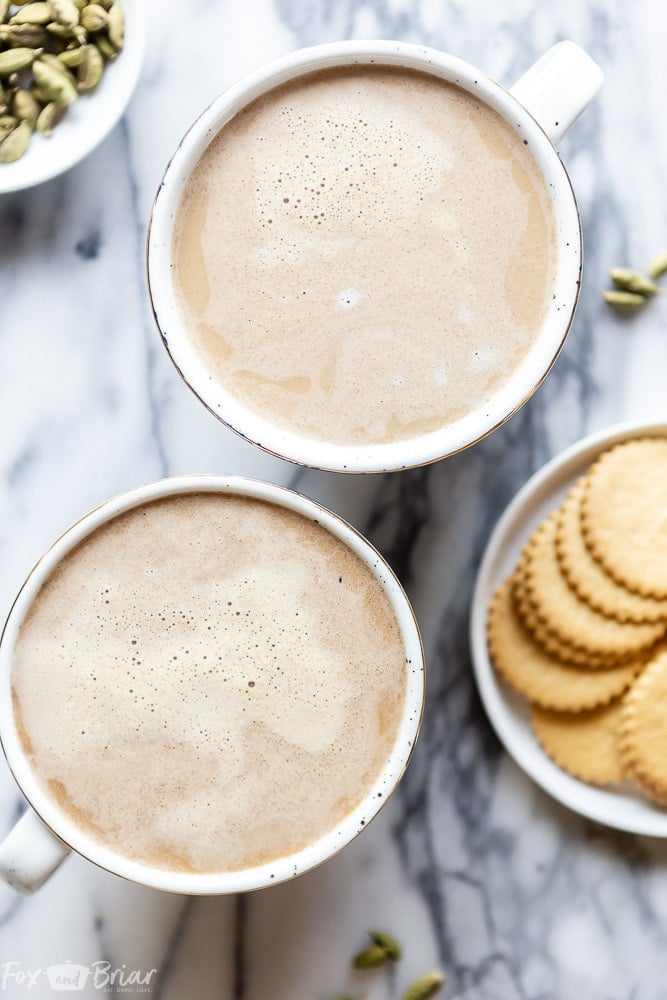 Disclosure: This post contains affiliate links, which means that if you purchase the items I recommend through the links I provide, I get a small commission. For more info, please see my disclosure policy. Thanks for supporting Fox and Briar!
Well would you look at that, it's September.  How did that happen? Even though the official first day of fall is still a few weeks away, most people can't help but start to celebrate autumn when September starts.  And I heard a rumor that everyone's favorite coffee chain started selling their Pumpkin Spice Lattes even earlier this year.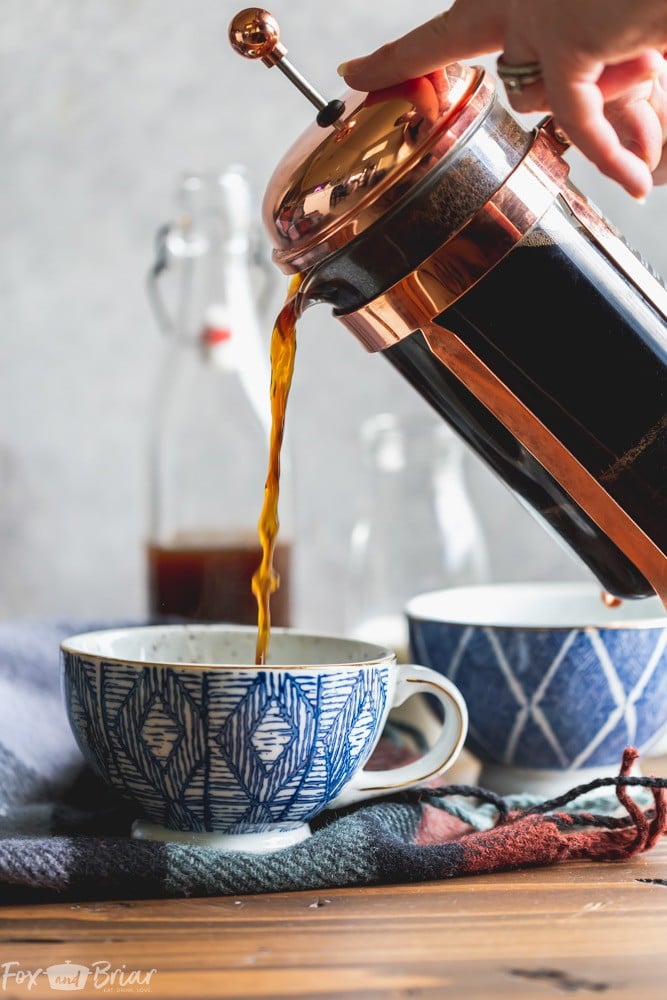 Personally, I like to squeeze every last drop out of summer, but when the time comes I am with every other fall loving girl, wearing boots and plaid shirts,  leaf peeping and forcing my husband to go apple picking.  I'll probably even drink a pumpkin spice latte. What can I say, call me basic.  But I'll tell you what's not your basic pumpkin spice latte – this Brown Sugar Cardamom Latte.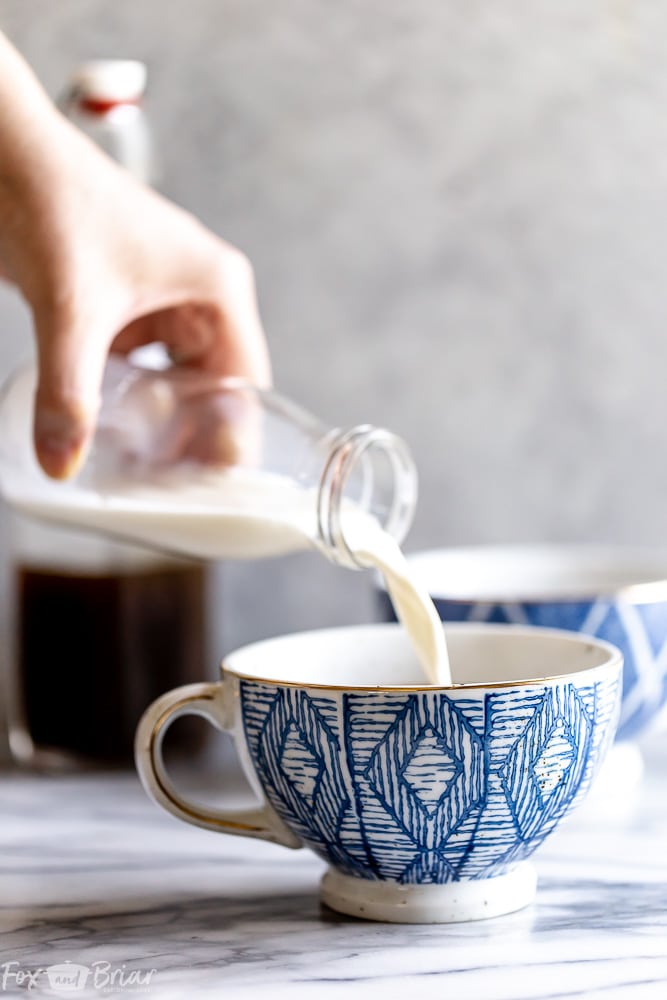 How do you feel about cardamom?  It seems to be an under used spice in the U.S. But it's so fragrant and unique, I love using it anywhere that other autumn spices are used – cinnamon, ginger, nutmeg and cloves all play well with cardamom.  It is commonly used in Indian and Middle Eastern recipes.
I made an easy cardamom syrup for this brown sugar cardamom latte.  I like to make my own syrups for different lattes at home, like I did with my Lavender Latte.
What is cardamom?
Cardamom is a spice made from seeds of a plant in the ginger family.  Sometimes it is also spelled cardamon or cardamum.  It is often sold as a powder, or as whole seeds in a green pod. Cardamom is very aromatic, citrusy and herbal.  It is often combined with cinnamon, clove, ginger, allspice and nutmeg.  Look for the whole cardamom pods for the best flavor.
Is there a cardamom substitute?
Cardamom has a very unique flavor that can't really be replicated with anything else. For this recipe I don't recommend using a substitute for the cardamom, since it is the main flavor in the latte.  However, in recipes where the cardamom is not the main flavor, you can use equal parts cinnamon and nutmeg, ginger or cloves.  The flavor will not be the same but it will work as a stand in.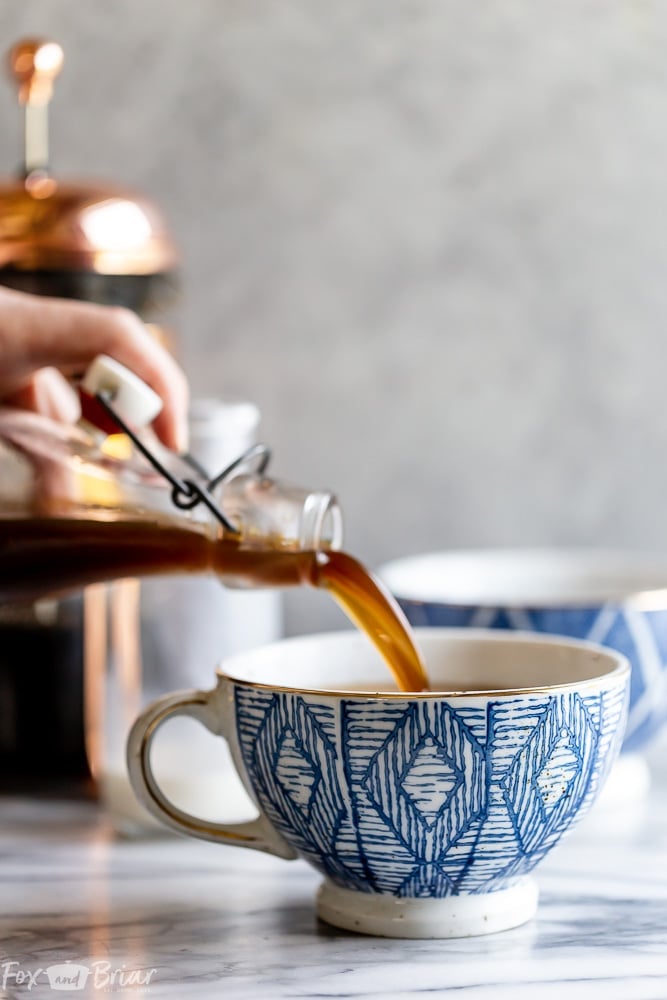 How to make a latte at home
I have written before about how to make a latte at home without any fancy equipment.  All you need to do is brew strong coffee and mix it with steamed milk.  A latte at a coffee shop will be made with espresso.  However, if you don't have an espresso machine at home, you can substitute strong coffee.  I like to use french press coffee.  Want foamy milk but don't have a milk foamer? Pour the milk  into a mason jar, warm up in the microwave for 30 seconds.  Screw on the lid and shake it until foamy.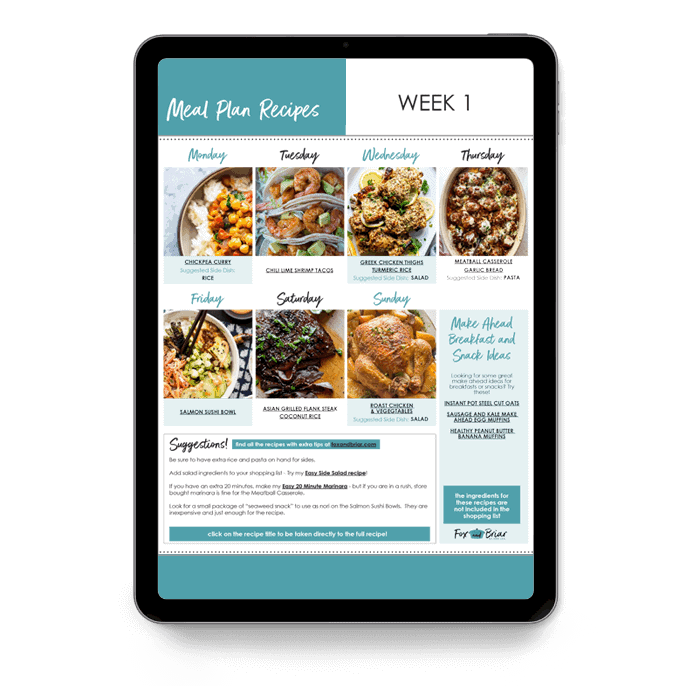 Brown Sugar Cardamom Latte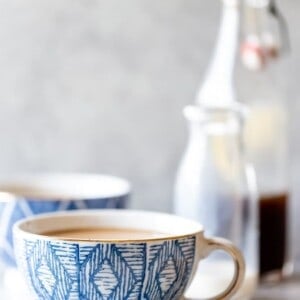 How to make a Brown Sugar Cardamom Latte at home without any fancy equipment. Try an alternative to the Pumpkin Spice Latte for fall!
Ingredients
8

ounces

strong coffee

1/4

cup

milk

2

tablespoons

Brown Sugar Cardamom Syrup

see recipe below
For The Brown Sugar Cardamom Syrup
Instructions
Place milk into a microwave safe jar and heat for about

30

seconds, until warm. Tightly screw lid onto jar and shake for a few seconds, until milk is foamy.  Use caution when unscrewing lid as pressure may build up.

Place 2 tablespoons of brown sugar cardamom syrup in a mug. Pour hot, strong coffee over syrup. Top with foamy milk.
For the Brown Sugar Cardamom Syrup
In a small pan over low heat, toast the cardamom pods until fragrant, stirring often. Watch closely to avoid burning them.


Using a mortar and pestle, lightly crush the cardamom pods. Pour the pods and any exposed seeds into a medium sauce pan.

Add the water and brown sugar. Bring to a boil, stirring until sugar is dissolved. reduce heat to low and simmer for

15

minutes.  

Strain solids through a fine mesh sieve. Store syrup in the refrigerator in a sealed container.
Notes
Nutrition information is using 2% milk
Nutrition
Serving:
1
Latte
|
Calories:
139
kcal
|
Carbohydrates:
32
g
|
Protein:
2
g
|
Fat:
1
g
|
Saturated Fat:
1
g
|
Cholesterol:
5
mg
|
Sodium:
55
mg
|
Potassium:
194
mg
|
Sugar:
32
g
|
Vitamin A:
60
IU
|
Calcium:
71
mg
|
Iron:
1.4
mg
Nutrition information is automatically calculated, so should only be used as an approximation.
Did you like this recipe?
Please comment, rate and share! And don't forget to tag me on Instagram @foxandbriar AND #foxandbriar so I can see what you made!
Helpful Equipment
Other Recipes That Use Cardamom
How to Make Chai Concentrate – Fox and Briar
Oven Baked bacon with cardamom maple glaze– Mid-Life Croissant
Swedish Cardamom Buns – Girl Versus Dough
Lemon Cardamom Drizzle Cake – Giraffes Can Bake
CARDAMOM PEAR MARTINI – Little Sugar Snaps