This Ginger Chicken Asparagus Stir Fry is a quick and healthy dinner using fresh spring produce!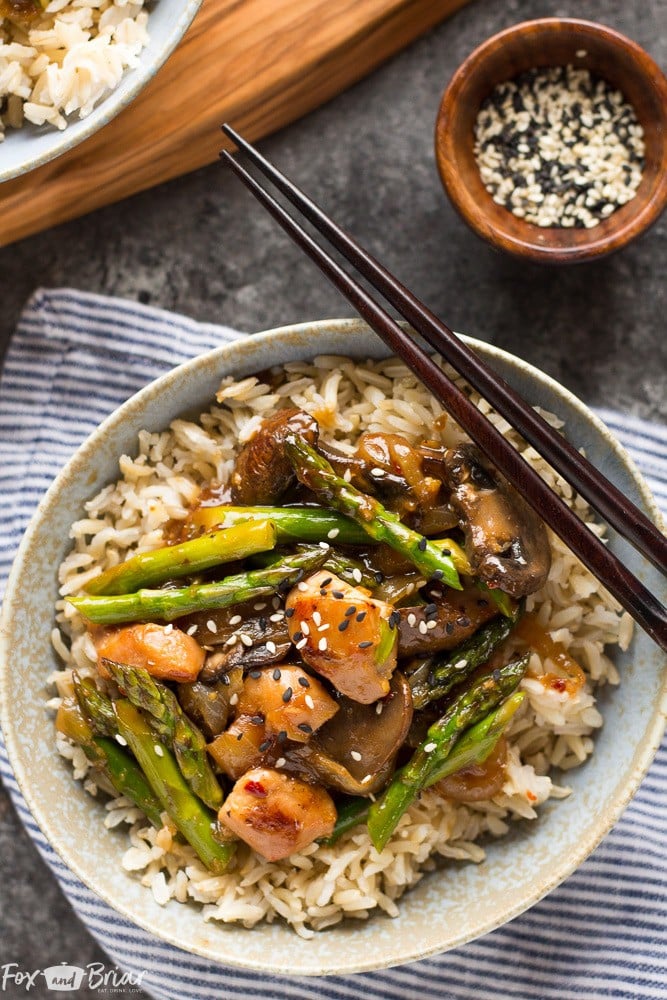 Hello Springtime!  I know the official first day of spring is still a week away, and the weather in the PNW has been a nonstop winterfest, but we DID have daylight saving time this weekend and that means longer days!!!  This makes me extremely happy.  And it makes me want to use the springiest of spring vegetables, asparagus.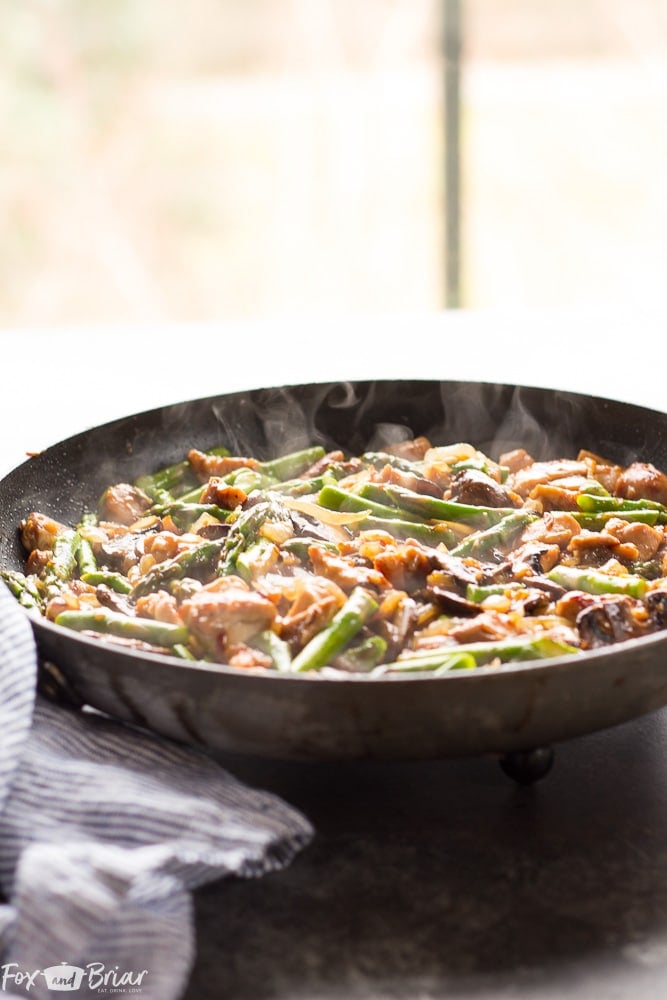 MY LATEST VIDEOS
This Ginger Chicken Asparagus Stir Fry is a great, healthy weeknight dinner.  I love using seasonal produce and I had a big bunch of asparagus in my fridge to use, which is how this Ginger Chicken Asparagus Stir Fry came to be.  Hint – if you want this to be a super fast dinner, cutting up the chicken and vegetables ahead of time will make this a snap.  Is chopping anyone else's least favorite cooking task?  If Mr. Briar is home when I'm cooking he always ends up doing the chopping.  Luckily this doesn't require THAT much prep, and as with all stir fries, the cooking part is pretty fast.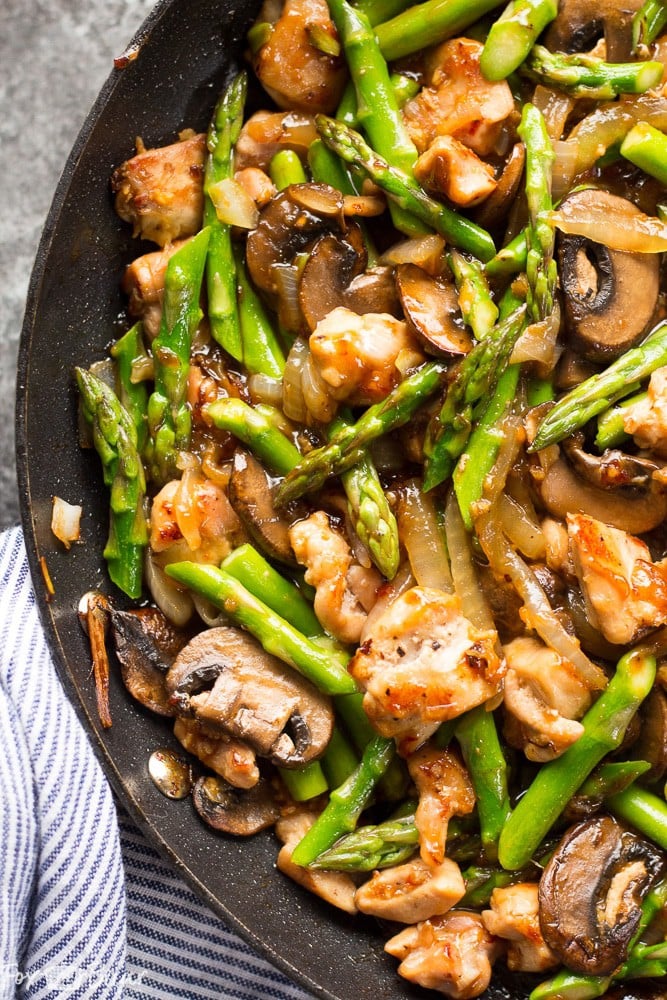 As always, I dry saute the mushrooms first – it does add a few minutes onto the total cooking time but is well worth it in my opinion.  Of course you can always leave the mushrooms out if you are not a fan!  I like to serve this over brown jasmine rice, which soaks up that gingery sauce that brings the flavor.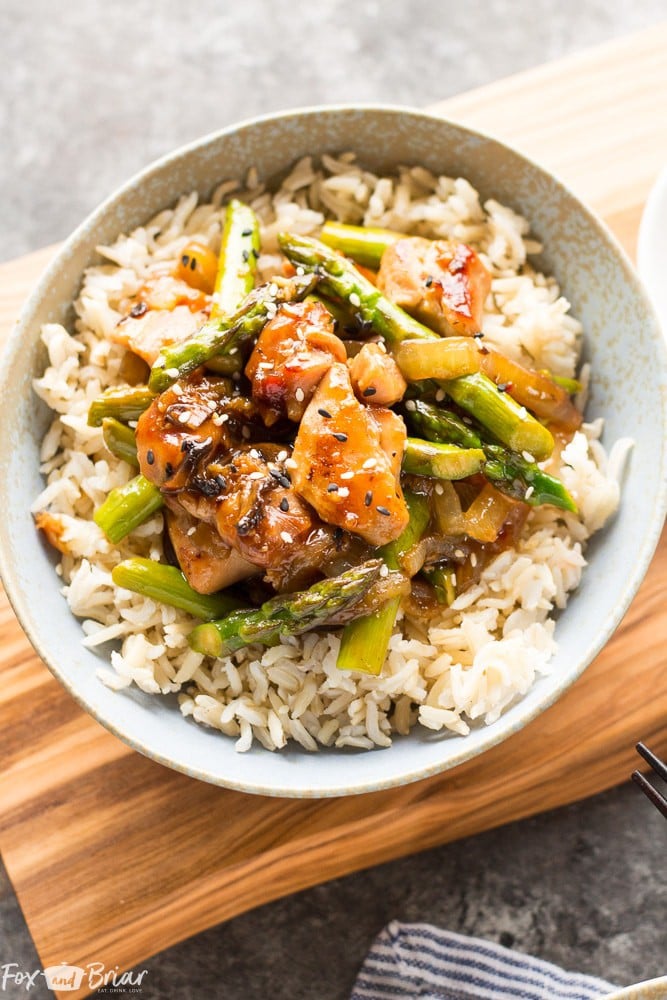 Who else is ready for Spring?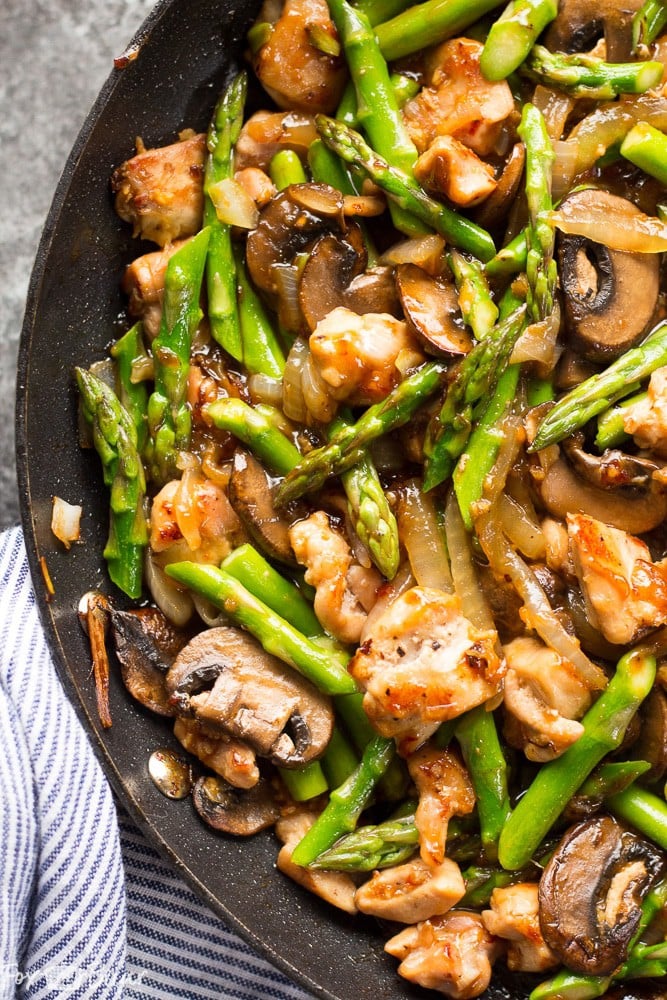 Print
Ginger Chicken Asparagus Stir Fry
Yield 4 Servings
Ingredients
1 pound skinless boneless chicken thighs, cut into bite sized pieces
1 pound asparagus, ends trimmed and cut into 1 inch pieces
8 ounces crimini mushrooms, sliced
1 onion, thinly sliced
2 tablespoons canola oil (or other high heat oil)
salt
pepper
For the Sauce
1/4 cup low sodium soy sauce
1/4 cup brown sugar
2 Tablespoons rice vinegar
1 Tablespoon cornstarch
1 Tablespoon fresh grated ginger root
4 garlic cloves, minced
1 teaspoon chili garlic sauce
Instructions
Whisk together all ingredients for sauce, set aside
Heat a large non-stick skillet over medium-high heat.  Add the mushrooms and saute until they have released their water and the pan is dry, 5-10 minutes.  Remove mushrooms from pan.
Return pan to heat and add one tablespoon of oil.  Add the chicken and season with salt and pepper.  Cook, stirring often, until chicken is cooked through.  Remove chicken from pan.
Wipe out pan if needed.  Return pan to heat and add the other tablespoon of oil.  Add the onion and saute for about 5 minutes, until softened and starting to turn golden.
Add the mushrooms and the chicken back to the pan, cook for about 3 minutes, until starting to brown.
Add  the asparagus and cook for 1-2 minutes, until turning bright green.
Add the sauce and stir until everything is coated and sauce has thickened, about 1 minute.
Serve over rice if desired
Courses Dinner
If you make this recipe don't forget to tag it @foxandbriar and #foxandbriar on instagram and facebook! I really love to see what you make and you may be featured in our weekly Reader Feature!