This gingerbread martini is sweet and spicy just like your favorite holiday cookie!
I'm capping off unofficial "gingerbread week" with this baby – a gingerbread martini.  Now I know there are martini purists who will want to yell about how this is NOT a martini, and they would be right, technically.  But you guys, I'm a crazy rule breaker, so I don't care what all those martini purists say, I'm still calling this a martini because it is best served in a – you guessed it – martini glass.
These would be fun for a holiday get together, or you know, just a Tuesday night decorating the tree.  Or you could leave this out for Santa with some soft and chewy ginger cookies and he will definitely put you on the nice list next year.
A big part of the holidays for me is Christmas music.  Despite years of working retail, I still don't hate Christmas music, which is a miracle.  Let me tell you, there is a LOT of terrible Christmas music out there.  Of course, tastes vary, but I tend to prefer the jazzy and bluesy variety.  I'm not a big fan of pop in general, and I can do without most pop Christmas covers. Part of the nostalgia of Christmas comes from hearing the same songs every year, so that is probably why I like the more old-fashioned Christmas music.  I think I may drive my husband crazy with all the Christmas music, but he is a good sport about it and never complains (although he is ready to go back to regular music on December 26th!).
So, since I love it so much, I wanted to make a Christmas playlist for you all!  I just love making playlists, what can I say?  I hope you enjoy it, you can find it at the bottom of this post.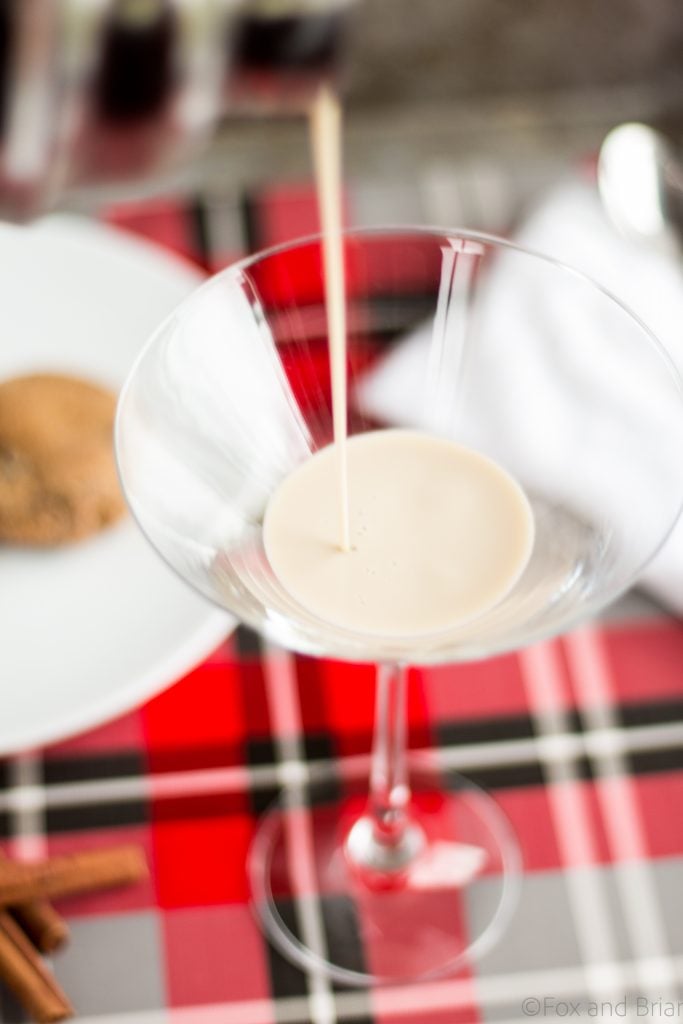 This martini is really easy if you have already made the syrup for the gingerbread latte that I shared a few days ago.  It uses the exact same syrup.  See, that is a multi use recipe!  You can start your day with a gingerbread latte and end it with a gingerbread martini.  If you whip up a batch of the syrup before hand then it takes about 1 minute to make this drink, and you could make a few at a time if you are serving them at a party.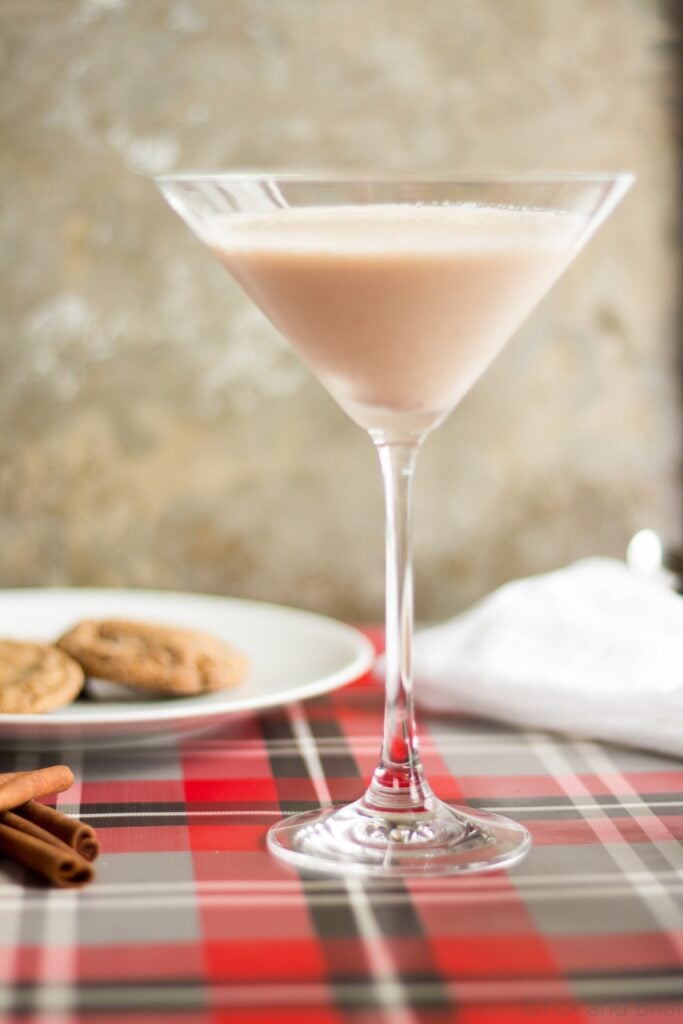 I used some whipped flavored vodka here, but I'm sure you can sub with vanilla or marshmallow or any of the other similar flavors of vodka.  I do think there is even a gingerbread flavored vodka, but that might actually make the flavors a little overwhelming, since the syrup already has a really nice, strong flavor.  Just add the vodka, syrup and some half and half to an ice filled martini shaker, give it a shake until it is nice and cold and pour it into a martini glass.  I garnished it with a little fresh nutmeg.  Also you might want to serve these with a few snacks because people are probably going to want more than one drink, so that will keep them from falling out of their chairs (not that that's ever happened to me).

| | | |
| --- | --- | --- |
| Gingerbread Martini | | Print |
Prep time:
Total time:
This gingerbread martini is sweet and spicy just like your favorite holiday cookie!
Ingredients
1.5 ounces whipped flavored vodka (or can sub vanilla flavored)
1 ounce gingerbread syrup (see recipe below)
1.5 ounces half and half
fresh nutmeg (optional, for garnish)
Instructions
Combine all ingredients in a martini shaker with ice. Shake until cold.
Pour into a martini glass. Garnish with fresh nutmeg, if desired.
Serve immediately.
Prep time:
Cook time:
Total time:
This gingerbread syrup is great in coffee or cocktails!
Ingredients
1 cup water
1 cup brown sugar
1 Tablespoon molassas
2 inch piece of ginger, peeled and sliced
3-4 cinnamon sticks
1 whole nutmeg
2 teaspoons whole cloves
2 teaspoons whole allspice
Instructions
Combine all ingredients in a saucepan and bring to a simmer over medium high heat, stirring to dissolve the sugar.
When mixture is simmering, reduce heat and simmer on low for 20 minutes. After 20 minutes, turn off heat and allow to steep for about an hour.
Strain through a fine mesh sieve to remove solids, store in a sealed container in the fridge.
Do you like Christmas music or do you avoid it as much as possible?  What are your favorite Christmas carols?
Here is your playlist!