A twist on a classic this Italian eggs Benedict has all the things you love in a benny plus the addition of a sausage tomato sauce all drizzled with a creamy homemade hollandaise for mouthwatering deliciousness in every bite!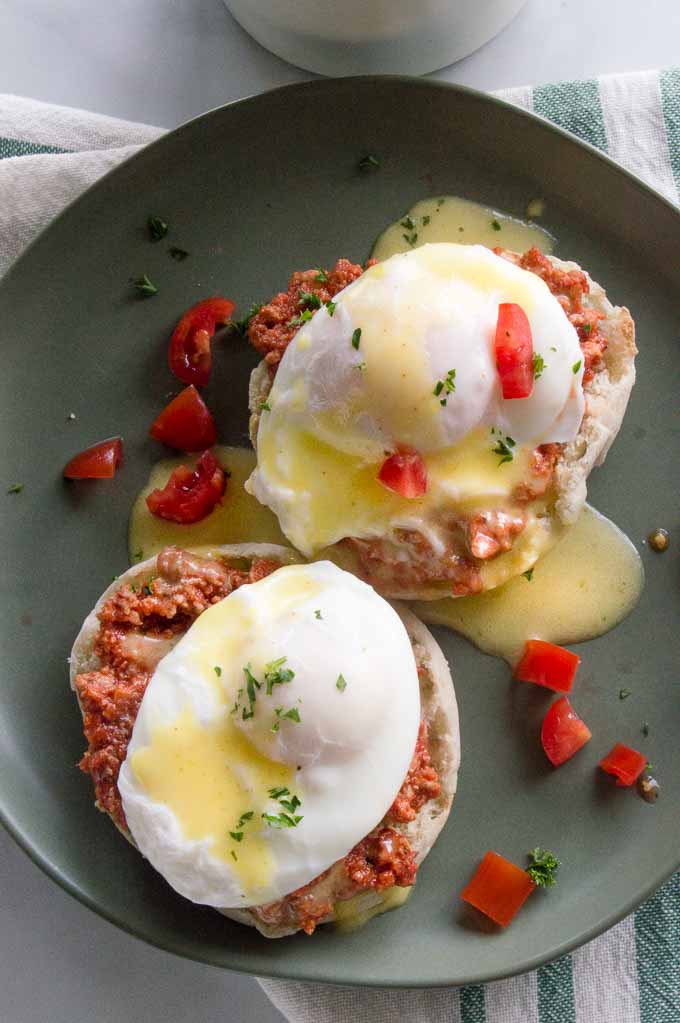 A note from Meghan: Thanks to my friend Michele at West Via Midwest for writing this guest post while I am on maternity leave!  Be sure to check out her delicious and detailed recipes on her blog!
Hi I'm Michele and I'm popping in with a brunch recipe for you today while Meghan is enjoying her sweet baby boy! I write over at West Via Midwest about meals and tips for entertaining with out all of the stress!
Today I'm sharing a twist on a classic– eggs benedict which uses one of my favorite recipes on Meghans site… her 20 minute Marinara sauce!
What is Eggs Benedict?
Eggs Benedict is traditionally a poached egg served with bacon, ham or sausage atop a toasted English muffin. All of these things are then drizzled with a hollandaise sauce made just before serving.
The name Eggs Benedict came about in 1894 at the Waldorf Astoria Hotel when a gentleman named Lemuel Benedict came in quite hung over and asked for toast topped with crispy bacon, poached eggs with a hooker of hollandaise and became a staple on their menu ever since.
Today Eggs Benedict is a popular breakfast and brunch item. There is something about a perfectly made hollandaise that people think as a special occasion meal! Many people are intimidated by hollandaise but its really quite simple to make!
What is hollandaise sauce?
Hollandaise sauce is made from the emulsion (re blending) of melted butter, egg yolks and lemon juice. Seasoning such as cayenne pepper are added as well. Once you have the basic hollandaise sauce recipe there are many variations for all sorts of recipes.
A Bernaise sauce is a hollandaise with tarragon added and this is often served in steak houses as an elegant steak sauce over the top of a filet. You can create a Creole Hollandaise sauce by adding a small amount of cajun seasoning to it. The Cajun Hollandaise works over shrimp or even as a nice spicy kick over the classic eggs Benedict.
PRO TIP: When making the hollandaise you want to add a little water to the yolks and then get it really frothy before adding the melted butter to it. The other key thing to making a good thick hollandaise sauce is to make sure and drizzle the melted butter into the egg yolks as slow as possible while you whisk it. By doing both of these things you are guaranteed to have a thick and velvety hollandaise that will not separate!
What makes this an Italian Eggs Benedict?
I'll be honest, this recipe came about because I had made a double batch of Meghans Classic Marinara because we were supposed to have some company one night for dinner. Things got a little crazy and it ended up just being my husband and I so I had some leftover sauce the next morning. I had purchased sausage to go in our Benedict and saw the sauce in the fridge and thought hey, that might be pretty good with breakfast.
I crumbled the sausage, cooked it and tossed it in the marinara, then used it in place of the sausage patty. The velvety hollandaise and runny yolk meld perfectly in each and every bite. My husband now requests this Italian Eggs Benedict over the classic every time so you know its a keeper!
Looking for other breakfast ideas be sure and check out these delicious recipes!
Oven Baked Eggs Fox and Briar
Crab Asparagus and Leek Quiche ~ Fox and Briar
Loaded Breakfast Cups ~ West Via Midwest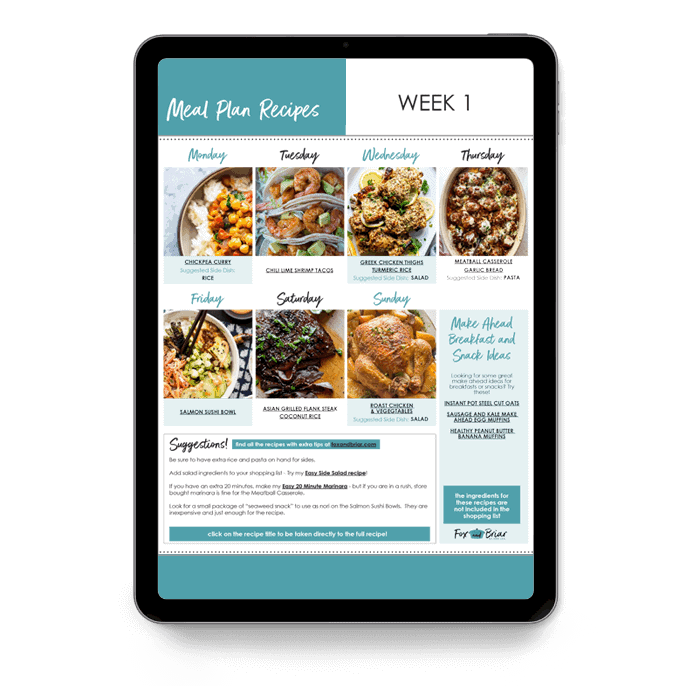 A twist on a classic this Italian eggs Benedict has all the things you love in a benny plus the addition of a sausage tomato sauce all drizzled with a creamy homemade hollandaise for mouthwatering deliciousness in every bite!
Ingredients
8

large eggs

4

whole English muffins

cut in half
Hollandaise:
3

egg yolks

12

tablespoons

butter

dash

lemon juice

dash

cayenne pepper
Instructions
Toast the English muffins then place in a 225° oven to keep warm until you are ready to assemble them.

In a wok pan filled with water, bring the water to a boil.

While the water is getting to boil, prepare the sausage/marinara mix

On the stove top, turn the heat to medium high. Into a skillet add olive oil and swirl around the pan.

Once the oil is covering the bottom, crumble the sausage into the pan and cook until browned about

8

-

10

minutes. Add tomato sauce, stir until combined and sauce is warmed, about

3

minutes. Remove from heat and set aside until ready for assembly.

Once the water is boiling reduce heat to a simmer with just an occasional bubble coming to the surface. Crack one egg at a time and place one at a time in a measuring cup. Once water is at a simmer, using a slotted spoon swirl the water and add the egg while the water is moving. Stir once to allow egg to not stick to bottom of the pan.

Place a second egg into the water. Cook for

3

minutes, then remove to a side plate. Cook in batches two eggs at a time until all are complete.
Hollandaise:
Into a bowl add the three egg yolks. Add a splash of water (about 1/2 teaspoon) Whisk until very very frothy.

In a microwave safe measuring cup, melt the butter for about 30 seconds until completely melted.

Add the melted butter very very slowly in a small drizzle to the frothy egg yolks. This should take over a minute to add all of the butter to the egg yolks. The sauce will thicken easily if you add it very slowly.

Add the splash of lemon juice and cayenne pepper to season.
Assembly:
Place two muffin halves face up on each plate. Spoon the Italian sausage mixture over the top of each.

Place one poached egg on top of the sausage mix.

Drizzle a heaping spoonful or two of hollandaise over the top of the whole thing. Serve immediately.

Garnish with fresh tomatoes or parmesan cheese (both optional)
Nutrition information is automatically calculated, so should only be used as an approximation.
Did you like this recipe?
Please comment, rate and share! And don't forget to tag me on Instagram @foxandbriar AND #foxandbriar so I can see what you made!
Thanks so much for reading today its been fun spending the time going through all of Meghan's amazing recipe library! Meghan will be back soon with lots more delicious and creative recipes!