These Make Ahead Beef Breakfast Burritos are freezer friendly!  Using tender, slow cooker shredded beef, breakfast potatoes, eggs and cheese, they can be made ahead of time and frozen.  Just reheat them in the morning for a quick and hearty breakfast!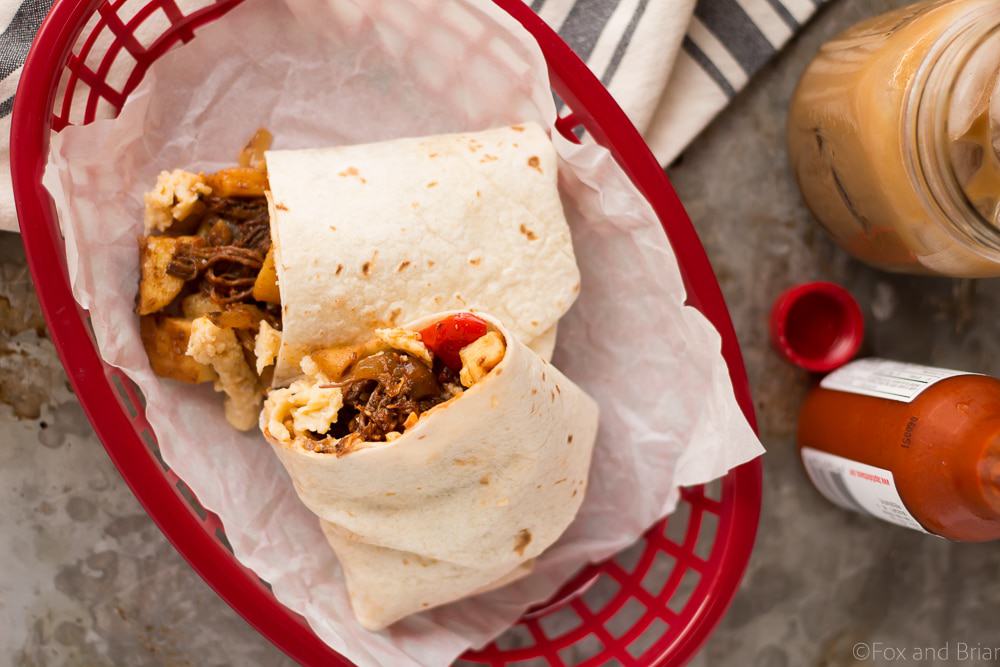 This is a sponsored post, written by me on behalf of the Washington State Beef Commission and Fred Meyer. Opinions, as always, are all my own!  Thank you for supporting the brands that support Fox and Briar!
It is hard to believe that Summer is coming to an end and Fall will be here before we know it! Can you believe that kids have started going back to school already? After a lazy Summer, getting back into routine of early mornings, work and school can be a challenge.  I've never been a morning person, so getting breakfast has always been difficult for me.  When faced with the choice between sleeping a little later or having time to eat, I almost always choose sleep!  That is why I love being able to have a make ahead breakfast to grab when running out the door.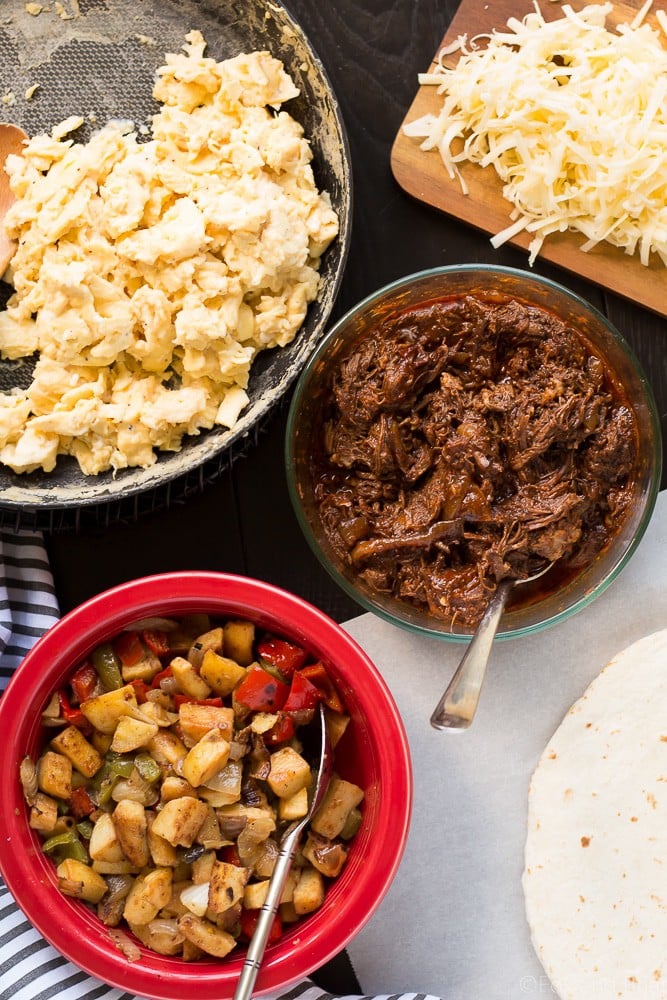 These Make Ahead Breakfast Burritos are a life saver for busy mornings!
You can make a huge batch ahead of time and freeze them.  Then just reheat in the morning and you have a hot, protein rich breakfast with no effort.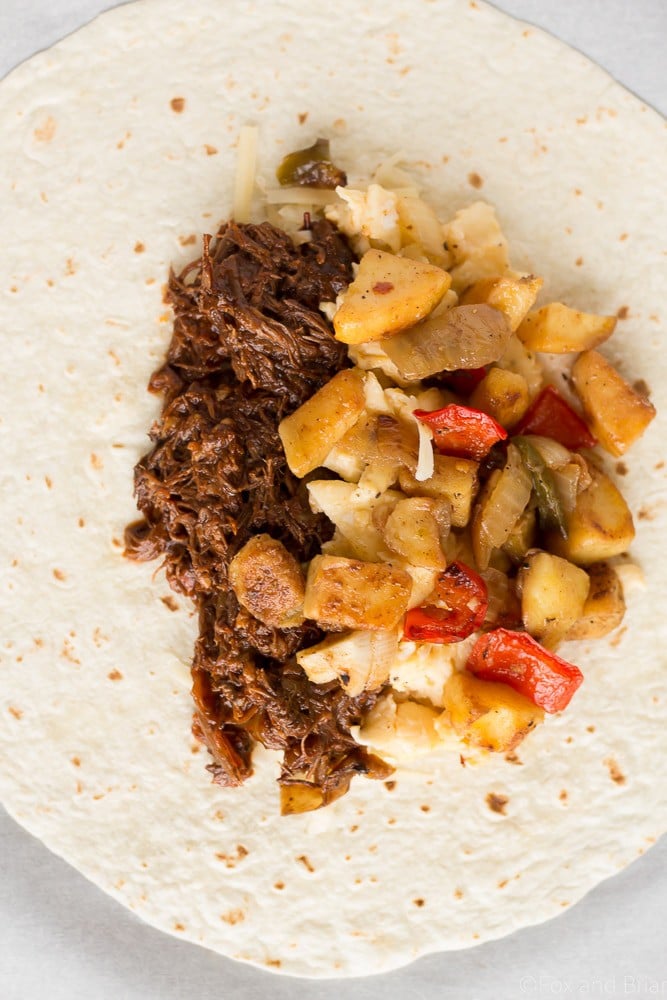 When I decided to make these Make Ahead Beef Breakfast Burritos, I knew I wanted to make the beef in my slow cooker.  Tender, flavorful shredded beef in a burrito, is there anything better?  I stopped by my local Fred Meyer meat department, and perused the different cuts of beef.  Have you ever found yourself in the meat department, unsure of what cut of beef is best for your recipe?  The Washington State Beef Commission has a really cool feature on their website called the Interactive Butcher Counter that allows you to enter exactly what you are looking for and how you are planning to cook it.  Then they show you the best cuts for your recipe.  You can even pull it up on your cell phone when you are right in the store.  I entered that I wanted a fork tender cut for my slow cooker and the website told me the best cuts for that method.  I ended up going with a chuck roast, and let me tell you, it turned out just as tender as I was hoping.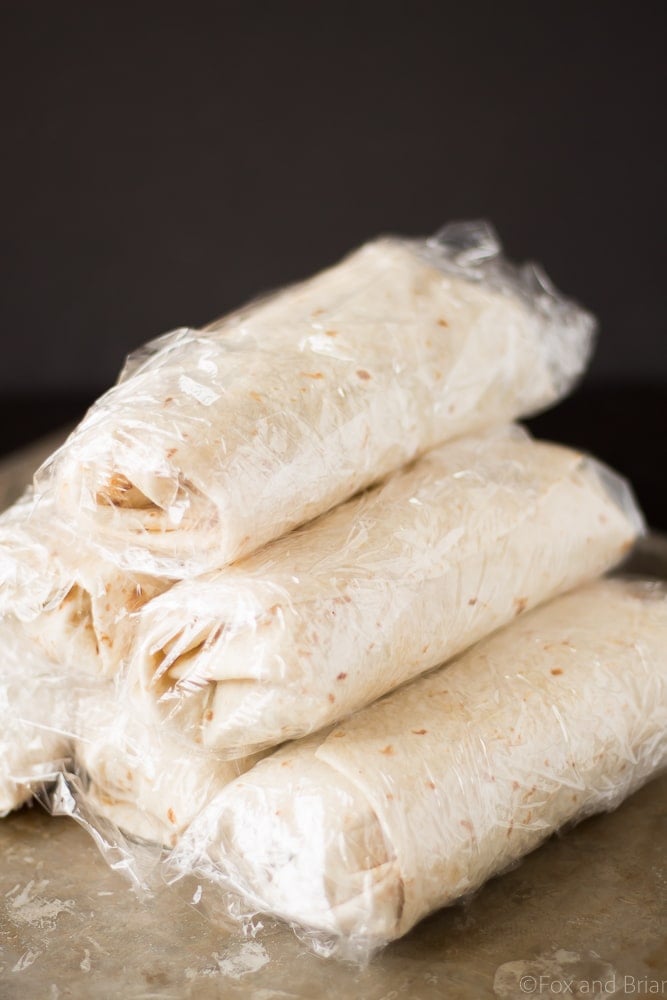 The cut of beef that you choose makes a huge difference in how your recipe turns out.  Depending on if you are grilling, braising, roasting or pan frying, choosing the right cut will ensure that your meal turns out just how you want it. Chuck roast is my favorite cut for a low and slow cooking method, such as in this recipe or in my Red Wine Beef Stew.  If I need dinner fast, I love to use flank steak, such as in my Mexican Grilled Flank Steak Salad with Honey Lime Dressing because a flank steak is best when it is cooked quickly.  I always think about how I am going to be cooking the meat when I am looking at what cut to buy.  Generally larger roasts with lots of connective tissue, from the larger muscles groups are going to be tougher, so require a longer cooking period to make them tender. They are perfect for stews and slow cooker recipes.  For grilling, you usually want something that can be cooked faster.  My personal favorite steak to grill is a rib eye, but flank steak is less expensive and also delicious.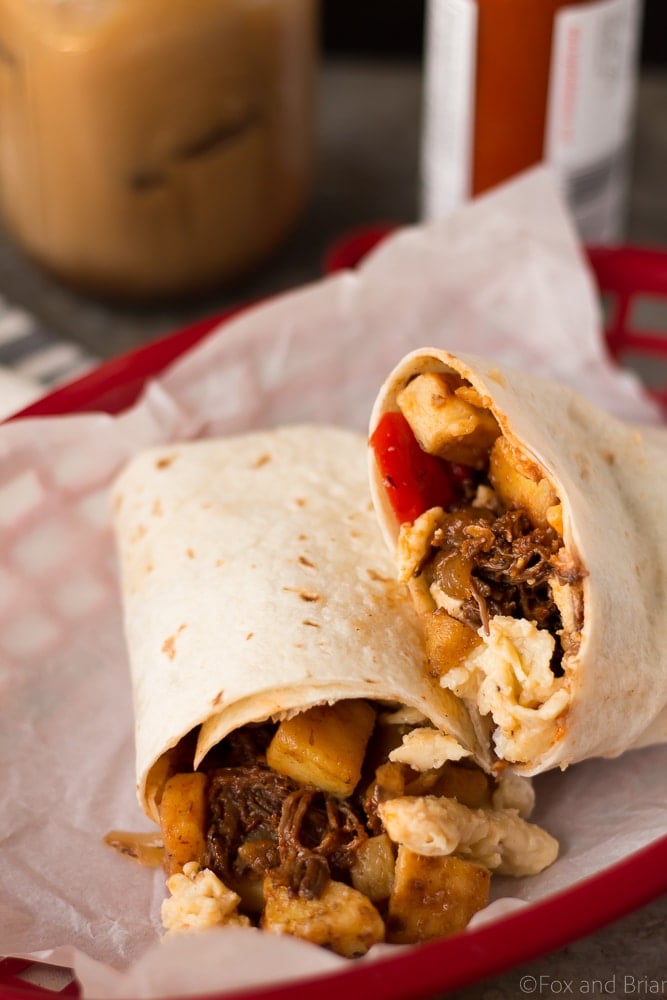 One thing I love about shopping at Fred Meyer is that they always have the nicest guys behind the butcher counter!  If I can't find a certain cut that I am looking for, I always ask if they can help me.  They will always show me where to find it or go check in the back to see if they have it.  They are also great at giving tips if you are looking at a cut that you are unfamiliar with.  Don't be afraid to ask your butcher for help if you can't find something, or are unsure about how to cook a certain cut!
Want to find even more beef recipes?  Check out the Families in Motion page with a collection of family friendly recipes.  You can also find more protein rich, beefy breakfast ideas on the "Beef. It's what's for dinner" breakfast collection.
| | | |
| --- | --- | --- |
| Make Ahead Beef Breakfast Burritos (Freezer Friendly!) | | Print |
Prep time:
Total time:
These Make Ahead Beef Breakfast Burritos are freezer friendly! Using tender, slow cooker shredded beef, breakfast potatoes, eggs and cheese, they can be made ahead of time and frozen. Just reheat them in the morning for a quick and hearty breakfast!
Ingredients
3 and ½ cups shredded cheddar cheese
14 burrito sized flour tortillas
Shredded Slow Cooker Beef (see recipe below)
Breakfast Potatoes (see recipe below)
24 eggs, scrambled (or about 2 eggs per burrito), divided evenly between burritos
Instructions
Wait until all ingredients are cool before assembling burrito for best results.
To make one burrito, fill a tortilla with about ¼ cup shredded cheese, ⅓ cup shredded beef, ⅓ cup breakfast potatoes and 1 portion of eggs (equal to 1-2 eggs). Repeat until you used all ingredients or you have made as many burritos as you want.
Fold in ends of tortilla and roll tightly. Can be eaten right away or frozen for later. To freeze, wrap each burrito individually in plastic wrap and then place in a freezer bag. Freeze until ready to eat.
To reheat, remove plastic wrap and reheat in the microwave for 3-4 minutes, or until hot. To reheat in the oven, cover with foil and bake at 350 for 45 minutes to an hour, or until hot.
Notes
Final amount of burritos is approximate. The exact amount of finished burritos will depend on how much meat you have and how much of each ingredient you put in the burritos. Feel free to adjust for your needs. I used about 2 eggs per burrito, but you can use more or less if you wish.
| | | |
| --- | --- | --- |
| Slow Cooker Shredded Beef | | Print |
Prep time:
Cook time:
Total time:
Tender and flavorful shredded beef made in your slow cooker!
Ingredients
3 pound chuck roast
1 onion, sliced
6 garlic cloves
1 can tomato paste (6oz)
1 tablespoon chipotle in adobo (or to taste)
¼ cup lime juice (about 2 limes)
2 Tablespoons Worcestershire Sauce
1 tablespoon smoked paprika
1 tablespoon chili powder
2 teaspoons dried oregano
1 teaspoon cumin
salt to taste
pepper to taste
Instructions
Slice onion in about 4 thick slices and arrange in a single layer on the bottom of the slow cooker.
Whisk together tomato paste, lime juice, adobo chilis and worcestershire sauce in a small bowl, set aside.
in another small dish, mix together the paprika, chili powder, oregano, cumin, salt and pepper.
Sprinkle the spice mixture all over the roast, pressing it into the meat so that it sticks.
Place seasoned roast on top of onions in slow cooker. Pour tomato paste mixture on top of roast, spreading to around to cover the top.
Cover and cook on low for about 7-8 hours.
Remove roast from slow cooker and use to forks to shred the beef. Return beef to slow cooker and toss in the liquid. Continue to cook on low for about 30 more minutes.
Prep time:
Cook time:
Total time:
Hearty Breakfast Potatoes
Ingredients
2 pounds yukon gold potatoes, peeled and diced into 1 inch cubes
1 red bell pepper, diced
1 green bell pepper, diced
1 medium onion, diced
6 tablespoons + 2 teaspoons olive oil
pinch red pepper flakes
salt
pepper
Instructions
In order to get crispy potatoes, it is best to cook these in at least two batches to avoid crowding the pan. To cook in two batches, prepare half of the ingredients according to instructions, then repeat with the rest of the ingredients.
Add ½ of the potatoes to a saucepan and season with salt. Cover with water and cover pan with lid. Bring to a boil. When water has started boiling, allow potatoes to boil for 5 minutes. Drain water from potatoes and return to pan. Drizzle with 1 teaspoon of olive oil.
Meanwhile, in large skillet, heat 2-3 tablespoons olive oil over medium high heat.
When skillet is hot, add potatoes, arrange in a single layer to make sure as much surface area of the potatoes is in contact with the hot pan. Allow potatoes to cook without moving them for 2-3 minutes, until potatoes start to get brown and crispy on the bottom. Add half of the bell peppers and toss or stir to combine, flipping the potatoes.
Cook, stirring frequently until peppers start to get sear and brown, 2-3 minutes. Add onions, season pan with salt, pepper, and red pepper flakes to taste.
Continue to cook, stirring often, until onions are soft and everything is golden, 5-7 minutes.
Remove from pan and repeat with second half of ingredients.
If you make this recipe don't forget to tag it @foxandbriar and #foxandbriar on
instagram
and
facebook
! I really love to see what you make and you may be featured in our weekly Reader Feature!