The Negroni is a classic Italian cocktail, made with gin, sweet vermouth and Campari.  This not too sweet gin cocktail is refreshing for a summer evening.
Summer is unofficially here, so I wanted to bring to your attention the increasingly popular Negroni cocktail.  I have been  loving the negroni lately, because it is spirit forward, yet still refreshing.  I love gin in the summertime, and the negroni is a fresh alternative to a standard gin and tonic.
What is a Negroni?
A Negroni is an Italian cocktail.  The ingredients are gin, sweet red vermouth and Campari.  It is an aperitif, which makes it a perfect pre-dinner cocktail.
What is Campari?
Campari is an alcoholic liqueur, made from herbs and bitter citrus fruits.  It originally was colored red by crushed up cochineal insects – also know as carmine dye.  Not to worry!  Campari is now made using food dye instead of bugs.
Why is it called a Negroni?
Apparently, the cocktail is named after Count Camillo Negroni.  In 1919 in Florence, Italy, he complained that the popular Americano cocktail wasn't strong enough.  The Americano is made with soda water instead of gin.  The Count wanted a stronger drink, and so he asked to replace the soda water with gin.  And the Negroni was born!
What does a Negroni Taste Like?
A negroni may take you by surprise with its bitter notes.  The bright red color may indicate it is syrupy sweet, but it isn't very sweet at all.  Because Campari has such a strong bitter flavor, the negroni taste is reminiscent of bitter orange peel or grapefruit.  The sweet red vermouth balances the bitterness, making it a pleasant drink for those who don't like sweet cocktails.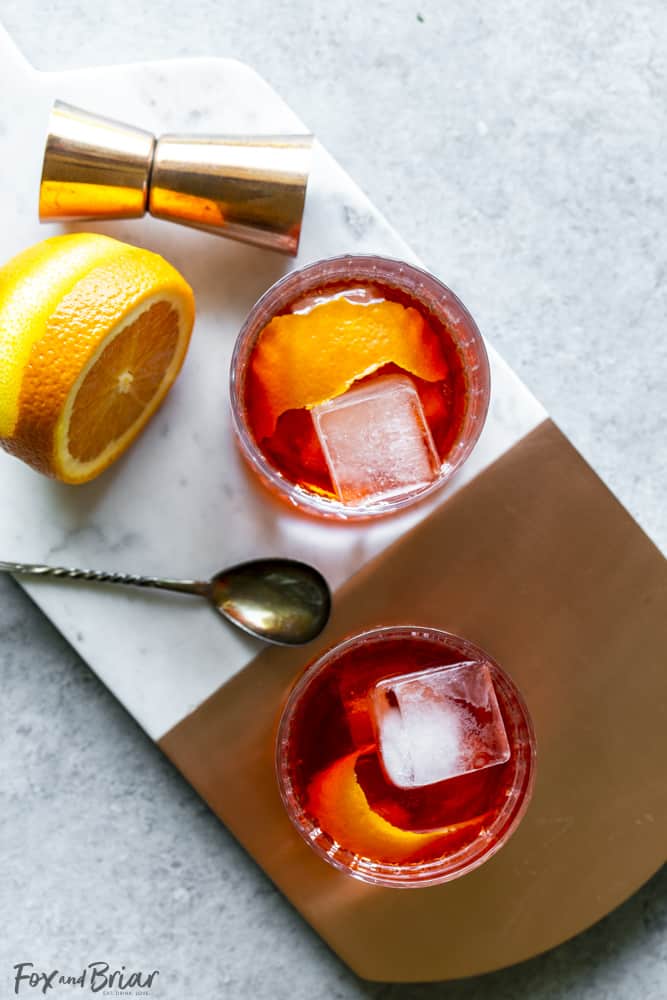 How to make a Negroni
The classic negroni recipe is easy to make and easy to remember: 1 part gin, 1 part sweet red vermouth, 1 part Campari.  Pour over ice in an Old Fashioned glass.  Stir, and garnish with an orange peel or wedge.
If you love this recipe, be sure to try  my Manhattan Cocktail.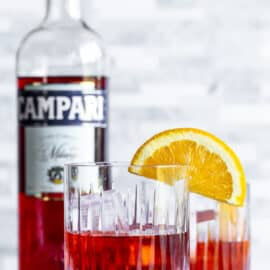 Ingredients
1

ounce

Dry Gin

1

ounce

Sweet Red Vermouth

1

ounce

Campari

1

Orange peel or slice
Instructions
Pour liquid ingredients into a rocks glass with ice. Stir to mix. Garnish with orange peel.
Notes
Use a vegetable peeler to easily make an orange peel garnish.
Nutrition
Serving:
1
drink
|
Calories:
200
kcal
|
Carbohydrates:
12
g
|
Protein:
0.1
g
Nutritional information is an estimate for your convenience. If you have strict nutritional needs, please do your due diligence to make sure this recipe fits your needs.