This One Minute S'mores Dip for One is perfect for a late night sweet tooth.  Melty chocolate and gooey marshmallow scooped up with a graham cracker will make you a happy camper – at home, on your couch!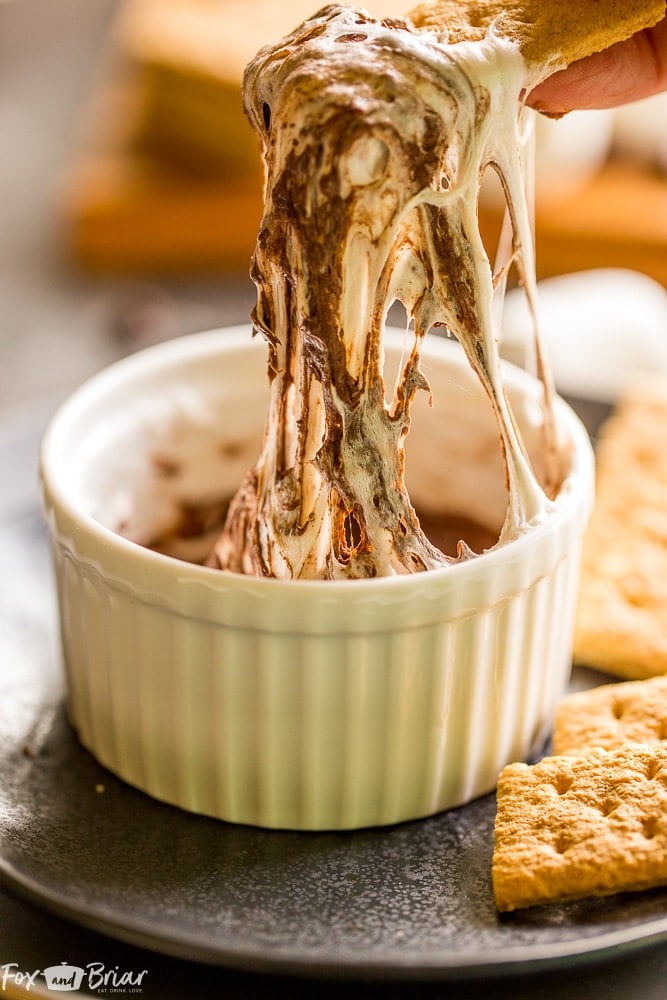 Oh hey, Happy National S'mores Day!  I have been thinking about putting this "recipe" on the blog for awhile, but then I thought maybe it was too embarrassingly easy?  Like, can I even call it a recipe?  But then I thought we all need an emergency sweet treat every night every now and then, and this one has gotten me through many of those emergency sweet tooth situations.  And what is more appropriate for National S'mores Day than a super easy One Minute S'mores Dip for One?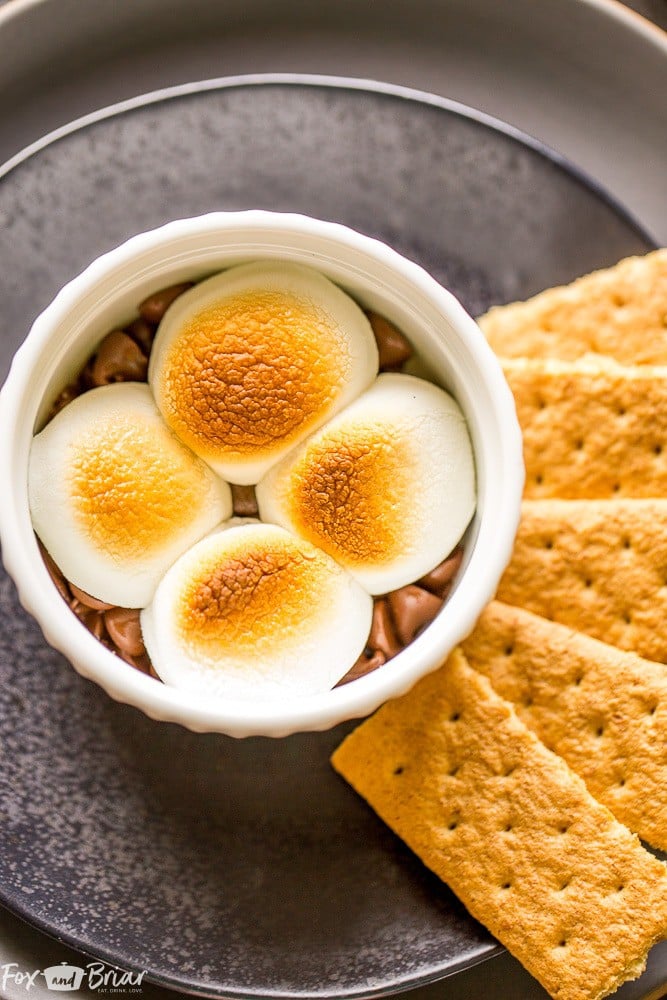 I first started making this after I realized that making s'mores in the microwave is a messy affair and it was just easier to make it into a dip.  You can really use any chocolate you have on hand (just not unsweetened chocolate!) – I used chocolate chips in the recipe, but I have also used whatever chocolate bars I happen to have on hand broken up into pieces. This actually takes more like 45 seconds to make – first you microwave the chocolate for 30 seconds, then add the marshmallows and go another 10-15 seconds.  The marshmallow puffs up in the microwave and you want to pull it out right as it is puffing up or it will get hard and tough.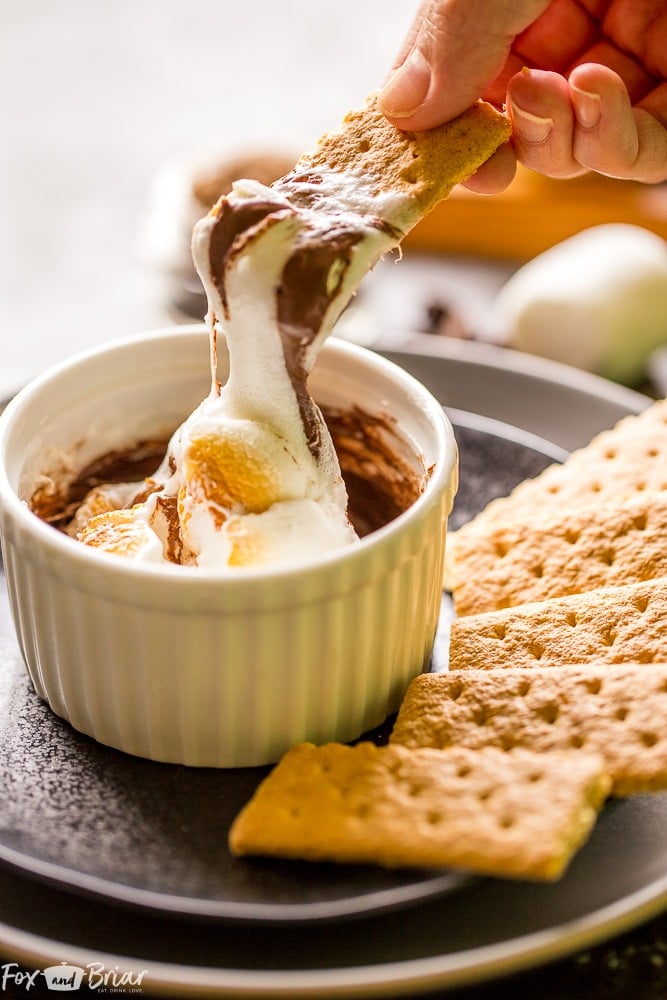 Oh and, and! You can make variations on the traditional s'more!  I included a few variations in the notes, including peanut butter and caramel!  Now you can enjoy chocolate and marshmallow goodness from the comfort of your own couch while binging your latest netflix obsession.  I just finished Friends from College, what are you binging?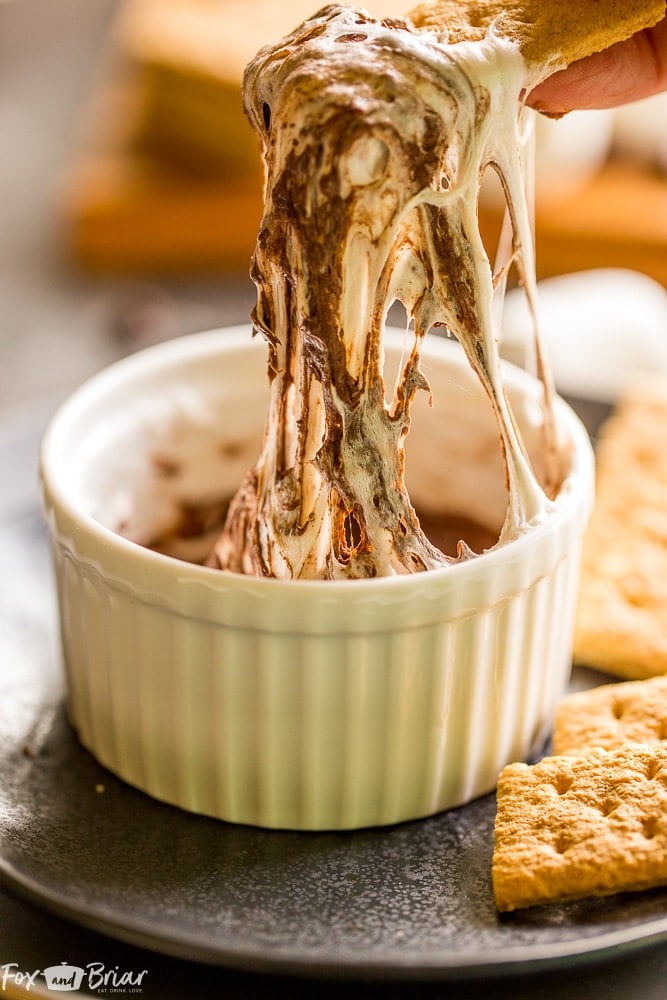 Print
One Minute S'mores Dip For One
Yield 1 Serving
Ingredients
2 Tablespoons chocolate chips (or any chopped up chocolate)
2 marshmallows
2 graham crackers
Smoked salt (optional)
Instructions
Place the chocolate in a small ramekin, sprinkle with a small pinch of smoked salt (if using) and microwave for 30 seconds.
Split the marshmallows in half and place on top of the chocolate, then microwave for 10-15 more seconds.  Watch closely, take out of the microwave as soon as they start to puff up.
Break the graham crackers into pieces and dip into the chocolate/marshmallow dip.  Best if eaten right away.
Notes
The smoked salt is optional, but will give a slightly smokey "campfire"  flavor.  You can leave it out if you don't have any.
Variations:
Peanut Butter S'mores Dip for one: Add a teaspoon of peanut butter in with the chocolate
Caramel S'mores Dip For One: Use a caramel stuffed chocolate bar (1 ounce) broken into pieces instead of the chocolate chips.
*For the photos I placed the marshmallows under the broiler in my oven for a few minutes instead of melting them in the microwave.  It was mostly for looks and is not necessary, but you can do that if you want that toasty marshmallow look.  When I make them for myself I just use the microwave. 
Courses Dessert
If you make this recipe don't forget to tag it @foxandbriar and #foxandbriar on
instagram
and
facebook
! I really love to see what you make and you may be featured in our weekly Reader Feature!